Delaware Close Corporation
A close corporation, sometimes known as a "closely held corporation," is a type of business where the stockholders, trustees, and officials are frequently the same individuals and where all the participants want to maintain a small, close-knit group.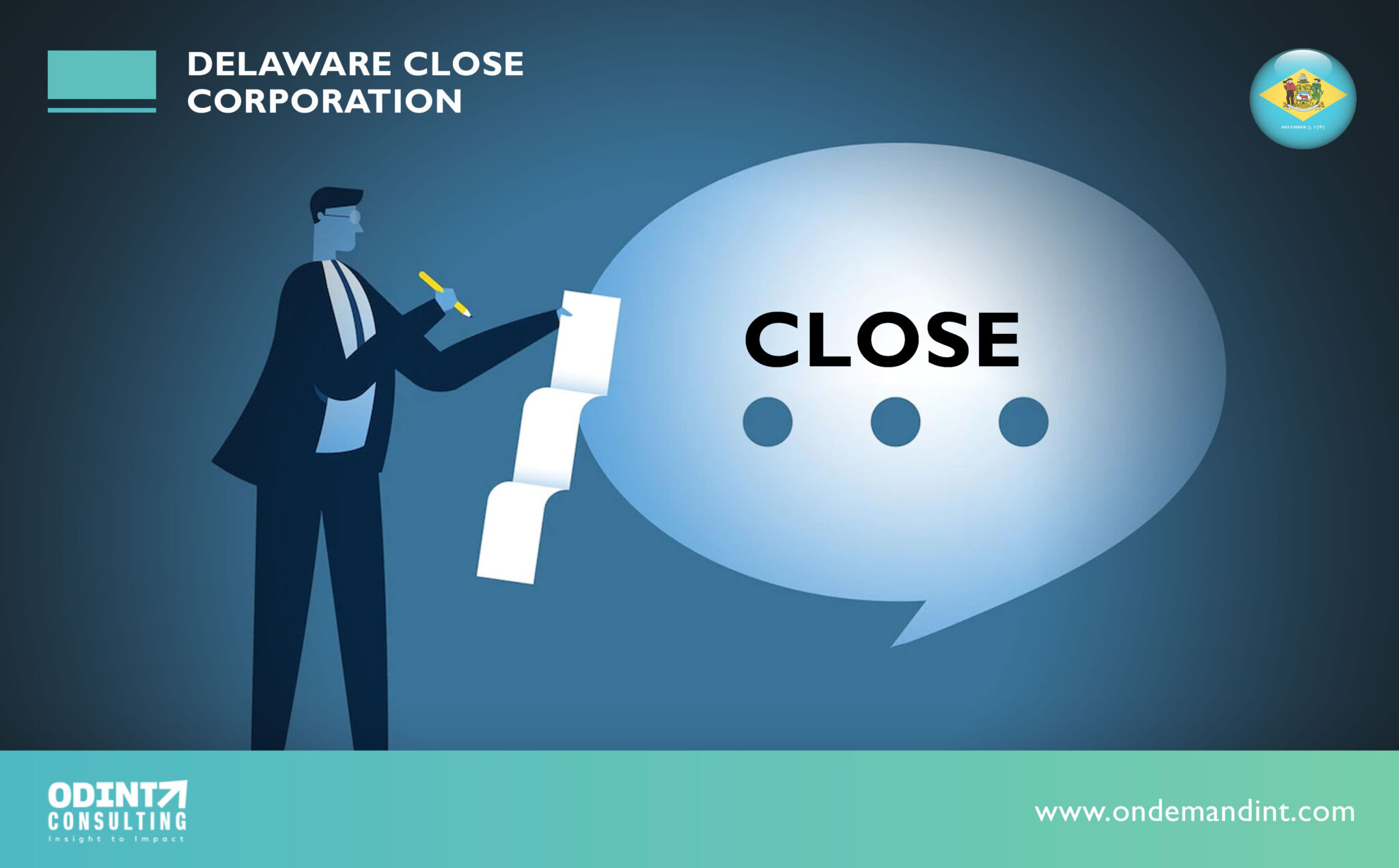 In terms of management, the sharing of profits, the election of officials, the employment of shareholders, and other factors, a close corporation may be set up and operated similarly to a partnership while yet enjoying the legal protection of a corporation.
A close corporation's rules may also contain limitations on stock sales, transfers, and dispositions, and in the event that a fellow shareholder decides to sell their shares, shareholders always have the "right of first refusal" to purchase those shares before any other parties.
An explanation of a Delaware close corporation
In this article, a Delaware close corporation, a close corporation is regarded as a statutory organization that is owned by a small group of shareholders (no more than 30 shareholders, excluding treasury stockholders), and it is not traded publicly. 
In the state of Delaware, close corporations are excluded from a number of legal obligations and formalities, including having annual meetings to choose the board of directors.
In regards to management, profit distribution, official decisions, and partner/shareholder recruitment, you can set up and operate your close corporation similarly to an LLC or a limited partnership. 
Selecting between a C Corporation and a S Corporation will affect the tax status of your close corporation. Depending on your desired tax category, the applicable tax laws would be applied.
It should be mentioned that for enterprises, a close corporation is not always a wise choice. You could need to alter your company's structure if substantial sums of capital are needed in the future in order to secure finance. 
Generally speaking, a close business can only take investments from its owners. However, there are certain key benefits, such as the lack of publicly available data on stockholders, market capitalization, or personnel numbers.
How does Delaware close corporations function?
Close Corporations are exempt from the need for the Board of Directors to hold an annual meeting; instead, shareholder-related actions may be regulated by a "Shareholder Agreement" instead of a Board of Directors. 
The intricacies of the regulation of the company's business are defined in a shareholder agreement, which is comparable to an operating agreement or a restricted partnership agreement.
On the Certificate of Incorporation of a Close Corporation, the following details will be listed:
Title of the Corporation
Information about the Delaware Registered Agent, including name and full address
The proposed corporation's overall goals the number of shares that have been authorized, with or without a par value, in relation to the authorized shares.
Unless the Certificate is to be anonymous, in which case the fifth article will simply contain the name and address of the Incorporator, the name and address of the Incorporator, and the name and address of the Initial Director.
A clause stating that there can only be 30 shareholders
A declaration that the stock shares are subject to one or more restrictions on transfer
A declaration that the Corporation won't offer its shares for sale to the public.
The incorporator's signature
The by-laws may include any specific restrictions on the transfer of stock.
The history behind the Delaware close corporation
At the time that corporations were initially legalized in Delaware in 1875, you needed at least three coworkers to establish a corporation. Early lawmakers were not even aware of the concept of a single person's business. However, business owners insisted on having control, so they would appoint their lawyer and possibly a secretary as stand-in shareholders to satisfy the criteria.
The law was also quite rigid about the division of the three levels of authority in a corporation: the Shareholders, Directors, and Officers. It was inconceivable that one person could simultaneously embody all three. To guide the firm's officers on day-to-day operations, the corporation was required to hold a Shareholders Meeting each year in addition to a few Board of Director meetings throughout the year.
As usual, Delaware was the first state to respond to this desire for control, ownership, and operation of a business by a single individual or small, close-knit group. The "Close" or "Closely Held Company" is this.
Significant advantages of a Delaware close corporation
The main advantages of a Delaware close corporation are discussed below
Easier total operation: The business's leaders are more involved in day-to-day operations in such private enterprises. Therefore, there is no difference in the company objectives. decreased formalities There are fewer rules to adhere to. The owners must nevertheless adhere to the guidelines for submitting incorporation documents.
Limited liability: The company's debt is not personally owned by the shareholders. There are some exceptions, too, including where a shareholder has agreed to bear personal responsibility for the company's debts.
Greater liberation: Compared to typical businesses, the board of directors has less control over the owners. They have complete control over how the company is operated, including the ability to pursue new markets and business models.
Greater authority over shares: Shareholders have a greater degree of control over the timing and manner of the sale of their shares to outside investors.
Disadvantages of a Delaware close corporation
But before selecting this business form, you should be aware of a few drawbacks. Some could be:
Close corporations are not allowed in all states. So if you want to move your close corporation to another state, choose the one that recognizes this business form. You must submit a continuation certificate and a certified copy of the formation document in this situation.
A Delaware close corporation is frequently more expensive to set up. As a result, it makes its owners more responsible and subject to financial difficulties. Below is a list of the corporate fees in more detail.
The inability of a private corporation to sell its stock to the general public may have an effect on the company's overall worth and cash flow.
Compared to a standard firm, a close corporation typically has a lower market value.
There are numerous different company types in Delaware, aside from the close corporation, and each has advantages and disadvantages.
Stock value in a Delaware Close Corporation
A close corporation's stock is not offered for sale to the general public or traded on a national securities exchange, which is one of its distinctive features. However, as shares of stock in a closely held firm can be regarded as "securities," transactions involving such stock have traditionally been governed by specific provisions of federal securities law. 
The worth of a shareholder's equity is typically determined by the specific facts and circumstances of each case because there is no regular trading market for shares of stock in a close corporation. It has been proposed that the value to be assigned to specific shares of stock would be equivalent to the amount that could be realized if the shares were sold on the open market.
General versus Delaware close corporations
The business position known as a close corporation is frequently misunderstood. Some refer to it as a "closed" corporation, however, this is untrue. 
Although some people refer to it as a "C corporation," "C" in this context does not mean "Close," hence "C corporation" is NOT an acronym for "Close corporation." What separates a close corporation from a wide corporation in terms of importance? Some of the most significant changes are as follows:
Close Corporation's Certificate of Incorporation
In contrast to general corporations, close corporations have a certificate of incorporation.
Distribute and sell shares
There can be more than 30 shareholders in a general corporation (excluding treasury shareholders). There are restrictions on the transfer or sale of shares in addition to the fact that this quantity is restricted to a single organization.
Additionally, restrictions may be placed by the Right of First Refusal clause on the sale or transfer of stock in a close corporation to third parties (instead of other shareholders). Meanwhile, general corporations do not have access to this privilege.
Viability
Those looking to raise funds and attract investors frequently choose the general corporation as their company form type. Meanwhile, for small, close-knit families, organizations, or one-person businesses, the close corporation is the same, tactical option.
The necessity of yearly meetings
State law mandates that annual shareholder meetings for general companies be held in order to elect directors and address business matters. Additionally, the board of directors will hold more regular meetings, whether quarterly or monthly.
In contrast, closed businesses can elect their directors without holding an annual meeting.
A paternal connection exists between shareholders in a close corporation. Similar to how partners interact in a partnership, shareholders in a close corporation have a similar dynamic. Several states, notably Delaware, recognize this distinctive quality by allowing shareholders to structure their ties in a way that would be suitable solely between partners. 
Apart from stakeholders if you are planning to form a Delaware close corporation all the important aspects of closing a Delaware Close Corporation are being discussed in this entire article.