Drafting a Memorandum of Understanding
MOUs are formal contracts between a group of people. It is not a legally binding agreement, but it may lead to the parties developing a commercial relationship that could develop into a binding agreement that is enforceable in court. Once all parties have agreed, all pertinent details must be recorded for each and every party. 
Even though it is not lawful, because it is an official process, it conveys the parties' desire in writing to proceed with the contract. 
When two countries sign an MOU in international relations, the countries deal with significant problems and find a solution after the planning stage. In significant initiatives, drafting a memorandum of understanding can be a helpful formal agreement that can be used across various entities. 
Drafting a memorandum of understanding will be a kind of agreement that the parties have utilized during their initial discussions. We will go through what MOUs are, the many forms, and the procedures involved in writing one in this article.
Memorandum of Understanding is what the term MOU refers to. It is a mutually agreed-upon, non-binding arrangement between two parties that demonstrates their collaborative effort to and understanding of the obligations of an agreement.
These primarily serve as a means of recording the parties' broad understanding of a possible transaction.
Drafting a memorandum of understanding, which details the main aspects of the parties' vocal conversations, has the following provisions:
A brief document that formalizes the initial exchange of ideas between the parties.
It acts as a foundation for later creating a formal contract and
Represents the parties' shared understandings.
Procedures to follow when drafting a Memorandum of Understanding
Steps to follow while drafting a memorandum of understanding are mentioned below:
Try to choose a suitable topic and title for your Memorandum of Understanding. The type of MOU you are utilizing must be reflected in the title. The asset acquisition MOU, venture agreement MOU, service agreement MOU, and others are a few of the MOUs covered here.
A potential start date for the work should be included in the MOU when it is written.
Name the parties and also put their fundamental details (address) as well. There should be the identification of the parties signing while drafting a memorandum of understanding.
The conditions under which drafting a memorandum of understanding may be canceled should also be mentioned simultaneously at the time.
As this is a one-time contract with a set deadline, it is also necessary to indicate the termination date or the day on which it must be terminated.
Targets and key initiatives:  Drafting a memorandum of understanding, is necessary to list the obligations, timeframes, and responsibilities as well as a thorough description of the project.
Scope and values – It is crucial to ensure that all parties are aware of the project's long-term use and its relationships after identifying its scope, objective, and importance while drafting a memorandum of understanding.
The project should mention all of the project's essential stakeholders as well as collaboration and partnership.
Timeline: Each deliverable for a project needs to have a particular time frame. In order for the parties to the contract to be aware of and able to understand it, it should be expressly stated in the MOU.
Rules and Regulations: all the terms and conditions must be included at the time of drafting a memorandum of understanding in order to fulfill the project's unique requirements. As a result, you ought to include it in a different statement of work.
Dated and signed by the authorized signatories for each party or organization: After drafting a memorandum of understanding that has been produced and approved by all parties, it should be signed and dated by those who are authorized to do so.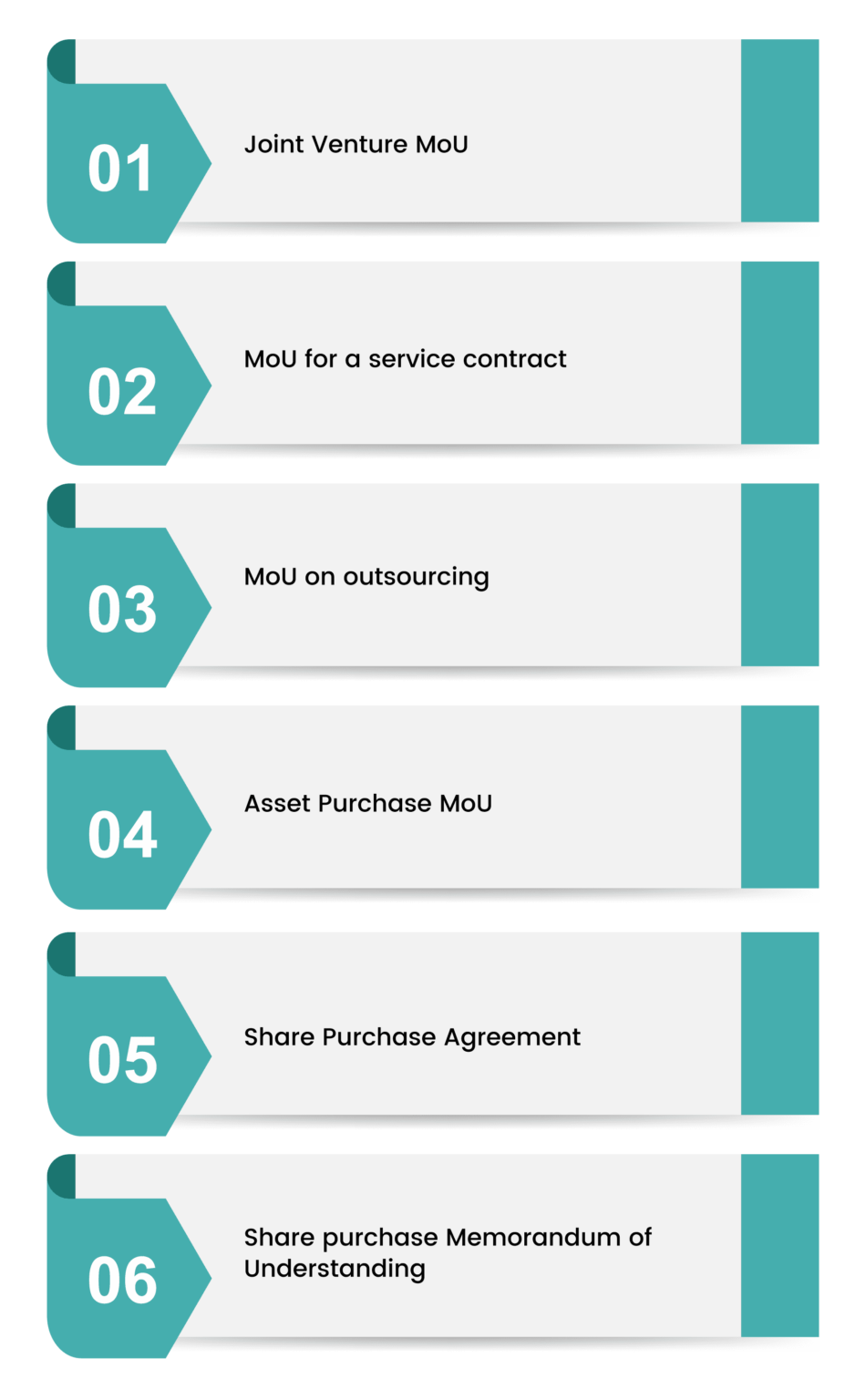 Different MoUs are utilized for various services or contract types. 
Here are a few examples of typical MoUs used by companies:
1. Joint Venture MoU
Drafting a memorandum of understanding for a collaboration agreement may be used at the initial stages of discussions with a couple of parties. A co-venture agreement is another name for it. A temporary business agreement known as a joint venture allows two or more parties to collaborate on projects in order to achieve a common objective. All of the parties' obligations are outlined in the contract.
Contractual and regular joint ventures are the two types of joint ventures that can be categorized. When two organizations work together on a project without establishing a distinct legal body to do so, contractual joint ventures occur. Instead, each organization manages and preserves its own books of earnings and losses.
Two entities sharing the revenues and losses from a certain project are said to be in a general joint venture. Regarding the obligations of the agreement, each party has unrestricted accountability. Rather than for corporate operations, this is frequently employed in real estate.
2. MoU for a service contract
A service agreement, which is a legally enforceable contract between a service provider and a client, specifies the conditions and restrictions of the services that will be provided. For instance, building contractors use a service agreement to describe the home improvements they are performing for a client and to specify how they will be compensated. In a similar vein, a company may employ a temporary contractor or freelancer under a service agreement.
In a non-binding contract, a service agreement MoU would specify the services that would be offered to a business. They are frequently employed in the early stages of talks.
3. MoU on outsourcing
A contract between two or more parties, typically a business and a service provider, is known as an outsourcing agreement. The corporation outsources certain services, which the service provider guarantees will be provided. All agreements for outsourcing contain the following elements:
Required supplies
Any prospective fines or awards
anticipated time frame
Reviews
Potential getaway plans
4. Asset Purchase MoU
A contract known as a property purchase agreement is made between a buyer and a seller to transfer ownership of an item for a specific price. In an asset purchase agreement, the seller specifies the exact assets that will be sold and excluded.
The main topics covered in an asset purchase MoU are as follows:
Who is Covered by the Asset Purchase Agreement?
Which assets are being bought?
What does the asset sell for?
Warranty and Representation
What Has to Take Place Before Closing?
Other Languages Or "Boilerplate"
5. Share Purchase Agreement
When buying shares, which is essentially buying a company's running operation, a share purchase agreement is employed. Typically, a stock buyer would ask the seller of shares to provide assurances regarding the company that will bind the shareholder even after the transaction. A share purchase agreement covers the following crucial topics:
Warranties
Share sale conditions
limiting agreements
6. Share purchase Memorandum of Understanding: A Memorandum of Understanding (MoU) defines the contributions that each institution commits to make to a partnership, as well as the terms and conditions, payment schedule, collaboration details, and other information.
What is Covered in an MOU Between Two Parties?
The essential components of every MoU include these:
Points of understanding:

A MOU specifies the precise areas of understanding in great detail. It includes the parties' names, the task that they are working on, the assignment's purpose and duties, etc.

Terms and Conditions:

The terms and conditions of the contract are also included in the MOU. The terms and conditions must be agreed upon by each party.

Information about the parties:

The MoU includes information on all parties to the arrangement. Typically, this includes names, addresses, and other contact details.

Signatures:

To indicate an understanding among all parties, all MoUs must have the signatures of all parties.

Purpose:

An MoU specifically states the agreement's objective. Additionally, it establishes the endeavor's timeline, key dates, and roles and obligations.
The parties involved may gain profit by drafting a memorandum of understanding. The parties may leave the agreement at any time because it is not binding and cannot be legally enforced.
The parties have the option of not complying with the MOU's provisions; as a result, they won't suffer serious consequences.
You may establish MoUs quickly with Odint Consultancy's assistance. The difficulties associated with the process of producing MoUs can be avoided thanks to the expertise of our professionals. However, if you ever want to draw an MoU, you might find this site to be helpful.