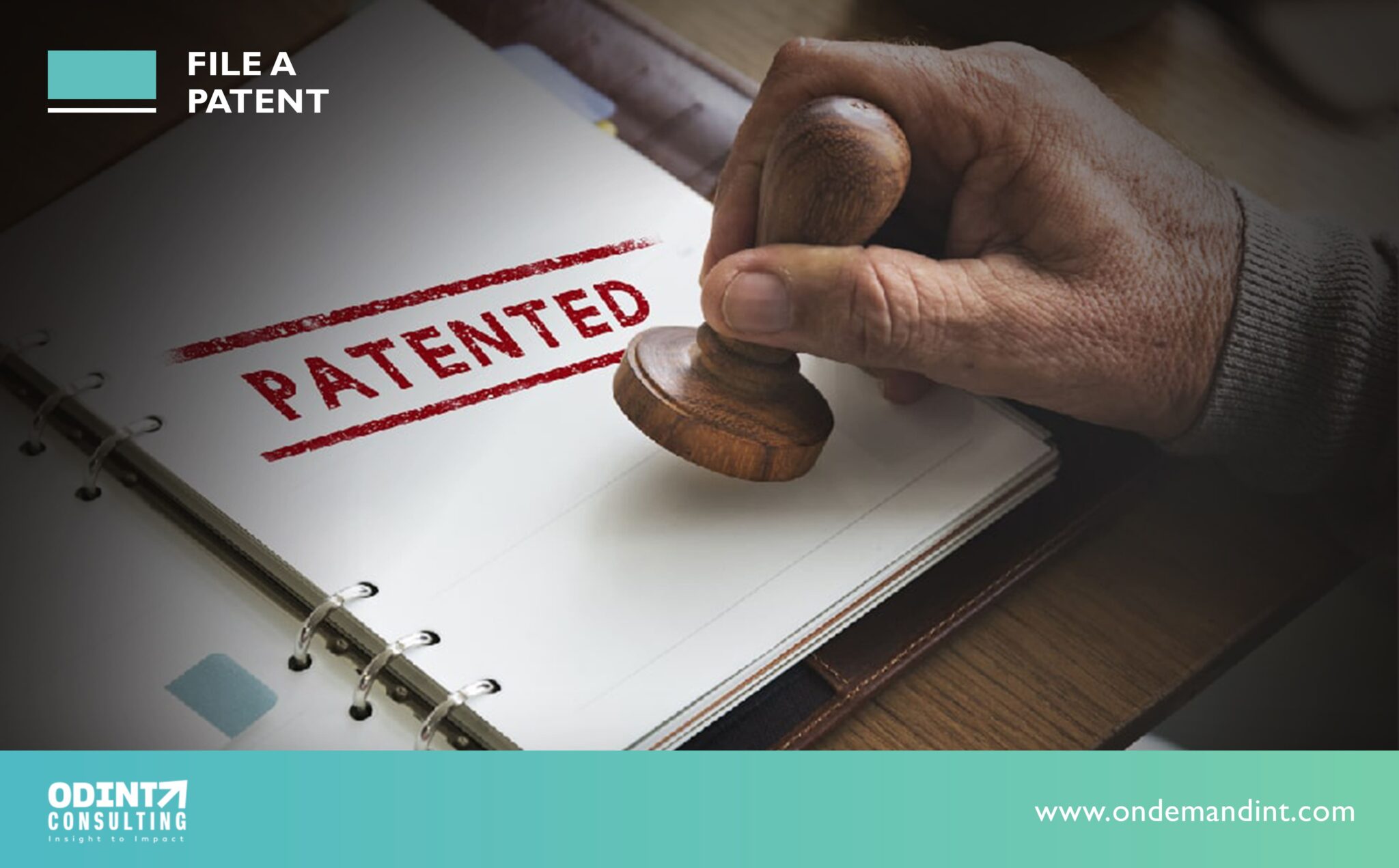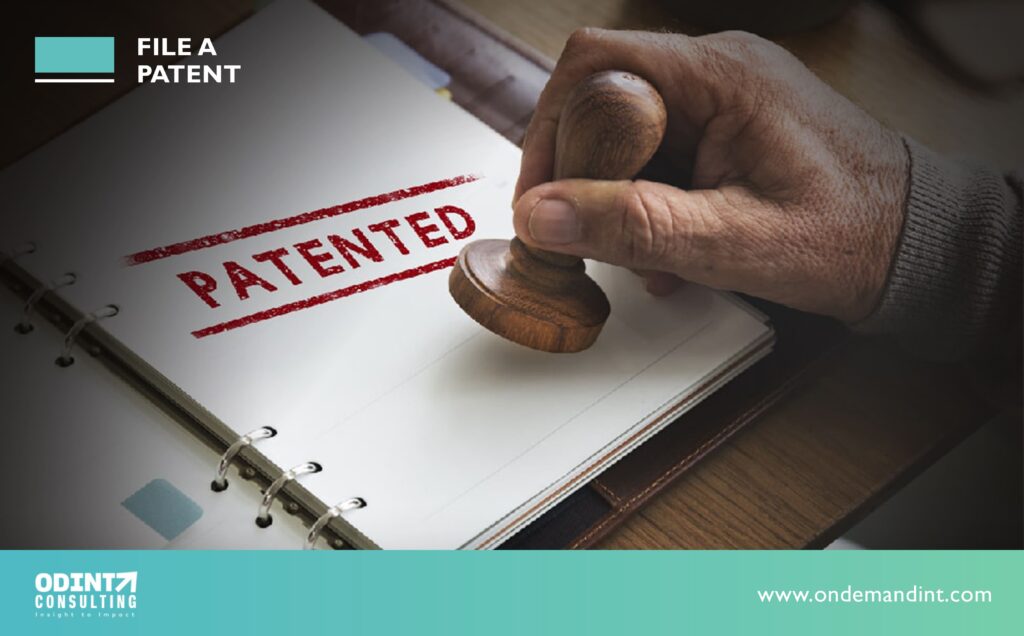 The process of filing the patent is not easy since it requires written descriptions of your invention or design and completing the appropriate documents for an application to the United States (U.S.). Trademark and Patent Office (USPTO), draw detailed sketches of the product you intend to protect, then pay the fee for a patent. 
When you file a patent you are able to make public disclosure of your invention or design.
In March 2013 the USPTO issued patents on the basis of the first company or person to file a patent and not the first company or person to come up with the idea. The "first to file" law could encourage inventors to file quicker to safeguard their intellectual property.
Keep on top of how you develop the product, process, or idea in the initial stage of the concept.
Create an operational prototyping of your product or idea.
Protect your invention from disclosure. If you sell the product or inform anyone that you have discovered the invention you have created, it may expose your patent eligibility to risk.
Create a thorough description of your idea or design. Using your description an individual or company should be able to reproduce your invention (if they are able to).
Mark and date the description Then, make a signer and date the description, too.
Find out if your invention or design is commercially viable. Many companies use temporary patents to conduct more research as the provisional file of a patent offers them an additional year of security.
Conduct the patent search. Make sure that you don't come across any instances or examples of earlier inventions and products your idea may violate. You can engage an expert patent attorney or a company to conduct a preliminary search that analyzes your invention to the existing patents. You can also conduct your own patent search through the Patent and Trademark Depository Library where librarians will help you search for patents that are not listed.
Take a look at where the industry is headed. If another company has a product that is similar to yours or if bringing your product to market is too much, you may need to reconsider the patent procedure. You need to determine the market you want to target and then decide the best way to reach those who may be interested in purchasing your idea.
Employ an attorney. A lawyer can assist you with writing claims, making ideas, and creating sketches to support your invention.
Apply to the USPTO via its website at uspto.gov. Consider hiring an attorney to assist you with this procedure. If you submit the patent application without sufficient details or with information that is too broad, your application may be denied. Your patent lawyer will also assist you in choosing the correct patent application.
You'll require several things to file a patent:
Preamble The invention should be named and explain how you wish others to utilize it, and explain your idea in a few sentences or words.
Descriptions and Images: You have to send images or drawings, as well as figures that describe what each part does and the reasons why each part is different.
Claim: You could make one claim on a patent that describes the feature or part of the product that you would like to patent.
Declaration or oath: You create a document using an oath or declaration that you can find on the USPTO website or through your patent lawyer, which includes the name of the inventor and an oath to prove that you are honest regarding your claim.
Once you have filed your application After you file your application, the USPTO will assign the Patent examiner to manage your case. The examiner conducts research on patents examines your drawings and then decides whether to grant you an application for a patent.
11. You must pay to pay the USPTO cost.
12. Appeal to a rejection. If the USPTO denies your application and you think the USPTO is making an error, you may appeal the decision.
When Do You Need to File a Patent?
It is important to submit a patent application as quickly as you can, like when you design an effective prototype for your product. If you submit your application too late it could lead to changes in your products. If you change something then you must apply to file a patent reissue which takes time and costs money.
Patents can be filed by yourself, but the majority of inventors prefer working with patent attorneys. It is possible to get lost or fall into a mistake when you attempt to submit a patent on your own. A lawyer can help you determine whether you're able to patent your invention and assist you to file your patent.
Once you have filed for a patent and obtained your patent, lawyers are also able to assist in lawsuits involving patents. Patents must be defended when a competitor attempts to claim the concept that you have created.
The USPTO does not set deadlines for the filing of patents. It is possible to submit for file a patent application anytime, regardless of whether the product or process is available for sale or otherwise. The review process is expected to take approximately an average of 18 months to allow a USPTO to decide whether to grant you a patent or deny your application based on how it receives applications from the USPTO receives. Fast filing means you will receive the patent more quicker.
Some companies fail when they file patents:
The applicants don't hire an attorney to assist them to complete the application.
They don't provide enough information to explain the design or invention. In the absence of particulars in the application, the USPTO may reject your patent application.
They do not study patentsand discover the possibility of designs, designs or concepts that are already in use.
They do not get a preliminary patent. If they don't have one they may hurry to the RPA application procedure.
File Patents can be a great source of value and higher returns to businesses and individuals on the investment in the development of new technologies. Patenting should be carried out by a smart plan that aligns the interests of the business in implementing the technology.
There are many options in the quest for what should you patent. In this instance, by placing the focus on international aspects and laws in particular nations, it's possible for a business to realize significant savings as well as increase the rights granted by patents.