Fintech is changing the future of Banks
The fintech sector is creating waves across the globe. There won't be any more physical bank branches or investment firms using worksheets in the finance industry, especially the banking system. Fintech is changing the future of Banks as companies in the finance sector are striving to influence the direction of the financial sector as they compete to address client expectations through the use of fintech.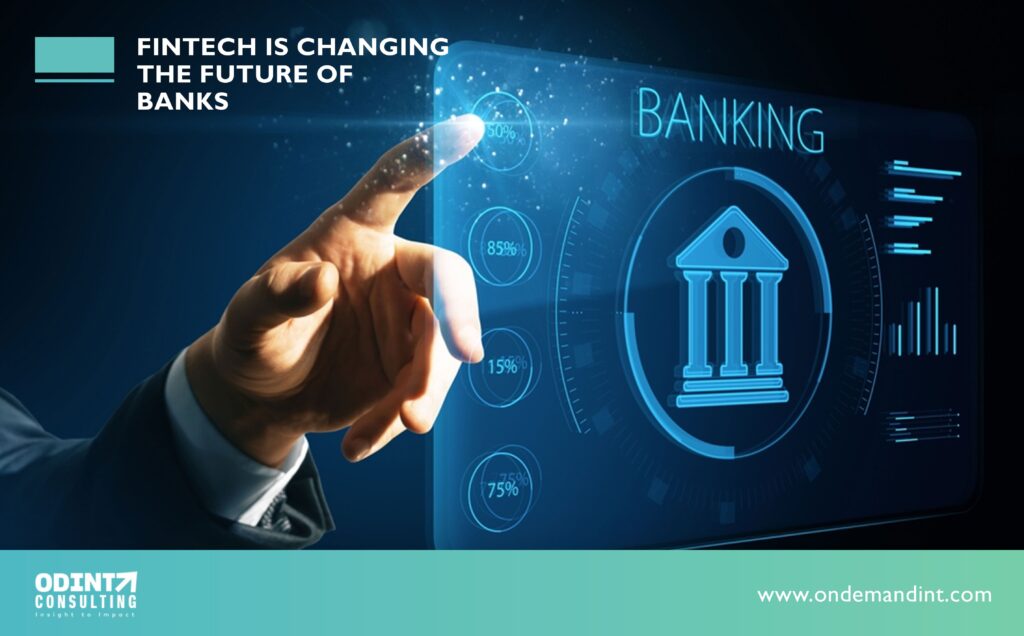 This article will provide a brief discussion of the way fintech is changing the future of Banks.
How fintech is changing the future of Banks?
Fintech is changing the future of Banks as it revolutionized the practice of offering top-notch banking services. The integration of finance and technology has brought about a spectacular revolution that, in turn, has accelerated the development and restructuring of the financial services and banking industries.
Banking and other financial services are becoming easier to obtain and much more simplified because of fintech. Customers can benefit from automated using technology to expedite procedures that would have traditionally allowed a person to handle them.
Small start-up businesses are the industry that has benefited the greatest from the development of Fintech because of the focus on creating cutting-edge technologies, including internet banking, transactions, and general financial planning.
Effects of fintech on various business sectors
Financial service organizations have praised the Fintech development since it has allowed businesses to handle customers more effectively and at a cheaper expense. Additionally, it has encouraged innovations that both customers and service providers may simply use to understand what it means to manage a company and how it's to obtain services. 
The effects fintech has on various business sectors are listed below:
According to the fluctuating requirements of potential clients, various offerings are made.
Improving contact and developing positive relationships with the consumers.
Grumbling about the available data & statistics.
Providing improved administrative skills to the organization.
Various ways to show fintech is changing the future of Banks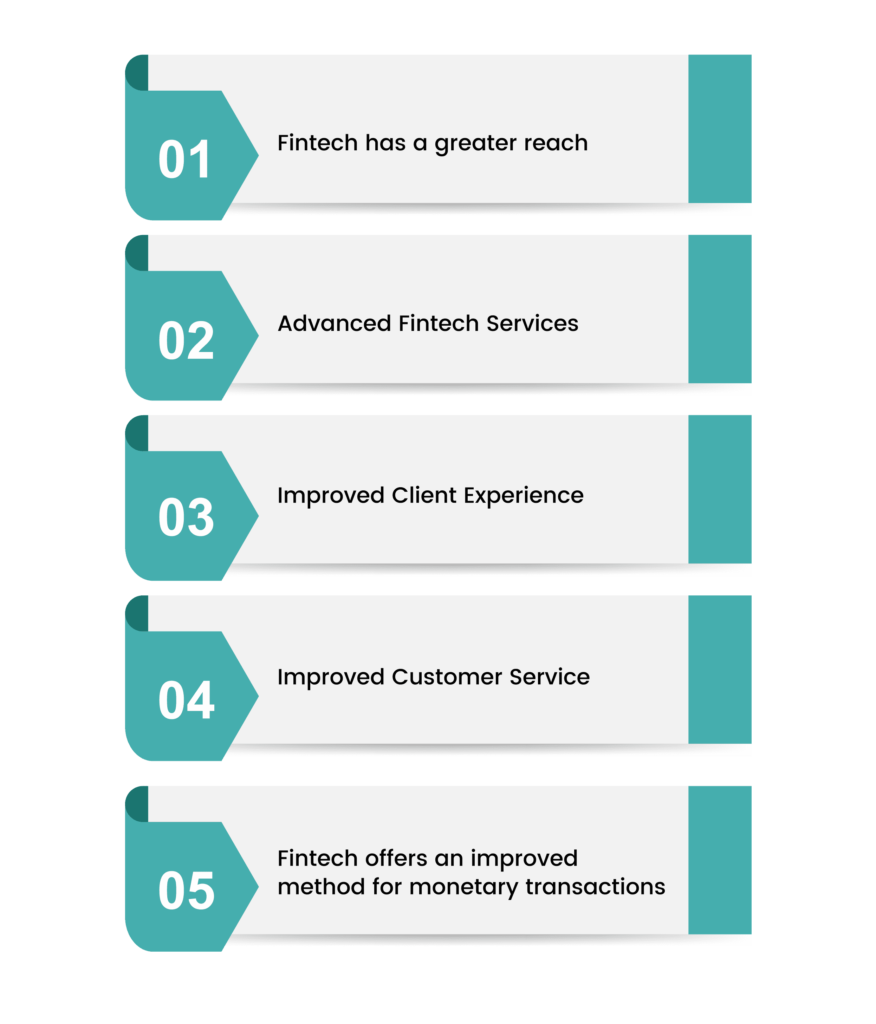 Fintech has a greater reach
The fintech industry, which is recognized for its innovative technology, is aiming to offer specialized services for customers and users.
The fintech is changing the future of Banks and is moving toward increased automation by using data analytics to offer consumers customized financial management and assuring successful integration across the internet and mobile platforms.
In order to enhance their functioning, financial institutions are presently concentrating on incorporating the most innovative advancements.
2. Advanced Fintech Services
The financial sector is looking for solutions that are rapid, fast, strong, and flexible due to the constantly growing requirements of its clients and the lack of time limitations.
Due to their existing services, the banking sector has decided to depend on FinTech solutions to examine the urgent and focused wants of customers.
Fintechs are beginning to offer successful and extremely effective services for companies that have been able to regain certain market areas that institutions have disregarded. The introduction of internet lending is a perfect example.
3. Improved Client Experience
Fintech is changing the future of banks as client satisfaction and financial industry administration are being given similar emphasis by fintech.
The consequence of the convergence of technological developments and client demands has led to digital customer authorization.
However, the key issue that still exists is that certain sector participants are hastily adopting outmoded customer-oriented approaches, that are not what today's consumers want.
4. Improved Customer Service
People anticipate that technological improvements will meet their needs and provide them with technological security.
In light of the current cyber concerns, financial institutions should place a high priority on the security of operations, information, and customer confidentiality.
This is the reason continuous connection and consumer awareness are crucial. Fintech is changing the future of banks and is offering customers round-the-clock access to its services, enabling transparent connectivity routes between banks and banking service providers.
Effective relations include conveying details about an institution's policy decision, better consumer service, constant updates via emails or texts, as well as other things.
5. Fintech offers an improved method for monetary transactions
The majority of transfers are already done online utilizing banking services or smartphone applications, removing the requirement for people to personally visit banks for such fundamental operations. FinTech has completely changed the way money is transacted and processed.
Internet transactions can be made by customers without the use of a debit or a credit card due to digital transactions.
As a consequence, less money and actual transaction mechanisms like debit & credit cards are used, making the transaction fast and easy.
Additionally, these electronic payments help collect information that could be utilized to create novel, personalized goods, and services.
Technology has undoubtedly acquired the dominant position in the worldwide product category due to the fast development in digitalization and is now able to impact everything they see fit. Fintech is steadfastly working to improve economic growth by using technology to automate the provision and use of financial services.
For more questions regarding how fintech is changing the future of banks, you can consult Odint Consultancy. Our experts will help you solve your queries.