With new technology appearing constantly, individual routines and corporate practices are beginning to transform. Individuals are more concentrated on embracing technology-driven opportunities to simplify their commercial activities, financial commitments, and lifestyle habits. The financial industry is no different from this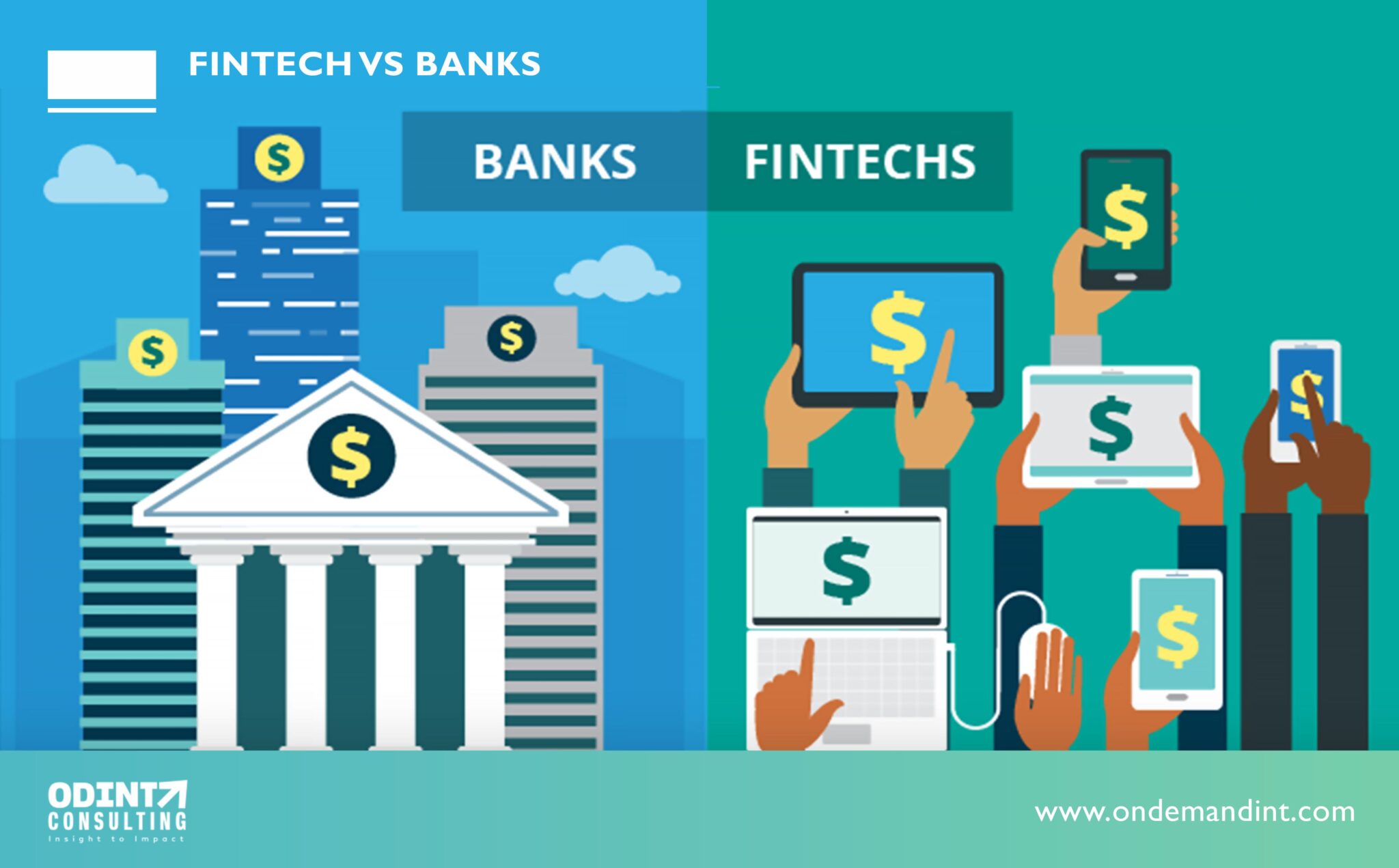 phenomenon, which has caused a transformation in the mindsets of how people conduct their commercial operations.
This article will briefly discuss the numerous sides of fintech vs banks.
The term "fintech" combines the phrases "finance" and "technology." It's a phrase that describes modern technology that attempts to streamline and enhance the way financial services and goods are accessed and delivered. Fintech describes businesses that use the latest technology to compete with conventional economic techniques in the provision of financial solutions.
The utilization of technological solutions has made it easier for individuals to have access to various forms of economic services. As such, the industry has seen a better improvement in the utilization of tech for financial services due to this strategy.
Through the application of technologies, fintech enables entrepreneurs, businesses, and customers to effortlessly administer their financial and commercial operations. 
Banks are financial organizations that are authorized to accept deposits from the public and lend money to both private citizens and commercial organizations.
Several banking institutions in the marketplace are capable of providing additional financial services like asset allocation, trading platforms, and safe deposits. Banks come in a variety of forms, including commercial, retail, and investment firms.
Fintech vs banks: Distinctions
The comparisons of fintech vs banks can be shown from the points discussed below:
1. Functions
A. Fintech
Fintech has the capacity to simplify complicated financial procedures. As a result, consumers can easily and quickly acquire all kinds of financial services.

Corporations may implement adjustments more easily, repair outdated systems, and improve existing technologies with fintech.

Fintech is a framework that makes use of technology, AI, and cloud technology to provide customers with a distinctive and pleasant service.

Fintech is the ideal option for the financial sector since it streamlines complicated financial operations and increases public accessibility.
B. Banking
Traditional banks are unable to incorporate the latest innovative technology at first because of the administrative structure and the general monetary system they use.

Because of this, banks are unable to develop new goods or services that may solve customers' needs or problems in the same manner as fintech firms.
2. Growth Prospects
A. Fintech
The worldwide fintech sector is expanding quickly, and the digital revolution has gained importance and is spawning new ideas daily.

And as a result, the financial sector has experienced remarkable, incredible growth rates that have a high degree of stability.
B. Banking
Traditional banks have supported the financial sector for several generations, and with the emergence of fintech and its subsequent evolution, they are now adjusting to changing customer demands.

This also generally implies fintech elements like digital protection and contactless payments that allow customers to draw cash from a single person or a group of individuals.
3. Risk Elements
A. Fintech
Since fintech rules are known for their flexibility, this might increase hazards for the sector.

But also because of the advantages over conventional banks, such as its strength, affordability, user-friendliness, and inventive character, it is thought to be a preferable choice.
B. Banking
The higher stringent the standards are, the further they contribute to reducing the danger whenever it pertains to network infrastructure.

However, utilizing technology platforms is crucial if the organization is to maintain its position in the market, provide consumers with improved services, and expand its customer base.
Difficulties that banks confront in the conflict between fintech vs banks
Following the arrival of fintech, traditional banks experienced difficulties that lead to their decreased demand.
These difficulties include:
1. Monotonous Business Strategy
The business model of conventional banking is indeed very repetitive because it necessitates the consumer to be physically available in the banks to deposit cash, request lending, or loans of any form.
Although KYC facilities have been introduced, a few banking institutions still choose to manually confirm the authenticity of their consumers during onboarding, which makes it difficult for the banking institutions to compete with fintech.
2. Growth Prospects
When talking about fintech vs banks, the Fintech sector has been growing at a significant rate which makes it difficult for banking institutions to compete with fintech.
Fintech has a considerably higher growth prospect than banking institutions, which could pose a challenge to those banking institutions.
3. Regulatory Conditions
Because the banks were heavily governed by the relevant authorities, banking institutions used to enjoy an advantage over fintech. But, after the outbreak of coronavirus, the situation significantly altered as most individuals had to work electronically because of safety precautions.
This pushed customers to switch to e-banking because there were lesser procedures and complications associated, which boosted the fintech sector's expansion.
What aspects of the financial sector are being transformed by fintech?
When it comes to the competition between fintech vs banks, fintech is transforming financial activities in the following manner:
1. Managing Assets
With various developments in technology to deliver affordable financial assistance and services, fintechs have assisted in managing assets. As a result, their facilities are now rendered at a lower price than those of banking institutions.

Fintech is also utilizing modern technology to offer innovative financial solutions.
2. Financial services are more accessible
When talking about fintech vs banks, users benefit from the various financing services offered by fintech companies since they are much simpler to access than those offered by conventional banks.

This is highly advantageous for underprivileged groups since they lack access to conventional banking facilities and products, which are now given access through fintechs without the burden of going to the banking organization.
3. Cost-effective Financial Solutions
By providing financial services at a cheaper price than those offered by banking organizations, fintech has helped to increase both the accessibility and affordability of financial services for consumers.

Consumers that desire to save cash may find this to be a profitable solution, which marks it as a major shift in the economic environment.
4. Financial organizations' business processes have improved
Several financial organizations have started the use of fintech in order to enhance their facilities and sustain competitiveness in the industry.

This is usually done through the introduction of innovative technologies and the confinement of business strategies that can substantially affect the overall processes of financial organizations.
5. Improves transparency in the financial sector
Previously, financial institutions were viewed as being inefficient and unreliable, but the emergence of fintech has caused this perception to change.

This transition has occurred as a result of the visibility features offered by fintech, which enable clients to monitor their finances and the way the tech is being utilized.

Additionally, when comparing fintech vs banks, fintech is much quicker to consumer requirements.
Collaboration of Fintech & Banks
Commercial banking institutions and fintech companies primarily serve as financial facilitators. Although banks have been around for a while, they must undergo significant transformation in order to remain competitive in today's market and satisfy the demands of the customer.
However, with fintech, consumers have access to a number of cutting-edge technologies and utilize similar services as those offered by conventional banks. And this enables the interaction between fintech and banks to be quite straightforward and comfortable—as long as customers do not fully abandon banking institutions in favor of fintech. However, if banking institutions and organizations in the fintech sector would work together, they will have a significant effect.
Some of the benefits of the collaboration of fintech and banks are:
The enhanced technological tools that fintech provides to banks can aid the global financial system.

If commercial banks and fintech companies work together, they will be governed by organizations with comparable legal frameworks, that will facilitate the development of credibility and confidence.

In contrast to fintech, banking organizations have substantial cash reserves. And if they collaborate, any banking organization will find it simple to build the ideal financial system.
Fintech and conventional banks both have their own advantages and disadvantages. Banks possess a depth of industry understanding and expertise that new fintech startups do not possess. Additionally, banks are the only entities with a license to offer fintechs necessary amenities like account security. This is what makes fintech firms interested in working with conventional banking organizations. On the other hand, traditional banks can also pick up some tips from fintech firms about how to draw in new clients and provide more specialized goods and services. 
To provide a more brief idea regarding fintech and banks we have given a brief comparison of fintech vs banks. Along with that, the various aspects of the financial sector that are being transformed by fintech, and the difficulties that banks confront in the conflict between fintech vs banks, have also been explained. For any more queries on fintech vs banks, you can consult our experts at Odint Consultancy. Our professionals will be happy to help you in solving your queries.