Importance of Trademark Registration
Successful brands can be worth millions of dollars and the worth of these smallest brands will surprise you. However, these assessments are dependent on their value to the company. Brands that are successful get continuous word-of-mouth publicity, can get better prices, and get royalties for the trademark by licensing it to a third company. To transfer rights and other rights it is necessary to register a trademark.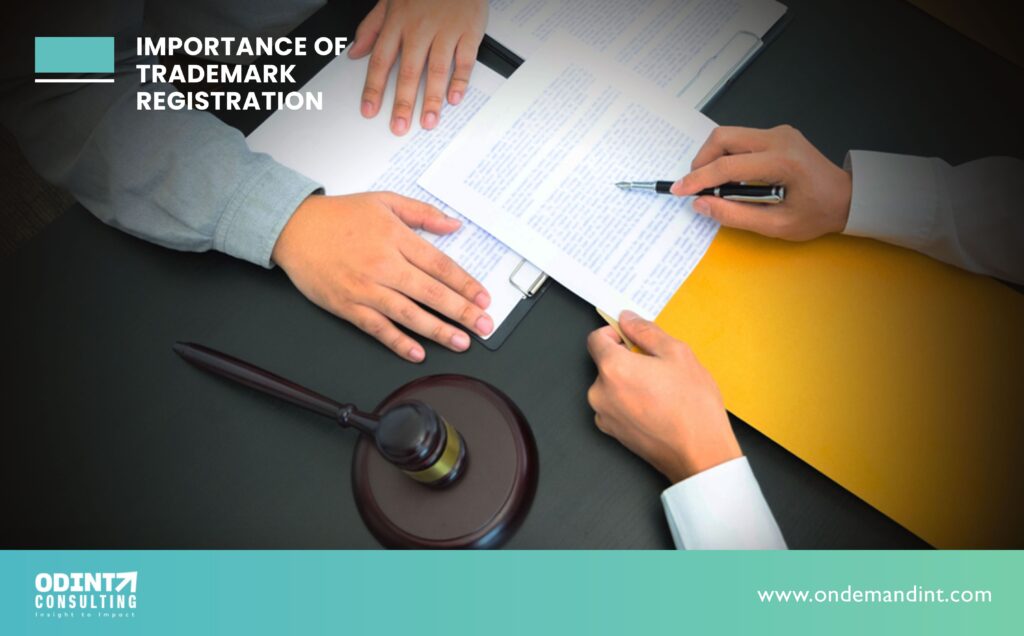 Additionally, If you've registered the trademark, it's easier to prove legal rights, which will save both time and legal costs. Well, to understand the importance of trademark registration, let's take a look at three major ways that your brand's reputation could be damaged even if you don't own a trademark that is registered.
Importance of Trademark Registration in India
The following are the importance of trademark registration in India:
Perks of trademark registration
Securing your trademark among consumers
Cybersquatting Troubles
Perks of trademark Registration
If you trademark your name, another company won't be able to choose that same brand name, and won't be able to register it. If somehow they attempt to use your registered firm name, you can simply sue them in legal court and ask them to pay for the reimbursement.
However, trademark laws acknowledge the first owner of the trademark. This means that you'll still – even after paying a significant amount of money on legal costs – be able to keep the rights to the trademark.
However, since trademark rights are exclusive to a specific territory, unless you've been doing business throughout India or elsewhere, courts can split the rights to the trademark by region of operations.
So, if a different firm has been operating with the same name across a greater portion of India in that area, it will have an increased area of coverage in the area of operation. In contrast, If you had registered the name in the early days then you do not have to worry about this issue at all. Eventually, this is one of the importance of trademark registration that needs your consideration.
Securing your trademark among consumers
The owners of trademarks have the power to challenge new trademarks that sound like their trademarks. For instance, Satyam Infoway Ltd managed to convince the courts to deny Solutions Pvt Ltd on the basis that it could confuse consumers. This option is not accessible to people who have not completed trademark registration.
So, a different brand with an identical name would be legally entitled to be able to operate in India and could even erode your brand's presence if the other company is more effective than yours. In this case, legal recourse might not even be feasible. That's why the importance of trademark registration is crucial to ensure your safety.
Are you aware of how many different versions of your domain's name might be? 100s, surely. There's an entire industry that is centered around the purchase and selling of successful domains. It's so widespread that there's a Uniform Domain Name Resolution Policy (UDRP).
Without a trademark, it's more difficult to convince the UDRP or courts that the diverse domain names (example.co.uk and example.biz) are not allowed because they violate any rights or interests of the company. With a trademark, it's a breeze to prove.
Marks & Spencer, for example, which runs under marks-and-spencer.co.uk, even managed to block the sale of marksandspencer.com by a domain registrar. In all three instances, it is clear that the absence of a trademark can have consequences, that's why the importance of trademark registration plays a crucial role.
If any of these situations happen, you'll have to swiftly apply for trademark registration, engage an attorney and invest time and effort in resolving the issue. If you have a trademark, the problems will be much less and certainly less expensive.
Book end-to-end experts consultation with Odint finance and legal experts
Therefore, even if it's not necessary to register a trademark before you've gained any popularity, you should start registering your brand name as soon as your business is beginning to show some potential.
If you're still having questions regarding the importance of trademark registration, we are ODINT Consultancy. We are here to assist you in every way.
Meet Apurva Gaur, an accomplished and dedicated Company Secretary, whose passion for corporate governance and legal compliance has shaped her remarkable journey in the business world. With a wealth of experience and a keen eye for detail, Apurva has emerged as a leading authority in the field of corporate governance, earning accolades for her invaluable contributions to the companies she serves.