Japan is one of the nations in Asia that functions as an entry point to the continent's marketplaces and has an effective infrastructure that supports businesspeople undertaking commerce with Asian nations.
The country has some of the finest telecom infrastructure worldwide, which is advantageous to enterprises.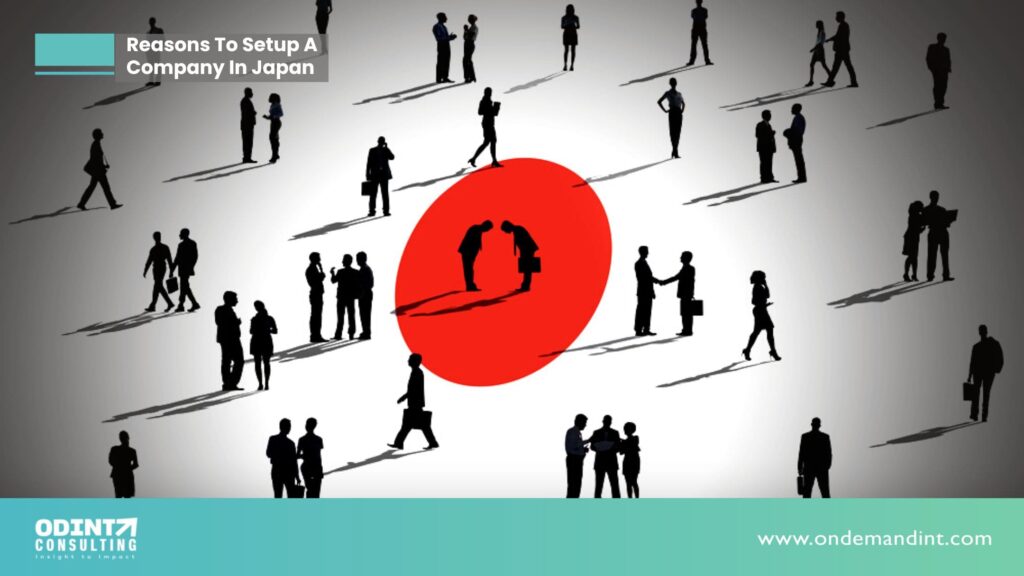 Also, Japan has several tax advantages, such as the nation has entered into double taxation prevention arrangements with 96 nations, enabling local businesses to reduce withholding tax while sending money overseas.
The partial tax and partly custom duty exemptions that Japan's free trade zones provide to international businesses make them appealing to commercial establishments. These are only a few of the reasons to setup a company in Japan.
This article will cover several other reasons to setup a company in Japan.
Several reasons to setup a company in Japan
Japan has a robust economy, modern infrastructural facilities and regulations that provide businesses with an outstanding business climate. This is one of the reasons to setup a company in Japan. 
There are, however, a lot of additional factors, like those listed below, that can motivate you to establish a business in Japan.
1. Favourable Corporate Environment
Operating in Japan is simple due to the country's friendly corporate environment which is one of the reasons to setup a company in Japan. 

As such, with regard to the Doing Business Index by the World Bank, Japan has been placed in the 29th position. 

Japan has considerably streamlined the incorporation and management of businesses. This is because there are few basic prerequisites to establishing a corporation in Japan, for example, only one director and one shareholder are required to form a company. 

Also, having a resident director isn't a requirement for businesses in Japan. Japan ranks among the politically steady nations in Asia and has a solid regulatory framework.
The efficient infrastructures of Japan are one of the reasons to setup a company in Japan. 

Japan is home to a sophisticated and advanced infrastructure that facilitates the transportation of a wide range of products and services. 

Japan offers easy connectivity to significant Asian economic centres with its approximately 20 ports as well as 5 international airports. Japan's infrastructural efficiency is positioned as fifth worldwide.
3. Efficient Financial Industry
The Financial Services Agency of Japan (JFSA) oversees the finance industry in Japan, but it is distinct because there exist numerous levels of authorities it collaborates with to guarantee the industry's adherence to global norms, that those norms are detailed enough to provide consumers with a satisfactory level of security, and that it is quick to respond to major innovations without experiencing administrative disruptions. 

Japan is a significant global finance base. Japan is placed as the sixth-best finance hub globally by the Global Financial Centre Index. 

The Tokyo Share Market is also the biggest market in Asia and the third-biggest market globally. 

Hence, the efficient finance industry of Japan is among the crucial reasons to setup a company in Japan.
The majority of Japan's taxation legislation features a variety of tax deduction and reduction programmes designed to boost foreign investment in the country. 

Japan is a signatory to numerous important agreements relating to intellectual property, including the Patent Cooperation Treaty. 
5. Technological Development
Among the globe's biggest marketplaces for telecommunications solutions is found in Japan. 

The nation has an outstanding reputation for product creation and technological invention. 

Since there are no constraints on international investment in this business, it appears to be an ideal location for the telecommunication sector. 

Moreover, Japan is where many cell phone technologies were first invented. 

So, the technological development that has been taking place in Japan is another one of the reasons to setup a company in Japan. 
6. Route to Asian Economies
Japan's economy is a great place for international business owners wishing to expand and reach other Asian marketplaces because of its geographic proximity. 

Japan is considered the third-largest economy on the planet following the USA and China. 

Japan is a great place to start a corporation since it promotes Foreign Direct Investment and provides accessibility to 125 million citizens. 

Japan has implemented a variety of FDI promotion strategies, including, reducing the amount of time technically qualified professionals must dwell in the country before applying for permanent residency, and streamlining rules for international businesses.

Hence, Japan serves as a route to other Asian economies, which is one of the reasons to setup a company in Japan.
Japan is one of the countries in East Asia that has devised several strategies to attract FDI in the country. The country has also been ranked among the top 10 positions when it comes to having great infrastructural facilities. The technological as well as finance sectors are other essential and thriving sectors of the country.
You can communicate with our business specialists at Odint Consulting if you have further questions regarding the reasons to set up a company in Japan. Your questions will be answered by our specialists who have a wealth of knowledge in the relevant fields.