Start an Online Retail Business
With the advent of the digital era, a lot of individuals wish to start an online retail business in today's world. Due to the simplicity of conducting business online, opening a retail store could turn out to be one of the most lucrative ventures. Moreover, it is convenient and cheaper to sell a variety of goods via internet platforms.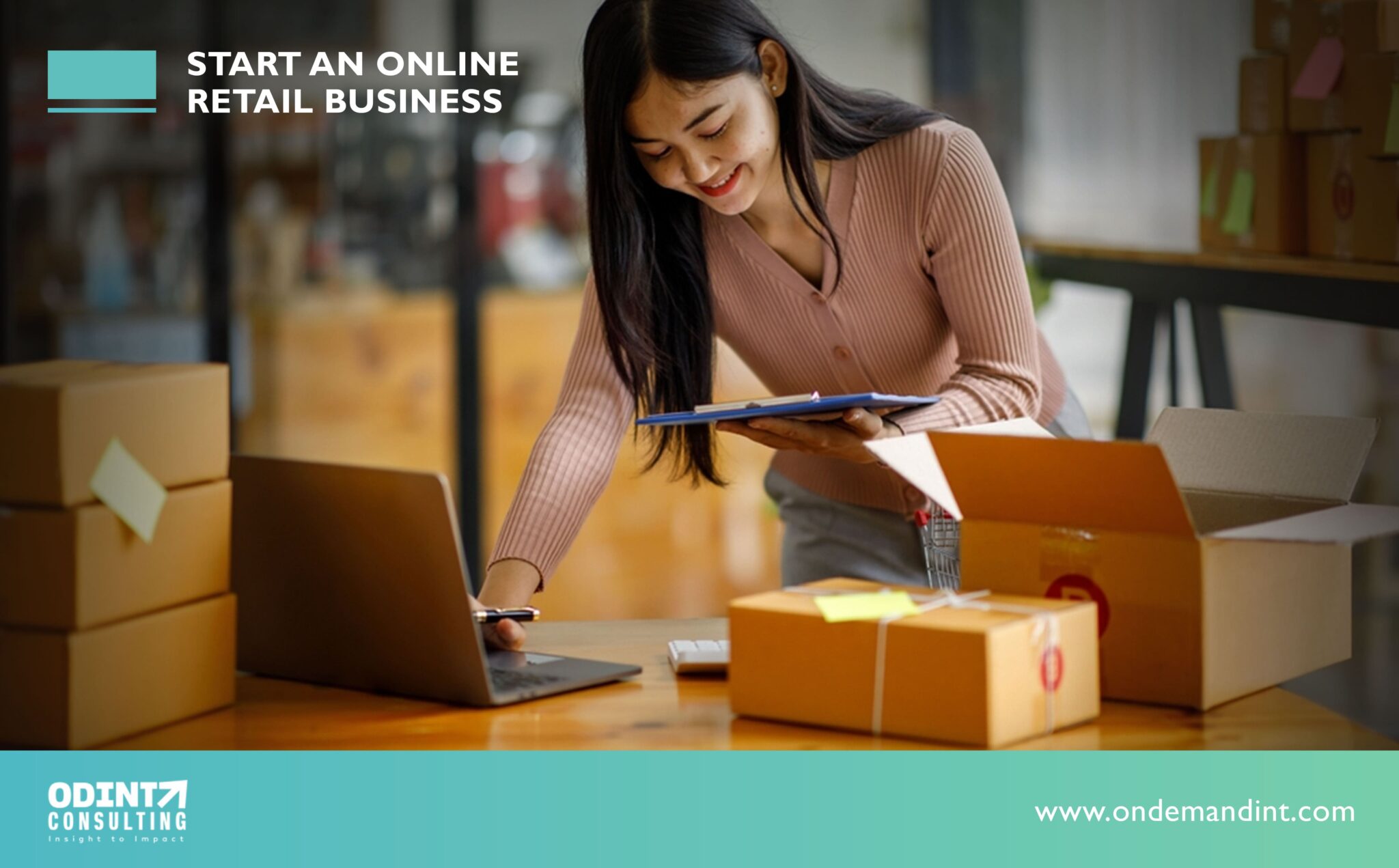 This article will briefly discuss how you can start an online retail business and will also provide the reasons for establishing an online retail business.
Reasons for establishing an online retail business
Many individuals want to be successful, have stable finances, and work remotely. This is more true now than it ever has been because of the advancement of the internet and the opportunities it has created for fresh business possibilities.
Because of increased connectivity and accessibility through the online platforms, it is easier for entrepreneurs to start an online retail business. 
Opening an online retail business is also a cost-effective strategy to sell and promote your products in the market.
Additionally, a website on an online site allows customers from all over the globe to easily and quickly purchase the products and services anytime they desire. A sale can be achieved or lost based on the website's general effectiveness, functionality, and aesthetic.
Procedure to start an online retail business
In order to start an online retail business, the following procedure must be followed:
1. Proper business plan
One of the most important things that should be taken into account for every entrepreneur when they start an online retail business is to have a proper business plan. A business plan is essential in order to create the structure and strategy required to launch a profitable venture. The strategy that would be implemented in funding, promoting, and advertising must be included in a business plan for an online venture. 
2. Choose a potential niche
The next step in order to start an online retail business is to choose a potential niche. However, one of the major mistakes that entrepreneurs do is neglecting the important criteria used in niche selection.
Profitability– To get a profit on capital investment and create a successful retail business, entrepreneurs need a lucrative industry. Any commodity has a limited chance of becoming profitable if it costs too much to produce or buy in bulk. Corresponding to this, a product would be more suitable for in-person sales than shipping because it would be less costly.
Searchability– The top online retailers carry popular items that customers are looking for. To discover the items that individuals look for, employ SEO techniques.
3. Specify the target market
Almost as significant as the industry is the target market. You need to be certain that the things you market will appeal to their interests and that they'll have no trouble buying them.
4. Identify market gaps
To identify the market gaps, you can utilize the following methods:
Utilize social media to examine the complaints, suggestions, and issues of your target market.
Analyze and evaluate the search results for various goods categories.
5. Select the commodities you wish to sell online
One of the most challenging aspects, when you start an online retail business, is to select the commodities you wish to sell online. The structure, advantages, profitability, and long-term effectiveness of the retail business are significantly influenced by the items you choose. In essence, the commodities can include anything that falls under a diverse range of categories. Based on your financial situation and available assets, you can concentrate on a specific line of products or else diversify into many areas.
6. Generate a brand name & assets
Once you are done identifying the products you want to market, the next steps involve selecting the brand name and building the brand's assets like the business's logo.
Read More: Reasons to trademark a logo 
7. Register the retail business
For your online marketplace, you'll need an EIN to receive payments. In order to receive an EIN, you must also register the online store as an entity in your jurisdiction.
Despite the fact that you may incorporate as a corporation or a sole proprietor, firms frequently opt to do so as an LLC, as it aids to preserve your assets in the event that your firm is prosecuted.
8. Create an online store
The next thing you must think about doing after establishing your company is picking up your preferred e-commerce site, signing up for a business account online, and commencing your online company. The e-commerce platform is the site where the online store will be developed and maintained.
Read More: E-Commerce Services Company
9. List the commodities in your online store
Building an efficient and profitable online store requires categorizing the products and designing page layouts.
When listing commodities, it's crucial to remember the following:
Product specifications
Commodity images
Product types
10. Decide on the financing options
It is essential to develop a wide range of online payment choices for possible clients when opening a retail store.
11. Introduce, promote, and market the online retail business
Once the company has been founded, all the website's issues have been fixed and the goods are available to be sold, the entrepreneur is prepared for the initial release. Once your internet retail shop is operational, you must promote it. The main factor in your long-term plan is developing a company with our experts. Currently, promoting business goods and services will aid in increasing traffic.
Strategies employed to advertise an online retail store
There are various strategies to advertise your online retail store:
Put the company's name in web directories.
Engage experts to help you market the business.
To help people find a business website online, employ content marketing.
Email marketing and social media marketing.
Your company and the goods or services your store is selling will determine the ideal strategy to advertise your online marketplace.
People all over the world prefer starting an online retail business since it is simple to set up and maange. Also, it is a profitable and cost-effective way to make money. One can launch a business from anywhere in the world without having to rent an office.
The above article briefly lays down the important steps involved to start an online retail business. It further describes the significance of launching an online retail business and the various strategies employed to advertise an online retail store.
For further inquiries related to how to start an online retail business, you may consult our experts at Odint Consultancy. Our experts will guide you throughout the procedure.