Are you ready to take the first step toward a brighter future in Canada? 
A country is well-known for its stunning landscapes, multiculturalism, and endless opportunities. It is even renowned for its welcoming and inclusive immigration policies, making it an attractive destination for individuals from around the world.
One of the key pathways to becoming a permanent resident in Canada is through the various immigration programs offered by the Canadian government, which are designed to attract skilled workers, entrepreneurs, and students.
Once an individual obtains PR in Canada, they are entitled to numerous benefits that contribute to their overall well-being and quality of life. Permanent residents are eligible for social benefits such as the Canadian Pension Plan (CPP), Employment Insurance (EI), and other social assistance programs, which provide financial support during times of need. 
In this article, we will explore the ins and outs of Canada PR, from the eligibility criteria to the application process, and the many benefits that come with it. 
Easiest Way to Get Canada PR (Permanent Residency)
Starting a business in Canada can be one of the easiest ways to obtain PR in the country. Through business immigration programs such as the Start-up Visa Program, Provincial Nominee Programs, or gaining Canadian work experience through operating a business, entrepreneurs, investors, and business owners can have a streamlined pathway to Canada PR.
Another easiest way to obtain Permanent Resident Canada is through business immigration or company setup programs. Canada offers several immigration options for entrepreneurs, investors, and business owners who are interested in starting or investing in a business in the country.
One of the popular business immigration programs in Canada is the Start-up Visa Program, which allows entrepreneurs with innovative business ideas and the support of a designated Canadian business incubator, angel investor group, or venture capital fund to obtain PR.
What is a Canada Permanent Resident Visa?
A Canada Permanent Resident (PR) Visa is a legal document that allows an individual to live, work, study, or do business in Canada indefinitely. It is a status granted to immigrants who have been approved by the Canadian government to permanently reside in the country but are not yet Canadian citizens.
PR Visas allow individuals to enjoy all the identical freedoms and ownership as Canadian citizens, besides that they are not entitled to vote or maintain specific governance positions. Obtaining a Canada PR Visa is considered a desirable option for many immigrants due to the numerous advantages it offers. 
It provides individuals and their families with the opportunity to establish permanent residence in Canada, a country known for its high standard of living, quality education, and diverse cultural experiences. 
Canada offers various immigration agendas through which individuals can apply for a PR Visa, such as the Express Entry system, Provincial Nominee Programs (PNPs), Family Sponsorship, and Canadian Experience Class (CEC), among others. 
How to Apply for a Canada PR Visa?
Applying for a Canada Permanent Resident (PR) visa involves a multi-step process that requires careful preparation and attention to detail.
Here are the common stages to obtaining a Canada PR visa:
Step 1:- Determine Eligibility
Before applying for a Canada PR visa, you must first determine your eligibility by meeting the specific requirements of the immigration program or stream through which you plan to apply.
Step 2:- Choose the Right Immigration Program
Canada offers various immigration programs and streams, each with its own set of requirements and application process. Research and select the immigration program or stream that best fits your profile and plans in Canada.
Step 3:- Gather Required Documents
Once you have identified the immigration program or stream, you will need to gather all the required documents for your application, like your passport, birth certification, language test outcomes, Recommendation letters, NoC, and proof of Capital, among others.
Step 4:- Submit an Expression of Interest (EOI)
Some immigration programs, such as the Express Entry system, require applicants to submit an Expression of Interest (EOI) and form an online presence. If your profile meets the least requirements, you may need the invitation to Apply (ITA) for Canada PR.
Step 5:- Offer an Entire Application
If you obtain an ITA, you will have to offer an entire form for Canada PR within the specified period. This includes achieving all the application forms, providing all the needed papers, and spending suitable prices.
Step 6:- Medical Examination and Security Clearance
After submitting your application, you may be required to undergo a medical examination by a designated physician and obtain a police clearance certificate from each country where you have lived for a certain period.
Step 7:- Wait for Processing and Decision
Once your application is submitted, it will undergo a thorough review by Canadian immigration authorities. 
Step 8:- Receive Confirmation of PR
If your form is authorized, you will obtain a Confirmation of Permanent Residence (COPR) paper. Once this document is provided at a Canadian port of entry, you will receive your PR visa and PR status.
Document Mandated for Canada Pr Visa
However, generally, the following documents are commonly required for most Canada PR applications:
Passport:

An accurate passport or traveling papers for you and your simultaneous family associates.

Language Proficiency Test Results:

Results of an approved language proficiency test, such as the IELTS or CELPIP 

Work Experience Documents:

Documentation of your work experience, including reference letters from previous employers, job descriptions, and employment contracts.

Proof of Funds:

Evidence of your financial capacity to support yourself and your accompanying family members in Canada, such as bank statements, investment portfolios, and other relevant financial documents.

Medical Examination Results:

Medical examination results from a designated panel physician to demonstrate your good health and admissibility to Canada.

Police Clearance Certificates:

Police clearance certificates from all countries where you have lived for a certain period, demonstrating your good character and admissibility to Canada.

Marriage Certificate or Common-Law Partner Proof:

If applicable, documentation of your marital status, such as a marriage certificate or proof of common-law partnership.

Birth Certificates:

Birth certificates for you and your accompanying family members, demonstrating your family composition.
Eligibility criteria for obtaining permanent residency in Canada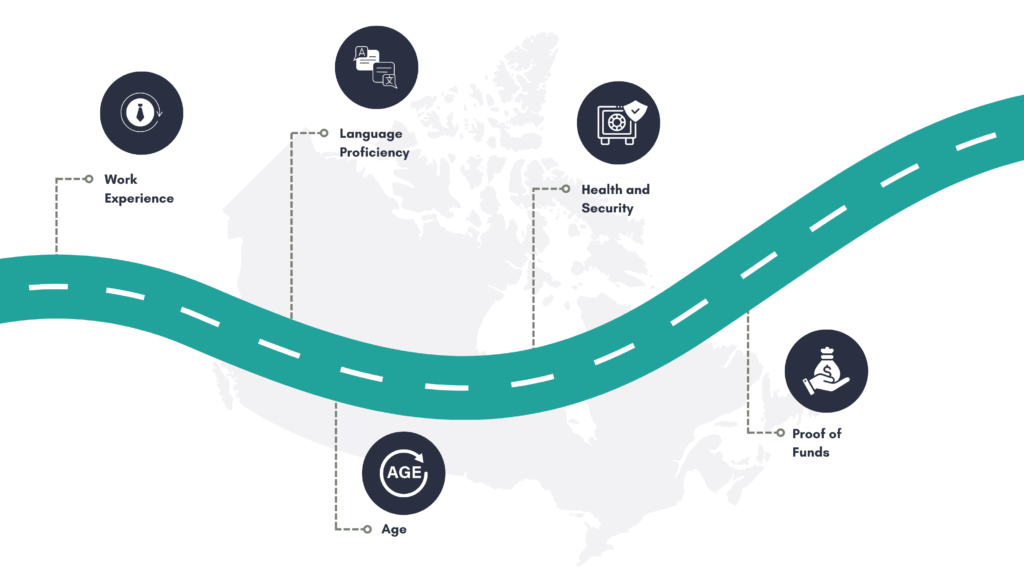 The eligibility criteria for obtaining a Canada PR may vary depending on the immigration program or stream through which an individual is applying. 
Here are some common eligibility criteria for obtaining Canada PR:
Work Experience
Applicants may need to have relevant work experience in a designated occupation or skill level that is in demand in Canada. The work experience may need to be gained within a certain timeframe and meet the requirements of the specific immigration program or stream.
Language Proficiency
Applicants may need to demonstrate their proficiency in English or French, the two official languages of Canada, through language tests such as the International English Language Testing System (IELTS) or the Canadian English Language Proficiency Index Program (CELPIP).
Age
The age of the applicant may be a factor in determining eligibility for Canada PR. Most immigration programs have age limits, with points awarded to applicants who fall within a certain age range.
Health and Security
Applicants may need to undergo medical examinations to demonstrate their good health and meet the health requirements set by the Canadian government. 
Proof of Funds
Applicants may need to show that they have sufficient funds to support themselves and their family members in Canada, as well as pay for immigration-related fees and expenses.
Depending on the immigration program or stream, there may be other factors that are considered for eligibility, such as adaptability, ties to Canada, and proof of settlement funds.
Book end-to-end experts consultation with Odint finance and legal experts
Obtaining Permanent Resident Canada can open doors to a world of possibilities for individuals and families seeking a new beginning. With its welcoming nature, strong economy, and high standard of living, Canada offers a multitude of benefits to PR holders, including access to social benefits, healthcare, education, and job opportunities.
If you wish to have a permanent resident in Canada, speak with our specialists at Odint Consulting. Our specialists will help you in the process of applying for a Canada pr visa and will further guide you through the visa interview process.