Immigrating to the USA in 2023-24
If you are intending to move to the USA, you must be aware of the immigration process before you start your journey. You must fulfill certain requirements and pay the necessary fees before you can legally be immigrating to the USA. Immigrating to the USA can be a little costly & complicated, therefore, it is crucial to comprehend the requirements. 
This step-by-step guide will walk you through all aspects of immigrating to the USA and the visa required for immigration. 
Prerequisites for Immigrating to the USA
The prerequisites for immigrating to the USA are discussed below:
The applicant should be a citizen of a USA treaty nation.

They must have or be actively investing in a US-based legitimate business, new or established.

They must have at least 50% ownership or hold a senior managerial position.

L-1A Visas for Managers & Executives.
Apart from this, a visa category also allows an employer to transfer an executive to the United States from a foreign office that is already affiliated with the US, or with the intent of setting up an office.
The applicant's employer must have a qualified relationship with a foreign company to petition for them.

The employer must be currently or soon be engaged in business in the USA as an employer during the applicant's stay.
You must ascertain the type of visa that is available to you for immigrating to the USA. If one of these applies to you, then you will likely be able to go through the process of relocating to the USA.
Types of Visas for Immigrating to the USA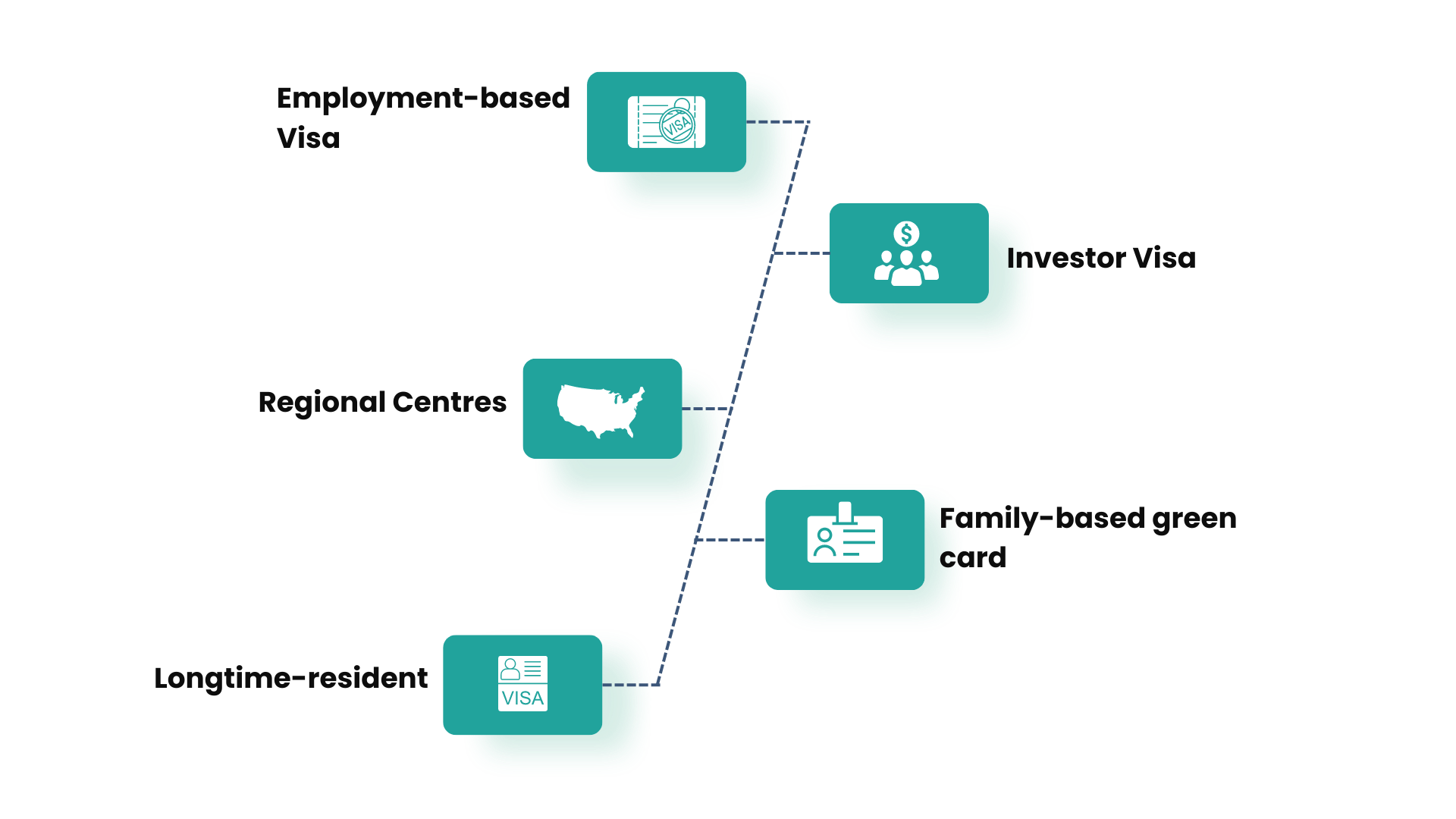 The following category of users are eligible for the types of visas mentioned below.
Extraordinary ability foreigners

Skilled and professional workers

Traders and investors

Temporary workers

Fiancee, spouses, and children of fiancee.

Long-time-resident
Down below we've listed, the various type of visas available for immigrating to the USA.
Employment-based Visa
Many individuals are often immigrating to the USA with employment-based visas. These cards are issued in five categories depending on your skills and other benefits.
The four first categories, EB-1 to EB-4, are focused on your skills as an employee. You may need to apply to sponsor your application from a U.S. employer in certain cases. In others, you will need to show exceptional abilities or special training.

The EB-5 green card is slightly distinct. It's only available to investors who have invested between $500,000-$1 million in creating jobs in American communities. Details will vary depending on your location.
Investor Visa
For those who invest a minimum of US $1,000,000 in a new business that creates 10 or more full-time employment opportunities for US citizens, this program reserves 10,000 Green Cards per year.
Requirements
Funding must be injected or a new business must be created.

An investment minimum of US $1,000,000 is required.

Investors must show that they have legal access to the funds.

It must create at least 10 full-time positions.

This category requires that the investor actively participates in the day-to-day running of the business in a managerial or supervisory capacity.
Regional Centres
The USCIS (the United States Citizenship and Immigration Service) has designated a regional center as an entity that can attract foreign investors. The minimum investment for a regional center that is located in a targeted area of employment is US $500,000.
To be approved by USCIS as a Regional Centre, a detailed business plan must be submitted. It should include initiatives for economic growth, promotion of employment, and how the business will impact the US economy.
Family-based green card    
Most green cards are given to current U.S. citizens or green card holders. The family members eligible for green cards are spouses, widows/widowers, and children. 
The sponsor's citizenship or green card status and the immigrant's degree of relatedness, however, can affect the applicable laws. 
Longtime-resident
People who have lived legally or illegally in the US since January 1, 1972, can apply for green cards. Prior to that date, they must have entered the country, and they must not have left after doing so.
Application Process for an Immigrant Visa in the USA
The location where you are currently living will determine the application process that you'll follow for immigrating to the USA.
Step 1:- The companion will file a plea to the U.S. authorities to begin the immigration process. Form I-130 is used to establish your relationship with the sponsoring relative. Your request for an employment-based card will be made on form I-140.
Step 2:- Citizenship & Immigration Assistance will examine & approve your petition. After this, your actual visa application will be filed. Moreover, your sponsor will send in form I-864 to pledge financial support for family-based visa applications.
Step 3:- If your application originates from the US, USCIS will analyze it and contact you with information for a biometrics appointment.
If it comes from a country other than the United States will be processed at your local consulate. You'll have your biometrics taken during your consular interview. Both cases will require you to undergo a medical checkup as part of the application procedure.
Step 4:- A face-to-face interview is required for both application stages. After your application has been processed, you will receive a notice indicating the date and time you must attend an interview at either the USCIS office in the United States or the U.S. consulate if you are applying from outside the United States.
Step 5:- You'll find out if your application was approved after the interview. You'll receive your green card if you applied from the United States.
You'll get your passport back along with a visa so you can visit the US. Once you have arrived, your green card will be mailed directly to you.
How to Avoid Common Pitfalls and Problems?
Look out for the "90-day rule"
Be cautious not to falsify your objectives when you initially enter the country if you intend to apply for a green card. Officials from USCIS will carefully review AOS petitions submitted within 90 days of arriving in the country with a non-immigrant visa.
Avoid past visa violations
Green card applications can be complicated by the illegal presence or overstay in the United States. In some cases, lengthy bans may be placed on your capacity to enter the country once more. You might occasionally be able to obtain a waiver of these penalties. 
Avoid falling for the immigration scam
Scammers are known to pose as officials or immigration attorneys and target immigrants. Do report suspected scams in immigration to the relevant authorities.
Book end-to-end experts consultation with Odint company formation experts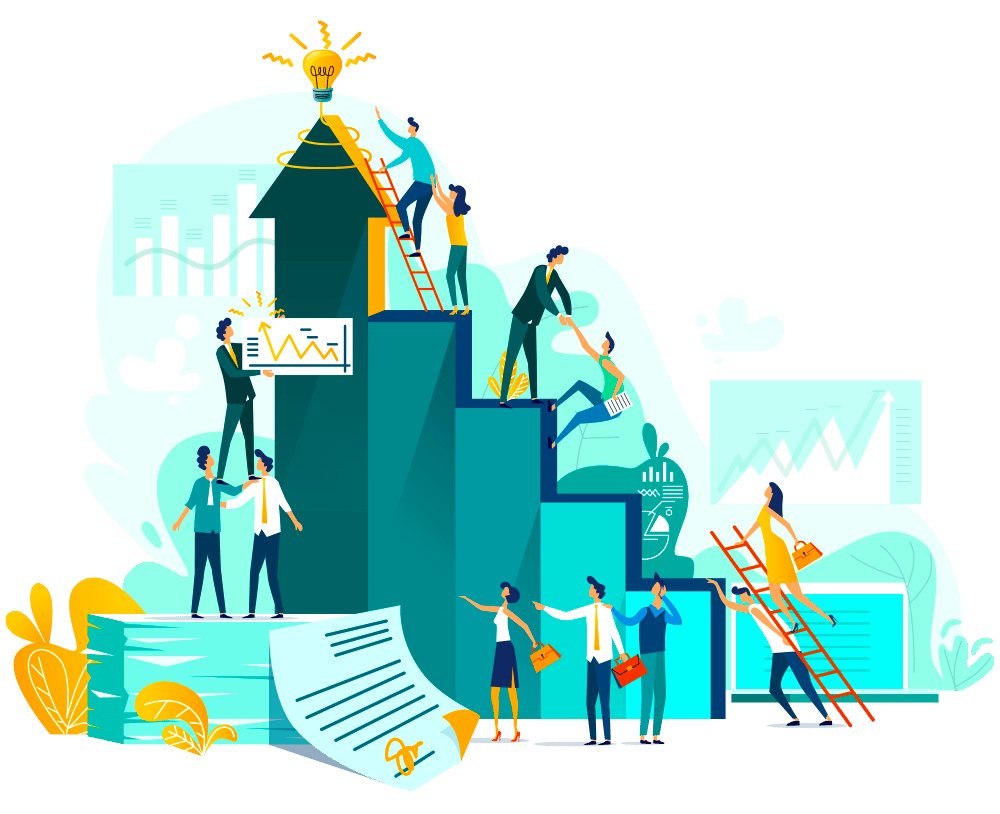 You will need to determine which type of visa is available to you to move to the USA, however, you must seek help from experts for the application process of immigrating to the USA.
Odint Consultancy will help you to navigate through the procedure of immigrating to the USA. In order to ensure its accuracy before it is filed, we will put your application through several quality checks.