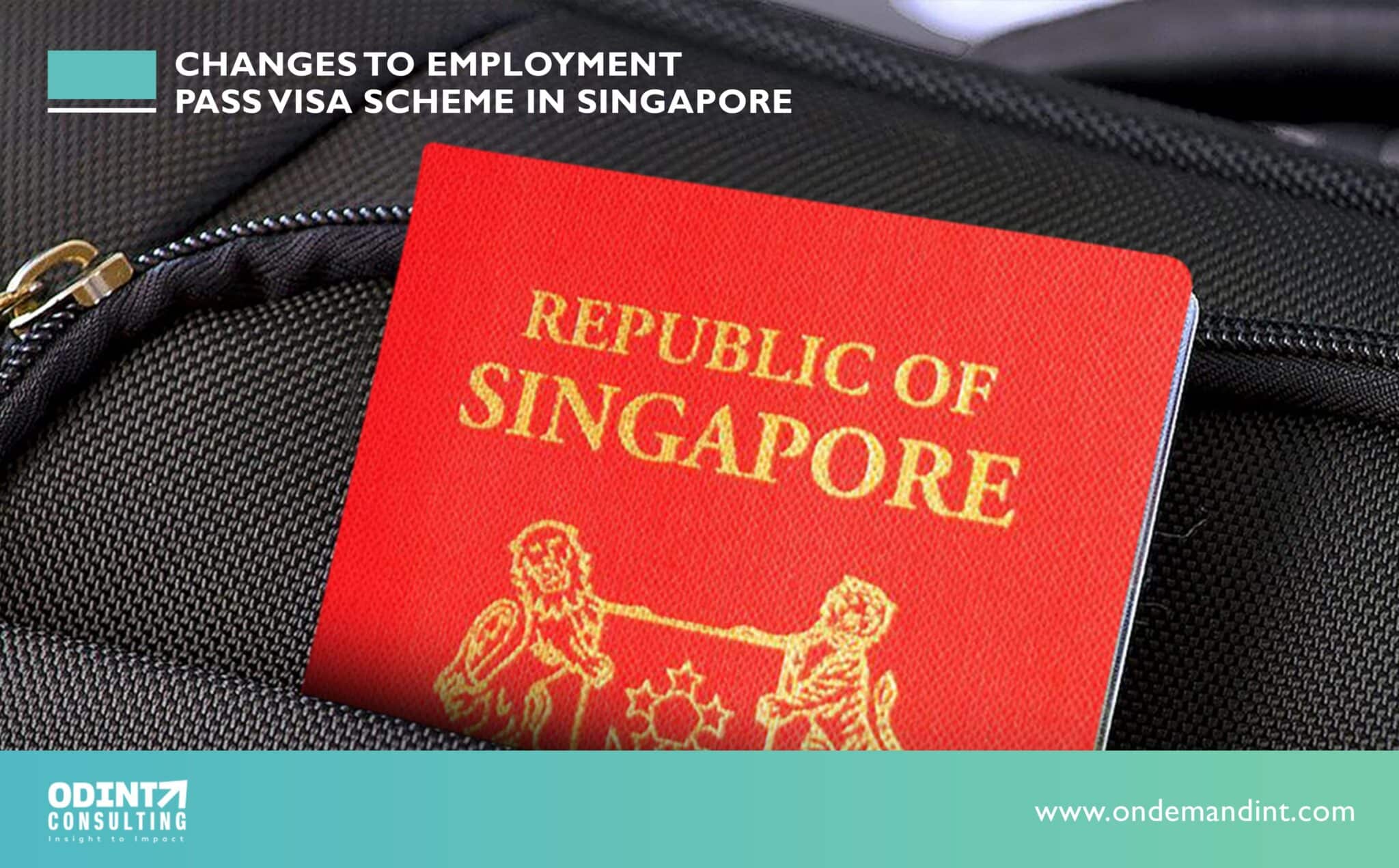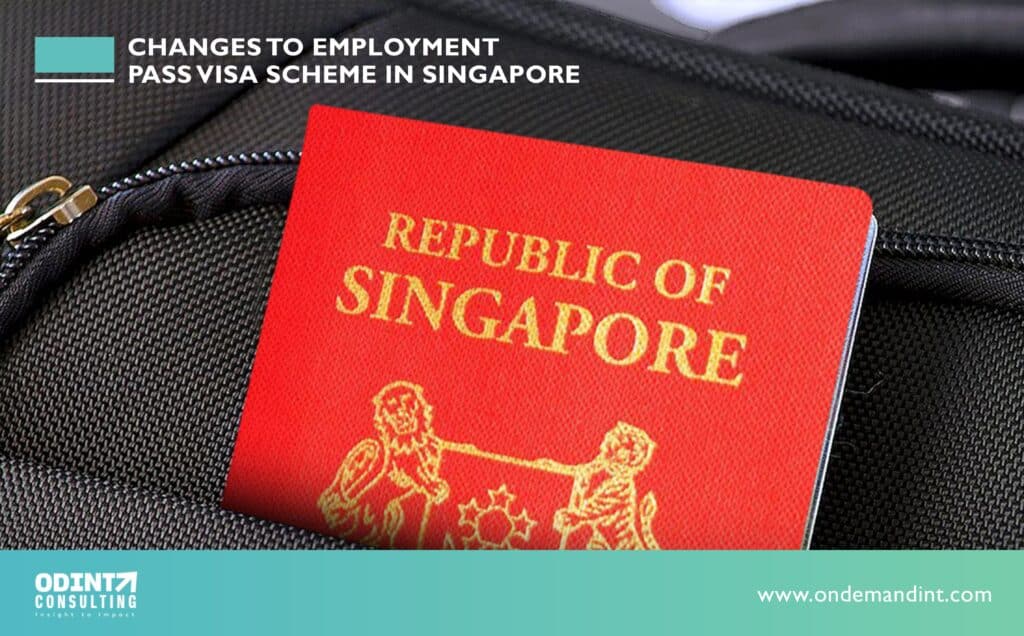 Changes to Employment Pass Visa Scheme in Singapore
In the context of Singapore's review of foreign workers in Singapore and measures to safeguard local workers and workers, Singapore's Ministry of Manpower has launched various changes to employment pass visa scheme in Singapore to the market regulations. 
This includes increasing the salary that is required to be paid for Employment Pass (EP) applications and increasing the locally qualifying wage as well as new rules for advertising job openings for local candidates.
In this article, we will learn about the employment pass visa scheme and what are the recent changes to the employment pass visa scheme in Singapore.
Employer Passes and Criteria for Eligibility
Employment Pass is an employment Visa issued by the Singapore's Ministry of Manpower that allows foreign managers, professionals, or executives the opportunity to be employed in Singapore. 
The government sets the requirements for eligibility for the EP for applicants, which includes having an offer from changes to employment pass visa scheme in Singapore for an executive, managerial or specialized position; possessing an excellent university degree as well as professional credentials and meeting other criteria that include having a monthly fixed salary that is not less than a certain amount. The minimum wage for all industries, with the exception of financial services, is $5,000 as of September 1, 2023. From the age of 23, this sum gradually rises, reaching a maximum of $10,500 at the age of 45 and older.
Additionally, unless excused, candidates must obtain 40 points to successfully complete the points-based Complementarity Assessment Framework (COMPASS).
The background to the Salary Increase in the EP Salary Increase
It is reported that the Singapore Government has adjusted the EP minimum wage every few months to keep pace with the current trends in income. 
The earnings for an Employment Pass, according to the most recent eligibility requirements for September 2023, is a minimum of $5,000 for all industries with the exception the financial services industry (which boosts gradually with age from age 23, to a maximum of $10,500 at age and above), and at a minimum $5,500 for the  financial services industry ( raises gradually with age from age 23, to a maximum of $11,500 at age 45 and above).
This new EP minimum wage is calculated to be comparable with the median salaries of people in Singapore with similar qualifications and experience, so as to guarantee it is that EP holders are experts and doesn't undercut the salaries of changes to employment pass visa scheme in Singapore professionals and executives, managers and technicians.
The primary goal of this amendment can be to manage the supply of foreign labor as well as ensure the protection of local labour. Quotas and ratios work as effective methods used by governments across the globe to control the flow of workers from abroad.
Therefore, from or after May 1st, 2020 changes to employment pass visa scheme in Singapore companies that employ foreign citizens who apply for applicants to be employed in or under an EP will be required to pay a new minimum of SGD $3,900 in order to be in compliance with the new regulations.
To determine whether an EP applicant is eligible in the event of the pass visa or S Pass and if the proposed salary is adequate, it is recommended to utilize the Employment or S Pass Self-Assessment Tool (SAT) prior to applying or renewing. The MOM's assessment tool online is scheduled to be updated with updated amounts in the near future.
Employers who employ foreign nationals and want to renew their EP will also have to pay the updated amount from May 1st, 2021. The applications for immigration that don't meet the minimum wage requirement could be reclassified and converted to the status of an S Pass. This could bring additional costs to the business and a requirement to make a monthly payment to every S Pass holder.
Experiential EP applicants
The EP minimum salary requirement for experienced and older applicants will also be raised. The MOM states, for example, that EP applicants aged between 30 and 40s should earn more than twice the current minimum salary requirement of $3,900. The exact numbers are available once the SAT is revised.
The ministry considers a greater minimum wage for EP candidates to be reasonable, taking into consideration the skills that the applicant is expected to possess. The changes to employment pass visa scheme in Singapore. The goal is to create an equal playing field for similar-experienced local mid-career professionals and managers, executives, and technicians.
Salary Increase for Local Qualifying
Every changes to employment pass visa scheme in Singapore firm has the right to a specific foreign worker contingent. The quota is determined by weighing as well the amount of local employees. Therefore, businesses with greater local employees on their payroll are usually provided with higher quotas when hiring foreign citizens.
A Local Qualifying Salary (LQS) is a measure that establishes the number of local changes to employment pass visa scheme in Singapore that can be considered as part of the calculation used to determine the amount of Work Permits and S Pass quota to which the company is entitled. The purpose for LQS can be used to guarantee that local employees are being paid meaningfully instead of being paid small salaries.
The LQS similar to the EP minimum wage, is regularly adjusted It was previously raised in July of 2019 between SGD $1200 up to SGD $1,300.
The current scenario can be described as: A Singaporean (or Permanent Resident) employee who is employed under a service contract and as a director of the company is considered to be:
1 local employee when they earn the LQS amount of at least $1300 per month;
5 local worker if you earn less than half of the LQS minimum $650 or less than $1300 monthly.
Starting July 1st 2020 1st, 2020, the LQS will be increased by $1300 to $1400. Local employees will be increased between $650 and $700.
Companies affected will be required to increase the wages of local employees. changes to employment pass visa scheme in Singapore who do not agree to this are required to cut their foreign workforce in order to comply with the lower amount of quota.
Fair Hiring Consideration
Job advertisement requirements are another strategy Singapore uses to shield local labour from being unfairly hired of foreigners. Since changes to employment pass visa scheme in Singapore introduced its job advertisement requirement in the year 2016, more than 3,300 EP applications were rejected because the MOM decided that they did not satisfy the criteria.
After being amended in January 2020, the Fair Consideration Framework (FCF) sets tougher sanctions for discriminatory employment practices, particularly for changes to employment pass visa scheme in Singapore. Businesses are required to announce open positions through the national portal for employment MyCareersFuture.sg before submitting EP applications.
Starting on May 1st in 2020, the advertising obligation will be expanded to include jobs that pay at least $20,000 per year. This is an increment from $15,000 currently. So, businesses will have to announce more job openings in order to make sure that Singaporeans are able to apply for these jobs before considering foreign applicants.
Book end-to-end experts consultation with Odint finance and legal experts
Changes to the employment pass visa scheme in Singapore aspire to continue serving as a center for overseas businesses and luring in foreign capital. The government welcomes visitors from abroad and appreciates the value that foreign labor brings to the workforce.
In addition to promoting a diverse workforce, the government encourages regional enterprises. To stimulate business expansion and the creation of jobs for Singaporeans, MOM is putting additional criteria into play
If you have any further questions regarding the changes to the employment pass visa scheme in Singapore. Make sure to contact Odint Consultancy. We'll assist you every step of the way.
Meet Apurva Gaur, an accomplished and dedicated Company Secretary, whose passion for corporate governance and legal compliance has shaped her remarkable journey in the business world. With a wealth of experience and a keen eye for detail, Apurva has emerged as a leading authority in the field of corporate governance, earning accolades for her invaluable contributions to the companies she serves.