Company Registration In Canada in 2023-24
Canada is renowned throughout the world for its friendly business climate. In terms of its startup environment, Canada came in third place out of 197 countries in 2019. It shares a long border with the US and has many similarities with America with respect to social norms and business environment.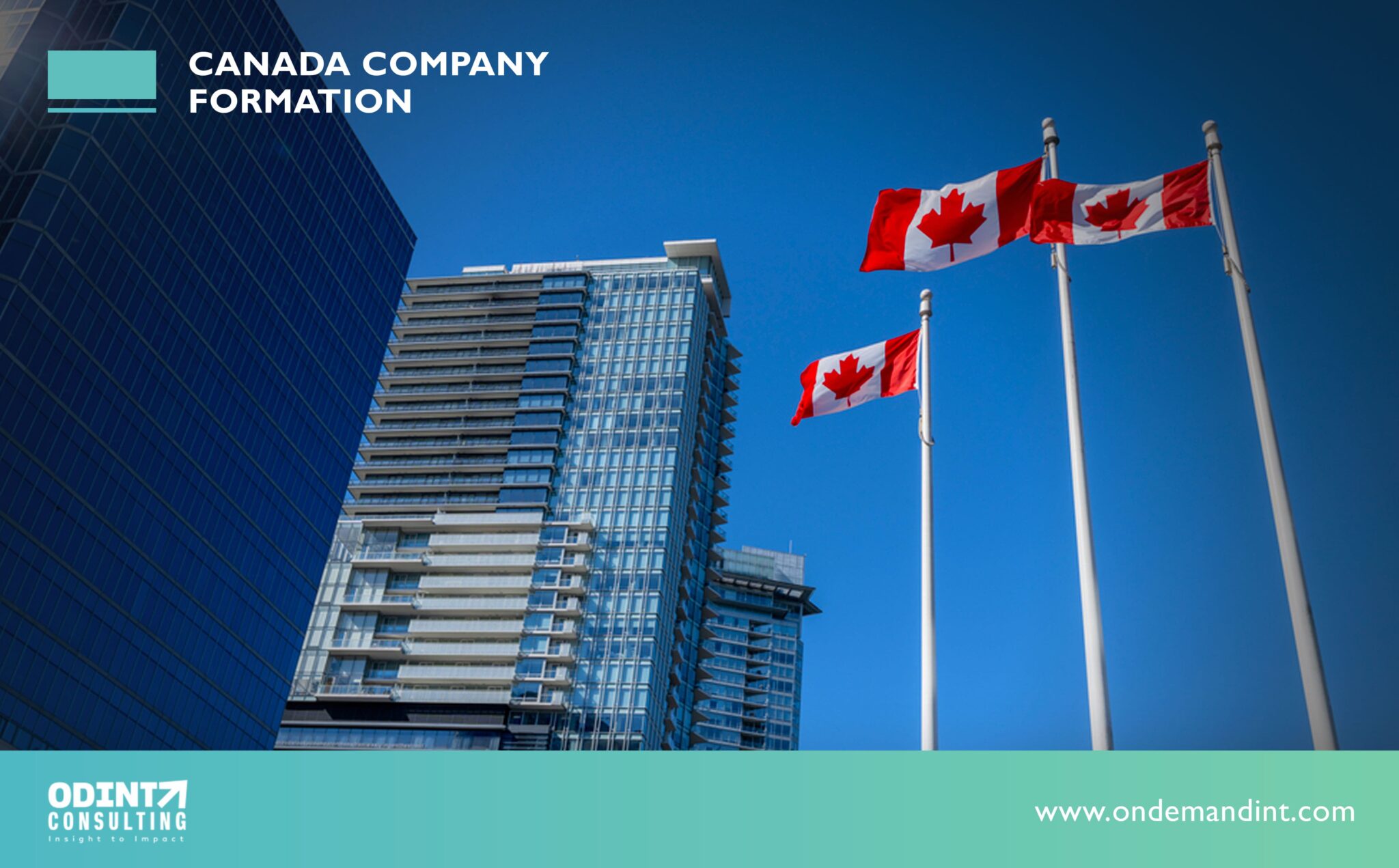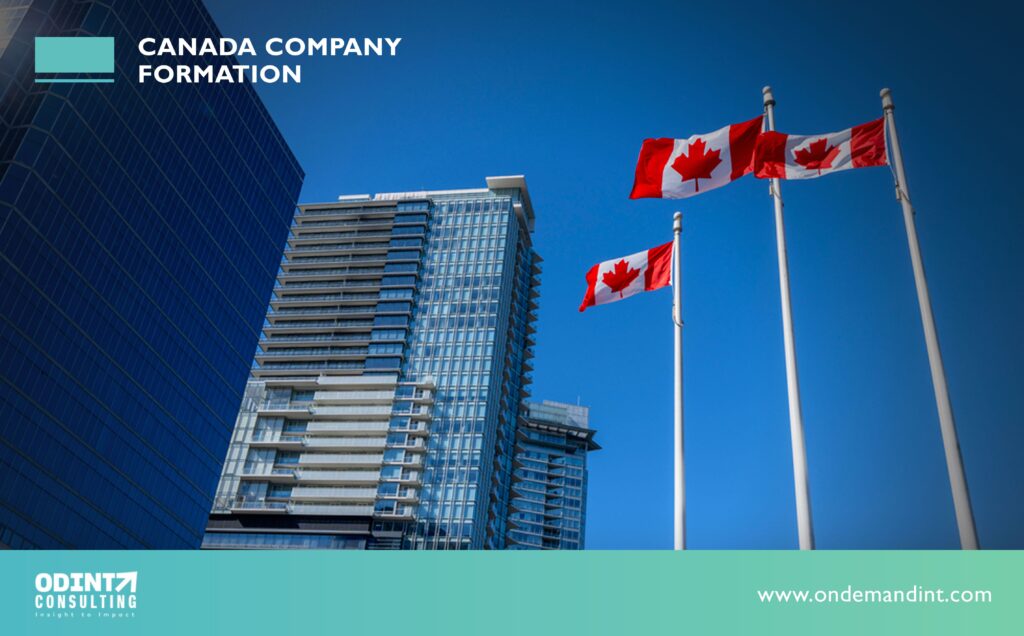 Canada is well-connected with access to three oceans, traversing six time zones, more than 550 port facilities, and 18 airports. The country has taken several steps to improve its intellectual property (IP) regime by reducing administrative burdens and streamlining procedures for Canadian businesses. The manufacturing and service sectors are the two leading sectors in Canada. 
Roughly one-seventh of the labor force is employed in the manufacturing sector in Canada and contributes about one-fifth of the nation's GDP. One of the service sectors with the highest growth is tourism. As a result, your firm will profit considerably if you register a company in Canada, regardless of the industry.
This article explains how an entrepreneur can register a company in Canada. Additionally, the process, requirements, paperwork, and benefits of company registration in Canada are also covered.
Procedure for Company Registration in Canada
The following are the steps an entrepreneur must take in order to register a company in Canada:
1. Decide if you want to register the Company at the Provincial or Federal Level
One of the first stages for company registration in Canada is to decide if the business should be registered at the provincial or federal level. The proprietor of the business may choose to establish the firm either at the Provincial or Federal Level. 
At a provincial level, a company established in a particular province is exclusively permitted to conduct commercial operations there. Having an organization at the federal level enables an entrepreneur to operate under the same name across all states and territories.
2. Acquire the business number
The federal and provincial authorities will recognize the organization by its nine-digit account number, or "business number."
3. Choose the type of business entity that you want to register
The following step to register a company in Canada is to choose the legal structure of your business such as sole proprietorship, partnership firm, or corporation.
4. Verify the availability of the company name and reserve it
The following phase is for the business owner to select the name of the company. The name shouldn't be the same as or related to an already-used business name, and it shouldn't be against the law. After choosing a name, it must be checked to see if it is available at the NUANS or Canada's corporate registry. If the name is available, you can register and reserve the name.
5. Acquire the registered office address
Every business that has been established needs to have a registered office. The registered office is the place where the business papers and official records are preserved and where necessary notifications concerning the firm are received.
6. Gather the required documents
All the documents such as the article of association and registered address must be gathered.
7. Complete the registration process
File your request for company registration along with the necessary documents with the government.
8. Register for GST/HST
One must sign up for a GST/HST account if their anticipated annual revenue is $30,000 or higher.
Documents Needed for Canada Company Registration
The following documentation must be submitted for Canada Company Registration:
Articles of association

Name search documentation to demonstrate to the authority that the necessary efforts have been done to look for and reserve the business name.

Registered office address proof

Federal Business Number 

Details regarding the firm's paid-up capital

Translation and notarization of the shareholder identity documentation for the business.

Form for company incorporation
Legal Entities for Company Registration in Canada
The various legal entities for company registration in Canada are:
Private Corporation
Based on the jurisdiction of incorporation, a private corporation can be established with at least one or two stockholders. The minimum required capital is $1 for establishing a private corporation.
Partnership
A partnership is when two or more people or companies collaborate to run an organization together to make money. In Canada, the provinces have sole authority for partnerships, so as a result, every territory has passed legislation specifically governing partnerships. General and limited partnerships are recognized in every jurisdiction. 
A partnership has no formal legal framework, but it is controlled by the rules and regulations outlined in the partnership agreement, which specifies how profits, expenditures, and responsibilities will be divided, among other things.
The Canadian system recognizes the following three forms of partnerships:
1. General Partnership
Each member in a general partnership is unlimitedly responsible for the debts and responsibilities of the business.
2. Limited Partnership
A limited partnership consists of any amount of limited partners and a minimum of one general partner. General partners manage the operations of the organization and are fully accountable to the partnership's creditors. The limited partners' exposure is capped by the quantity of capital they have invested. Limited partners have to refrain from managing the partnership to maintain their limited liability.
3. Limited Liability Partnership 
Limited Liability Partnership enrollment is presently only available in Ontario and British Columbia. A Limited Liability Partnership can be formed with just a single general member and a single limited partner. The appointment of resident partners or management is not required. Profits from LLPs are considered to be directly dispersed to the members and must be reported on individual or company income tax returns because LLPs are tax-transparent organizations.
Sole Proprietorship
The most prevalent and simplest type of company form for small companies is a sole proprietorship. A sole proprietorship has a single business proprietor. In a sole proprietorship, the owner is the only decision-maker, keeps all earnings, bears all liabilities, and is not given a distinct legal position from the company. A sole proprietor must contribute individual income tax on the overall profits earned by the company.

Branch Office
An international organization can engage in commercial operations in Canada by incorporating a branch office. A branch must receive its licenses from the Canadian authorities in order to carry out similar operations as the parent firm in Canada. Additionally, a branch should designate a legal representative in Canada and use the same name as its parent firm.
Eligibility Criteria to Register a Company in Canada
The eligibility criteria for company registration in Canada are given below:

| | |
| --- | --- |
| PROCESS | REQUIREMENTS |
| Paid Up Capital | The minimum share capital requirement is CA$1 |
| Shareholder | Minimum 1 |
| Local Director | Mandatory |
| Local Company Secretary | Mandatory |
| Local Registered Address | Mandatory (Virtual/Physical) |
| Preferable Type of Company | PTE Limited |
Registered office address

: A registered office address is essential for every corporation in Canada.

Yearly return

: Corporations Canada must receive yearly returns from all federal corporations each year.

Annual General Meeting

: A Canadian company's directors are required to organize an annual general meeting of stockholders within 18 months of the company's formation and every year afterward within 15 months of the previous AGM, but no later than six months following the conclusion of the previous fiscal year.

Shareholders:

A private corporation can be founded with at least one shareholder.

Required share capital:

Canada company registration can be done with a minimum of CAD1. 
Tax Structure for Company Registration in Canada
In order to operate businesses in the nation, an entrepreneur must register with the relevant tax authorities and pay the various business taxes in the nation.
Corporate Income Tax:

Canadian resident corporations must pay CIT (Canadian corporate income tax) on all of their international income. Capital gains resulting from the sale of taxable Canadian assets as well as income from operating a company in Canada are liable to CIT for non-resident corporations.

Federal GST:

A 5% government tax known as the GST is applied to the majority of goods and services produced in Canada.

Harmonized Sales Tax (HST):

Five jurisdictions currently apply a unified HST that combines the 5% GST plus a provincial component. These countries have fully synchronized their sales tax structures with the GST.
Cost for Canada Company Registration
Canada company registration cost through the online portal is $200. The fee for a yearly return is $12 on the online portal. For $10, you can purchase a certification of existence or compliance.
Why Register a Company in Canada?
One of the most competitive nations in the world is Canada.

Canada has cheaper operational expenses in comparison to the US, the UK, and Australia.

Canada is ranked as the second-most appealing location for companies engaged in research and development projects, manufacturing, business, and digital services.

Opening business bank accounts for a Canadian firm anywhere in the globe is simple.

Canada has consistently ranked among the top 10 countries in the world in the Forbes List of Best Countries for Business.

Toronto, Ontario is the 2nd-biggest technology center in North America.

Canada, the second-largest nation in the world, has a very low population density.

Canada has abundant natural resources that support a wide range of industries.
Advantages of Company Registration in Canada

Here are the various advantages of Canada company registration:
1. Simple incorporation process
Canada is one of the nations with simple registration processes. The process to register a company in Canada can be finished more quickly, and the incorporation process is quite easy and simple.
2. Technological advancements 
Technology advancements have a strong history in Canada. It offers both intellectual and financial support for the formation of high-potential entrepreneurial enterprises. Toronto is an excellent technical hub and a thriving startup environment with more than 14,000 companies operating across the country.
3. Government incentives
International entrepreneurs who establish businesses in Canada are eligible to seek a number of tax breaks. The Canadian government is particularly interested in supporting innovative research and development projects. The Canadian government makes significant efforts to foster thriving companies. 
According to Forbes, when an organization uses specific advanced technologies, the government will reimburse up to 65% of the expenditures associated with establishing the corporation.
4. Low corporate taxes
For corporations from all over the world, the corporate tax rate is the most important consideration when deciding whether to relocate or where to launch a new enterprise. Companies can save money when business tax rates are lower and reinvest the excess back into the company for growth of the company. 
Canada has maintained its corporation tax rates far lower than those of other advanced nations, dropping them from 18% to 15%, rendering it the most sought-after location for company establishment.

Why choose Odint Consulting?
Odint Consulting BV is a pioneer in international market entry. Having set up 500+ companies from 30 countries in the Netherlands from 42 different industry sectors, we fully understand your business needs. Get started in less than 15 days.
Scalability Consulting

– Our pragmatic support helps to establish a strategic growth roadmap to leverage maximum profits.

Special Advisory

– We offer Special Advisory on Holding Company Structures.

End-to-End Company Set up

– Right from Company Registration to Auditing we stand behind you

Remote Incorporation Support

– Virtual 24*7 Support and Compliance Fulfilment for Remote Company Incorporations

Trusted Partners

– We are working with a well-qualified network of 500+ trusted partners across the globe.

Strategic Consulting-

Our experts deep-dive into understanding the unique Scalability goals best suited for your business.

One-Stop Solution

– We provide every service required for company formation.
Canada is ranked sixth worldwide and second among G20 nations by the authorities at the World Bank for company startup opportunities. Canada is a nation that encourages the establishment of businesses due to its sophisticated economy and robust infrastructural facilities. Various sectors in Canada contribute considerably to the country's economy.
In addition to that, the highly qualified and educated population contributes to Canada's economy's relative stability. Being one of the least corrupt nations in the world, entrepreneurs should anticipate project qualifying and procedures to be fair in Canada, as well as legal protection for their assets. Establishing a firm in Canada would offer an entrepreneur several benefits in the nation.
If you want to register a company in Canada, you can consult our experts at Odint Consulting. Our experts will assist you during the incorporation procedure.