Business Name Registration in Canada
If you are contemplating the establishment of your business presence in Canada, it is imperative to recognize that one of the foremost and fundamental steps in this process is registering a business name in Canada. In addition to guaranteeing compliance with Canadian legislative requirements, properly registering a business name in Canada acts as a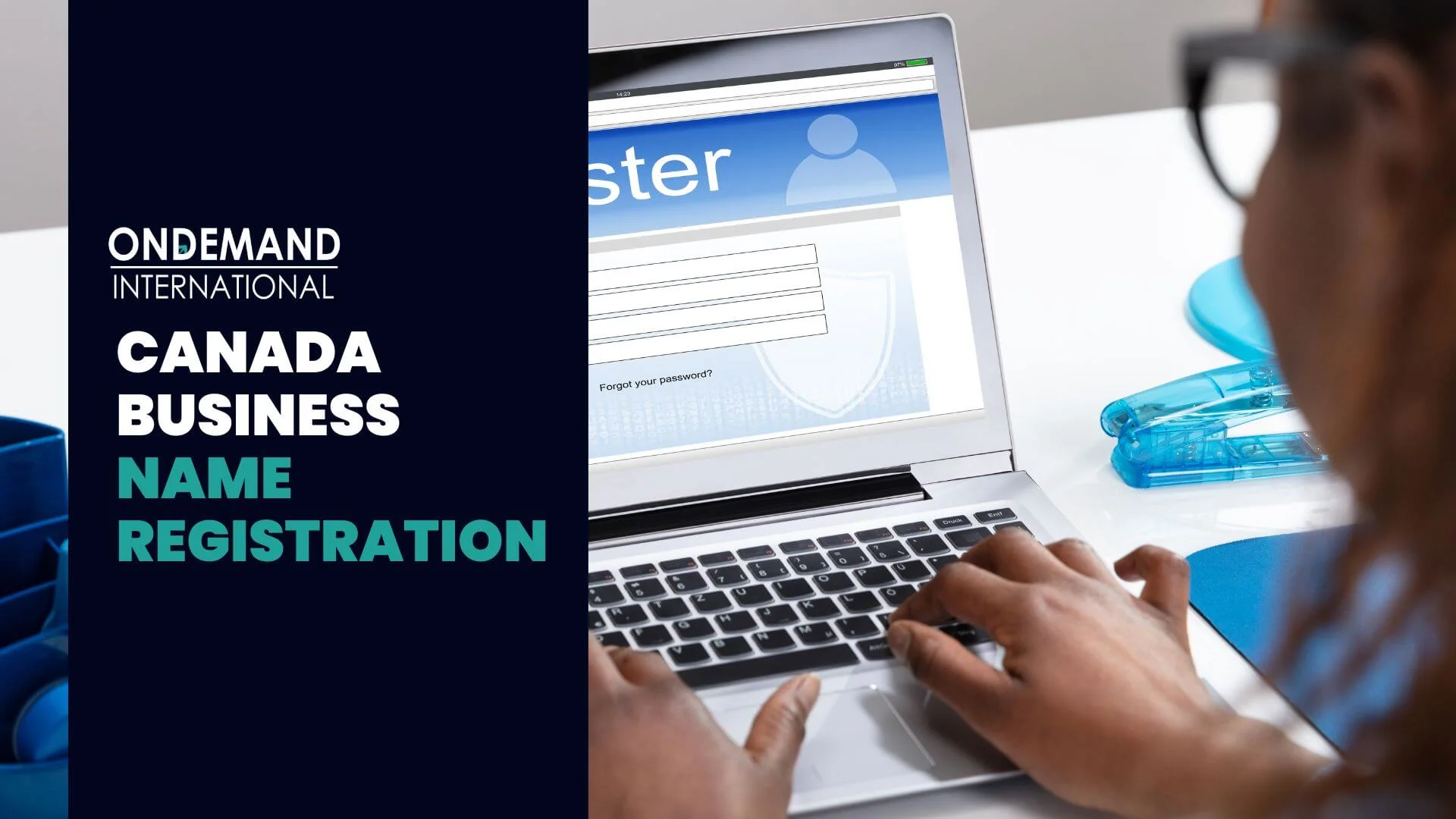 cornerstone for developing your brand identification and reputation in the Canadian market. 
Canada business name registration is the procedure for formally recording your chosen business name with the relevant authorities. It distinguishes your company from rivals and gives you permission to use that name legally. By following this process, Canada can preserve transparency and prevent customer uncertainty.
Read the article to discover how you can register a business name in Canada.
Why is registering a business name in Canada important?
While setting up a business in Canada, numerous decisions, both significant and minute, must be made. Among these, the selection and registration of your business name is the most significant. 
Here's why business name registration holds such immense importance:
1. Legal Protection
Registering a business name in Canada provides you with legal defense and sole usage rights for that name within your jurisdiction This implies that no other company in your area is permitted by law to use the same name or something confusingly similar.
2. Brand Recognition
Your business name is the face of your brand. It's the first thing clients notice and remember about you. A legally recognized company name lends credibility and professionalism to your brand. Customers will feel more confident in your goods or services knowing that you are a reputable company.
3. Legal Recourse
Without a registered business name, your legal options in case of disputes or infringements are limited. Registering your name grants you the legal standing to take action against any entity that attempts to use a confusingly similar name or infringe upon your brand. 
4. Marketing and Branding
Marketing your business becomes significantly easier with a registered name. You don't need to worry about someone stealing your name if you spend on branding activities like designing a memorable logo and creating marketing materials.
5. Avoiding Legal Hassles
Operating without a registered business name can lead to legal hassles down the road. You might unknowingly infringe on someone else's name, leading to costly lawsuits and rebranding expenses. Registering your business name proactively mitigates these risks.
What are the Naming Restrictions in Canada?
It is critical to be aware of naming restrictions imposed by the government while choosing a company name. These limitations are in place to stop businesses from picking names that are offensive or deceptive. 
Here are some common naming restrictions in Canada:
Prohibited Words:

Certain words are prohibited in business names, such as "bank," "insurance," "university," or any word that implies a government affiliation unless you have the appropriate authorization.

Misleading Names:

Your business name should not be misleading. It should accurately reflect the nature of your firm. If you're opening a bakery, for instance, your company name must not imply that you're a tech company.

Reserved Names:

Some names may be reserved or protected, such as names of famous individuals or well-known trademarks. Using these names without consent may result in legal problems.
How to choose the Perfect Business Name in Canada?
The best name for your company should be chosen with care, just like the foundation for a structure. It's the first and most crucial stage in developing the identity of your brand. A well-thought-out business name not only captures your project's core ideas but also resonates with your target audience. 
Following are some crucial considerations while you select the ideal company name:
1. Incorporate Your Brand Identity
Your company name ought to reflect the essence of your brand and its guiding principles. Consider the guiding principles of your business as well as the emotions you want to engender in your audience. Whether it's professionalism, innovation, or trustworthiness, your name should convey these attributes.
2. Clarity and Simplicity
A simple and clear name is simpler to memorize and speak. Avoid overly complicated or convoluted names that might confuse potential customers. Think about how the name will sound when spoken aloud and whether it's easy to spell.
3. Relevance to Your Industry
A business name that relates to your industry or the goods or services that you provide can be highly beneficial. It immediately informs potential customers about what you do. For example, "Smith's Tech Solutions" clearly indicates a technology-related business.
4. Originality and Uniqueness
In a crowded marketplace, standing out is crucial. Ensure your business name is unique and doesn't violate trademarks or already-existing company names. Do an extensive investigation to determine the availability of your chosen name.
Procedure for Canada Business Name Registration
Registering a business name in Canada is a pivotal step on your entrepreneurial journey. It's the official recognition of your chosen name, providing you with legal rights and establishing your brand's identity. 
Here's a comprehensive look at the procedure for registering a business name in Canada:
1. Determine Your Business Structure
Before proceeding with business name registration, you need to choose the type of legal entity in Canada. In Canada, you can operate as a sole proprietorship, partnership, or corporation. Your choice of structure will influence the registration process. 
2. Name Availability Search
Once you've selected your company's name and organizational structure, it's essential to conduct a name availability search. This step for Canada business name registration ensures that the name is not being used by another company when you wish to register a firm. The name should also comply with naming regulations and not infringe on trademarks or reserved names.
3. Registration with the Appropriate Authority
The registration process varies depending on your location in Canada. In the majority of the Canadian provinces and territories, you will register your business name with the provincial or territorial government. However, in some cases, you may need to register at the federal level with the Corporations Canada office. The specific registration authority depends on your corporate structure and where you intend to operate.
4. Required Paperwork and Fees
You need to fill out the relevant papers in order to register your business name. Usually, this entails completing an application or registration form. You have to provide details about your business, such as its name, address, and legal makeup. Make sure you have the registration cost available, which varies depending on your jurisdiction and business structure.
5. Business Name Registration Number
You will be provided with a Canadian business name registration number if your application is accepted. This number serves as official documentation that your company name is registered. Keep this number close at hand because you might need it for a variety of business transactions and legal needs.
6. Renewal and Maintenance
Business name registrations are not indefinite. In Canada, you are typically required to update the registration of your company name periodically. The renewal frequency varies by jurisdiction, but it's important to keep up with the requirements and dates for renewal. Failing to renew on time could result in losing your exclusive rights to the name.
Canada business name registration is an important step requiring considerable thought. Your company name serves as the foundation of your brand and registering it properly ensures legal protection and exclusivity. You can start your entrepreneurial path with confidence by adhering to the recommendations and instructions provided in this article.
Our goal at OnDemand International is to give you thorough support and direction while you register your business name in Canada. At every point, our team of experts is here to support you and make the process quick and simple. We are your trusted partner in establishing your company's identity in Canada because of our in-depth knowledge of Canadian business law and our track record of successful registrations. Contact us right now to take advantage of our experience and simplify the registration of your business name so you can concentrate on what really matters—growing your company.
No, they serve different purposes. While trademark registration safeguards particular symbols, logos, or slogans connected to your brand, business name registration secures the identity of your company.
Failure to update your registration can lead to losing the exclusive rights to your business name. To prevent any issues, it's crucial to keep track of renewals.
Yes, there are. Canada has specific naming restrictions, including the prohibition of certain words and phrases. In order to comply, be sure you are aware of these limitations.