Singapore Company Registration
Preferred Destination for Global Investors, No.1 in Intellectual Property Rights Protection
No. 2 for 'Ease of Doing Business' Globally
Lowest Corporate Tax Rates, Clean & Simple Registration Process
Reputation, Credibility with International Suppliers, Vendors
100% Foreign Ownership of Singapore Companies Allowed
Get 30 minutes of expert counselling. No Spam.No Sharing. 100% confidentiality
Company Registration in Netherlands
Company Registration in UAE
Company Registration in Turkey
Company Registration in Australia
Company Registration in Canada
Company Registration in Singapore
No.1 in Asia for 'Ease of Doing Business' – WSJ
Looking to expand your startup internationally but don't know where to start? Singapore could be the perfect business launchpad for you. This article contains everything that you need to know to register your company quickly and easily and get a favorable outcome.
If you're an established company in India and looking for a break from its heavy-handed 'inspector-license-raj' and convoluted taxes, Singapore is the best place to incorporate your holding company. Why?
For one thing, corporate taxes in India are still at 30% for big-bracket-earners while those in Singapore are just 17%.

Top that with 0% Capital Gains Taxes (15-20% in India). This is why VCs, Angel Investors, & Institutional Investors love Singapore.

0% taxes on Dividend Distribution (now disguised as 10% TDS on dividend income)

Big names in India, such as Flipkart, MobiKon, and MediaLink have incorporated their parent companies in Singapore even as they continue to own 100% shares in their Indian subsidiary.
Get 30 minutes of expert counselling. No Spam.No Sharing. 100% confidentiality
How to Register a Company in Singapore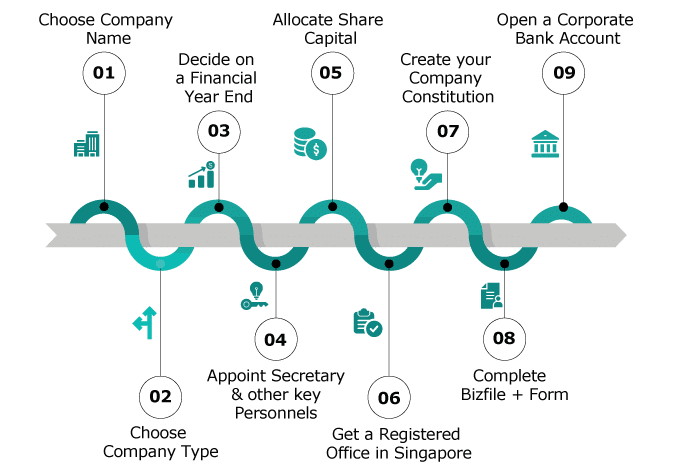 Company Registration Process Singapore: Snapshot
What's Going to Be Your Financial Year End

List Details of Directors, Company Secretary, other Key Personnel

Set a Registered Office Location in Singapore

Draft your Company Constitution

Fill-in the Singapore ACRA BizFile+ form

Open a Company Bank Account

Set Process for Keeping Company Registers, Return Filing, & Keep ACRA updated of Changes
Singapore Company Registration: Step-by-Step
NOTE for Foreign Entrepreneurs Looking to Register their Company in Singapore:
As a foreigner, you need a local Filing Agent – a Singapore Corporate Secretary to file your Company Registration application.
If you're not going to relocate to Singapore, you can still own 100% shares in your Singapore company, provided you're above 18.
If you don't intend to relocate to Singapore, you would need at least 1 local Singapore Director, who is a holder of a Singapore citizenship, PR Visa, EntrePass, Employment Pass and has a locally registered address.
Step 1: ACRA Approves Your Company Name
The probability of quick approval will be greater if:
Your chosen name is unique, easy-to-understand, legible, and has no offensive parts

Your company name is free of copyright or trademark issues

If your company name contains words like "Bank," "Finance," "Educational," "Media," etc., it may need further approval
Step 2: Get the Documents You Will Need to Register Your Singapore Company
Company name that is ACRA okayed

A concise list of business activities

Company's Singapore address

Names & IDs of Shareholders

Names & IDs ofNames & IDs of Directors

Names & IDs of Company Secretary

Non-Singapore Entrepreneurs to submit a passport copy & residential proof

Non-Singapore Businesspersons to submit Company Constitution (combining the earlier Article of Association & Memorandum of Association)
Note: Singapore Citizens & Permanent Residents must have a copy of their Singapore National Registration Identity Card (NRIC)
Foreign Individuals Require the Following Documents:
Passport (Copy of)
CV with proof of employment/letters of recommendation
Local Address
Foreign Companies Require the Following Documents:
Certificate of Incorporation from previous jurisdiction
Company Extract covering name, address, registration code, paid-up capital, IDs & addresses of Shareholders & Directors, list of authorized business activities
Resolution Appointing Authorized Person to Hold Shares & Sign Documents on intended Singapore company's behalf
Organization chart detailing ultimate beneficial owners of the intended Singapore Company
Step 3: Company Constitution, formerly the Articles of Association & memorandum of Association documents. Now to contain
business address in Singapore,

details of shareholders, Directors, division of shares,

Legal clauses outlining limited liability, capital distribution, subscribers and objectives as well as the rules of the intended company.

The ACRA provides a template that you can use if you don't want to create your own company constitution.
Step 4: Submit Application on the BizFile+ Portal
If all your documents are in order, simply fill up your information on the ACRA's BizFile+ webpage and click 'Submit'.
Step 5: Confirmation of Incorporation
After you make the payment, the ACRA emails you to let you know that your company has been successfully registered. This mail includes the company registration number, a link to download your Certificate of Incorporation (digital copy) and Unique Entity Number (UEN). You can pay for a hard copy to the ACRA later.
Step 6: Acquire Business Licenses and Permits
Certain business activities need you to obtain permits and licenses beforehand. Fore example, eateries, cleaning businesses, academic institutes, travel agencies, financial service agencies, import/export companies, etc. need business licenses.
Step 7: Share Certificates
The corporate/company secretary allots share certificates to each of the shareholders. This is proof of their individual ownership of the company.
Step 7: First Board Resolution
After registering your Singapore company, you need to arrange a shareholder meeting to appoint at least one Director. Shareholders must also pass resolutions to employ other key company personnel, like the auditor, the company secretary, etc.
Step 8: Annual Filings & Returns
Post company formation in Singapore, annual filings must be submitted regularly.
Annual income tax filing is done with the IRAS.
Details of Company Secretary

One can proceed with all legal and contractual tasks which are required to be performed after receiving an email notification and business profile.
Step 11: Corporate Secretary
After company registration in Singapore, there is a requirement of appointing a qualified company secretary within six months of incorporation under section 171 of the Singapore Companies Act. Citizens of Singapore who are not sole owners or shareholders can become corporate secretaries.
Step 12: Paid-up Capital
At the time of company registration in Singapore, there is a requirement for a minimum paid up capital of Singapore $1, which can be increased at any time after incorporation.
Key Requirements for Your Singapore Company Registration
Company name: Approved company name registered with the ACRA

Director: Need at least one director who is either Singapore Citizen, Singapore Permanent Resident or EntrePass holder

Shareholders: Minimum of 1 and a maximum of 50 shareholders

Registered Local Address: You need a local registered address in Singapore for the company office

Company Secretary: Appoint at least one company secretary within six months from the registration date of the company

Initial Paid-Up Capital: Minimum of S$1 in initial paid-up capital
Types of Companies in Singapore
Type of Company
Features
Sole Proprietorship

Open to Singapore citizens, Permanent Residents, Employment Pass/Dependant Pass holders, Foreigners if they appoint a local manager).

Registration reviewed annually.

Personal Income Tax applicable.

Owner has unlimited liability.

Must appoint 1 local Manager.

Can own property in the business owner's name.

General Partnership

Number of partners 2-20. Open to Singapore citizens, Permanent Residents, Employment Pass/Dependant Pass holders, Foreigners if they appoint a local manager).

Registration reviewed annually.

Personal Income Tax applicable.

Cannot own property in business entity name.

Limited Partnership (LP)

Minimum 2 partners of whom, at least 1 is a General Partner and 1 is a Limited Partner, no Maximum.

Open to any foreign or local individual or company.

The General Partner has unlimited liability. Must appoint 1 local Manager.

Must appoint 1 local Manager.

Taxed at Personal Income + Corporate tax rates.

Cannot own property in business entity name.

Limited Liability Partnership (LLP)

No limit on number of partners.

All partners have limited liability.

Open to any foreign or local individual or company.

Must appoint 1 local Manager. Taxed at Personal Income + Corporate tax rates.

Cannot own property in business entity name.

Private Limited Companies

Registered under the Companies Act, Chapter 50.

Equal to or less than 50 members. Open to any foreign or local individual or company.

Must appoint 1 local Director.

Taxed at Corporate Tax only.

Can own property in business entity name.

Public Limited Companies

Registered under the Companies Act, Chapter 50.

More than 50 members.

Open to any foreign or local individual or company.

Must appoint 1 local Director.

Taxed at Corporate Tax only.

Can own property in business entity name.

Can own property in business entity name.
Other Business Entities that can be Formed in Singapore
Foreign Company Subsidiary

Foreign Company Singapore Branch Office

Foreign Company Singapore Representative Office
Factors that may Affect Your Choice of a Business Structure
1. Number of Owners/Members/Partners
If your company is intended to be controlled by you exclusively as an individual then setting up a sole proprietorship is the best.
If a company is going to be run by two or more (up to 20) professionals/companies with skills or resources that balance each other, then registering an LLP is right for you.
If a company is going to be run by a group of 1-50 individuals who own parts of the total business capital but don't want to take all the risk then registering a private limited company is best.
2. Initial Investment
If you plan to launch a small business and expand later, setup a sole proprietorship at first. You may convert it into a private limited company when you're ready to scale later.
3. Liability
The business structure defines your liability. The liability of a sole proprietor and members in an LLP is unlimited. It puts their personal assets at risk. The liability of shareholders in a private limited company is limited to their shares. Personal assets are not at risk.
4. Income Tax Rates
A Private limited company pays corporate taxes @ 0%-17%. Company shareholders pay personal income taxes separately for individual incomes from the company.
The owners of a sole proprietorship or a partnership are charged personal income taxes @0%-22% of the income from business.
5. Funding for Expansion
Banks, financial institutes, and investors find a private limited company more trustworthy. The latter can easily raise capital for its growth or the expansion but the reputation of a sole proprietorship depends on its proprietor, and that of an LLP on its members.
Why Register your Company in Singapore?
1. No.1 in Asia by the Wall Street Journal's 'Ease of Doing Business' Rankings (2021)
Low business complexity, transparent tax & accounting standards, HR, payroll, & penalties have made Singapore a reliable place for International business.
2. Strategic Location: World's Busiest Shipping Ports by Tonnage
Receiving 130,000 calls annually, Singapore's 2 largest commercial ports are fully equipped to handle all kinds of vessel traffic. Apart from container transshipment, the Republic is also the world's 3rd largest petrochemical refiner with advanced ship-building & repair facilities.
3. One of the Lowest Corporate & Personal Income Tax Rates in the World
Corporate taxes range from 0 to 17% while individual resident tax payers are exempted from any liability up to $20,000 annually. The maximum personal income tax rate is 22% for those earning $320,000 or more in a year.
4. Stellar Business Regulatory Reputation for Stakeholders, Bankers, Business Partners
Singapore is not a tax haven. It's clear compliances and solid economic fundamentals backed by a stable political regime, have ensured that Singapore remains the most trusted destination for new businesses in the coming decade.
5. International Accounting Standards Compatible with Most Jurisdictions
The Singapore Financial Reporting Standards (SFRS) are based on the IFRS. Financial statements are based on accrual, giving a clear, consolidated view of a company's past, current, and future assets and liabilities.
6. Simplified Company Incorporation Process Online
Provided all your documents are ready, it is possible to complete the registration of your company fully online within the hour from anywhere in the world.
7. Statutory Audit Exemptions for Small Companies
Start-ups with 20 or less. Individual shareholders or where corporate shareholders hold at least 10% of the issued shares, and that are not property or holding companies are fully exempt from taxation for the first 3 years.
8. No Prior Approval to Setup Singapore Offshore Company by Foreigners
Foreigners can register their company and own a full 100% of its shares in Singapore without facing any major hurdles.
Singapore's economy is well-known as a low tax, progressive banking served business environment, and a place where you'll have no problems finding skilled company personnel. The political climate is stable, crime rates are low, the bureaucracy is considered corruption-free, rule of law is imposed without exception, there are ample amounts of foreign reserves to keep the currency from fluctuating, and mature global integration.
The Best of Both Worlds: India & Singapore
On the other hand, India, with its 1.3 billion people and 66% of those being less than 35 years of age, does form the largest consumer market in the world. Just like Flipkart, you can have the best of both worlds by incorporating your company in Singapore.
Singapore has friendly Double Taxation Avoidance Agreements with India as well as over 90 other countries globally. Global clients will take you more seriously if your business is tax-resident in Singapore. Indian origin entrepreneurs have already made it big via this route. Will you be next?
Entrepreneurs who want to register a new company in Singapore prefer to form Private Limited Companies for their credibility, scalability and robustness. The liability of the shareholders is limited to the amount they invest in purchasing its shares.
If properly structured, a private limited company can be a highly tax-efficient business entity.

Foreigners can own 100% of their shares.

Any person over the age of 18 years, regardless of nationality, can incorporate a company in Singapore.
Register a Local Company in Singapore as a Foreigner
If you want to register your company as a foreign entrepreneur in Singapore you must fulfil the following requirements
Employ a local director (Singaporean, Permanent Resident).

Hire a registered filing agent (accounting firm, law firm, or corporate secretarial firm) to complete the registration process for you.

Foreigners cannot self-register a new company and must hire a local business registration provider. They also need to acquire a Singapore EntrPass or Employment Pass.

The records of directors and shareholders are publicly accessible at a fee of $5.50.

If you do not live in Singapore but want to set up a company in that country then there's an easy way to do that without you needing a Singapore visa. One can operate a company from anywhere in the world and by using a visitor's visa one can visit Singapore on a short-term basis. But there is a requirement for a local director living in Singapore.

To locally operate the Company you need an Employment Pass or EntrePass. Employment Pass holders can be local Directors of a Singapore company.
Compliances for Companies Incorporated in Singapore
Appoint a Company Secretary within 6 months of incorporation

Appoint Auditor within 3 months of incorporation

Annual returns to be filed
The Singapore government offers special tax exemptions to help startups by providing them incentives in their initial days.
The accounting and corporate regulatory authority, the ACRA acts as a supervisor, takes care of the company registration process and acts as the Company Registrar in Singapore.
Singapore Taxation Policy
Every person who operates a business in Singapore, be it a corporation, a partnership, or an individual carrying on a trade in Singapore, will be charged tax on all profits except the profit arising from the sale of a capital asset.
Current tax rate in Singapore
Tax rate on corporate profits up to 300,000 SGD Effective @ 8.5%

Tax rate on corporate profits above 300,000 SGD @17%

Tax rate on capital gains accrued by the company @0%

Tax rate on dividend distribution to shareholders @0%

Tax rate on non-Singapore income not brought into the country, @0%

Tax rate on non-Singapore income brought into the country, @17% (conditions apply)
Value added tax/ Goods and services tax
The current GST rate is a flat 7% for all goods and services.
Interest, royalties, rentals from movable properties, management and technical fees, and director's fees paid to non-residents (individuals or companies), are subject to withholding tax in Singapore.
Tax Calendar and Deadlines
For personal taxes, the tax year is the normal calendar year i.e. January 1 – December 31. The deadline for filing a personal income tax return is April 15.
For corporate taxes, a company is free to decide its financial year. The deadline for filing the corporate tax return is November 30.
Singapore has no capital gains tax. Capital loss expenses are correspondingly not allowed as deductions.
Singapore has concluded more than 50 bilateral comprehensive tax treaties to help Singapore companies minimize the tax burden for its entrepreneurs and businesses.
Odint Consulting
While procedures and papers needed might seem complex to an outsider, an expert can pull you through with tried-and-tested methods to get your company registered and become compliant with local regulations. We offer a cost-effective way for your Singapore company registration. All your legal obligations are taken care of. Once you're done with all the documentation and submissions, we will provide you with your company's Incorporation letter along with all other identifiers such as CIN, DIN, PAN, and TAN numbers.
Where Do you go from Here?
Here are the Hottest Business Opportunities for Entrepreneurs in Singapore
1. Education/Ed-tech
The current pandemic has increased focus on online learning tremendously. Singapore makes it easy to merge learning psychology with modern tools such as AR and AI.
2. E-Commerce
Shipping out goods to the rest of the world from one of the busiest ports in the world could be your gateway to commercial success in an increasingly online world.
3. Advanced Manufacturing
Some may consider manufacturing to be old school but robotics and automation have reached levels of quality unprecedented by any industrial revolution.
4. Real Estate Agency Services
Although Singapore's real estate market took a hit when the pandemic began, the republic's superb COVID response and solid market foundations have meant that prices are set to rise again
FAQ's