If you intend to register your business in Singapore, the Accounting and Corporate Regulatory Authority (ACRA) is going to be your first stop. This authority is the equivalent of Companies House in the UK or the Registrar of Companies in India.
This article will tell you what the ACRA's mandate is, why it maintains the BizFile, and how you can use that interactive digital database to conveniently register your company from anywhere in the world.
As mentioned before, the ACRA is both Registrar and regulator for corporate services.
This authority is responsible for registering and overseeing all businesses, corporate service providers as well as licensed accountants. The ACRA also suggests ways of easing the environment for business and helps in the development of business products and services.
It was established on 1 April 2004 by the Accounting and Corporate Regulatory Act. The ACRA essentially combined the existing Registrar of Companies and Businesses (RCB) and the Public Accountants' Board (PAB).
Other duties of the ACRA:
Enforcing the Companies Act, the Limited Liability Partnerships Act, the Accounting and Corporate Regulatory Authority Act, the Variable Capital Companies Act, and other related Acts and their Amendments.
Keeping and Updating corporate records and business information.
Enables businesses to conduct business in Singapore by giving them a UEN (Unique Entity Number).
Providing inputs and recommendations to Singapore's lawmakers in building a practical system that makes life easier for businesses.
Understanding the BizFile
The BizFile is ACRA's online portal for capturing information for business registration, filing, and reporting. Introduced in 2004, it was replaced in 2016, by a younger, more powerful system called the BizFile+.
The newer portal made processes streamlined, quicker, and could handle much larger volumes of users. It is this system that makes it possible to register and set up reporting remotely.
The BizFile+ is based on the XBRL (XML-based Business Reporting Language). This means that financial and business analysis tools are able to glean more information from the data you (the business user) feeds into the e-forms that form part of the system.
Register Your Business Using the BizFile+
1. Logging In
You have to log in at the BizFile+ portal using your SingPass to register a sole proprietorship or partnership. All legally recognized business owners, including partners or authorized representatives, must indicate their acceptance via BizFile before the business can be registered.
Alternatively, you may engage the duties of a registered filing agent (e.g. law firm) to complete the online application on your behalf.
2. Payment of fees
There is a $15 name application fee. You have to submit this amount before filing for registration at the BizFile+ portal. Then there is a $100 registration fee on the website for company registration.
If you want to renew your application, then you have to submit $30 for this.
You can easily pay these fees using different modes such as:
Debit or Credit Card, VISA, American Express
Paypal
Apple Pay
Google Pay
3. How Long Does it Take?
For sole proprietorships and partnerships, registrations are usually authorized within 15 minutes after the registration fee is paid and confirmed.
If an application needs to be sent to another government agency for authorization, registration takes around 14 days to 60 days for approval. For example, the setting up of private schools must be authorized by the Ministry of Education before the business can be enrolled. For partnerships, the business is officially registered only after all the partners or authorized representatives have approved or licensed the application. 
What is the SingPass?
The Singapore Personal Access Pass or SingPass is a digital login system that stores and automatically identifies you when you transact with Government authorities in Singapore. This online password gives you one-touch access to attempt transactions with the majority of government agencies online.
Book end-to-end experts consultation with Odint company formation experts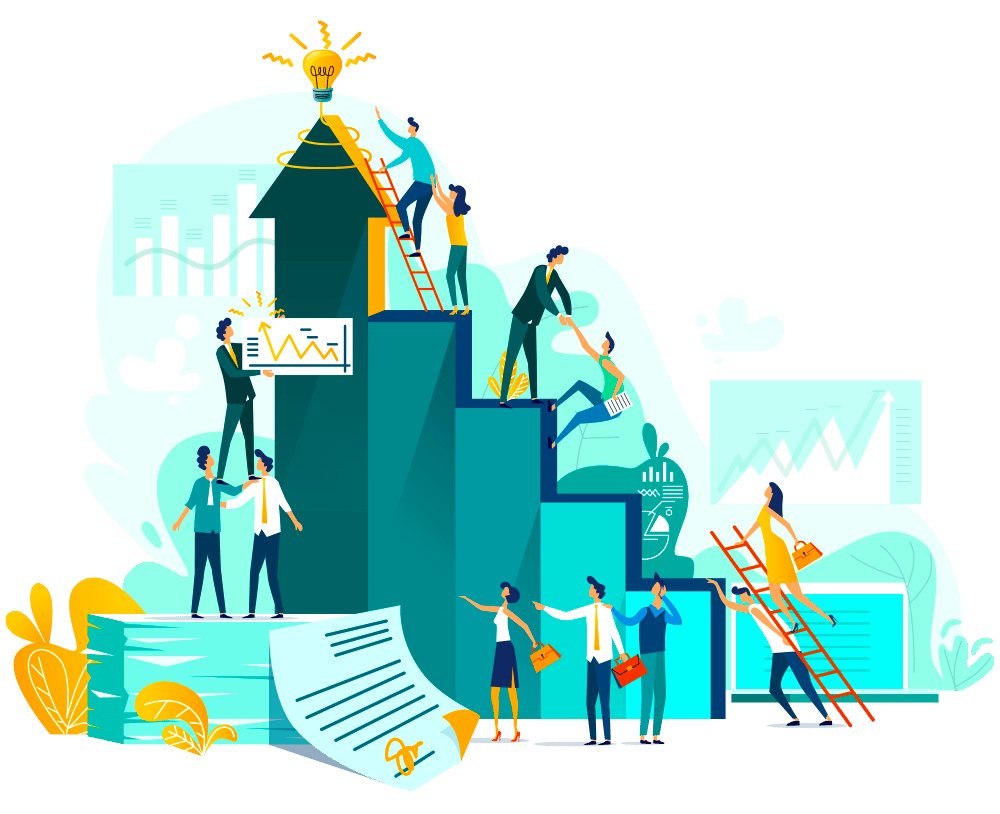 What is the CorpPass?
The CorpPass is a virtual identity for authorizing transactions between you (a business, society, or certain commercial organizations) and the government of Singapore.
A CorpPass authorizes these associations to enter into agreements with multiple government agencies online. It is a single login method to begin the government for business transactions
Read More: Singapore CorpPass Guide
Documents required to fill Bizfile+ online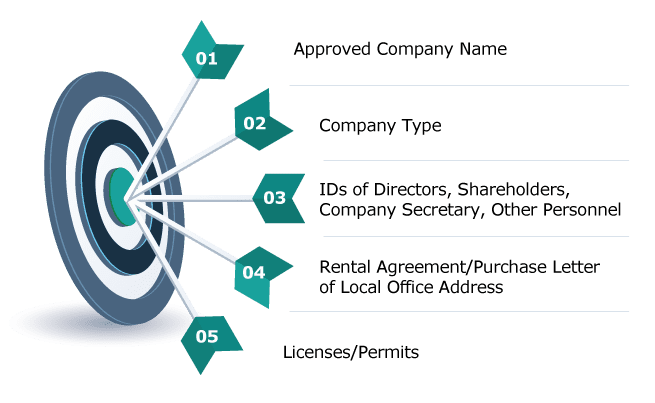 It is very essential to select your company name in the first step of the registration process. Therefore, choose an acceptable business name and make a name application through BizFile.
2. Type of Company
You are also required to select the type of business structure you want to incorporate. The several types of company structures include private or pub companies.
3. Directors, Company Secretary, and Other Important Personnel
You have to appoint important officers of your company for further process Such as Directors, Company Secretary, Chief Executive Officer or Managing Director, Auditor.
Additionally, you need to provide information with concerns to these key personnel who include Personal Identity details, Contact information including telephone number and email address, Residential Address.
4. Licenses or Approvals
You would be compelled to apply for certain licenses or approvals from other government agencies before starting with your business.
The licenses or approvals needed would rely upon the type of business you are scheduling to undertake.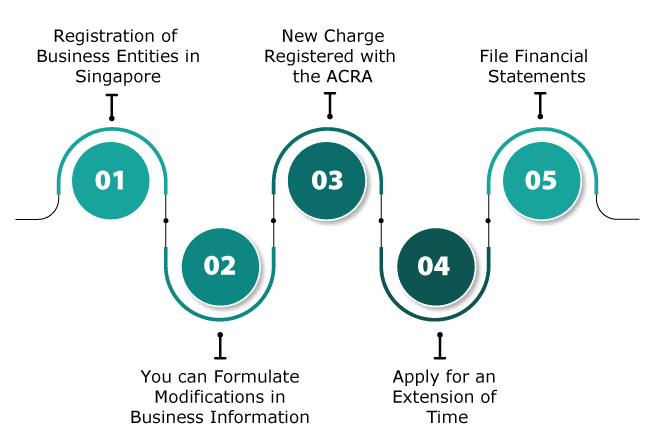 The BizFile+ is used to enter your business records in the national company database.
You can instantly change your business information: Company name, business activity, names of shareholders, etc.
In case you're late in filing an annual return or financial statements, this portal allows you to easily request an extension.
You have the option of feeding financial information in XBRL format directly from your accounting software into BizFile. If you have signed copies of AGM minutes, upload the pdf version.
LLPs, LPs, Partnerships, or Sole Proprietorships do not need to file financial statements.
Latest Compliances for Private Companies
The BizFile automatically integrates new compliance regulations after legislative modifications in the Companies (Amendment) Act 2014. These include:
Updating shareholder data to kick-off ACRA's supervision of electronic Registers of Members (EROM) of private companies from 3 Jan 2016 onwards. There are no fees for updating information in the EROM.

Board approving the appointment of Chief Executive Officer (CEO, if any) in ACRA's register. Late filing fines don't need to be paid by companies whose CEOs were appointed before 3 Jan 2016 but only by those whose information was submitted between 3 Jan to 30 June 2016.
There are plenty of benefits for companies to file applications online with BizFile in very little time. Some of the important benefits of ACRA's BizFile comprise::
Increased convenience for businesses
Quick and cost-effective as there is no paperwork involved in filing
Enhanced accuracy of data
Improved compliance in respect of the regulatory requirements
Good operational efficiency
If you plan to start a company in Singapore, the Accounting and Corporate Regulatory Authority (ACRA) will be your first point of contact.
However, ACRA BizFile is the Singapore Registry's portal to quickly register your company as well as submit annual reports. You must follow the relevant procedures to establish your company with ACRA before submitting your application via BizFile+.
If you require any assistance, just get in touch with Odint Consultancy professional experts, to help you understand all about the ACRA norms and their laws.
Book end-to-end experts consultation with Odint company formation experts