What is ACRA?
The Accounting and Corporate Regulatory Authority (ACRA) is a committee formed under statute by the Ministry of Finance in Singapore. The ACRA oversees business registration, monetary reporting, public accountants, and corporate assistance providers. ACRA also plays the position of a facilitator for the advancement of business services and the public accountancy career.
The ACRA was established on 1 April 2004 by the Accounting and Corporate Regulatory Act, which resulted in the merger of the then Registry of Companies and Businesses (RCB), and the Public Accountants' Board (PAB).
In short, the ACRA looks after:
all commercial activities within the Republic of Singapore.

enforcing the company laws of Singapore.

maintaining corporate records and business information and

providing data and advice to the legislative wings of the Government of Singapore so that a practical system that benefits every company in Singapore, is established.
Why is ACRA Important for Businesses?
The ACRA is the regulator for all business entities in Singapore. In this role, ACRA is also responsible for achieving harmony between the aims of promoting business freedom while maintaining regulatory oversight.
By constantly re-examining rules and procedures, the ACRA makes it very easy for companies to register and operate within Singapore.
What is BizFile?
The BizFile is ACRA's online filing and information related retrieval system. It allows businesses to access more than 300 electronic services varying from the submission of statutory documents to retrieval and purchase of data about business entities registered with the ACRA. Currently, it handles more than 1 million transactions annually.
What BizFile Helps Businesses Do: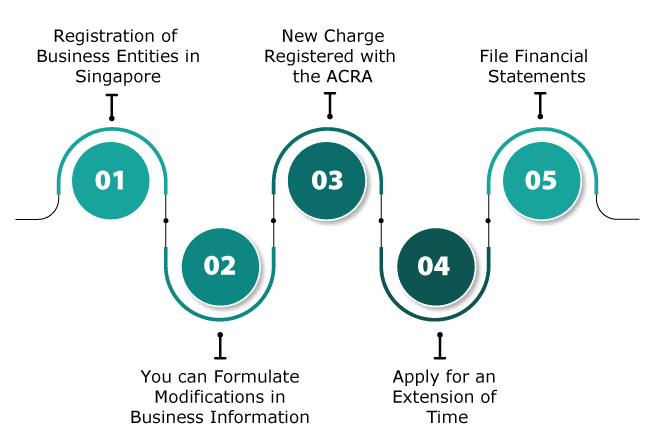 Registration of Business Entities in Singapore

You can formulate modifications in business information such as your company name, business activities, details of shareholders, etc.

Whenever a new charge is developed, you are expected to get it registered with the ACRA.

You are allowed to apply for an extension of time to file an annual return or file unpaid annual returns.

Your company needs to file financial statements with ACRA only if you are not exempted.
New Filing Requirements for Private Companies
BizFile integrates new filing regulations happening from legislative modifications in the Companies (Amendment) Act 2014.
These include:
Updating shareholder data to stimulate ACRA's supervision of electronic Registers of Members (EROM) of private companies from 3 Jan 2016 onwards. No tariff will be accused of updating the information in EROM.

Boarding the appointment of Chief Executive Officer (CEO)(if any) in ACRA's register. Late filing liability will not be committed for companies whose CEOs were appointed before 3 Jan 2016 but whose information is updated between 3 Jan to 30 June 2016.
Process of Submitting your Company Registration Application via BizFile
Registration
You have to log in to BizFile to register a sole proprietorship or partnership. All formulated business owners, including partners or authorised representatives, must uphold their consent on BizFile before the business can be registered.
Alternatively, you may engage the duties of a registered filing agent (e.g. law firm) to receive the online applications on your behalf.
Registration fees
There is a $15 name application fee. You have to submit this amount before filing your BizFile application via the BizFile+ form. Then there is a $100 registration fee on the website for companies registration. If you want to renew your application, then you have to submit a further $30.
You can easily pay for these fees using different modes such as:

Debit or Credit Card, VISA, American Express
Paypal
Apple Pay
Google Pay
Processing Time
For sole proprietorships and partnerships, registrations are usually authorized within 15 minutes after the registration fee is paid by your side.
If an application needs to be sent to another government agency for authorization, the registration takes around 14 days to 60 days for approval. For example, the setting up of private schools must be authorized by the Ministry of Education before the business can be enrolled. For partnerships, the business is officially registered only after all the partners or authorised representatives have approved or licensed the application.
SingPass
Singapore Personal Access or SingPass is your electronic business identity. Such an identity certificate permits you as a user to access or attempt transactions with the majority of government agencies online in a simple and comfortable way.
CorpPass
CorpPass is a Corporate Digital proof for businesses and many Institutions that are working in different domains such as non profit organisations or certain associations in Singapore. CorpPass authorizes substances to undertake agreements with multiple government agencies online. It is a single login method to begin the government for business transactions.
Documents Checklist Before Filling Up BizFile+ Form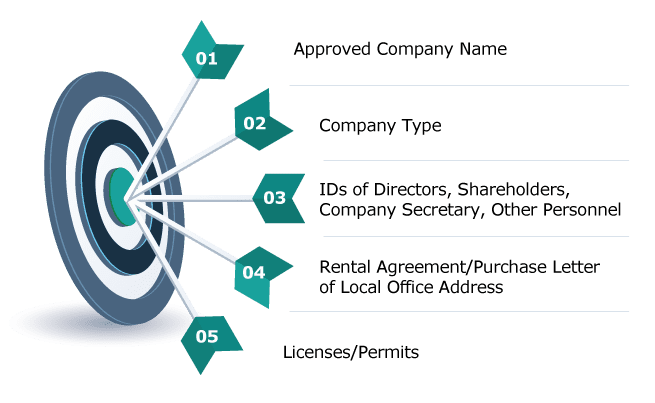 Names & Identity Proofs of Directors, Shareholders, Company

Secretary, Other Personnel

Rental Agreement/Purchase Letter of Local Office Address

and establish a completely local presence.
Documents Required Before You Fill Up Your BizFile+ Form
Company Name
It is mandatory to choose your company name in the very first step of the registration process. Therefore, choose a unique business name and make your company name application through the BizFile portal.
Type of Company
You are also required to select the type of business structure you want to incorporate. The several types of company structures include private or public companies.
Directors, Company Secretary, and Other Important Personnel
You have to appoint important officers of your company for further process Such as Directors, Company Secretary, Chief Executive Officer or Managing Director, Auditor.
Additionally, you need to provide information with concerns to these key personnel which includes Personal Identity details, Contact information including a telephone number and an email address, as well as a Residential Address.
Licenses or Approvals
You would be compelled to apply for certain licenses or approvals from other government agencies before starting with your business.
The licenses or approvals needed vary with the type of business you decide to run.
Benefits Of Using ACRA BizFile
Companies can file applications online with BizFile in very little time. Some of the important benefits of ACRA's BizFile are:
Increased easiness for businesses

Quick and cost-effective as there is no paperwork involved in filing

Enhanced accuracy of data

Improved compliance in respect of the regulatory requirements

Good operational efficiency
FAQs