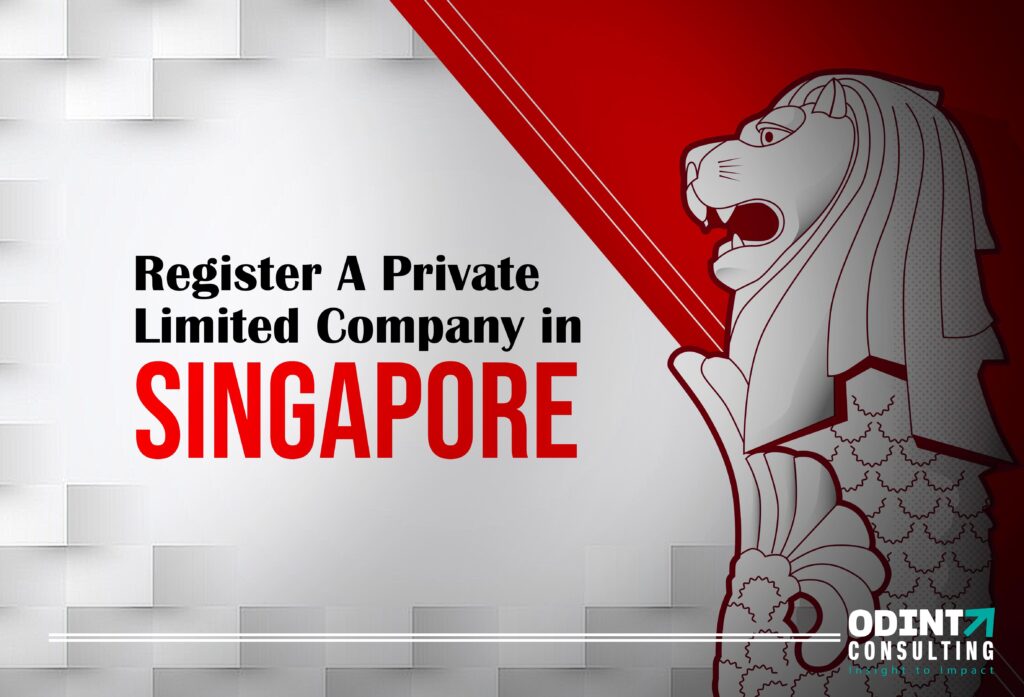 Overview: Register A Private Limited Company In Singapore
Every business that is established in Singapore has to get itself registered with Accounting & Corporate Regulatory Authority (ACRA). There are several different types of businesses that can be established in Singapore, including branch offices, private limited companies, and public limited companies. The most popular and adaptable type of legal organization that may be established in Singapore is the private limited company. 
Private Limited company in Singapore account for the majority of businesses in today's time. If you choose to form a private limited company in Singapore, you will be able to create an extremely flexible and distributed legislative framework for your firm. You do not need to change because it is the finest choice offered.
In this article, we will discuss about private limited company in Singapore, including t=its advantages, disadvantages, and requirements.
Singapore Private Limited Company (Pte Ltd)
A Singapore private limited corporation is an independent form of ownership and is restricted by shareholdings. It is regarded as a distinct form of government taxation. As a consequence, a Singapore private limited firm's stockholders are not accountable for its liabilities or damages above their outstanding shares. 
Singapore provides a variety of administrative or government frameworks for starting a new company. A private limited business is by far the best option.
Requirements For Private Limited Company Registration In Singapore
Some of the major requirements for private limited company registration in Singapore are as follows:
The company is required one resident director.
The company must have one secretary.
There should be a registered address of the company.
The company name must be approved.
A threshold of S$1 in starting is required as the paid-up capital.
The other extra requirements for private limited company registration in Singapore, are as follows:
Stamp of the Corporation: You must request a business stamp. When you utilize it on official forms and letters, it contributes to the firm's legitimacy. The corporate paperwork, which includes the Universal Organization Number, the company registrar location, and an authorized stamped seal, appears to be extremely genuine.
Tax Returns: On their taxable profits, Singapore limited liability companies expect to be paid corporation taxable income. Each year on November 30th, it has an expiration. They can then distribute income rewards to their stockholders.
Getting a Separate Business Bank Account: To open a new account for your new Organization, you and other shareholders must be physically present. A company decision authorizing the transfer, as well as documents of the formation registration, company name, and M&AA, must be submitted. A version of a Singapore voter's official identity card is required. A photocopy of the immigrant's visa is required. You must also provide evidence of the executives and company's beneficiary's residential addresses.

End of the Fiscal Period:

The executive board must determine when the close of the financial year will end. They are free to choose whichever day is appropriate for the company. The new businesses gain from staying open 365 days a year. They can benefit from the Launch Tax Exempt status program.

Returns each year:

One of the regulatory requirements for every organization is to hold the AGM on time. Except for the first year, the firm is required to convene an AGM annual financial year. The administration is responsible for preparing the firm accounting and presenting the accounting information to the owners for review. Within a month of the AGM, they must file the firm's Annualized Returns with the ACRA.
By designating a certified compliance representative, you may make things even easier. Such representatives are constitutionally ready to operate with government officials, provide required paperwork, and collect the private limited company renewal fees to ACRA on your account. 
Documents for Pte Ltd Company Registration In Singapore
Some of the primary documents that are required for Pte Ltd company registration in Singapore are as follows:
Details of the first management committee
The Executive Board of a private limited corporation must convene and pass group affiliations on its operation within a month of its formation. These can be documented in the same documentation or distinct ones. They nominate the usually situated member to the company by the decision. They also vote to hire a secretary for the corporation.
Business Profile of the Corporation
You can deposit ACRA charges and obtain your firm's company page. The documentation includes the business identity, its Universal Organization Number, the time of formation, the planned operational processes, compensated assets, listed location in Singapore, and information about the major activities, such as investors, executives, and the designated person.
Settlement for Financial Institution Account Opening
A Pte Ltd firm is a corporate construct with its existence distinct from that of its shareholders. It requires its very own financial institution to conduct business. As a result, the firm must approve the establishment of a bank account in the original company. They also list the account's participants in it.
Credentials to Share
The corporation distributes common shares to the business's stockholders. It lists the number of shares allotted to each of them and acts as a documentation of their equity investment.
Engage the services of an accountant
If it is excluded from international standards on auditing, every Singaporean corporation is obligated by law to hire an accountant within 3 months of its association with the organization. If a private corporation may be classed as a "Little Corporation" or belonging to a "Small Faction," it is excused from this responsibility. Previously, inspection exclusion was only available to corporate entities with revenues of S$5 million or even less.
Location of the Registered Address
To form a Singapore business, you must include a recognized physical business address on your registration. It's used for official communications. It can't be a post office box. With prior authorization from the appropriate authorities, you can use a nearby domicile under the Cabinet Office Initiative.
Founding Document 
After the corporation has been successfully registered, ACRA gives a document of the establishment. It mails out a message with a soft signed document attached. ACRA can provide you with a physical copy of a license provided you submit the relevant costs. Registration is a critical measure because it is required for commercial relationships, financial transactions, and dealings with foreign governmental bodies. The documentation verifies your corporate business establishment and character.
Details of the Company Secretary
Within six months of your business's formation date, you must employ a competent responsible company secretary in Singapore. Alternatively, you might hire one from a reputable authorized registration bureau.
Shareholder Information
To start a business in Singapore, you'll need at least one shareholder. In such a firm, both natives and outsiders are permitted to own 100% of the stock. A private limited corporation can have up to 50 shareholders, according to the Company Law.
Directors' Information
For your local entrant, you must designate at least one individual or place of residence CEO. Choose one Singapore native, a Fixed Located, or a Services and related member with a physical address who is resident in Singapore.
Activities of the Business
In your registration to incorporate a Singapore company, you must define your company's operations. To do so, use the relevant Singapore Classification Category Code.
Name of the Corporation
When it comes to naming your organization, you must be cautious. ACRA, Singapore's Corporate Registration, prohibits titles that are essentially equivalent to those of incumbent firms. Brand positioning requires a distinctive business address. It should also clearly state what your main business activity is. Customers increasingly demand you to have a company page. As a result, establish the firm and website under the same or comparable identities. It will make branding your company easier for you.
Company Ownership Details
At the time of business establishment, you must have a maximum of S$1 in founding terms of investment. The first investors of a Singapore body corporate are given one or more units.
Advantages Of Pte Ltd Company Registration In Singapore
The benefits of a Private Limited company include the fact that by establishing a private registered company, the owner expresses professionalism, which increases the firm's risk of achieving industrial loans and mortgages and investment companies. A Company Limited By shares is also an entity that qualifies for particular taxpayer subsidies. 
The advantages of Pte Ltd Company registration in Singapore, are as follows:
Modifications in investors or the ownership structure do not affect the firm's operations because it is permanent.
Extra owners can be recruited and property can be transferred, allowing for immediate cash investment for development.
Because investors are not legally responsible for the industry's debts and liabilities, their assets are protected.
As a result of conveying a work engagement and purpose, the possibility for financing from financial institutions is maximized, and a trustworthy reputation in the corporate sector is established.
A firm's control can be swapped, and new investors can be added.
Taxes are paid at the corporation tax rate. In the possession of investors, rewards are revenue free.
Tax benefits and deductions are available to newly established businesses.
Investors are not individually responsible for the business's debts or liabilities.
When one or more of the firm's stockholders dies, the business continues to thrive as a separate business.
Disadvantages of Pte Ltd Company registration in Singapore
One of the drawbacks of forming a Private Llc is that executives must advise the corporation on their own in the business's securities, agreements, and preferred stock. 
The advantages of Pte Ltd Company registration in Singapore, are as follows: 
It becomes much more costly to start a business.
As a result of the increased transparency and management regulations, operational costs are typically increased.
Documentation about members' holdings in the outstanding earnings, agreements, and convertible debt must be disclosed to the business.
Singapore is a desirable destination for entrepreneurs since it provides a variety of tax advantages and incentives. Registering a private limited company in Singapore is a great choice for individuals who want to establish a business in a secure and welcoming environment. In a Singapore private limited company, the stockholders are not individually responsible for the financial problems and debts of the business. Registering a private limited company in Singapore is relatively simple as it involves a minimum of 1 shareholder, 1 director, and a minimum paid-up capital of SGD 1.
If you are looking to register a private limited company in Singapore, contact our company formation specialists at Odint Consulting. Our experts will assist you with the application process and make sure that you adhere to the legal requirements.