Easiest Business to Start
Starting a business may be thrilling and intimidating at the same time. Choosing the simplest business to launch might ease the transition for people looking to dip their toes into the business world. It's not particularly tough to launch a business. In reality, some business concepts require little capital and experience, making them perfect for new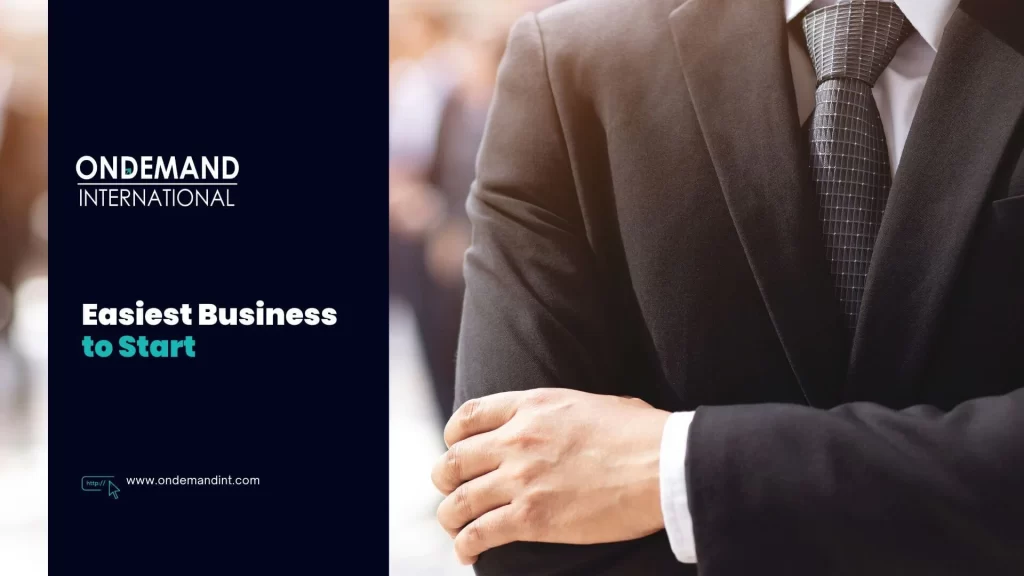 entrepreneurs.
However, before you can create a firm, you must first have a fundamental understanding of the various business ideas that can be easily launched. This foundational knowledge will serve as an essential compass, enabling you to confidently navigate the route to a successful business establishment.
In this article, we will cover some of the easiest business to start in 2023, providing you with the knowledge you need to start along the path to success.
Simplest Business Ideas to Start
Some of the simplest business concepts to think about are listed below:
Providing freelance services is one of the easiest business to start. You only need a laptop and competence in your chosen industry to offer freelance services in fields like writing, graphic design, social media management, or web development. You can progressively develop a clientele by showcasing your abilities on websites.
2. Online Tutoring or Coaching
Tutoring is one of the easiest business to start as long as you plan your business carefully. If you are knowledgeable about a certain subject or talent, you can offer online tutoring or coaching. Whether it's academic subjects, fitness training, or language learning, it's simple to communicate with learners or students because of services like Zoom and Skype. However, like any other business online tutoring or coaching should be carefully planned with the help of a proper business plan that focuses on expertise, your target market, your marketing strategy, and how you will interact with consumers.
3. Dog Walking or Pet Sitting
Consider offering dog walking or pet sitting services in your locality if you enjoy caring for animals. With this low-cost business idea, you may generate income while spending time with your furry friends.
With dropshipping, you can start an e-commerce store without the need to maintain inventory. When a client makes a purchase, the supplier immediately ships the ordered item to the customer. You handle the marketing and customer service aspects. Starting a dropshipping firm doesn't require any prior industry knowledge which makes it one of the easiest business to start.
Cleaning services for both homes and businesses are always in demand. This business is a viable alternative for beginners because it only requires reliable transportation and simple cleaning materials.
Finding properties at a bargain and then selling the contract to a different bidder at a higher price is the process of wholesale real estate. With the correct negotiating techniques, this can be a lucrative endeavor.
As an affiliate marketer, you link to a business that offers goods or services from your internet presence or blog. You can get paid for every sale made using your referral by marketing goods or services using affiliate links. You may accomplish this by creating a blog, social media account, or YouTube channel.
Affiliate marketing enables you to generate money by selling any sort of goods or services including clothing, beauty products, cosmetics, home goods, kitchen appliances, and so on.
8. Car Detailing and Washing
It may prove to be profitable to offer car wash and detailing services, especially in places with a lot of automobiles. Bring the service to the clients' doorsteps to make it more easily accessible to them.
If you want to, you can use your passion for photography as a source of income. Explore a variety of genres, including portrait and event photography.
Consider selling your items online if you are a competent craftsperson. Platforms like Etsy give craftspeople a place to market and sell their handmade goods.
11. Virtual Assistant Business
A virtual assistance business specializes in remote provision of a wide range of administrative, artistic, and technological services to individuals, small-business owners, and companies. A wide range of clients with varying needs are served by virtual help, which offers everything from routine administrative tasks like email management, scheduling, and data entry to more specialized services like social media management, content development, and even customer support.
Are you known for your delectable desserts and mouthwatering pastries? Starting a home bakery could be your ticket to turning your passion into profit. With a small kitchen space, basic baking equipment, and a flair for creativity, you can create and sell baked goods to a local customer base or even online.
13. Online Clothing Business
The fashion sector is still thriving, and it's never been simpler to launch an online apparel store. Create a beautiful e-commerce website, compile a selection of fashionable clothing items from wholesalers, and use social media to promote your goods. Your clothing line can become quite popular with the correct marketing techniques.
14. Import/Export Business
A business that specializes in imports and exports might be of interest to you if you're interested in global commerce. Examine goods that are in high demand in one area but are easily accessible in another. You can make money by serving as the link between these markets through skillful negotiation and logistical planning.
Book end-to-end experts consultation with Odint finance and legal experts
Embarking on the journey of entrepreneurship by starting your own business doesn't have to be overwhelming. By exploring the easiest business ideas to start and following expert insights, you can set yourself up for success. Keep in mind that every successful venture starts with a single step and with determination and hard work, your venture can thrive.
At OnDemand International, our team of experts is dedicated to empowering your journey towards selecting a lucrative business endeavor. With our unwavering support, we not only aid you in making informed decisions about profitable ventures but also extend our guidance in initiating and establishing your chosen business. We are committed to equipping you with the knowledge and resources needed to confidently embark on your entrepreneurial path, ensuring a successful and rewarding business venture.
Parshant Gaur is a company formation specialist with 4+ years of expertise in international business. Financial planning, risk management, and other related areas.