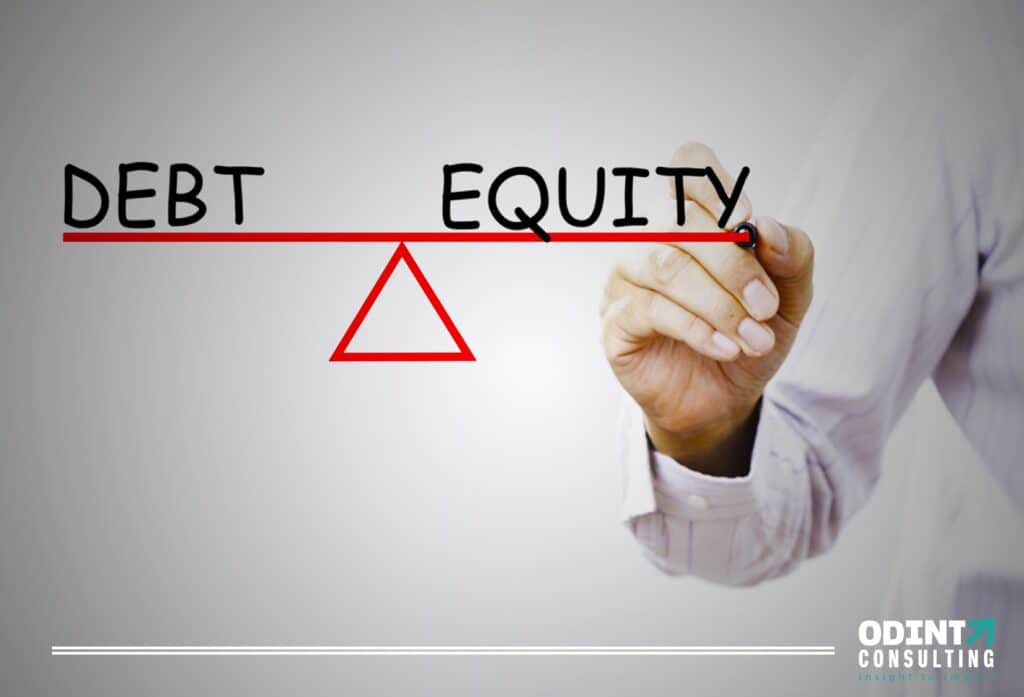 Overview: Equity Funds And Debt Funds
To get the best solutions for all the investment issues you can sign up for mutual funds. These will help you in reaching out to your various investment requirements. Mutual funds come in different kinds, and you can choose any one of them based on your risk inclinations. If you are an investor, you can have several financial targets and a set time goal to hit all of them.
So, to hit your targets in time, you would have to keep a check on your risk inclinations so that you could identify the correct time to invest. This can be done better by knowing the difference between equity funds and debt funds. Once you are clear in the head about the differences between the two, you'll easily be able to hit your targets in the set time.
It is no secret that mutual funds are amongst the best solutions for all your money investment doubts. And we can prove this fact by the way people are starting to understand and learn about the differences between equity funds and debt funds. If you are willing to put your money in mutual funds, you should be aware of what is an equity and debt fund, why are these important, differences between them, and how to invest in them.
So, in this article, we have ensured that you can easily understand everything about equity and debt funds, and also the differences between them. Keep reading along!
Now, coming on to debt funds. This fund is said to be the most secured type of investment. It offers you guaranteed and stable returns. The risk factor in debt is low and the income is stable too. How? Because your money is put in listed firm debentures, treasury bills, secured financial instruments, and government bonds.
Debt mutual funds, form of mutual funds, are invested in debt instruments including bonds and notes, treasury bills, government assets and debentures. Although debt funds' main investing goal is to create revenue, some debt funds that accept interest rate calls also have the potential to increase investors' capital. The primary distinction between debt funds and equity funds is that debt funds are significantly less risky than equity funds. You also get assured income interest with debt funds.
Before we straight jump on to knowing the differences between equity funds and debt funds, let's understand and get an idea about equity funds. So, when you decide to put your money in mutual funds, there are few financial instruments in which your fund money gets invested. Supposedly, if these financial instruments are either stake of any listed firm or equity shares, then these funds would be called equity funds.
Now, there are also several types of equity funds. It is all dependent on the fund manager and what type of stocks does he invest his money in. Some types of equity funds are, Large and Mid-Cap, Small-Cap, Large-Cap, Sectoral funds, and Mid-Cap. When talking about the high-risk factor, equity funds bag the title for bearing high risk than debt funds. But with high risk comes high return.
Differences Between Equity And Debt funds; At A Glance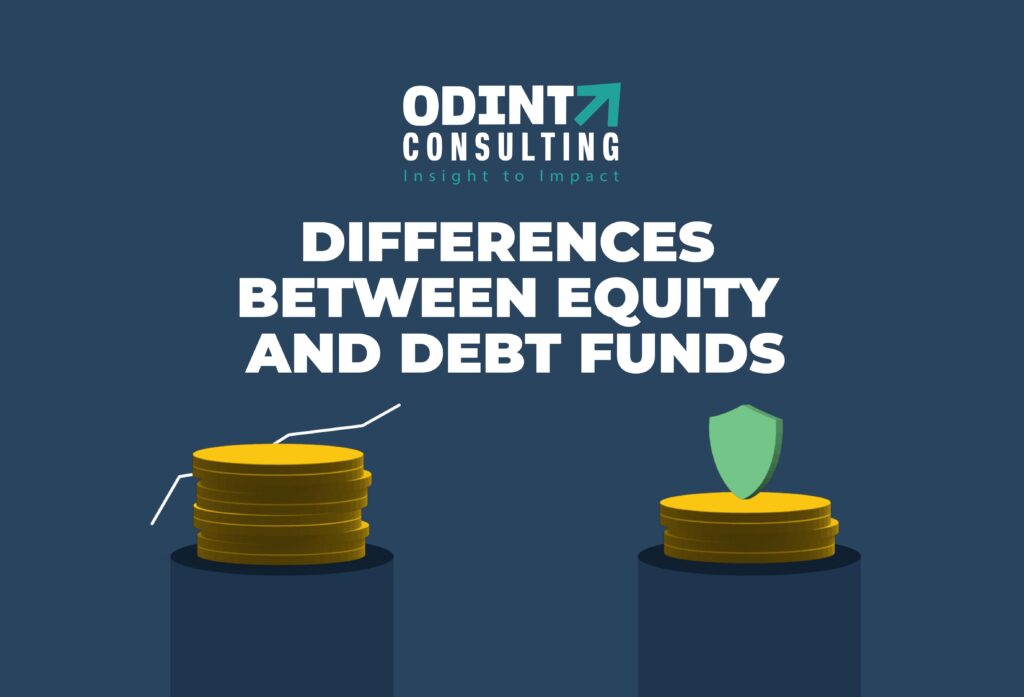 As we have discussed equity and debt funds separately, let's now understand the basic differences between the two, in brief.
Tax saving system: Usually, both type of mutual funds, equity, and debt, isn't best to save taxes. But you can decide and put your money in an equity fund to save taxes. The minimum amount you'll need to put in will be Rs. 1,50,000.
Risk: When talking about risk, it is the equity fund that falls on the high-risk end. Why so? Because all the market ups and downs are faced by equity funds. But, on a positive note because the risks are high, so are its returns. The outcome of the equity funds is usually based on their stock market performance.
Timings: In equity funds, one has to face industry fluctuations, but that is not the case with debt funds. That's why investors give more preference to debt funds.
Expenses: When it comes to expenses, equity funds and debt funds are not very different. The expenses ratio falls between 0.5% to 2.5%.
| Features | Debt Mutual Fund | Equity Mutual Fund |
| --- | --- | --- |
| Risk Appetite | The risk stays between low to medium | The risk with equity funds is high |
| Instruments | Investment done in commercial papers (CPs), money market, certificates of deposits (CDs), instruments, Treasury bills (T-Bills), corporate bonds, non – convertible debentures (NCDs), and Government securities (G-Secs), etc. | Usually invests in derivates, an equity-related instrument. |
| Expenses | Low expenses | High expenses |
| Return on Investment; ROI | It stays between low to medium when put in comparison with equity funds. | The returns with equity funds are on a higher-end when put in comparison with debt funds. |
| Tax Saving option | Taxes can't be saved | Taxes can be saved by putting in an amount of INR 150000 |
| Suitability | Debt funds allow you to contribute for a short period or a long period with a small to medium risk. It's a good alternative to fixed deposits and savings accounts. | Long-term clients with a medium to significant risk tolerance should consider equity funds. These may assist you in achieving your long-term investment objectives. |
| Timings | Debt funds are more inclined towards the extent of the investment, rather than the timing. | In equity funds, timing is necessary as the stock market can change quickly |
| Taxation | The taxation of debt funds is followed by a set pattern. Funds that are kept for a period of fewer than 36 months get taxed based upon the investor's income tax rate. Funds kept for more than 36 months, after getting a permit for indexation advantages, get taxed at 20%. | The gains from these funds which are kept for <12 months get taxed at the rate of 15%, and gains kept for >12 months are taxed at 10%. |
Why Should One Invest In Equity And Debt Funds?
Because we are discussing the differences between equity and debt funds, it is also important to understand what makes them so desirable? Let's find out:
There are various other securities, for example, recurring deposits, FDs, etc, and financial instruments, but none of them offers a return like equity or debt funds.
You can increase your revenue by just applying for these mutual funds online, or through the help of an external service company.
These mutual funds offer a lot of tax-saving schemes. With its help, you can chalk out a plan for your taxes.
Considerations Prior to Investing in Debt Funds
Several things need to be taken into consideration while investing in debt funds.
Some of the things are:
Expense ratio
The entire cost of your mutual fund expenses is known as the expense ratio. Both management charges and any other expenditures, such as transaction costs and running expenditures, may be included in this.
Risk taking
The level of risk that an investor is prepared to accept in order to increase their returns is a good indicator of their willingness to take risks. The possibility of return increases with increasing risk. If your tolerance for risk is strong, you might wish to put your money in funds with greater-than-average rates of return or low expense ratios as opposed to those with a lower percentage of return or higher costs.
Considerations Prior to Investing in Equity Mutual Funds
Several things need to be taken into consideration while investing in equities mutual funds.
Some of the things are:
The Fund's Size
The size of the fund is significant since it represents the maximum amount of capital that can be invested in it. If you wish to make investments in a sizable sum of money, you should take the fund's size into account. A small fund might be unable to provide you with sufficient returns on your investment, which would lead to inadequate returns over time.
Risk Reward Ratio
This issue should also be taken into account when making investments in equity mutual funds because their risk-reward ratio affects the manner in which they're performing over the long run compared to other assets that have lower risks but give comparable returns.
When an investment has a significant risk of losing funds while providing little to no returns over a period of time, investors may conclude that there is no value in making the investment at all.
Expense Ratio
When investing in equities mutual funds, the expense ratio is a crucial component to take into account. When the expenditure ratio is larger, you are charged additional costs per unit of invested value. As a result, you will be obligated to spend a greater amount on fees, which makes it challenging for investors to produce earnings each year because they are compelled to pay more costs than they are reimbursed.
How Should One Invest In Equity Funds And Debt Funds?
There are several methods via which you can put your money in such mutual funds. But, if you wish only the best out of these funds plus a good source to put your money in, contact us at ODINT Consulting. You'll be able to invest in several types of stocks, equity, and debt funds, check their performance in real-time. By taking up our services, you can also get advice and suggestions from our skilled experts.
Debt and equity funds are two separate choices for investing that meet various risk tolerances and monetary objectives. Equity funds offer the chance to earn larger returns by making investments in equities, but they also carry greater market volatility and risk. Debt funds, on the opposite side, are more unwilling to take risks and concentrate on fixed-income assets while providing reasonably consistent returns. 
So, if you are thinking of investing in any of the mutual funds, contact us at ODINT Consulting so that we can provide you with the best guidance. Our experts ensure that all our clients get what they deserve, and we wish to be a part of your successful financial journey. So, contact us today!