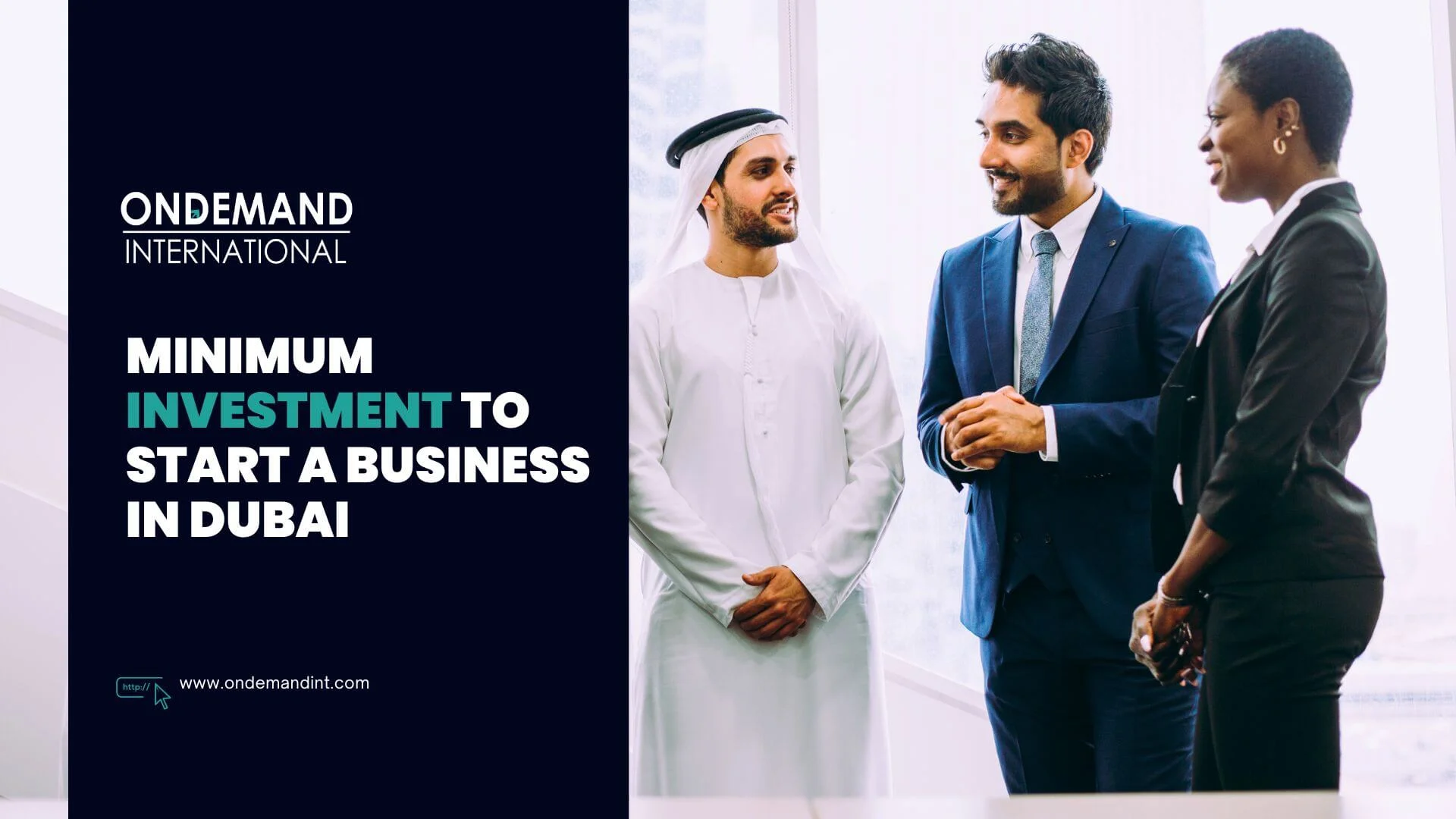 Dubai, often referred to as the "City of Gold," is a thriving metropolis known for its remarkable growth and business-friendly environment. Dubai attracts entrepreneurs from all over the world because of its advantageous location and abundant business prospects. If you're considering starting a business in this global hub, you may be wondering about the minimum investment required to kickstart your entrepreneurial journey.  In this article, we'll explore the minimum investment to start a business in Dubai.
Understanding Dubai's Business Environment
Prior to delving into the monetary components of starting a business in Dubai, it is crucial to understand its diverse business landscape. Dubai offers a plethora of opportunities across various sectors such as trade, tourism, real estate, technology, and finance. The city is strategically positioned, provides state-of-the-art infrastructure, and offers tax exemptions that are highly beneficial for business operations.
Factors Influencing Minimum Investment in Dubai
The minimum investment to start a business in Dubai varies widely depending on several factors:
1. Kind of Company:
The sector and specific business activities you choose will dictate the initial costs. For instance, a technology startup may need significant investment in software and hardware, while a service-based consultancy might require less capital for physical assets. Retail businesses need to consider inventory costs while manufacturing entities have to factor in machinery, raw materials, and safety equipment.
2. Location:
Dubai offers a choice between free zones and mainland locations for business setup:
Free Zones
Dubai provides several free zones that cater to a wide range of sectors, including technology, logistics, media, and healthcare. These free zones provide significant benefits to foreign investors, such as 100% ownership, tax exemptions, and easy company setup procedures. The minimum investment required in these zones can vary from AED 10,000 to AED 500,000 (approximately $2,700 to $136,000), depending on the chosen free zone and business type. Keep in mind that the specific investment amount may vary by free zone and change with time, therefore keeping up with the most recent specifications is crucial.
Mainland
For entrepreneurs looking to set up a business outside the free zones, the minimum investment in the mainland area of Dubai can vary significantly. The investment amount may depend on the business activity, location, and legal structure of your company. Typically, it can range from AED 300,000 to AED 3 million (approximately $82,000 to $820,000). The investment amount can vary further based on the trade license you require, so it's vital to consult with a business setup expert to determine the exact figures for your specific venture.
3. Legal Structure:
The chosen legal form—whether a sole proprietorship, partnership, LLC or a branch of a foreign company—has implications for startup costs. An LLC may require a minimum share capital to be shown, and different structures have varying licensing fees, paperwork, and legal prerequisites.
4. Licensing and Registration:
Each business activity has its specific license type—commercial, professional, industrial, etc. Some licenses may require higher fees or additional approvals from relevant authorities, which can increase initial costs.
5. Office Space and Facilities:
Whether you choose a flexi-desk in a free zone or a traditional office on the mainland, the costs vary widely. Prime real estate in downtown Dubai will command a premium, while outlying areas may offer more affordable options. Moreover, the size and type of office space will impact your initial investment. Some businesses might also need to invest in warehouses or other facilities.
6. Visa Requirements:
The number of visas you require for your workers can also influence the startup costs. Free zones offer packages with a certain number of visas included, but additional visas will increase the cost.
7. Compliance and Consultancy Fees:
Depending on your expertise in the UAE market, you might need legal, financial, or consultancy services to help navigate the setup process. These professional services will add to the startup costs.
8. Equipment and Technology:
Investments in specialized equipment, technology, and software can significantly drive up initial expenses. This is especially relevant for businesses that are IT-based or those that require specific equipment to operate.
9. Marketing and Branding:
Creating a brand presence can be a considerable expense, including costs for website development, marketing materials, and promotional activities to launch the business effectively.
10. Insurance and Health Care:
Depending on the nature of your business and the number of employees, different types of insurance may be needed. Every worker is required to have health insurance in Dubai, adding to the initial costs.
11. Working Capital:
Sufficient working capital is necessary to pay for operational costs like payroll, utilities, and rent until the business starts generating revenue.
Conclusion
Starting a business in Dubai is an exciting opportunity with tremendous potential for growth and success. The minimum investment requirements may apply based on the business setup and location. To make an informed decision, it's essential to research and consult with business experts who can guide you through the process. With the right planning and investment, your entrepreneurial dreams in Dubai can become a reality, and you can tap into the city's immense potential for business success.