Are you someone who is looking to explore new banking boundaries abroad?
If yes, then select the British Virgin Islands as your gateway to a wealth of offshore financial opportunities.
The British Virgin Islands (BVI) are well known as a significant offshore financial center, drawing people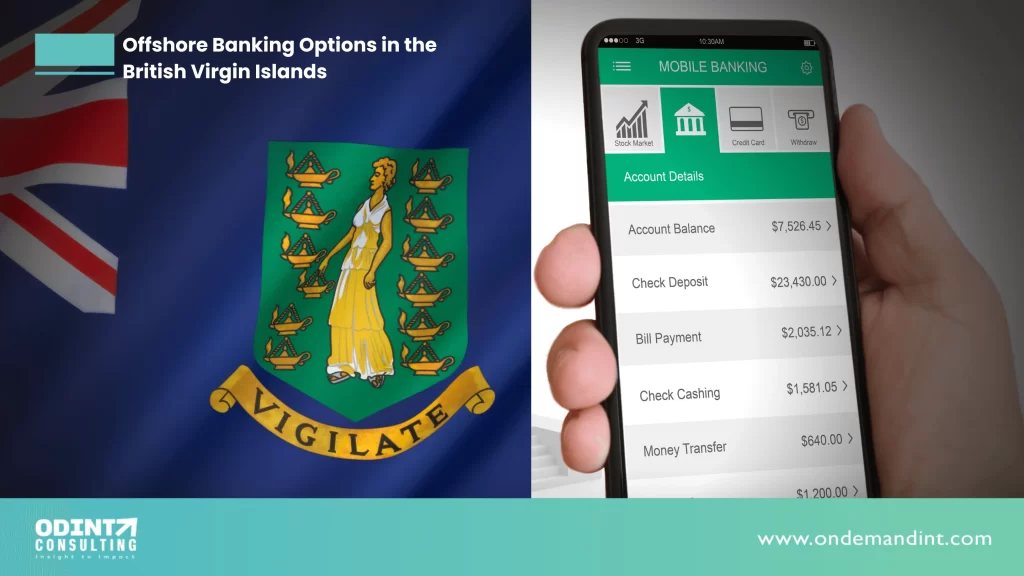 and companies from all over the world looking for private and secure financial services.
The British Virgin Islands are a great option for offshore banking since they have a sound financial system, favorable rules, and strong safeguards for privacy.
Offshore banking entails creating a bank account in a jurisdiction other than one's country of residence. Individuals and corporations in the British Virigin Islands can take advantage of the numerous offshore banking options in the nation due to the nation's stable political climate, robust legal system, and advantageous tax laws.
In this article, we will be discussing a few of the finest banks in the BVI and discover the benefits of the various offshore banking options in the British Virgin Islands.
Best Offshore Banking Options in the British Virgin Islands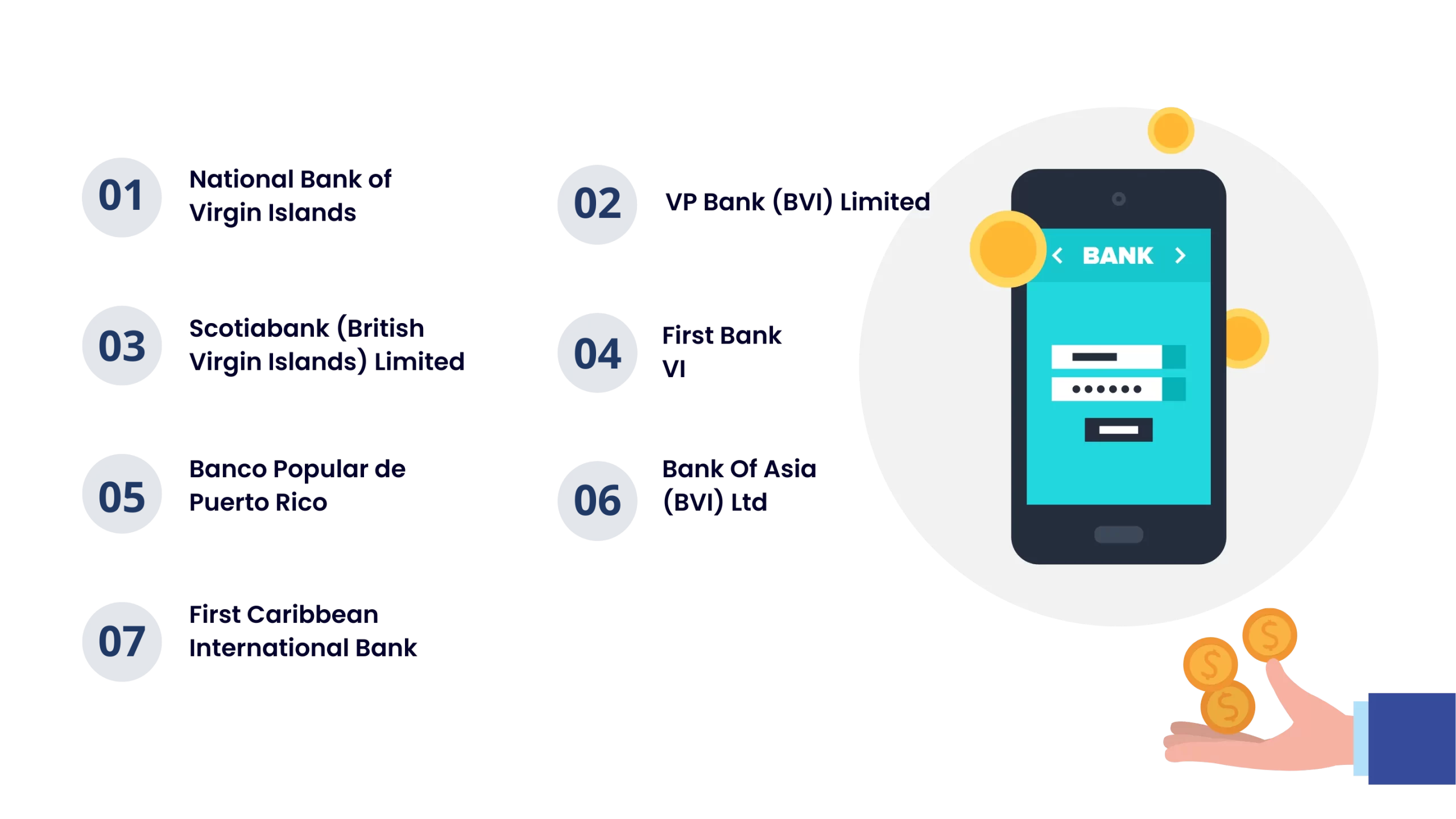 The British Virgin Islands (BVI), which are home to several reputable financial institutions, are well known for their offshore banking industry. There are several leading financial institutions in the BVI. These banks constantly stand out for their high-quality services, sound finances, and satisfied customers.
Here are a few of the best banks in the British Virgin Islands: 
1. National Bank of Virgin Islands
Established in 1974, it is deemed to be one of the finest commercial banks in the British Virgin Islands. It was initially founded under the name Development Bank of the Virgin Islands Limited. The British Virgin Islands national government owns this bank entirely.  It is a complete commercial bank that provides consumers with retail and business-related goods and services such as savings accounts, Certificates of Deposits, etc. Additionally, farmers and fishermen can borrow money from the bank.
2. VP Bank (BVI) Limited
VP Bank is a global bank with locations across several nations. VP Bank Ltd., an entirely owned subsidiary of VP Group, was founded in the British Virgin Islands in 1995. This financial institution provides a variety of private financial services to private customers, intermediaries, along with asset managers. Such types of banks in the British Virgin Islands primarily concentrate on different areas of expertise, such as private banking as well as managing assets.
3. Scotiabank (British Virgin Islands) Limited
Since its establishment in the British Virgin Islands in 1967, Scotiabank has been one of the major foreign financial institutions there. Scotiabank has been a global financial institution that provides a vast array of retail, consumer, and business banking services, such as financing, credit cards, savings and checking accounts, and more. Retail banking is still growing, largely focused on the travel and tourism sector and representing the nation's economic expansion.
4. First Bank VI
The Tortola-based FirstBank VI is one of the best banks in the British virgin islands and was established in 1984. The financial institution provides services including personal and business banking as well as insurance goods and services to customers.
5. Banco Popular de Puerto Rico
Banco Popular de Puerto Rico is one of the country's oldest and biggest financial organizations in the BVI at Tortola. This bank primarily concentrates on retail, business, and offshore banking. The services that financial institutions provide to both consumers and legal organizations include deposits, electronic payments, financing, commercial loans, investment banking, insurance offerings, and others. This institution has a comprehensive network that includes ATMs and branches which makes it easier for consumers to conduct financial operations.
6. Bank Of Asia (BVI) Ltd
Bank of Asia (BVI) is one of the first digital financial organizations in the BVI and received its initial license granted by the BVI FSC in March 2017. The bank places a great priority on providing customers with affordable, effective, and easily accessible financial solutions. The bank anticipates offering debit cards and financing options to its clients, making it easier for clients to use the bank's financial services.
7. First Caribbean International Bank
This is another one of the biggest offshore banking options in the British Virgin Islands and was established in the year 2001. FirstCaribbean provides a broad range of services in the business banking sector that is specifically designed to satisfy the demands of corporations. These consist of treasury services, trade funding, cash management, and other forms of financing. Their extensive regional network and expertise in the Caribbean market make them a valuable partner for businesses operating in the British Virgin Islands.
Benefits of offshore banking options in the British Virgin Islands
The British Virgin Islands financial industry is stable with several renowned foreign banks and organizations operating in the nation. These institutions provide different offshore banking services covering personal and business accounts, investment opportunities, etc.
Here are the benefits of offshore banking in the BVI:
Stability:

The BVI's legal system is founded on English Common Law, and it maintains an extensive record of political stability and enticing deals for offshore businesses. The British Virgin Islands has a steady political and economic climate making it a secure location for your offshore investments.

Privacy:

The British Virgin Islands has stringent privacy protection regulations that protect your private financial data within the country.

Safeguards assets:

Your assets remain safeguarded from any legal conflicts and financial concerns through offshore banking in the BVI.

Tax Efficiency:

The BVI provides benevolent tax systems, such as tax breaks and lower rates of taxation for particular kinds of offshore activities.

The rapidity of Action:

The BVI government provides enough flexibility to relocate assets or transfer money on your behalf quickly.

No need for a personal visit:

Although opening an offshore bank account can be challenging and exhausting, you are not required to visit the financial institution in person to complete the process.
Book end-to-end experts consultation with Odint legal, accounting and company formation experts.
The offshore banking options in the British Virgin Islands provide both individuals and corporations with a secure and private atmosphere for handling their finances. The offshore banking options in the British Virgin Islands offer a variety of services depending on the needs and demands of the company. The BVI continues to entice offshore investors with its reliable banking system, advantageous laws, and privacy protections.
At Odint Consultancy, we specialize in assisting businesses in navigating the favorable financial jurisdiction of the BVI. With expertise in setting up accounts and accessing offshore financing options, we can help you enter the BVI markets and make the most of its offshore financial opportunities.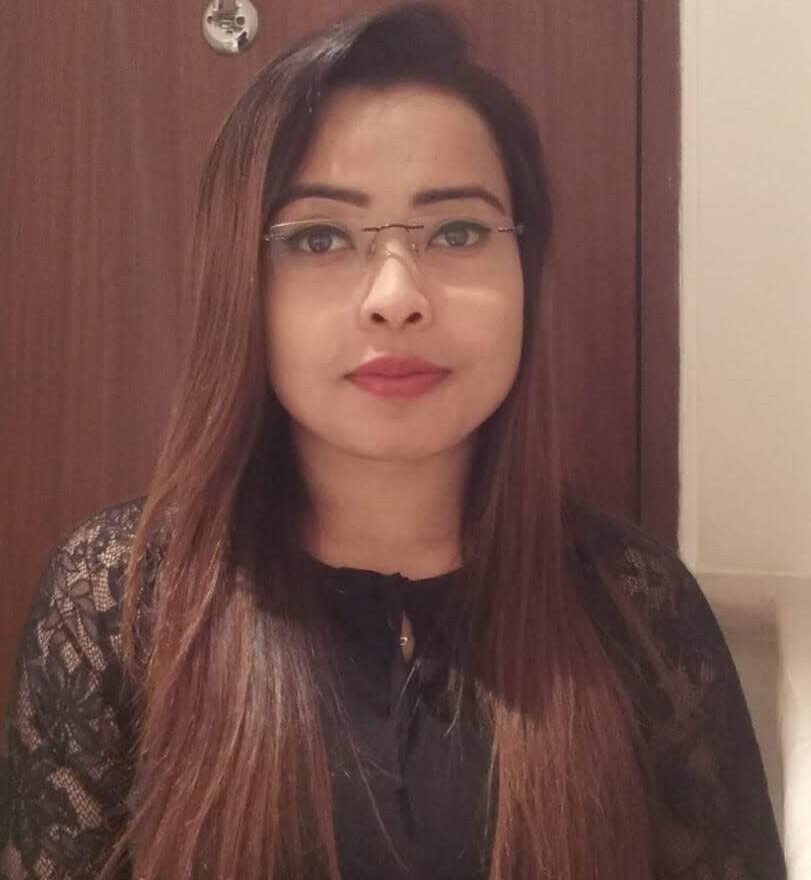 Reshma Ali has great expertise in mergers & acquisitions, Financial planning, and international company formation and offers advice and knowledge to help businesses achieve their objectives.