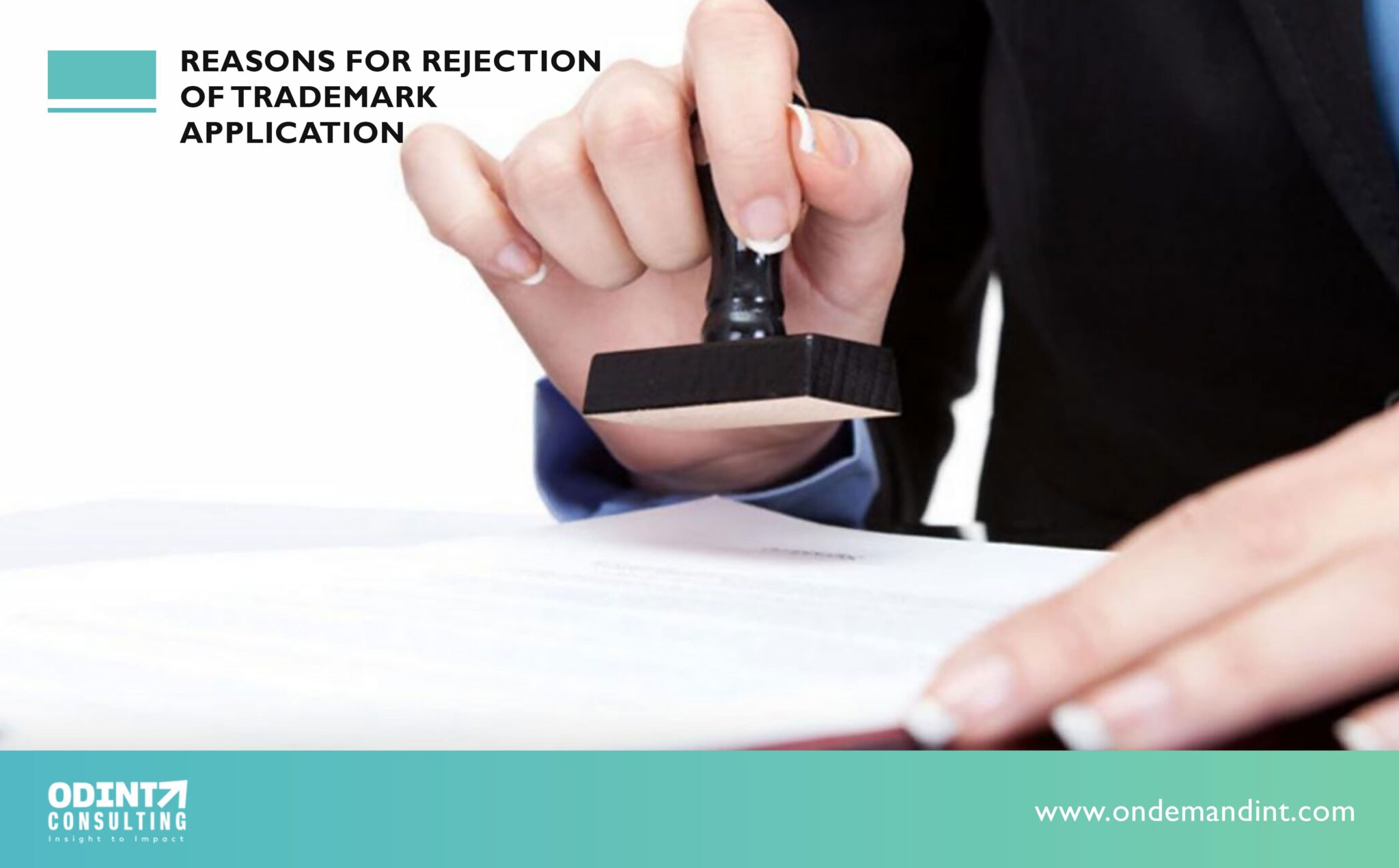 Reasons For Rejection Of Trademark Application
The term "mark" refers to a trademark as a name for a brand or logo that identifies your service or product. It could be a letter or phrase, a number or word, a symbol, or any combination of alphanumeric numbers. A distinctive logo or brand name is utilized to distinguish your business or product from competitors in a specific market. 
You must sign up for your brand name or logo to obtain the legal rights for your brand. After receiving the (TM) application number, you are able, to begin with, this symbol (TM). When you register the registration of trademark it is possible to assure your clients or customers that your service or product is distinctive in the marketplace. It is a symbol of the origin or serves as a symbol of your innovative idea.
Before you can register your trademark, you'll be required to evaluate your efforts in determining what type of trademark is best suited to your service or product. Odint Consultancy assists you with making an application, filing, and then the registration of your trademark. 
It is also possible to talk to our experienced lawyers before deciding on the type of trademark you want to use. Remember that if you are granted trademark registration in India the trademark is valid only within India.
In this article, we will talk about the various reasons for rejection of trademark application.
Benefits of Owning reasons for rejection of Trademark application
The primary benefit of a trademark is that it confers an exclusive right for ownership right to your brand's trademark or name. You are able to prevent others from using your brand or logo without a valid license
The owner of the trademark registered can sue someone if the person has violated the same brand. A user who is not authorized to use the trademark may be warned or disqualified from using the trademarked logo or name
Your product or service will be exhibited all over the world if you are the owner of your trademark. It represents trust, honesty, and confidence to clients/customers in your industry. So, customer retention will be greater
Your clients or customers will be able easily to find your item when you have registered your product's design
It allows people to differentiate between items that have a trademark symbol and those that do not
Once you have registered your trademark may apply for your trademark's (r) symbol into your logo to indicate that your brand's name and logo are trademarked.
Online Registration of Trademarks is possible for an affordable cost
The trademark can be registered in other countries as well to help establish the brand internationally. For instance, if, for example, you've registered your trademark in India then you could apply for a certification to register the trademark or logo in various countries.
It aids the franchise in search for the logo or brand as it's an established, well-known brand name, logo
The trademark owner is able to transfer their trademark registered with the company. This is not the case for trademarks that are common law that can be transferred through the company
Recognizing the quality of the product
Protection for 10 years for an affordable cost.
Reasons for Rejection of Trademark Application
Each month, a customer's application is denied due to not meeting the requirements of the Trademark Registry. The most common reasons include: using the identical trademark and an inaccurate statement about the item or product and containing indecent, scandalous, or offensive images or words, and even the flag of the country or the flag of different nations. Also, generic words are not accepted.
From the hundreds of trademark requests and pop we receive each month, a substantial percentage would not be able to meet the standards that are set by the Trademarks Registry. A lot of customers are prepared to take the risk of rejection, and insist that their applications be submitted in the first place, only to be served an objection notification a few months after. It's an unnecessary waste of time.
Common Reasons for Trademark Application Rejection
The most effective way to go is to submit only those applications that are likely to be accepted, especially because the Registrar will need only a very weak reason to deny your application. Therefore, before you apply make sure you know the typical reasons for rejection of a trademark application.
The identical or similar trademark is already in use and the approval of the request will likely cause confusion among consumers. You can find out the trademarks that have been accepted here.
If the trademark proposed is just the description (or even a false of) of the service or product then it is likely to be rejected. Thus, Coconut Paste is unlikely to be cleared for example, if it is Chutney products; Purified Water will not be cleared in the instance that it is mineral-based water.
In India trademarks with indecent, misleading, or offensive words or images are likely to be disapproved of.
A trademark that carries the Indian flag as well as the flag of any other nation or any other state or municipality will be disqualified.
If you do not have permission from the person who is living, you are not allowed to utilize the name of the person or signature.
This planned trademark is just a geographical description of the product or service. Therefore, any attempt to register a trademark for Kashmiri Red Chilli Powder could be rejected.
Generic words can't be used, and neither adjectives. Thus, the words 'Best' or "Quality" will be rejected.
The applicants will have to deal with rejection and then fill out the application once more. They will receive an objection notice within several months. The result is that clients are wasting their time. The best thing is to file a claim that can be accepted specifically to meet all the requirements of the Registrar. Therefore, before submitting an application for your trademark learn the reason for the refusal within the request.
In this article, we will discuss the various reasons that could be fewer reasons for the rejection of a trademark application. But, it's always advised to employ a skilled Trademark lawyer prior to beginning your Trademark Registration Process. It's important to note that you must adhere to all the rules and restrictions of Trademark Registration to avoid all the reasons mentioned above to reject your Trademark Application.