Australia is currently one of the world leaders in terms of GDP production, taking the 12th spot on the global leaderboard with an incredible production of 1.331 Trillion USD in 2020. 
Australia was also considered to have been hit less severely during the 2008 financial crisis given its favourable trade conditions and has remained a 
strong and stable player in the international market.
Australia is a country that encompasses ideal conditions for foreign incorporations to thrive. 
There are several reasons to setup a company in Australia if you are planning to incorporate a firm there. In this article, we will be going to witness, the top most reasons to setup a company in Australia.
Various Reasons to Setup a Company in Australia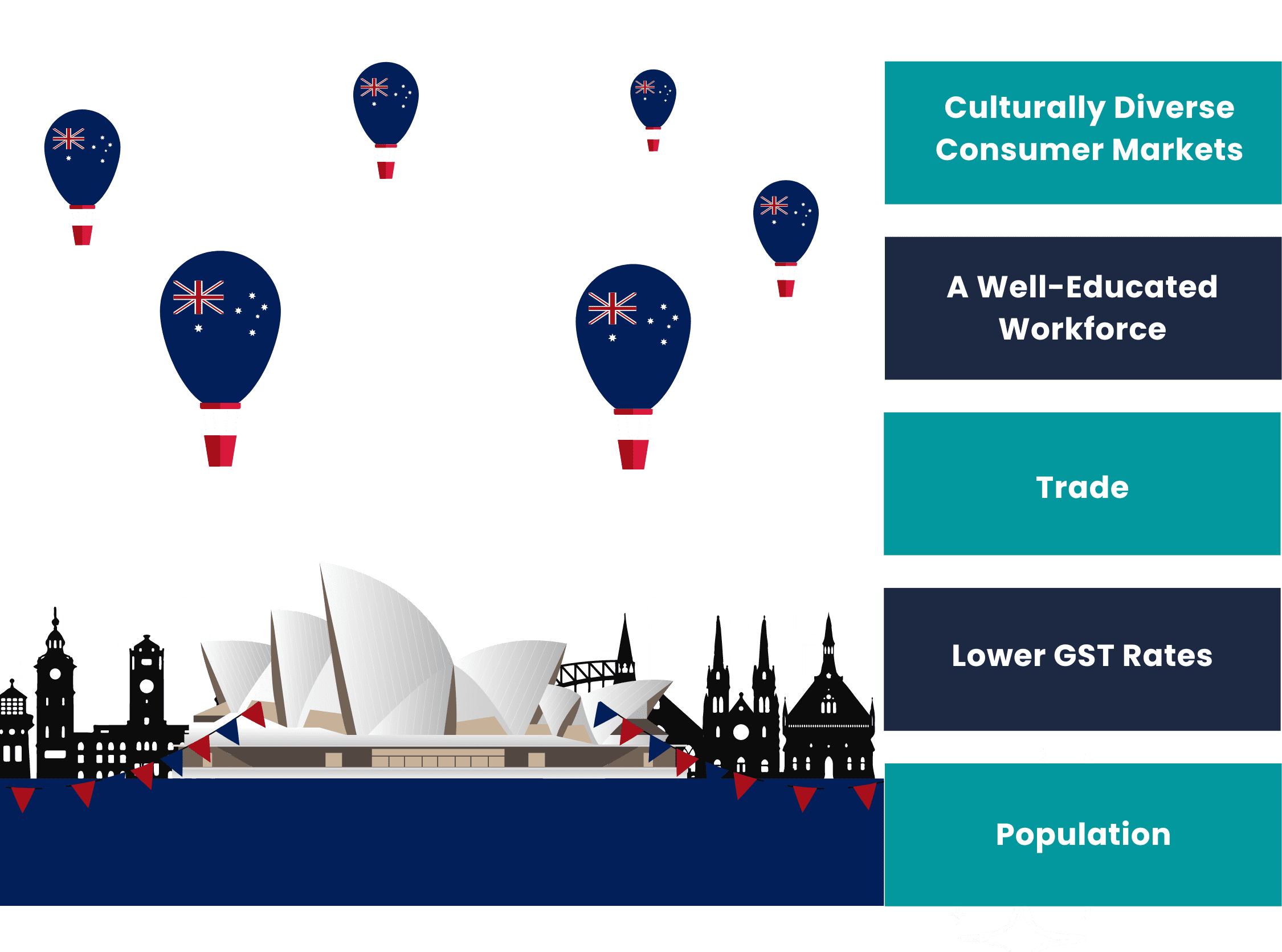 Down below we've listed down few of the most common types of reasons to setup a company in Australia.
1. Culturally diverse consumer markets
Australia's diverse culture provides many opportunities for businesses, as they can target a wider audience if their business demographic is diverse.
The purchasing power of Australians is also very high and the Australian people are willing to assist any business in reaching success in the Australian market. 
This is part of why Australia is known for its willingness to give business owners an honest shot.
2. A well-educated workforce
Australia has one of the most prestigious education systems in the world which is one of the reasons to setup a company in Australia. According to the World Economic Forum's Competitiveness Index, Australia ranks among the top 10 countries for higher education or training.
Around 50% of the workforce have some form of tertiary qualifications and the country boasts a staggering 99% literacy rate. This means that investors and business owners have access to a highly-educated and multilingual workforce.
For 2022, imports were recorded at 421 Billion, although the country enjoys trade surpluses due to its trade relationships with international partners. These figures indicate the strong positioning of the country when it comes to international trade. 
However, Australia still has a greater demand for exports making it feasible for foreign incorporation. The higher trade surplus and overall export numbers are one of the reasons to setup a company in Australia.
A small business can be set up in Australia, which gives it an advantage. According to the Australian Taxation Office, Australia's Goods and Services Tax (GST) rate is low at 10%. 
Hence, one of the significant reasons to setup a company in Australia is because it has a lower GST tax rate.
Another one of the reasons to setup a company in Australia is the larger total addressable market (TAM). This market would allow you to target foreign investors in the local market.
Registering your Australian company automatically gives you a wider audience in which to conduct business, in addition to the existing trading relationships with the Asian markets. 
Australia has vast possibilities for anyone willing to integrate into the business community, and it requires a fast-thinking personality along with a strong work ethic to succeed.
It is very easy to form a company in Australia, as it takes around a week for a company to be formed. It is essential to meet the requirements for appointing key executive members to register a company in Australia. 
You can reach out to us at Odint Consulting if you have any questions about the reasons to set up a company in Australia. Our team of specialists ensures that every effort is made to assure the accuracy of the material.