Start A Business In Singapore From India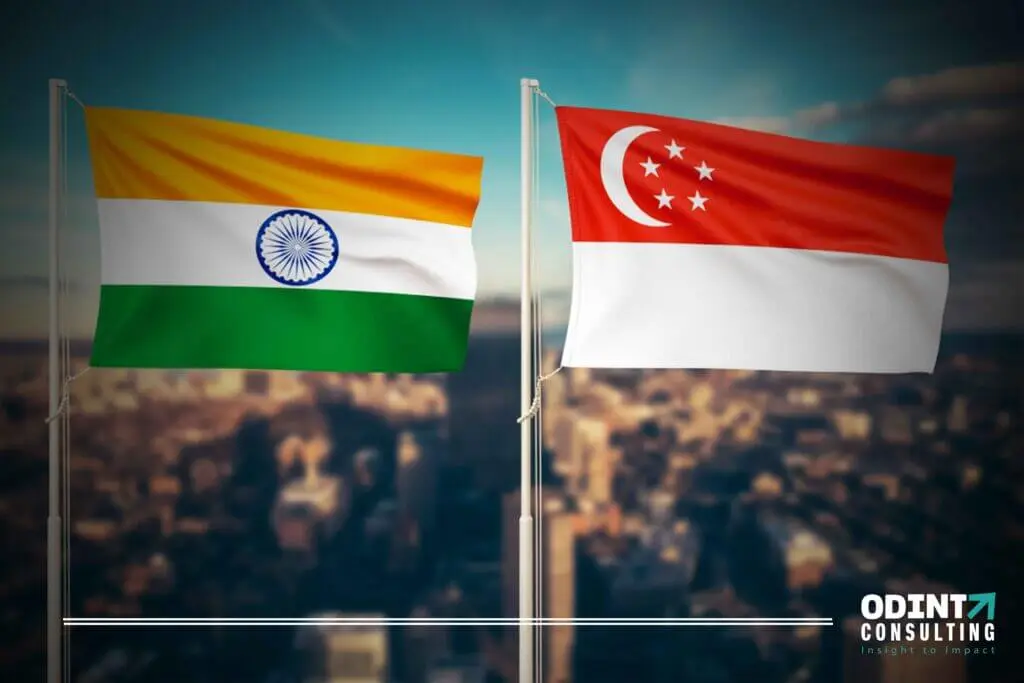 A business always makes calculations of profits and losses, laws and policies of that destination regarding ownership, taxation, and other business activities. Among 189 countries, Singapore is one of the best places to carry out business activities and has been placed in the 2nd position according to the World Bank Doing Business report of 2019. 
It has favorable taxation policies, continuing growth rate of the economy, favorable business environment are the reasons for making this destination as most preferable. It is easy to set up a business in Singapore for citizens of Singapore as well as for foreign investors, but sometimes, owners may get into trouble due to the laws.
If you are looking for Singapore company registration from India then Odint consulting will guide you in every step from incorporation to accounting and auditing. Forming a Singaporean company is very affordable but a little bit complicated for Indians. At the same time, Singapore also has double taxation agreements with many other countries which is very beneficial for Indian owners to operate a business in Singapore. 
For example, Flipkart and InMobi are some of the largest companies in India which were incorporated in Singapore and headquartered in India. This shows that any business can 100% operates its operations in Singapore from India without any difficulty.
In this article, we will guide you on how an Indian can register a company in Singapore. Also we will talk about the benefits, documents needed, and conditions to start a business in Singapore from India.
Benefits Of Registering A Singaporean Company From India
There are many benefits of starting a business in Singapore from India. These are the following benefits:
Availability of skilled labor
Singapore has several skilled laborers. Singapore stands in the second rank as stated within the Global Talent Competitiveness Index (GTCI) by INSEAD.
Low rates of tax
Singapore is the country with the most attractive commercial tax rate system all over the world. The corporate tax rate of Singapore is 17% which is approximately half of the Indian Corporate tax rate. The government of Singapore also provides tax exemptions to the newly established company in Singapore. In the case of India, many start-ups are eligible for many tax concessions. However, the tax rate according to Indian taxation policies is much higher than that of Singapore.
Easier to start and manage a business entity
Singapore has ranked many times in international surveys for its business-friendly environment. It is the place where a businessman can operate his business very easily. It has a very competitive economy, and it is also well known for its highly qualified lifestyle of residents of Singapore.
Ideal location
Singapore is one of the best hubs and allows foreign companies to enter the south-eastern market, other entry in the South-Eastern market is a challenging task. It is the ideal location as it provides trade facilities with many other major economies.
Book end-to-end experts consultation with Odint company formation experts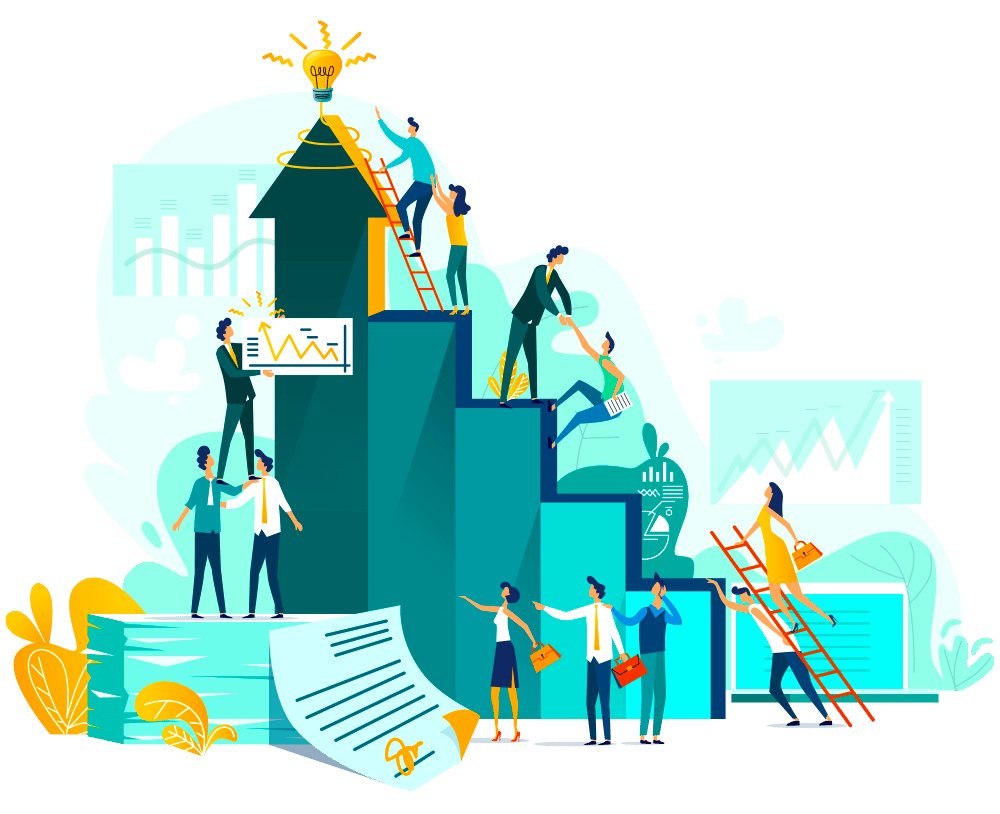 Documents Required for starting a company in Singapore from India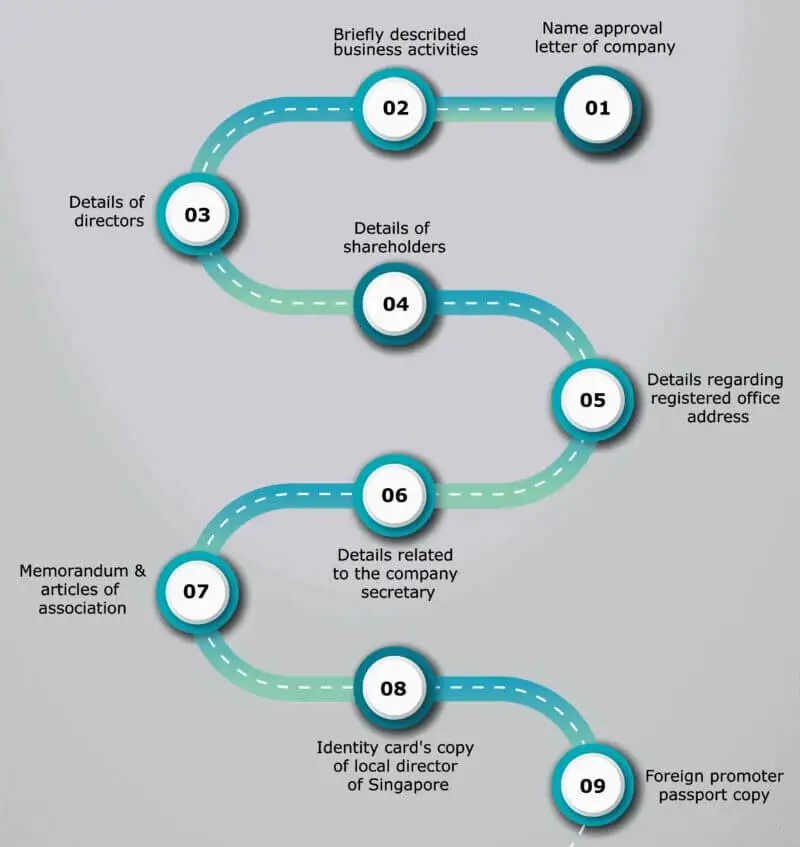 Here is the list of documents that are required at the time of filing an application form to start a business in Singapore from India.
Name approval letter of company
Briefly described business activities
Details of directors
Details of shareholders
Details regarding registered office address
Details related to the company secretary
Memorandum and articles of association
Identity card's copy of local director of Singapore
Foreign promoter' passport copy
Requirements to start a business in Singapore from India
Some important points to be kept in mind while starting a company in Singapore from India are:
Local Director: There must be a local Singaporean citizen as one of the directors of the company.
Minimum Shareholder: You can start a company with at least one shareholder.
Company Secretary: There must be a company secretary of the company who will be in charge of the timely submission and filing of all legal documentation.
Local business address: You must have a local business address in order to establish a corporation in Singapore.
Registered Agent: A registered agent should be hired for the firm.
Minimum paid-up capital: Start a business with at least $1 as paid-up capital of the company.
How can an Indian start registering a company in Singapore?
The following steps are required to be followed for the Singapore registration of company from India-
Registered Agent
For foreign businessmen, it is required to hire a registered agent to register a Singaporean company from India. The local Singaporeans are allowed to register their company by themselves. This registered agent can be a law firm, an accounting firm, or maybe a company secretary of Singapore.
Filling of application for name registration
The next step for registering a company in Singapore involves filing of application for name registration. A company is required to apply its name to the Accounting and Corporate Regulatory Authority of Singapore. It costs about $15 for the application. It may take one day as a minimum period or in the general case. After the approval of the name, within 120 days the owner has to incorporate its company.
Safeguard for intellectual properties
The business must keep in mind the intellectual properties right while applying for the registration of the company. The selected name must not violate the intellectual property of other entities of Singapore, and also it must not be any trademark of any other entity of Singapore.
Read More: Trademark Registration In Singapore
Filing application for incorporating a company
After this, the company has to apply for incorporation within 120 days of approval of the name with the required documentations. This form costs $300.
Opening of bank account in Singapore
The next step to register a company is to open a bank account in Singapore. For this, the physical presence of a director of a company is mandatory. It is also required to show the required documents with a valid reason to the banker.
Business License
A business license is issued by the government of Singapore which enables a businessman to conduct business operations legally in Singapore after the firm has been incorporated. For obtaining the same, the businessman need to apply to the registrar of the companies.
Book end-to-end experts consultation with Odint company formation experts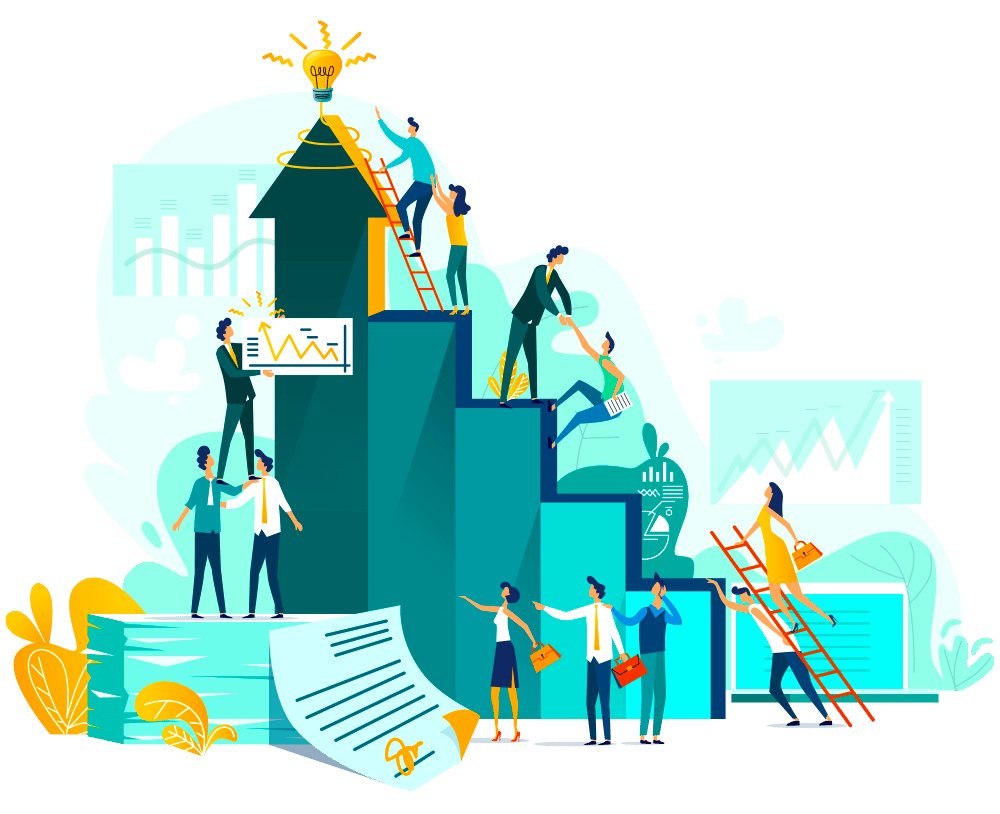 Indian business has discovered a boom when it comes to expanding in IT and other sectors like agriculture and manufacturing. From start-ups to general corporate jobs, the potential of what can be achieved in the foreign market in Singapore is ever-expanding at a tremendous scale. Indian businesspeople who invest in Singapore or establish businesses there can benefit from the country's low corporation tax rate, government assistance, and from the DTA that Singapore and India have signed.
If you wish to register a firm in Singapore though you must seek assistance from a professional expert from Odint Consultancy. We are here to help you out when it comes to the registration of a company in Singapore. 
Azhar Ansari is a company formation specialist with 8+ years of expertise in international business. Financial planning, risk management, and other related areas.