An offshore company covers any kind of company that has its registered office set up outside its home country. Offshore firms are described as commercial entities that undertake their company's operations in international markets rather than locally in the country in which they were established.
The importance of offshore companies is consistent with today's market trends. Offshore companies allow entrepreneurs to invest their assets in foreign markets where they can potentially generate higher returns. This has led to an increasing interest in offshore companies by business persons, who now choose to register their companies in tax-friendly jurisdictions.
How to setup an offshore company is considered technically easy but tedious and time-consuming, as it involves several steps, such as registration at the local chamber of commerce or business registry, opening an account with a bank, hiring staff, leasing office space, among others. And that's where OnDemand International comes in.
In this article, we will be discussing more in-depth about the steps to Setup an Offshore company. So, without any further delay, let's jump into it.
Steps to take before starting the process
Here are a few steps you need to take before starting the formation process.
Although there are many solid offshore service jurisdictions that you can choose for your offshore business, there are some things that you should bear in mind before choosing one:
One should be sure of the reputation. The best way to judge this is by talking to other business owners who have incorporated an offshore company there or by checking the reviews given by other clients.
Something else to watch out for is the cost of the firm's services in comparison with their competitors. Offshore companies differ in prices and services offered, so it is wise if you compare different companies to get the best rates.
Another thing to look at is the physical location of your offshore company. Some places will be more convenient for you, depending on where you are based. For instance, if you need a company registered in both Cyprus and Belize, it would be better to choose a company that covers both these jurisdictions.
Finally, one should be sure that the jurisdiction has the experience, enough legalities, and resources for your business needs. This can be determined by finding out how long they have been operational as well as how big their clientele is.
Choose a company structure
Choose the most relevant company structure for your offshore business-
An offshore company is a very broad term. Based upon the jurisdiction you have opted for, the flexibility of the company structure you expect, and some other parameters, the offshore service provider can suggest the best-suited type of business that can benefit you the most. And for that, you can contact OnDemand Internatioanal at any time.
The legal form of your business is also an important factor in determining how successfully you can avoid taxes. 
Here are major company structures you can adopt:
1. International business company
An IBC is a type of offshore company, usually incorporated in a tax-haven jurisdiction. The IBC structure is a relatively recent development in the tax haven industry and has been widely used for asset protection, wealth management, and estate planning purposes.
The term "international business company" is one of several names used to describe a tax-neutral organization. Other names include international business corporation (IBC), registered foreign company (RFC), exempt commercial company (ECC), foreign limited-liability company (FLC), offshore corporation, or offshore limited liability company (OLC).
Taken together, these organizations are often called "offshore companies" or "offshore corporations."
As an incorporation vehicle, the IBC offers several important advantages to businesses and investors. The primary benefit is that the ownership of an IBC is not publicly disclosed, which can be significant for entities that may have political or security sensitivities. In jurisdictions where transparency is not required by local law, an IBC may also be used to circumvent local disclosure regulations.
An IBC has very flexible management and ownership structures, so they are often popular with investors who wish to maintain anonymity or otherwise prefer to avoid any public association with their commercial activities. For example, in several jurisdictions, IBCs are regularly used for trust structures, including private foundations and family trusts.
An IBC can be incorporated with almost any type of internal management structure and any type of shareholder control structure. The choice as to whether the company will be managed by its directors or whether it will have dispersed powers with no board of directors at all rests solely with the incorporator(s). Most jurisdictions only impose restrictions on certain types of business activities, so there is a great deal of flexibility in this regard as well.
2. Limited liability company
 An offshore LLC is the same as an onshore LLC. However, they do differ in certain areas.
The major features of an offshore Limited Liability Company are-
It is a mix of private and corporate ownership.
An offshore LLC will be exempted from paying taxes in the jurisdictions where they are incorporated.
It provides tough security to the members of the company and secures their interests.
An offshore LLC does not have directors or shareholders; instead, they have members.
Unlike an onshore LLC, the offshore LLC requires only 1 member to be there.
Has fewer legal procedures and more benefits.
3. Private limited offshore company
A private limited offshore company is the one with the characteristics stated below:
With members not exceeding 50 and privately held business
Limited liability on shareholders
Just like an onshore Pvt. Ltd., it can also enter into contracts, can sue others, and be sued. 
It will be treated as a legal entity.
Take the benefit of lower tax rates and better protection of assets.
However, it does restrict its shareholders from transferring their shares.
After choosing the company structure for your offshore business, the next step in the procedure is to find a suitable jurisdiction that aligns with your needs and gives you the best benefits.
Choosing the Appropriate Offshore Jurisdiction
Offshore jurisdictions are used by entrepreneurs to incorporate companies when they choose to locate their business in a tax-friendly nation, where there are fewer challenges for foreigners and more support for foreign investors. Offshore jurisdictions can be regarded as places with the best business climate.
The most important factor that one should consider is an offshore jurisdiction's reputation. The reputation can reflect the offshore jurisdiction's soundness and stability, which can result in the feeling of trustworthiness, and the potential of your business growth.
One should take into consideration the health of the economy, politics, legal framework to know which country aligns the most with your business's needs.
Another factor that should be taken into account is the country's infrastructure. Good quality infrastructure system will enhance the competitiveness of your corporation. For example, if entrepreneurs want to set up a factory in a specific country, they must check whether the location has strong transportation services with efficient logistic systems. 
In addition, you also need to find out whether there are any visa restrictions or restrictions on land ownership before choosing where to incorporate your company.
Choosing the right jurisdiction to set up your business offshore can be a real challenge. As many firms are reluctant to start a new project, especially if they have no experience in the field. As a result, it may be better to ask for professional help to avoid future problems or legal issues.
Now that you have decided on the type of offshore company and the best jurisdiction for it let's move on to the next step of incorporating an offshore company.
There may be certain rules and regulations that are particular to each country. And to know more about that, it is better to consult the experts.
Procedure for incorporating an offshore company
The procedure for incorporating an offshore company are:
1. Choosing the perfect name
Choosing the name is the most crucial part of incorporating, as there are strict guidelines that restrict you from choosing your desired name. The guidelines are as follows-
Before you can start the process of establishing your offshore company by incorporating a company, you need a valid and unique name. The name should be unique and not be identical or similar to any existing or already registered company name at the Company Registry.
The corporate registry will always check for the uniqueness of your future company's name before approving it. Your chosen business name should not contain any prohibited or restricted words such as Bank, Assurance, Insurance, Royal, University, Trust, Building Society, Cooperative, Foundation, Casino, Fund, Securities, Pharmacy, etc.
Once you have chosen the name, the next step is to fulfill the legal requirements.
2. Fulfilling the legal requirements
In every case, banks will require certain formalities to be completed to ensure the legitimate use of companies.
Such regulations differ from each jurisdiction, but certain documents remain the same in every jurisdiction, and if you are planning to incorporate an offshore company, you should fulfill all the conditions.
Such general documents are-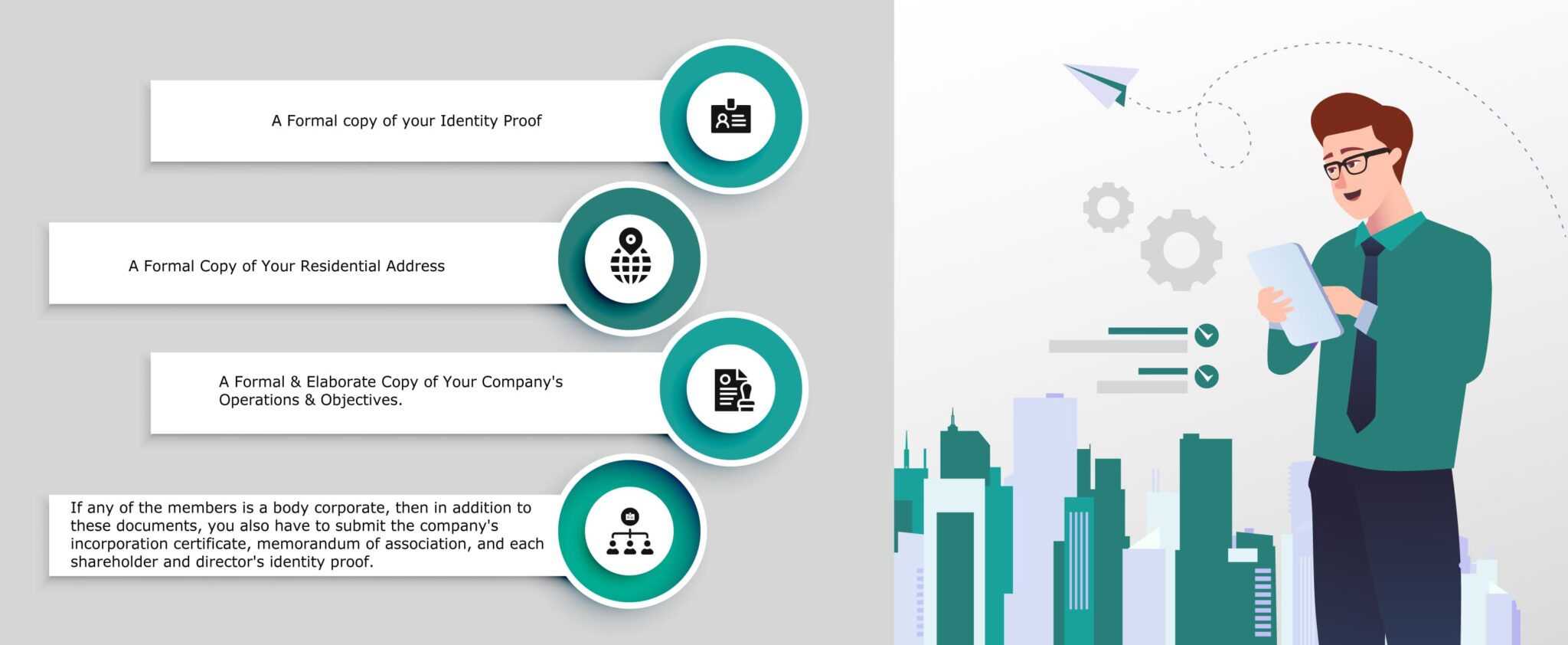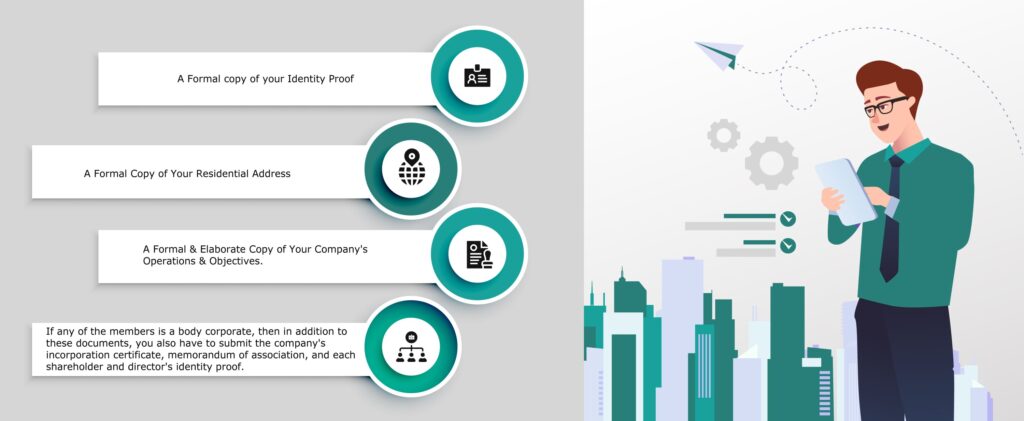 A formal copy of your identity proof
A formal copy of your residential address
A formal and elaborate copy of your company's operations and objectives.
If any of the members is a corporate body, then in addition to these documents, you also have to submit the company's incorporation certificate, memorandum of association, and each shareholder and director's identity proof.
Once you are done with all the formalities, the next step is to finally get your company registered by delivering the necessary documents and complying with the conditions to the registry.
3. Sending the documents
In the offshore location, it is necessary to send all the documents you have prepared to the company registry.
After receiving the documentation and the fees from the relevant offshore company registry, the company registry will check your documentation for any errors. If the registration is unsuccessful, it is typically because the supporting documents are inadequate or a more complete background check is required. fortunately the majority of circumstances, additional inspections are not necessary, and offshore corporations can be founded without too much difficulty. The registration procedure normally takes from 2 to 4 weeks. 
If the registration is completed, then you will receive proof of your company's incorporation from the company registry. You will receive the documentation outlining the details of your newly established firm, together with a notification outlining any potential future yearly expenses.
4. Open a bank account 
It's crucial to open a bank account in an offshore location. While opening the account, you must provide all the details and documentation accurately. Ensure that all local banking laws are followed.
The company formation procedure is not a simple process. It does require considerable time and effort. If you are not prepared to invest the time, it may be best to consult a professional company formation agent, who will take care of the whole process on your behalf.
Let OnDemand International take the job and do it smoothly and efficiently for you.
Why OnDemand International is the best to incorporate your offshore company?
Offshore Company Formation is a delicate process that requires not only knowledge and experience but also utmost attention and care.
Odint consulting will typically do everything for you, instead of you doing everything by yourself. All you need to do is to discuss with our experts to acknowledge your case, collect the required documents listed above, and send us via email.
We then submit your documents to the Company Registry of the offshore location that you have opted for registration.
We are a team of professionals with a great deal of experience in offshore company formation and corporate services, helping companies to set up business in safe and stable jurisdictions. We have fully satisfied clients all over the world.
We believe that professional service is our responsibility as well as our contribution to business development. In the process of providing our services, we are committed to offering you an efficient, high-quality service.
An offshore company is a legal entity formed under the laws of a country other than the country of residence of the shareholders and directors. This offshore company generally provides its shareholders and directors with more flexibility, anonymity, and confidentiality than those available to them through their country of residence.
In addition, an offshore company formation process is generally less complex but highly time-consuming. That's why it is best to get assistance from an OnDemand International expert to help you in forming an offshore company easily.