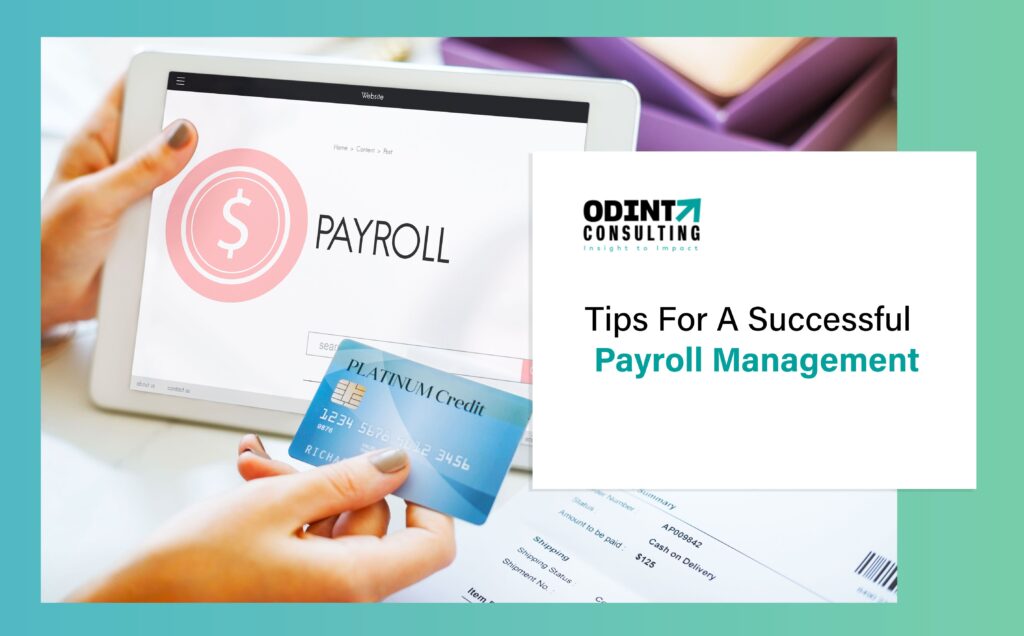 The payroll includes the names of all employees of the organization, as well as the amount paid to each in recognition of their contributions to the organization. Payroll management is the process of keeping track of an employee's financial records, such as bonuses, salaries, wages, gross/net salary, and tax deductions.
To ensure that the payroll system runs effectively, it is important to follow the tips for a successful payroll management.

Payroll Management: An Integral Part
All businesses, regardless of size or financial condition, require a comprehensive payroll management solution. Payroll management is critical for all organizations, from small start-ups to multinational corporations. Professional payroll management services ensure that employers and employees have an informed working relationship.
Choosing The Suitable Payroll Management System
In today's rapidly changing work society, selecting suitable payroll management software is an essential responsibility for the employer. When you are choosing an appropriate payroll management system, the employer must be aware of certain factors like:
Support and customer service: When purchasing devices, support and customer service always come to thoughts. This is something that employers should be thinking about when choosing payroll software. The best software should provide superior customer support and service capabilities. Therefore, before purchasing the software, talk to other users to give an experience that is more hands-on.
Integration Payroll management software will always provide the ability to integrate data, such as the import and export of data via excel sheets, or any other platform.

Security of databases and backup:

The personal data is considered to be confidential and must be handled with care. Before you blindly trust your vendor, make sure to back up all important information so that you don't want to run the risk of losing your data due to technical issues. Make sure to research and verify all of these aspects before deciding on the payroll management software or vendor.
Reports can be generated: Any organisation needs to create reports in order to maintain its operations. It could be related to any part of the business. Your payroll management system must be able to produce reports at any time you need the reports.
HR management: Large corporations have offices around the world as well as a massive workforce. They require centralised access control of the personal data of their employees and access to users by location for seamless operation of the company.
Trial period for free: A few payroll management software providers offer a free trial of 7 days duration, where you will be able to test their offerings as well as the compatibility and ease of use of the software and, based upon all these aspects, you'll be able to decide if you'd like to proceed with your purchase or not.
Different Methods Of Payroll Management Systems
Based on budget and involvement, the employer can select the best method for Payroll management method. There are many options available on the market, including:
Payroll management by manual: All small and medium-sized businesses (SMEs) can benefit from this payroll management, even with a small budget. Although this method can result in costly errors in the area of calculation and tax deadlines for submission, it is economical for home-based and small-scale companies.
The software for payroll management: Payroll management software is time-saving and takes over the administrative duties in managing employee information to the payroll system through automation of labour-intensive tasks. It provides a great solution for employers to calculate salary, and deductions, as well as submit taxes in time and pay the salary net. Employers can, however, manage all aspects of the process.
Outsourcing: Employers might not be a fan of taking charge of managing payroll every time, as it can be an uninteresting and stressful task. Instead, they would prefer to outsource this task to a trusted third party, which is known as outsourcing. They typically appoint an administrative services payroll service provider or sign a contract agreement with a Professional Employer Organization (PFO) that will take charge of the management of payroll for the company. The PFO will offer a full payroll administration that includes the tax deposit, reporting, and compliance, as well as keeping important financial records for the company.
Tips For Successful Payroll Management
Every business needs a solid payroll management program, no matter the size or power. This covers SMEs to huge corporate houses. To ensure that the payroll system runs effectively, use the suggestions and strategies below.
Create a paperless payroll system:

Digital technology can be beneficial in many ways, including electronic transactions and managing databases electronically. The volume of data that is manually managed is the most difficult task currently. A reliable payroll management system offers a paper-free working experience and ensures greater security for the data of the company.

Includes a variety of payment options:

A reliable payroll management system would require the same payment plan for all employees in an organization. However, at the same time, you could have various kinds of employees such as permanent, contractors, and freelancers, with different pay structures. Payroll management works great if the employees agree on a common pay schedule.

Install the necessary software:

To operate productive payroll management software, employers need to take advantage of this digital tool. However, it can be difficult to find the perfect software that is compatible with your business's requirements. There are plenty of alternatives to software, and you may also develop your own software that will fulfill your needs.
Support for payroll system: It is essential to make sure that your payroll system doesn't have compatibility problems with your accounting system. Both must be in sync to provide you with the best service.
Utilize the latest information only: A solid payroll management system must include up-to-date information about the current laws and regulations that govern employers' and employees' guidelines on pension deposits as well as gratuity guidelines, as well as other important payment elements. When employers inquire about adjustments to wage components, an efficient payroll management system has to provide them with updated information promptly.

It is possible to opt for outsourcing:

Today outsourcing the management of payroll is a great option to cut down on the burden and keep the stress levels down and also save time and money you can put into productive investments.
Book end-to-end experts consultation with Odint finance and legal experts
In the current business climate, providing effective payroll management solutions has become more difficult. Payroll management software can be a boon for management in any business to increase the efficiency of their employees. In today's digital workplace, Automation is the top priority of any company in the digital workplace.
If you're still having questions regarding Successful Payroll Management or any other questions, we are ODINT Consultancy. We are here to help you in every way.
Meet Apurva Gaur, an accomplished and dedicated Company Secretary, whose passion for corporate governance and legal compliance has shaped her remarkable journey in the business world. With a wealth of experience and a keen eye for detail, Apurva has emerged as a leading authority in the field of corporate governance, earning accolades for her invaluable contributions to the companies she serves.