Company Registration in Lithuania in 2023-24
Lithuania is one of the most popular locations for business incorporation in northeastern Europe. The business climate in Lithuania is very encouraging. In terms of the nation's ease of doing business, Lithuania is placed eleventh. It is simple to conduct business in Lithuania because there is only a single stockholder and one director requirement, both of whom can be of any nationality.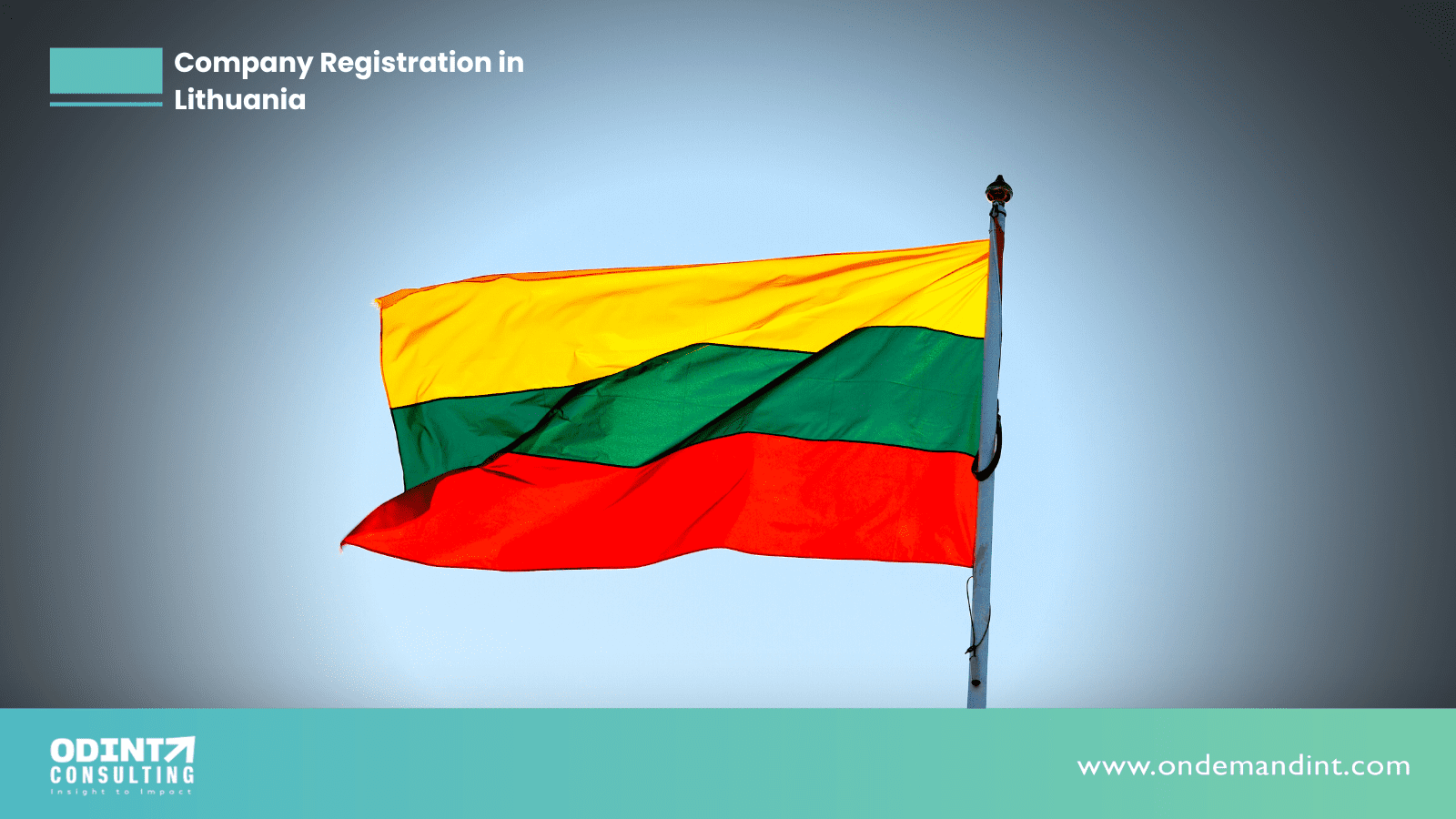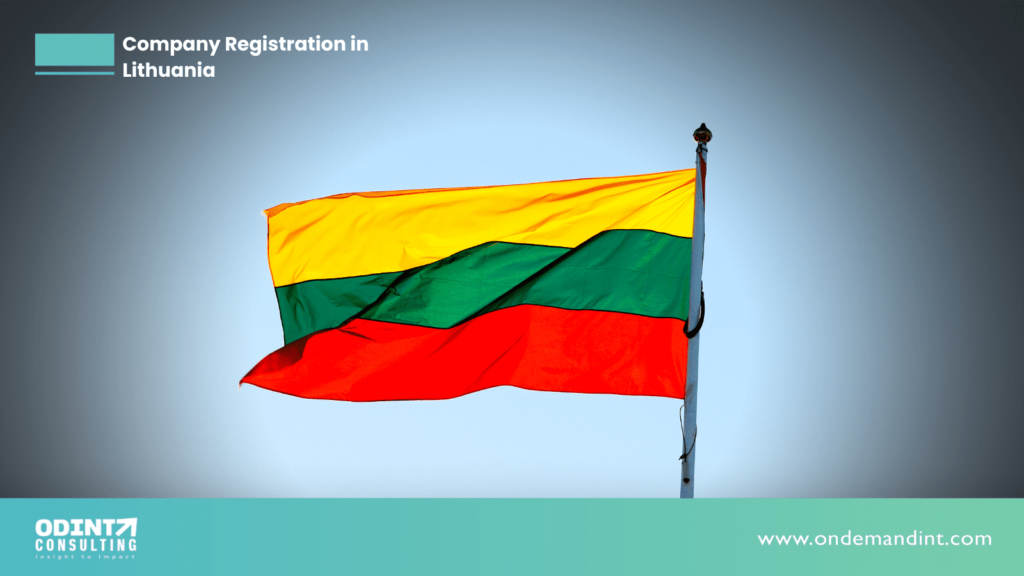 The country's 15% business tax rate is among the lowest in the European Union. Lithuania is one of the most rapidly expanding fintech hubs in Europe, and it is ranked fourth globally. Lithuania, which has a population of about 2.8 million, provides enterprises with a sizable workforce. The service sector made up the majority of the Lithuanian economy, with almost half of the labor force employed in it and accounting for around two-fifths of the country's yearly GNP. 
This guide will discuss the steps to register a company in Lithuania in detail. It will also detail the costs, perks, and paperwork associated with Lithuania company registration.
Procedure to register a company in Lithuania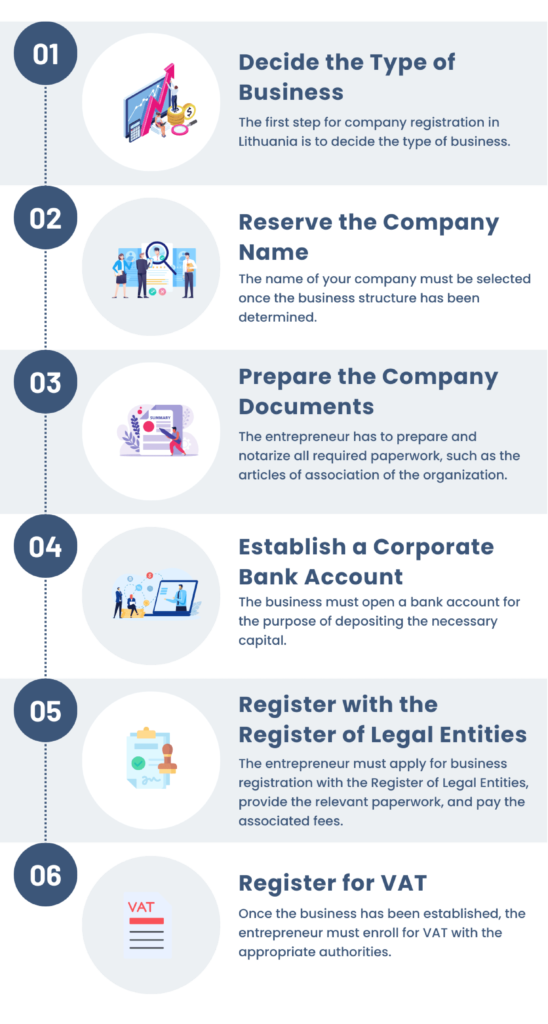 In order to register a company in Lithuania, the following steps have to be followed:
Decide the type of business
The first step for company registration in Lithuania is to decide the type of business. An entrepreneur can choose to establish a limited liability company, a branch office, or a partnership firm.
Reserve the company name
The name of your company must be selected once the business structure has been determined. The chosen name must not be similar to any already-used company names.
Prepare the company documents
The entrepreneur has to prepare and notarize all required paperwork, such as the articles of association of the organization.
Establish a corporate bank account
The business must open a bank account for the purpose of depositing the necessary capital.
Register with the Register of Legal Entities
The entrepreneur must apply for business registration with the Register of Legal Entities, provide the relevant paperwork, and pay the associated fees. The company will obtain a certificate of incorporation once the business registration application and supporting paperwork have been examined and approved.
Register for VAT
Once the business has been established, the entrepreneur must enroll for VAT with the appropriate authorities.
Documents required for company registration in Lithuania
The various documents needed to register a company in Lithuania are:
Application for business registration

Registered business address details

Passport copies and details of the directors and stockholders

Article of Association

Proof of depositing the share capital
Types of Companies in Lithuania
The various business entities for Lithuania company registration have been discussed below:
1. Public Limited Liability Company (AB)
A Public Limited Liability Company also called Akcinė Bendrovė (AB) is the most typical corporate entity for medium-sized and big businesses. A public limited company may be incorporated with €40,000 as registered capital. There is no maximum number of shareholders for public limited companies; they can be formed with just one stakeholder. There are no limitations on the owner's place of residence. The stock of an AB may be offered on the stock market. Members' accountability is constrained by their financial investment in the business.
2. Private Limited Liability Company (UAB)
A private limited company also called Uždaroji Akcinė Bendrovė is a preferred structure for small businesses. A minimum threshold of €2,500 in registered capital is required for private limited company registration in Lithuania. A private limited business may have no more than 250 shareholders. Members' accountability is constrained by their financial investment in the business. Annual audits won't be required unless the UAB annual revenue surpasses €1.4 million.
3. Partnership
In Lithuania, there are two kinds of partnerships, the general and the limited partnership.
General Partnership (TUB)
A general partnership is often referred to as a Tikroji ùkine bendrija (TUB). The liability of a general partnership is uncapped. As such, all responsibilities and liabilities that the company incurs may be held personally accountable by the general partners.
Limited Partnership (KUB)
A limited partnership commonly referred to as a Komanditiné ùkiné bendrija (KUB). The general and limited partners are both considered to be a part of a limited partnership. Owners with management rights and unrestricted accountability for the firm's debts and liabilities are known as general partners. Limited partners are not permitted to run the business and their financial responsibility is restricted to the value of their contribution.
4. Representative Office
A representative office is an extension of the parent corporation and is not allowed to conduct any commercial or trade activity. It is permitted to conduct marketing and advertising on behalf of the parent firm.
5. Branch Office
A branch office is seen as an extension of its overseas parent firm. The branch office is allowed to carry out commercial activities in accordance with the guidelines established by its overseas parent firm. For any debts accrued by the branch office, the parent corporation will be held accountable.
Eligibility criteria for company registration in Lithuania
The eligibility criteria for company registration in Lithuania are discussed below:
Director:

At least 1 director is required for establishing a limited liability company in Lithuania. 

Shareholders:

At least 1 shareholder is required for company registration in Lithuania. A private limited business may have no more than 250 shareholders.

Capital Requirements:

A public limited company needs a required capital of €40,000 to be incorporated. For a private limited corporation, registered capital must be at least €2,500.
Taxation structure in Lithuania
Here are the different rates of business taxes that companies have to pay in Lithuania:
The corporate income tax rate is 15%.

The standard value-added tax rate in Lithuania is 21%, however, lower rates of 9% and 5% are also applicable to specific products and services.

Real estate taxes can be anything from 0.5% to 3%.

Personal income tax in Lithuania is 20%.

A 15% withholding tax rate is applied on dividend payouts.
Cost for company registration in Lithuania
The costs associated with registering a firm must also be taken into account by entrepreneurs who wish to register a company in Lithuania. An entrepreneur must consider the charges for opening a bank account, registering a company,  acquiring a business address, etc.
Here is the various cost to consider for Lithuania company registration:
The notary charge is typically 120 EUR.

Monthly accounting services are charged approximately € 100 

Rent for a modest business space is approximately 150 euros per month.

The cost of tax and VAT registration is about €100.
Why register a company in Lithuania?
Lithuania serves as the ideal logistical bridge between Russia and the European Union.

The Lithuanian government is dedicated to fostering a free-market and liberal working atmosphere by ratifying numerous international accords and implementing pro-business legislation.

Lithuanian businesses that incorporate in the free economic zones are eligible to take advantage of the unique economical, legal, and operational benefits offered in these zones.

Lithuania is among the top four locations worldwide for fintech. 

Operating and registration costs are substantially lower in Lithuania.
Advantages of Lithuania company registration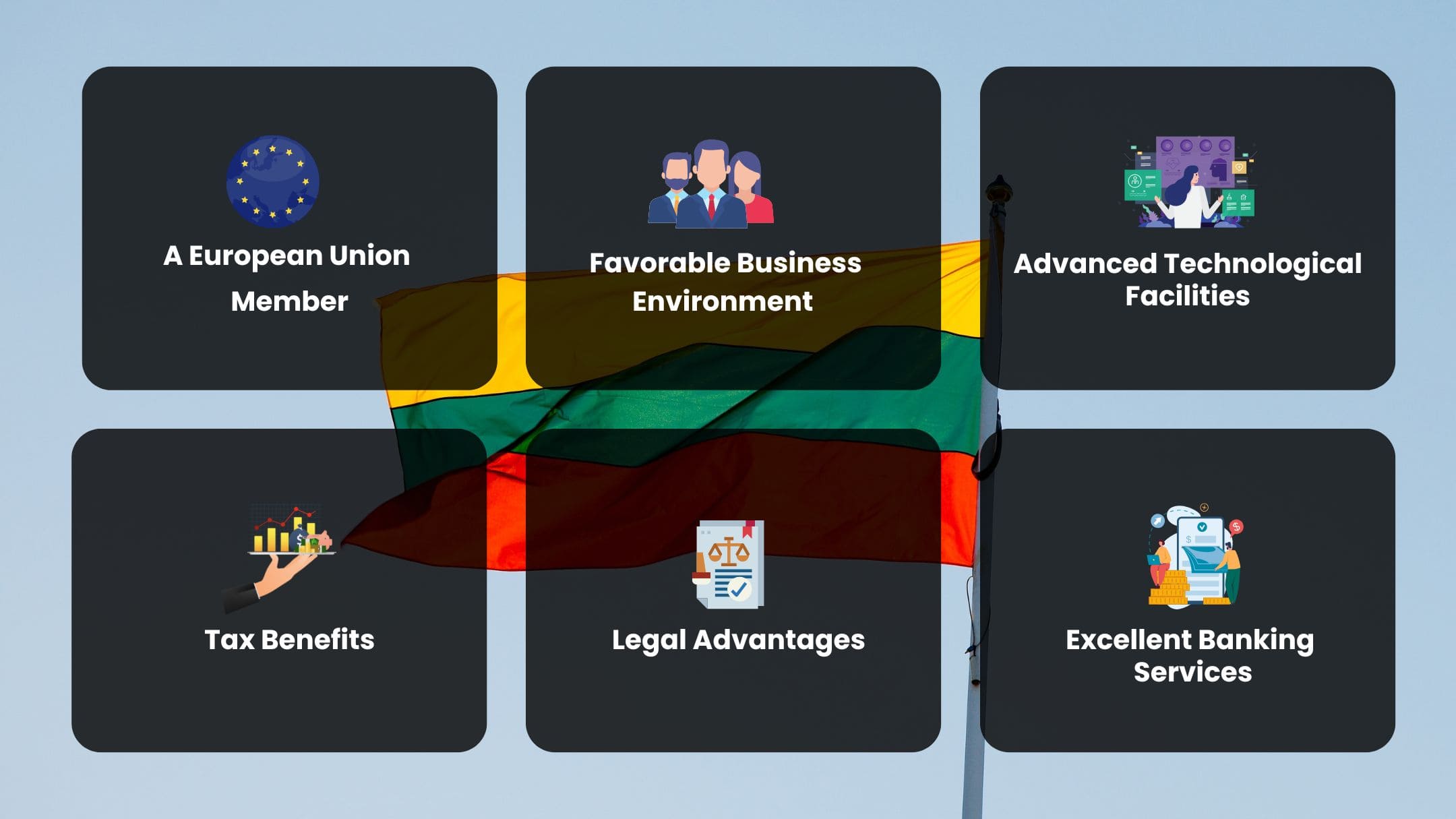 Here are the numerous benefits of company registration in Lithuania:
A European Union member
Lithuania's membership in the EU gives businesses access to the market, facilities, and a positive reputation, all of which are advantageous for those businesses. Businesses in Lithuania can profit from a safe, democratic, and reliable legal environment. Additionally, it can benefit from free mobility of capital, labor, commodities, and services, which is crucial for commercial enterprises.
Favorable business environment 
Providing start-ups with accelerators, incubators, and coworking spaces is one of Lithuania's greatest advantages, allowing them to take advantage of an environment that encourages innovation, research, and development. Lithuania is classified as having a low risk of crimes. Since English is a commonly used language in Lithuania, conducting business is made simple there.
Advanced technological facilities
Lithuania is put in second place as having the biggest Fintech hotspot in Europe, which boasts one of the continent's fastest-expanding startup environments. Lithuania is renowned for having the globe's speediest WiFi.
Tax benefits
The company tax rates in Lithuania are among the lowest in the entire European Union. Additionally, Lithuania has 57 double taxation agreements with other countries, to help businesses to refrain from paying taxes on their profits twice.
Legal advantages
Lithuania has a comprehensive and effective judicial system in place to handle investment conflicts. Lithuania upholds the idea of equitable treatment by providing fair and the same commercial opportunities under the Law on Investment to both domestic and overseas companies. International companies are evenly and completely granted entrance to all economic areas in Lithuania, with the exception of those related to state protection and defense.
Excellent banking services
Foreign currency and overseas payments are among the typical list of services that Lithuanian banks provide. There are no limits on foreign exchange.
Book end-to-end experts consultation with Odint company formation experts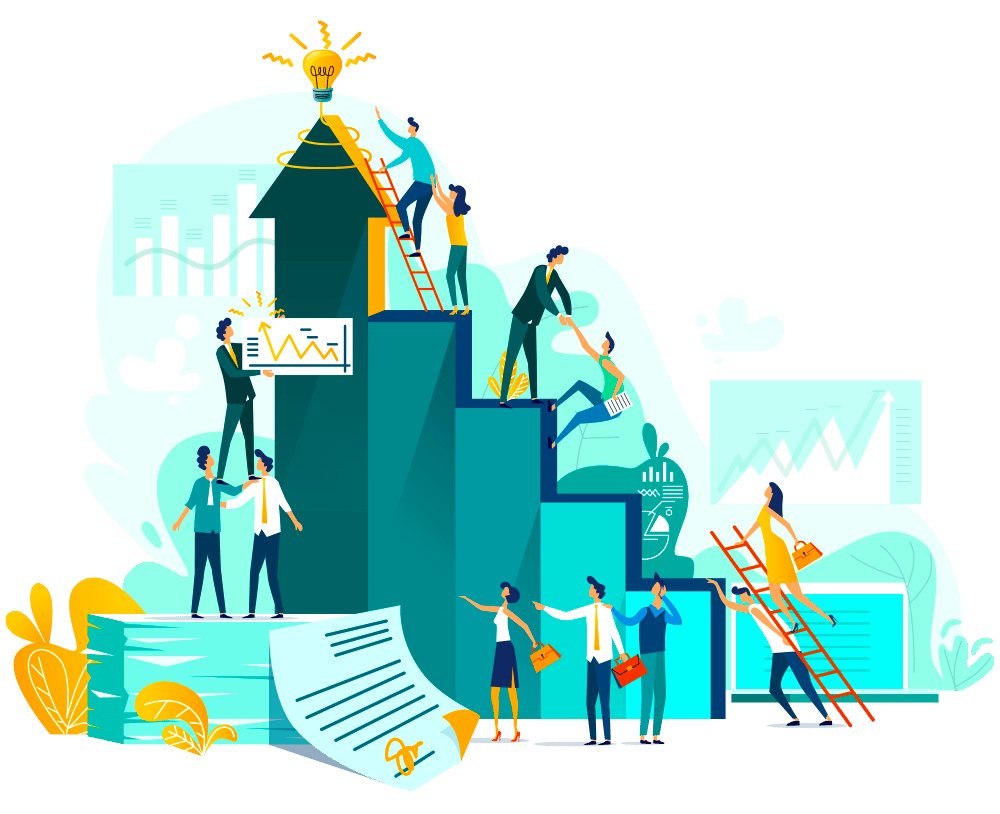 Lithuania company registration gives businesses access to the marketplaces of the European Union, a thorough and efficient legal structure to resolve investment disputes, a favorable business environment, and excellent banking facilities. 
Consult our professionals at Odint Consultancy if you want to register a company in Lithuania. Our professionals will assist you throughout the registration process for a Lithuania company registration.