Company Registration In South Africa In 2023-24
South Africa is among the most developed and powerful countries on the continent of Africa. If you register a company in South Africa, you can benefit from the nation's advantageous position, extensive airline and maritime networks, and reputation as a major financial hub on the continent. 
South Africa is an expanding economy that has a plethora of natural resources. The nation has a well-established industrial and transportation industry as well as advanced infrastructural facilities that facilitate fairly effective distribution of merchandise to significant urban areas around the country. Company registration in South Africa is usually done with the Companies and Intellectual Property Commission (CPIC).
This article will go over the procedure to register a company in South Africa. It will go on to outline the requirements, paperwork, and benefits of company registration in South Africa.
Why register a company in South Africa?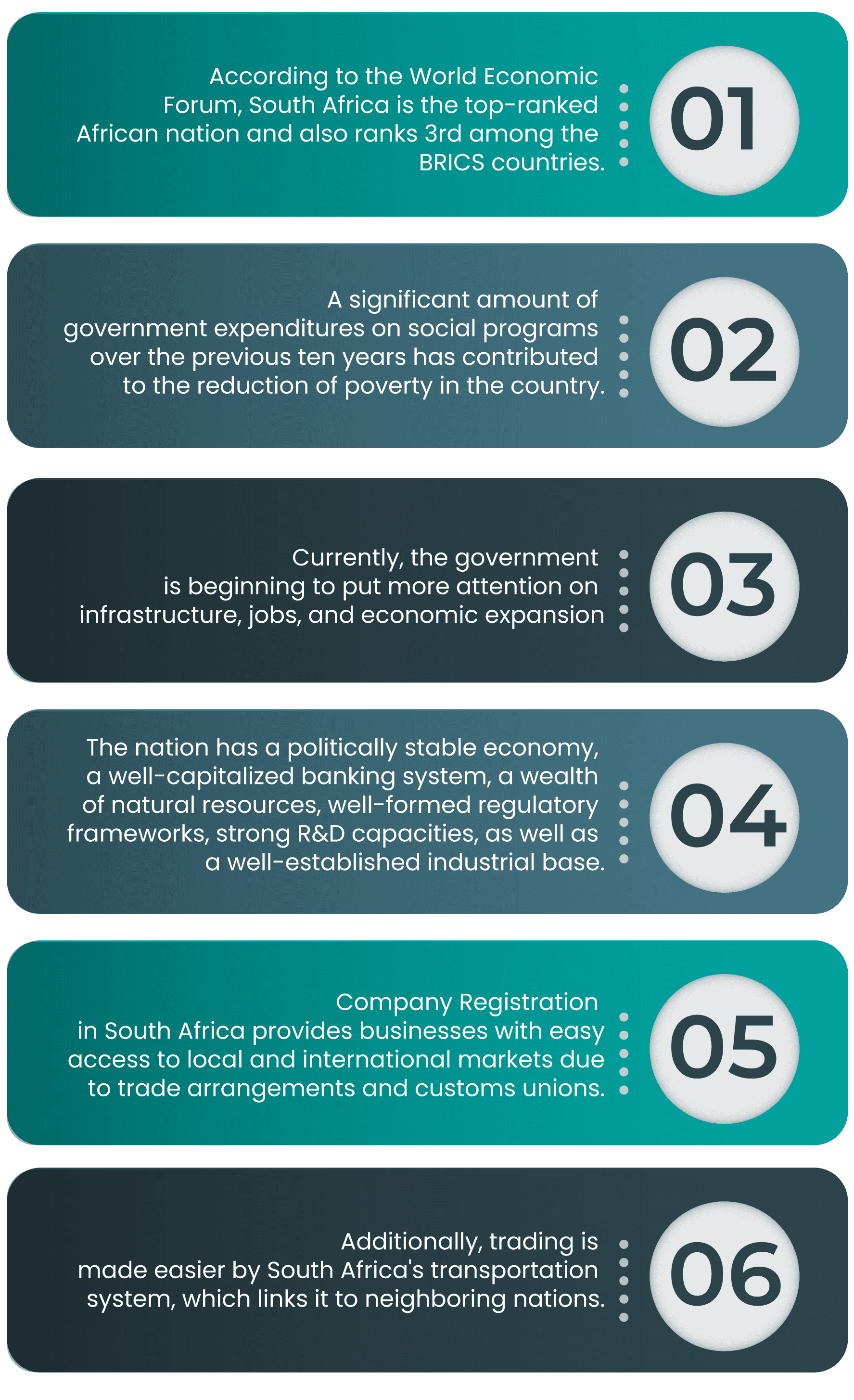 According to the World Economic Forum, South Africa is the top-ranked African nation and also ranks 3rd among the BRICS countries.

A significant amount of government expenditures on social programs over the previous ten years has contributed to the reduction of poverty in the country.

Currently, the government is beginning to put more attention on infrastructure, jobs, and economic expansion.

The nation has a politically stable economy, a well-capitalized banking system, a wealth of natural resources, well-formed regulatory frameworks, strong R&D capacities, as well as a well-established industrial base.

Company Registration in South Africa provides businesses with easy access to local and international markets due to trade arrangements and customs unions.

Additionally, trading is made easier by South Africa's transportation system, which links it to neighboring nations.
Procedure for company registration in South Africa
In order to register a company in South Africa, the following steps have to be followed:
Reserving a business name
One of the first steps for company registration in South Africa is reserving the name of your business. The company name must be original, new, and distinct from the names of any other companies that already exist. Selecting a strong, memorable name also facilitates successful marketing and advertising initiatives for your firm. You can provide 1-4 names for your organization. Following the provision of names, a verification for business names is conducted with the Companies and Intellectual Property Commission. The authorized name has a 60-day reservation period.
Choose the legal form of your business
The next phase for South Africa company registration is to choose the legal structure of your business. The various business structures that can be incorporated in South Africa are public and private companies, personal liability companies, state-owned companies, foreign companies, and non-profit companies.
Registered office address
The South African Companies Act mandates that all businesses have a registered office address where all formal documents and other mail concerning the corporation must be sent.
Appoint a public official
A public official with South African tax residency must be appointed by every corporation.
Details of the directors
The director's details must be included on the form for registration in order to comply with CIPC's requirements for integrity and visibility. The director's private and contact credentials will be included in the details.
Apply for registration of your company
You can apply for company registration in South Africa by applying through the Companies and Intellectual Property Commission (CIPC) and submitting the necessary documents along with it. 
Open a business bank account
You can create a commercial bank account after your company has been established and operating. In order to establish a bank account, you must provide the following information:
CIPC registration documentation

Identification papers

Address verification
Registering with SARS
After your company has been incorporated, you must enroll with your nearest SARS branch for an income tax reference number. In order to register, an IT77 form, which is accessible at your nearby SARS office or online on the SARS portal, must be filled out within 60 days of commencing operations.
Necessary documents to register a company in South Africa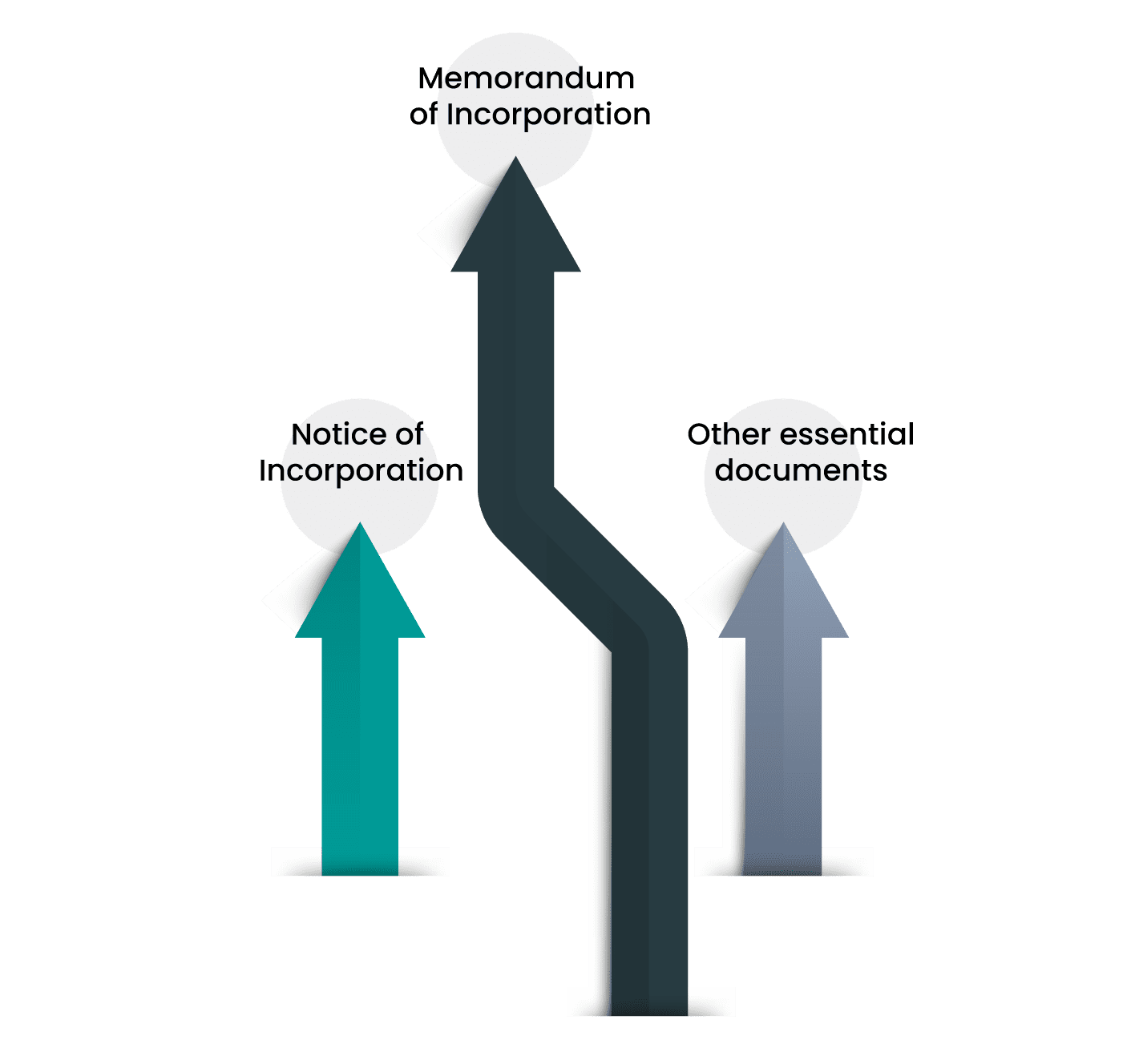 The following documents must be submitted in order to register a company in South Africa:
1. Notice of Incorporation
Information including the type of business, the date of establishment, the registration address, the organization directors, etc. are included in the notice of incorporation.
2. Memorandum of Incorporation
The Memorandum of Incorporation, or MOI, lays out a company's policies in accordance with the South African Companies Act. The MOI includes basic business regulations and amendable elements, which businesses may adopt or modify as they deem fit as long as they adhere to the Companies Act, in accordance with the CIPC.
3. Other essential documents
Filled out applications that have been properly signed by the authorized signer.

Passport copies of the directors and investors.

The latest utility invoice or financial statement of the firm.
Eligibility criteria for South Africa company registration
Here are the requirements for South Africa company registration:
The number of directors

– A private corporation should have a minimum of 1 director. However, in order to establish a public corporation, at least 3 directors are needed.

The number of shareholders

– A minimum of one shareholder is necessary to incorporate a firm in South Africa.

Bank account

– To conduct business operations in South Africa, a corporation needs to create a business bank account in the country.

Public officials

– Each organization shall designate an individual with South African tax residency as a public official.

Yearly return

– All businesses must file their yearly returns with CIPC within 30 business days of their firm's establishment.
The legal entity for company registration in South Africa
In order to register a company in South Africa, it is essential for entrepreneurs to select the most suitable legal entity for their business. 
Public companies

– A public corporation is primarily designed to sell shares to the general population in order to raise money, but they have restricted options for making anticipatory share offerings. A public corporation must have three directors and a minimum of one shareholder. They are required to submit their account reports to their shareholders after an annual audit.

Private companies

– Private companies are those that bear the prefix "(Pty) Ltd." Private firms provide stockholders with liability protection because they are regarded as distinct legal entities. One advantage of starting a private business is that it would exist forever. Even after the demise of a stakeholder, the business shall continue in existence. Since a private company is exempt from filing yearly reports with the Registrar of Companies, the shares owned by a private corporation are not available to the general public.

State-owned corporations

– State-owned corporations are businesses that are wholly or mostly managed by the government.

Profit companies-

Profit companies are those organizations whose main objective is to generate revenue. This might involve everything from cafes to retail shops to real estate firms to insurance agencies.

Non-profit companies

-Non-profit companies are businesses created with the purpose of serving the public good or another goal connected to a variety of community, social, or cultural objectives.

Personal liability companies-

Personal Liability Companies are those where the previous or current directors may be considered equally and severally accountable to the firm for any wrongdoing or debts accrued during their office tenure.
Advantages of a company in South Africa
South Africa company registration can offer the entrepreneur numerous advantages. 
Some of the advantages of company registration in South Africa are listed below:
1. Various incentives
The government has developed a variety of programs and implemented various laws with the intention of reducing the strains that socioeconomic inequalities place on environmental assets and promoting sustained development. Businesses that invest in industrial and tourist sectors may be qualified for incentives worth 15% and 30% of their entire expenditure. Government subsidies of up to 1 million USD and operational expense refunds are available for research and development projects.
2. Tax advantages
More than 100 double taxation treaties and 50 bilateral investment accords have been signed by South Africa in order to reduce withholding taxes on international transactions and customs duties on imports and exports.
3. Government assistance
Several laws have been enacted in recent years to assist skill development, worker training, and the development of world-class training institutes so that the region can serve as an international business location. The South African government makes sure that the nation can accommodate the unique trading and investment needs of prospective business entrepreneurs.
4. Entry into the African continent
Due to the nation's potential, diversity, and sophistication in the rapidly growing markets, South Africa is a successful location among rising economies. With a prospective marketplace of approximately a billion individuals, it is a significant investment location. Besides providing more market opportunities for the nations surrounding it, it serves as an entry point to the African continent.
Taxation structure in South Africa
Each firm must enroll with the South African Revenue Services (SARS) as a taxpayer in accordance with the Company Acts guidelines. Consequently, you must register for income tax, VAT, and withholding tax. 
Business owners must pay the following taxes in South Africa:
Value Added Tax (VAT): This is an indirect tax on products and services. VAT is a tax that vendors impose on the importation and distribution of merchandise and services.
Skills Development Levy (SDL): Employers are required to pay this fee in order to support training and growth in South Africa. The money is utilized to help their personnel grow professionally.
Unemployment Insurance Fund (UIF): This fund is available to all workers. In order to provide workers with emergency financial assistance, a small amount from the workers' wages is kept aside.
Pay As You Earn (PAYE): It is considered an early contribution of income tax and is taken out of the employee's salary or compensation as a worker tax.
Corporate Income Tax: The corporate income tax in South Africa is 28%.
Cost for company registration in South Africa
The average cost for company registration in South Africa is R175. A business registration costs R125. The CIPC charge for a name reservation is R50.
During the application procedure, you may request up to 4 potential names, at the fee of R50. If your request to reserve a name is rejected, you will have to reapply for new names at a cost of R50.
Book end-to-end experts consultation with Odint company formation experts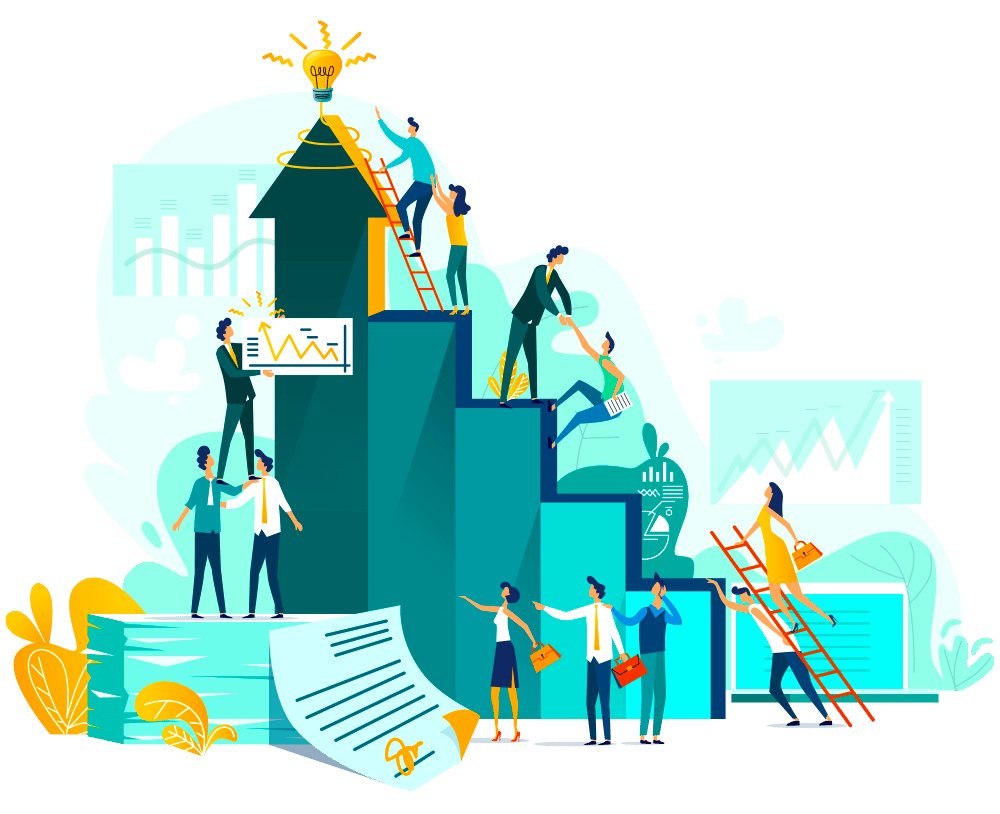 Africa is a prosperous nation with a booming economy. South Africa, the southernmost country in the region, is well-known for its rich cultural diversity, breathtaking natural features, and unique geography, all of which draw a lot of tourists to the nation. It currently has a solid economy supported by its thriving tourism sector, significant mineral wealth, and agriculturally productive territory. All these are several advantages that you must consider if you wish to register a company in South Africa.
For South Africa company registration, you can speak with our company formation experts at Odint Consultancy. When you choose Odint Consulting to set up your business in South Africa, you gain access to our expertise, comprehensive services, local market insights, personalized approach and commitment to delivering practical and deliverable solutions rely on it. Let us be your trusted partner in realizing your business aspirations in South Africa.