Being a country rich in natural beauty and opportunity, Canada is becoming one of the most popular places in the world to immigrate. Many people want to call it home because of its vibrant economy, excellent level of life, and diversified culture. One popular way to do so is by obtaining Canada permanent residency. Obtaining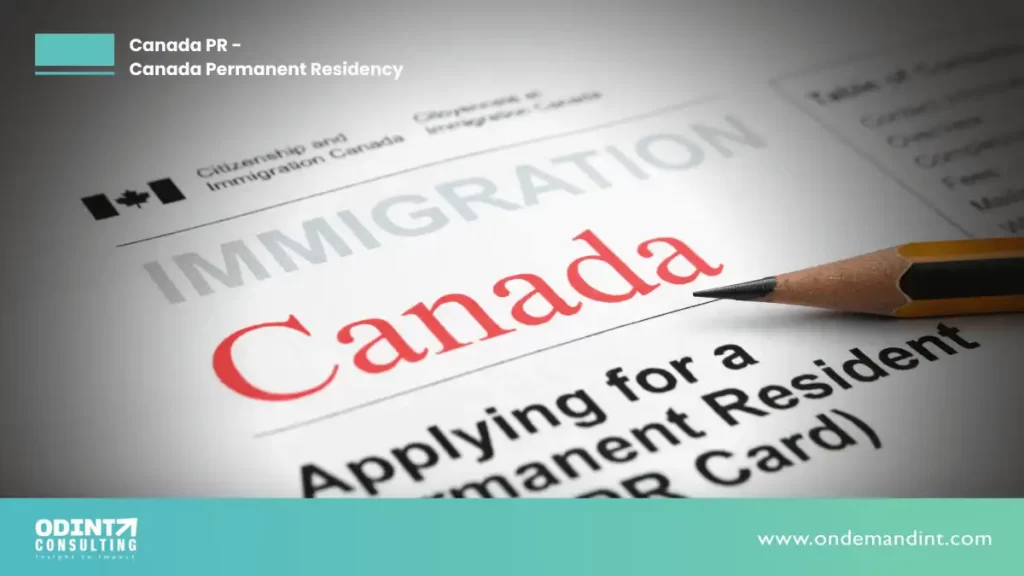 permanent residency in Canada grants people from all over the world the ability to live and work there indefinitely, with many of the same rights and benefits as citizens of Canada. It opens doors to numerous benefits, including access to healthcare, education, and social services, as well as the opportunity to apply for Canadian citizenship in the future. As per the Immigration Levels Plan for 2023–2025, the nation is poised to welcome between 410,000 to 505,000 new permanent residents in 2023 alone, underscoring Canada's commitment to being an inclusive and welcoming society.
This guide will cover the key aspects of Canada Permanent Residency, including the different pathways available and the benefits that come with obtaining it.
What is Canada Permanent Residency?
Canada Permanent Residency (PR) is more than just a visa or a status—it represents a long-term commitment to the country. As a PR holder, you're not a temporary visitor or a short-term worker; you have made Canada your home. While PR is not citizenship, it provides a foundation upon which one can build their life in Canada and eventually even opt for Canadian citizenship.
Duration:

Unlike temporary visas, PR does not expire as long as you meet the residency obligation. To keep your PR status, you must have resided in Canada for a minimum of 730 days throughout the previous five years.

Travel Document:

While traveling, a PR holder would require a valid passport and a Canadian Permanent Resident Card to re-enter Canada.

Foreign National Status:

PRs remain, citizens of their native country, unless they decide to undergo the process of Canadian naturalization.
What is a Canada Permanent Resident Visa?
A Canada Permanent Resident (PR) Visa is a legal document that allows an individual to live, work, study, or do business in Canada indefinitely. It is a status granted to immigrants who have been approved by the Canadian government to permanently reside in the country but are not yet Canadian citizens.
Canada permanent residency visas allow individuals to enjoy all the identical freedoms and ownership as Canadian citizens, besides that they are not entitled to vote or maintain specific governance positions. Obtaining a Canada PR Visa is considered a desirable option for many immigrants due to the numerous advantages it offers. 
Different ways to get Canada Permanent Residency
Here are the different ways to get permanent residency in Canada:
Express Entry system
Launched in 2015, it's a dynamic system that processes applications faster. It pools candidates and invites the highest-ranking ones to apply for PR.
Start-up visa
Canada's Start-up Visa Program is for immigrant entrepreneurs who possess the abilities and capacity to establish companies in Canada (outside Quebec) that are innovative, job-generating, and can compete globally.
Family Sponsorship
Through family sponsorship, a member of your family may enter Canada and be granted permanent residency (PR).
Canadian Experience Class
Applicants seeking permanent immigration to Canada who have recent work experience in Canada are eligible to apply for the Canadian Experience Class (CEC) program.
Provincial Nominee Program
This program is intended for workers who possess the knowledge, training, and professional experience necessary to boost the economy of a particular Canadian province or territory. It is meant for those who would like to reside in that province and apply for Canadian permanent residency.
Eligibility criteria for obtaining permanent residency in Canada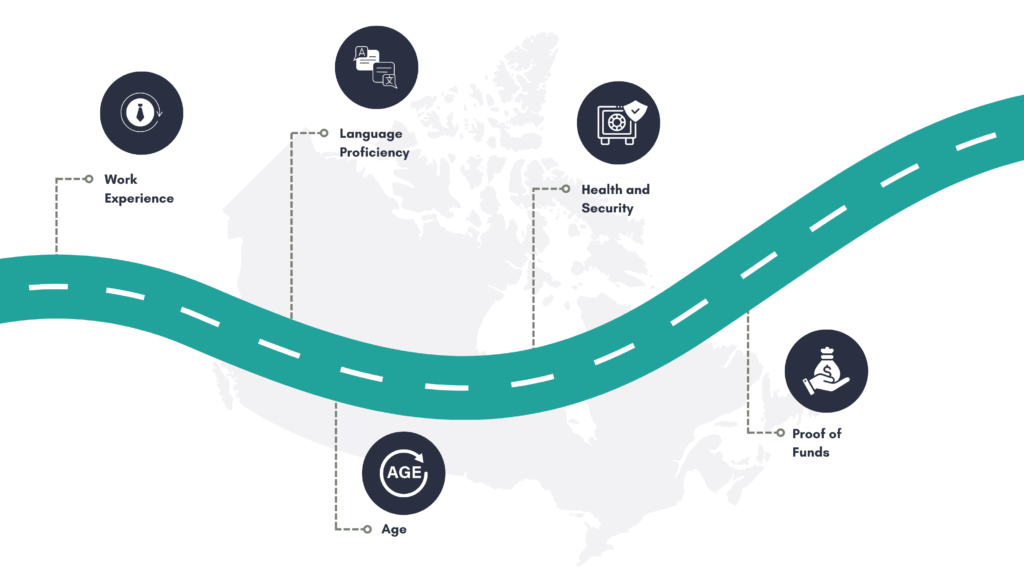 The eligibility criteria for obtaining a Canada PR may vary depending on the immigration program or stream through which an individual is applying. 
Here are some common eligibility criteria for obtaining Canada PR:
Work Experience
Applicants may need to have relevant work experience in a designated occupation or skill level that is in demand in Canada. The work experience may need to be gained within a certain timeframe and meet the requirements of the specific immigration program or stream.
Language Proficiency
Applicants may need to demonstrate their proficiency in English or French, the two official languages of Canada, through language tests such as the International English Language Testing System (IELTS) or the Canadian English Language Proficiency Index Program (CELPIP).
Age
The age of the applicant may be a factor in determining eligibility for Canada PR. Most immigration programs have age limits, with points awarded to applicants who fall within a certain age range.
Health and Security
Applicants may need to undergo medical examinations to demonstrate their good health and meet the health requirements set by the Canadian government. 
Proof of Funds
Applicants may need to show that they have sufficient funds to support themselves and their family members in Canada, as well as pay for immigration-related fees and expenses.
Depending on the immigration program or stream, there may be other factors that are considered for eligibility, such as adaptability, ties to Canada, and proof of settlement funds.
Procedure to Apply for Canada PR through Express Entry
1. Assess Eligibility
Prior to beginning the application process, ascertain your eligibility for any of the federal programs offered by Express Entry:
Federal Skilled Worker Program (FSWP)

Federal Skilled Trades Program (FSTP)

Canadian Experience Class (CEC)
2. Take a Language Test 
Proof of English or French language fluency is required by Canada. Tests like TEF, CELPIP, and IELTS are approved. Make sure your score satisfies the requirements for the program you have selected.
3. Educational Credential Assessment (ECA) 
To demonstrate that your foreign degree, diploma, or certificate is legitimate and equal to a Canadian one, you may require an ECA if you received your education outside of Canada.
4. Create an Express Entry Profile
You can build an online Express Entry profile after obtaining the aforementioned documentation. You will enter information about your age, education, employment history, language skills, and other characteristics here.
5. Join the Express Entry Pool 
Your Comprehensive Ranking System (CRS) score will be determined by the information you submit. Should you fulfill the requirements of any federal immigration program, you will be added to the Express Entry pool.
6. Acquire the Invitation to Apply (ITA) 
The Canadian government holds regular draws from the pool, selecting candidates with the highest CRS scores. You will have sixty days after receiving an ITA to finish your PR application.
7. Collect and Submit Necessary Documents
Following the receipt of an ITA, collect all required paperwork, such as medical examination confirmation, proof of funds, work experience letters, valid passport, and travel documents.
8. Application Fee
Pay the processing fee and the Right of Permanent Residence Fee (RPRF). There might be additional fees for biometrics and third-party expenses (such as health examinations).
9. Await Decision 
Your application will be processed by Immigration, Refugees and Citizenship Canada (IRCC). This may take several months, based on a number of variables. During this time, you might be asked for additional information or clarifications.
10. Confirmation of Permanent Residence (COPR) and PR Visa
Upon approval of your application, you'll acquire a COPR and a PR visa (if applying from outside Canada). Ensure you enter Canada before these documents expire. Upon arrival in Canada, you'll meet with an immigration official. After verifying your documents, they'll confirm your PR status.
11. Receive PR Card
After landing in Canada as a PR, you'll receive your PR card by mail. If you ever need to return to Canada, you will need this card, which acts as documentation of your status as a permanent resident.
Document Required for Permanent Residency in Canada

Here is the documentation expected for a Canada PR visa:
Results of language tests are provided by the International English Language Testing System or IELTS.

It is required that you finish the Education Credential Assessment (ECA) if you are applying through the Federal Skilled Workers Program. 

Proof of adequate finances

Evidence of prior employment

Work offer from Canada

Certificate of Medical and Police Clearance
Advantages of Canada Permanent Residency
Economic Opportunities: The work market in Canada is strong in industries including technology, health, and energy. PRs can enter this employment market without any restrictions.
Educational Prospects: PR holders' children are eligible to enroll in Canadian public schools and benefit from the country's well-known educational system.
Healthcare: Canada is proud to have a universal healthcare system. PRs are entitled to complimentary primary healthcare services, encompassing doctor visits, hospital stays, and much more.
Retirement Benefits: Permanent Residents are eligible to receive retirement benefits after making tax contributions to the Canada Pension Plan.
Cultural Diversity: Canada is a multicultural country that welcomes immigrants and permits them to maintain their own cultural identity while assimilating into Canadian society.
Obtaining permanent residency in Canada can open doors to a world of possibilities for individuals and families seeking a new beginning. With its welcoming nature, strong economy, and high standard of living, Canada offers a multitude of benefits to PR holders, including access to social benefits, healthcare, education, and job opportunities.
If you wish to have a permanent resident in Canada, speak with our specialists at OnDemand International. Our specialists will help you in the process of applying for a Canada pr visa and will further guide you through the visa interview process.