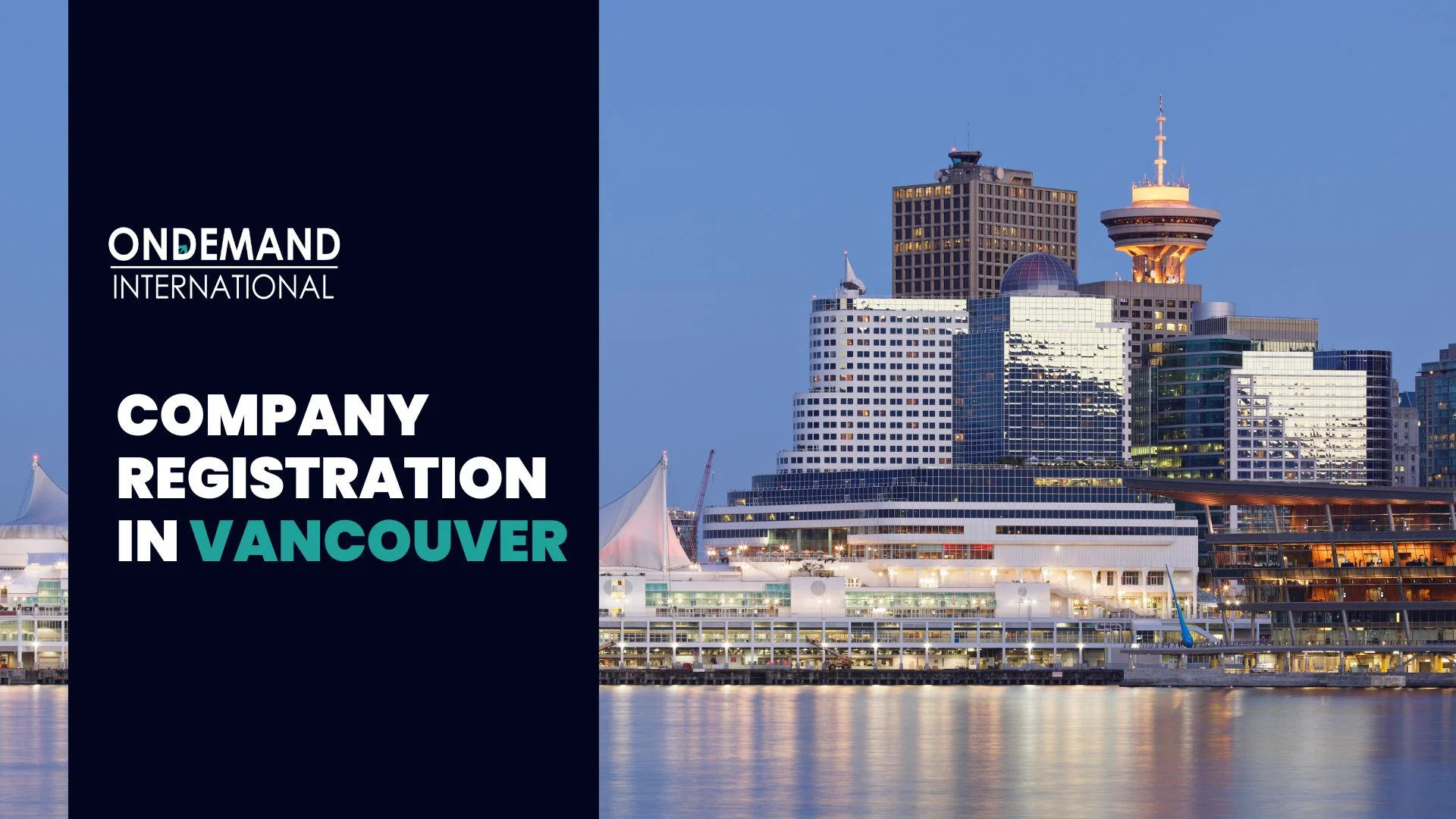 Entrepreneurs and enterprises from all over the world are drawn to Vancouver's booming city because of its lively economy and business-friendly atmosphere. If you want to start a business in this beautiful Canadian city, you have come to the right location. We will go deep into the complexities of company registration in Vancouver in this complete guide. This guide includes the application procedure, advantages, documents, and cost. 
Procedure of Company Registration in Vancouver
Here is the process of registering a company in Vancouver:
Select a Business Structure: Choose the sort of business structure you want to incorporate. The most popular forms are a corporation, a cooperative, and a sole proprietorship or partnership. Your monetary and legal duties will be affected by the structure you select.
Company Name Registration: You could be obliged to come up with an organization name if you're a sole proprietorship or partnership operating under a name other than your legal name. Ensure that the name you select is unique and doesn't conflict with any existing trademarks. 
Our experts at OnDemand International can assist you in choosing a company name and getting it registered with the relevant authorities.
Business Plans: Organize your company's objectives, activities, and financial projections into a thorough business plan. This is essential for developing plans and, if required, obtaining funds.
Create a Bank Account: Create a bank account to manage the financial affairs of your business. 
Registration to obtain a Federal Business Number (BN): All Canadian firms are required to register with the Canada Revenue Agency (CRA) to receive a Federal Business Number (BN). The calculation of taxes requires this number. An application for a Business number can be made via the CRA website.
Register with The British Columbia Corporate Registry: In British Columbia, businesses must sign up for the Corporate Registry. The process can be completed via the Internet or by mail. You'll need to supply information about your business's structure Directors, shareholders, and a company's structure. Additionally, you'll need to pay registration fees which will vary depending on the nature of your business.
Obtained the required permits as well as licenses: Relying on your sector of work and the kind of business you're operating you may require additional licenses or permits at the federal, provincial as well and municipal levels. 
Apply for registration of Provincial Taxes: If your company intends to sell products or services, you might be required to register for the Provincial Sales Tax (PST) or the Harmonized Sales Tax (HST) according to your income and your location.
Documents Required for Vancouver Company Formation
The list of documents required for Vancouver company formation is as follows:
Article of Incorporation

Proof of Registered Office Address

Information of Company's Paid-up Capital

Company Director's information

Shareholder's Information

Company's Name Search Report

Declaration of Compliances
Legal Business Entities for Company Registration in Vancouver
There are various legal business entities for company registration in Vancouver:
Sole Proprietorship
A sole proprietorship is the most common company structure in Vancouver. It is owned and operated by one individual, who is also personally responsible for all debts and obligations of the business. There is no legal separation between the owner and the company.
Limited Liability Partnership
A limited liability partnership (LLP) is a business partnership in which some or all of the partners have restricted responsibility. It provides some personal liability protection while offering management and taxation flexibility. Because LLPs are not recognized in all jurisdictions in Canada, it is critical to investigate the relevant legislation in British Columbia.
Corporation
A corporation is a legal body distinct from its owners (shareholders). It provides shareholders with limited liability protection, which implies that their assets are often not at risk for business obligations. Corporations can be held privately (private corporations) or publicly (public businesses).
Partnership
A partnership is a legal business entity characterized by the collaboration of two or more individuals who jointly manage and conduct the operations of a firm following the terms and goals specified in a legally binding document known as a Partnership Deed. There are two distinct categories of partnerships, namely general partnerships and limited partnerships, which are characterized by differing degrees of personal obligation imposed upon the partners involved.
Branch Office
By establishing a branch office in Vancouver, a foreign organization can conduct commercial operations. To carry out similar operations as the parent company in Vancouver, a branch must get licenses from authorities is advisable for a branch to choose a legal representative in Vancouver and adopt an identical nomenclature to that of its parent business.
Eligibility Criteria for Register a company in Vancouver
The eligibility criteria for Company Registration in Vancouver are:
At least one director of the corporation must be a Canadian citizen.

The name of the business has to be original and unclaimed by another business.

It is necessary to have a registered office in British Columbia. 

All company officers and directors must be a minimum of 18 years old and eligible to serve in their positions.

The company is responsible for paying the necessary incorporation charge.
Cost of Company Registration in Vancouver
In Vancouver, registering a business costs $380. This amount covers both the incorporation fee and the registration fee for a business name.
The fee for incorporation is $350.

The registration fee for a company name is $30.
Advantages of company registration in Vancouver
Some of the various Advantages of Vancouver Company Registration are:
Strong Economy
Vancouver's economy is powerful and diverse. A variety of businesses, including technology, tourism, and natural resources, call the city home. Because of its diversity, Vancouver is an excellent area to start and expand a business.
Low corporate tax
Vancouver (British Columbia)  offers low corporate tax in comparison to other Canadian Provinces.
Ease of doing business
Canada is regarded as one of the easiest countries in which to conduct business. The procedure for forming a business in Vancouver is pretty basic and straightforward. Furthermore, the Canadian government provides a variety of services and programs to assist businesses in succeeding.
High Skilled Workers
Vancouver has a huge and well-educated workforce. This is partly owing to the city's closeness to several institutions and colleges. As a result, Vancouver-based businesses have access to a pool of talented and skilled individuals.
Conclusion
Company formation in Vancouver provides numerous benefits and prospects for entrepreneurs and enterprises. As a lively and diversified city, Vancouver offers access to a booming economy, a competent workforce, and a welcoming business climate. The procedure of forming a company in Vancouver is quite simple, with a variety of legal forms available to meet a variety of business objectives. Entrepreneurs can select the entity that most matches their goals and objectives, ranging from sole proprietorships and partnerships to corporations.
 In Vancouver, you can establish a variety of business entities, including sole proprietorships, partnerships, corporations (federal and provincial), and limited liability partnerships (LLPs).
In Vancouver (British Columbia), the combined federal and provincial tax rate ranges from 20.06% to 53.5%, depending on your taxable income.
 It takes 7 days to set up a business in Vancouver.