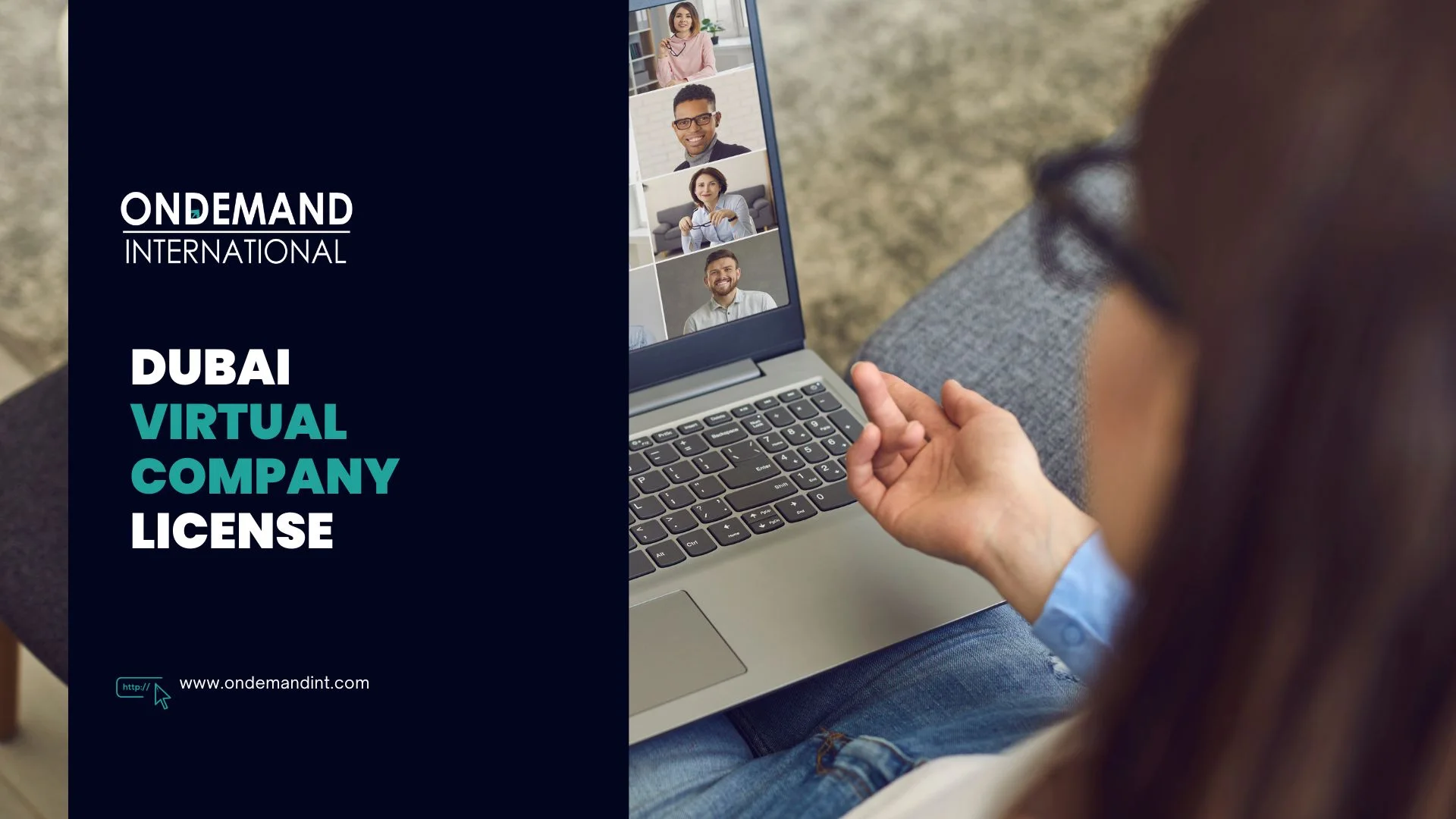 In the fast-paced world of global business, Dubai stands out as a dynamic hub for entrepreneurs and companies seeking growth and opportunity. Traditionally, realizing these benefits would require relocating to the United Arab Emirates (UAE). However, thanks to the innovative Dubai virtual company license, entrepreneurs can now unlock the advantages of Dubai's business environment from anywhere in the world.
What is a Dubai Virtual Company License?
The Virtual Company License in Dubai is a groundbreaking endeavour jointly launched by prominent entities, including Dubai Economy, Dubai International Financial Centers (DIFC), General Directorate of Residency and Foreigners Affairs (GDRFA), Smart Dubai, and the Supreme Legislation Committee. This initiative primarily caters to three key industries: the creative industries, technology, and services. It grants foreign business owners the ability to digitally establish and manage their companies in Dubai, all without the need to relocate to the UAE physically.
Application Procedure for a Virtual Company License in Dubai
The application process for acquiring the Dubai Virtual Company License is well-structured. Here are the steps you need to follow to get started:
Register the Company
To initiate the registration process for your virtual company, visit the official website of the Dubai Virtual Commercial City. Here, you will need to complete the online company registration form, providing essential details such as your name, contact information, date of birth, passport details, and any prior experience with Dubai. Additionally, you must define the business activity you intend to undertake and specify the trade license name for your company.
Upload the Documents
The next step involves uploading a set of necessary documents. Here's a list of the documents required for the Virtual Company License, which should be uploaded online:
Passport copy (with more than 3 months until expiry)

A recent photo on a white background (not more than 3 months old)

Proof of address (any utility bill or official letter, not more than 3 months old)

Proof of tax residency (if you are not from the approved countries)
Track the Status of Your Application
Once your application is submitted, the information provided will undergo authentication through a background check conducted by the Dubai Government authorities. This verification step typically takes about a month, so accuracy in the submitted information is crucial. Following the screening process, you will receive an email notification of either approval or rejection.
Confirm Your Identification at VFS Global
If your application is approved, you will be required to visit VFS Global in person for identity and passport verification. To schedule a visit to VFS Global, make an appointment through their website or by emailing book appt. Note that there is a service charge of EUR 75 (AED 300) plus applicable taxes in the selected country for this step.
Pay the Cost of the Virtual Business License
Upon successful identity validation at VFS Global, you will be obligated to pay the Dubai Virtual Company License cost. This fee can be paid via ePay, the official payment gateway provided by the Dubai Government's Smart Dubai. The cost of a Virtual Company License in Dubai for a sole proprietorship is AED 850, consisting of AED 200 for the company name and AED 650 per year for the virtual company license.
Eligibility Criteria for Virtual Company License in Dubai
The list of eligibility criteria for Virtual Company License in Dubai are:
Non-UAE Residency:

Applicants for the Virtual Company License cannot be residents of the UAE.

National or Tax Resident:

Owners of virtual companies in Dubai must hail from one of the 101 approved countries. This list includes countries like India, Pakistan, Saudi Arabia, the United States, Canada, Russia, China, Japan, and more. You can check the full list of approved countries on the Virtual Commercial City's official website.

Physical Access and Bank Account:

$100,000 per year, it becomes subject to the 5% Value Added Tax (VAT) in the UAE. This implies that a Dubai Virtual Company License holder must register the company with the UAE's Federal Tax Authority.

Predefined Business Sectors:

Only businesses operating within predefined sectors can set up a virtual presence in Dubai. These sectors encompass service activities related to printing and advertising, computer programming, consultancy, and various design activities, including fashion, jewellery, and interiors.

Taxation Considerations:

Virtual company owners in Dubai need to be aware that their companies will still be subject to corporate, individual income, and social taxation in the country where they are based. Furthermore, if a virtual company's revenue within the UAE surpasses 
Dubai Virtual Company License Costs
The Cost incurred for the Dubai Virtual License is
AED 300 for identification and validation

AED 680 per year for the virtual license

AED 200 for trade name reservation
Advantages of the Virtual Company License in Dubai
Online Business Operations:

The license allows for the digital management of all business-related tasks, including document signing and submission. Signatures obtained through this method are recognized as valid in the UAE.

Low Startup Costs:

Entrepreneurs benefit from reduced initial costs and administrative burdens, making it an attractive proposition for those looking to expand their business.

Access to Dubai's Opportunities:

Dubai, a city known for its business opportunities, has become more accessible to virtual businesses. It opens doors to new clients, markets, and investment possibilities.

Inclusion in the Directory of Virtual Businesses:

Virtual companies have the opportunity to be a part of the virtual city, connecting with a diverse range of businesses.
Conclusion
The Virtual Company License in Dubai has turned the dreams of numerous entrepreneurs into a reality by offering a cost-effective means of starting a business in one of the world's most promising cities. With the potential to access new markets, clients, and business opportunities, this initiative stands as a game-changer for businesses worldwide. If you meet the eligibility requirements and aspire to grow your company, seize this opportunity to embark on your business journey in Dubai. At OnDemand International, Our Specialist helps you in acquiring a Dubai Virtual Office License. Contact Us now.
In Dubai, having a virtual office is a legal obligation. A virtual office is not unlawful as long as it is linked to a valid physical office.
Businesspersons and investors worldwide can apply for the Virtual Company Licence
Some benefits include:
No physical office space is required.

100% foreign ownership.

Access to the Dubai market and customer base.

Affordable setup and operational costs.

Digital presence and credibility in the region.