Merchant Banking is an important service offered by financial institutions. The services support the development of corporations that eventually aid in the overall economic growth throughout the country. 
This is why it is a strictly professional service offered to their customers in relation to their financial requirements and ensuring that they receive sufficient consideration in the form of a fee. Commercial Banking and Investment Banking, by placing their Merchant Banking. 
In various ways, there might be some similarities between their roles. However, in some manners, Merchant Banking is distinctly distinct in comparison to Commercial Banking and Investment Banking. In various Countries it is a word Merchant Banking used differently.
This article focuses on the meaning of the merchant banker license and discusses the procedure through which a merchant banker license may be obtained.
The term "merchant banker" is defined in section 2, clause (cb) of the Securities and Exchange Board of India  Regulations, 1992 as "anyone engaged in the field of managing issues, either creating arrangements for the purchase, sale, or subscription to securities, or acting as a consultant, manager, or by providing corporate advisory services related to issue management."
Merchant bankers assist entrepreneurs right from the initial idea to the moment of commencement of production. they oversee the process of issuance. Merchant Bankers serve as intermediaries between companies and investors. They are responsible for preparing the prospectus and marketing the issue.
Categories of Merchant Banker
| Category | Activities | Minimum Net Worth Requirement |
| --- | --- | --- |
| Category I | Merchant bankers can act as an issue managers, advisors, consultants, underwriter and portfolio administrators. They perform the tasks of issue management as well as creating the prospectus, making decisions about financial structure, tie-up of financiers , and final allocation. | Capital net worth of Rs. 5 Crores |
| Category II | These bankers are able to serve as advisors or consultant, an co-manager, or underwriter. They can also be a portfolio manager | Capital net worth of Rs. 50 Lakhs |
| Category III | These bankers may serve as the underwriter or advisor, and consultant. They cannot take on issues management on their own , nor can they serve as co-managers. They are not able to perform the tasks that are involved in portfolio management. | Capital net worth of Rs. 20 Lakhs |
| Category IV | Merchant Bankers can merely act only as a advisors or consultants to the issue. | Nil capital |
What is Merchant Banking License?
Merchant bankers are essential to operate in international markets to obtain financial assistance and for integrating trade and business in an international marketplace. There are numerous merchant banks that are already in operation and offer top-quality banking services at the highest of their abilities. 
However, with the increasing global interest in the Indian market, there is a demand for many commercial bankers. Thus, more and more individuals are interested in providing merchant banking services. To start merchant banks the license of SEBI must be obtained.
Read More: Investment in a Foreign Company
Process for obtaining Merchant Bankers License
Application for grant of the certificate shall be made from A to the board.
Application to conform to the requirements.
Information, illustrations, and compatibility
Consideration of application
Verification of capital requirements
The applicant shall pay the fees as specified in Schedule Two.
The Board shall issue a certificate in Form B.
Documents required for Merchant Banker License
In order to be registered and registered, those who are Merchant Bankers, applying as an applicant, must submit a non-refundable application.
Form A, in addition to the information contained in Form A additional information needs to be made public

Enter the UIN that was obtained under MAPIN for the applicant.
Information on Directors/ Promoters and shareholding patterns
Information on Key Personnel
Information on infrastructure facilities
Registration details for NBFC
The applicant's financial accounts must be included.
Report from the principal bankers
Information on associated registered intermediaries
A minimum of two directors must sign a declaration. directors

The application process can be completed via an online application process using the SEBI procedure.
Banks that are applying for merchant accounts must be in compliance with the rules.
Basic requirements for a merchant banking services company
Merchant banking companies must comply with SEBI requirements.
Commercial banking companies should not engage in any other type of financial transaction as per RBI Section 45I (c).
To start a merchant bank, the required minimum capital investment is
Category 1. For 5 crores rupees.
Category 2. For 1 Lakhs rupees.
Category 3. For 20 Lakhs rupees.
Merchant Banking companies cannot accept or hold deposits from public banks.
A banking company is a legal entity distinct from a non-banking financial company as defined by the RBI Act.
Merchant Banking is not allowed to engage in any activities other than those that are related to the markets for securities.
Merchant Banking Company must have two employees who have previous experience in the field of merchant banking.
Merchant bankers should not have been been found guilty of any offense in the field of economics.
Services are provided by Merchant Banking License
Project Counselling
Equity offerings and the Management of Debt
Issue management
The underwriting of public issues
Portfolio management
Restructuring Strategies
Offshore Finance
Non-resident Investment
The syndication of loans
Conferring and corporate aids
Pre-investment studies
Investment Capital financing
Sponsoring leases
Regulatory Authority for Merchant Bank Establishment
SEBI, also known as Securities and Exchange Board of India, is the regulatory body responsible for commercial banking in India. SEBI is the law governing the operation of this commercial bank in India. To establish a Merchant Bank, the concerned person must approach the SEBI.
The other authority regulates that regulates the other is the Reserve Bank of India. In 2015, Foreign Exchange Administration Rules apply to financial institutions covered by commercial banks. 
Banking institutions conducting commercial banking transactions must comply with the criteria specified in the RBI's Prudential Exposure Guidelines as well as the legal restrictions imposed.
Merchant Banking example in India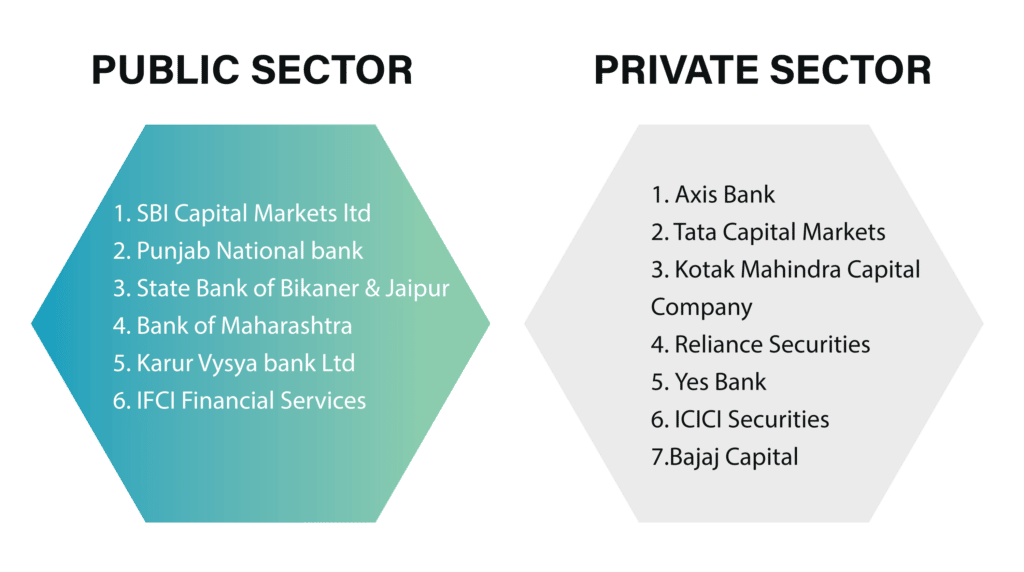 The commercial banking sector in India includes both the public and private sectors. Some of these are:
Public sector
SBI Capital Markets ltd
Punjab National bank
State Bank of Bikaner and Jaipur
Bank of Maharashtra
Karur Vysya bank Ltd
IFCI Financial Services
Private sector
Axis Bank
Tata Capital Markets
Kotak Mahindra Capital Company
Reliance Securities
Yes Bank
ICICI Securities
Bajaj Capital
It is important to note that all Indian Merchant Banks are under the supervision of SEBI.
Indian economy is in a very tough spot at this moment and the GST has been a major irritant between the micro and macro-sectors that are crucial for the expansion of the GDP as well as employment sectors. These elements have has affected Merchant Banking activities in India.
If you still have a query or have any other queries related to the Merchant Bankers we are ODINT Consultancy. We are here to asset you every step of the way.