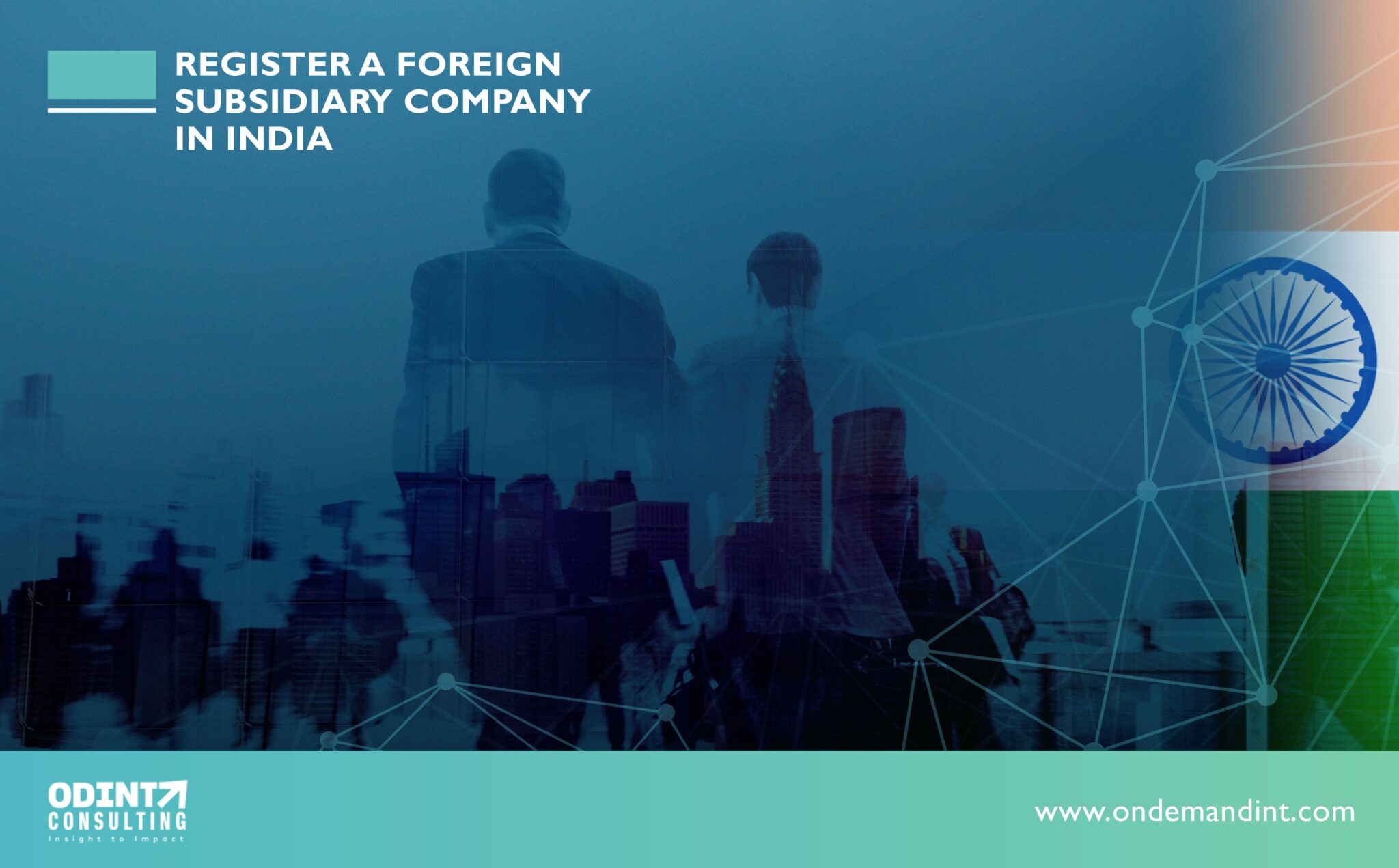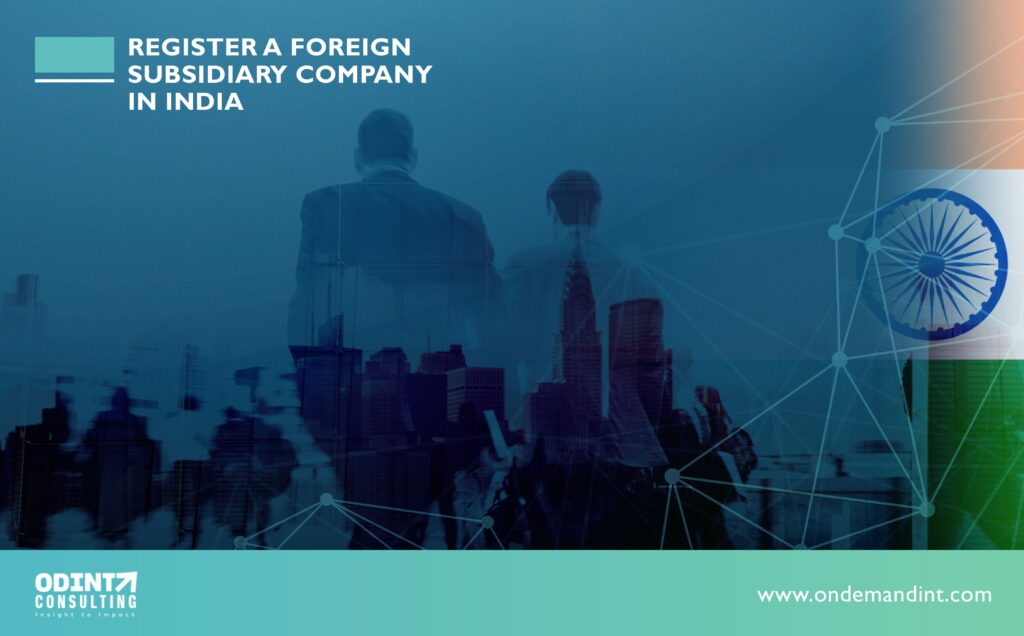 Register A Foreign Subsidiary Company In India
India is one of the largest growing economies in the world. With a population of nearly 1.2 billion people, the country is a hub for numerous business opportunities. Because of its rapidly rising markets, it is one of the most popular destinations for many foreign investments. There is a great deal of interest among foreign companies to register a Foreign Subsidiary Company in India due to the excellent prospects of emerging markets.
Throughout this post, you will learn what a foreign subsidiary company is. In addition, you will learn about the technique to register a Foreign Subsidiary Company in India.
Meaning of a foreign subsidiary company
A foreign subsidiary company is any corporation in which at least 50% of the equity shares are owned by a foreign firm. It is an organization that is wholly or partially owned by the parent company and operates in one nation while its parent company is located in another. A corporation must be incorporated in India in order to be considered a foreign subsidiary there. It makes no difference where the parent corporation is based.
Perks of establishing a foreign subsidiary firm
If the subsidiary firm is related to industries like transportation, electronics, etc., prior permission from RBI is not a necessary requisite for registration.
In India, depending on the industry they serve, subsidiary firms may be eligible for a number of tax privileges, including incentives and exclusions set forth by the government.
Many opportunities for employment are created by foreign subsidiary businesses, which boosts economic growth and national wealth.
Eligibility criteria to register a foreign subsidiary company in India
Directors:

A minimum of 2 directors is required to register a foreign subsidiary company in India. According to current legislation, a resident Indian Director is a crucial prerequisite for forming a foreign subsidiary corporation in India.

Shareholders

: A minimum of 2 shareholders is required to register a foreign subsidiary company in India.

Minimum share capital:

It must possess a paid-up share capital of at least Rs 1 lakh or more, as specified by the articles of association (AOA).

Registered Address:

 One essential criterion for the legal creation of your foreign subsidiary company in India is that it has a registered address. 
Documents required to register a Foreign Subsidiary Company
Passport-size pictures of all the directors of the company.
Proof of Directors' addresses and identities.
PAN card along with the electronic signatures of the Directors.
Directors must self-disclose any board positions they may have in other businesses. Hard copies of the Articles of Association (AOA) and Memorandum of Association (MOA) from the country of origin that have been notarized.
Lease contract for the registered office or a No Objection Certificate (NOC) from the landowner.
If the land for the registered office is privately held, a copy of the registration or the most recent bill is required.
Company authorization from the overseas company with a notarization for incorporation in India.
Documentation for the holding company's establishment and the designated representative's KYC.
Registration of a Foreign Subsidiary Company Online in India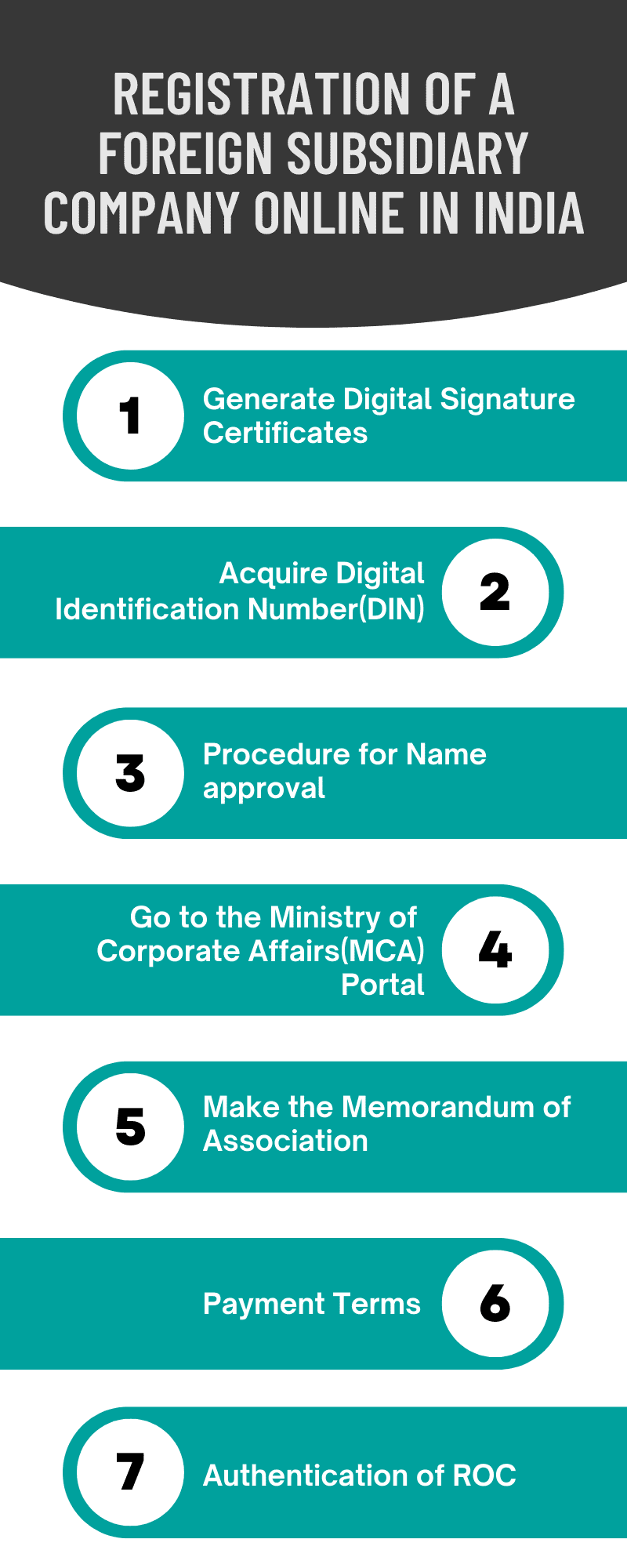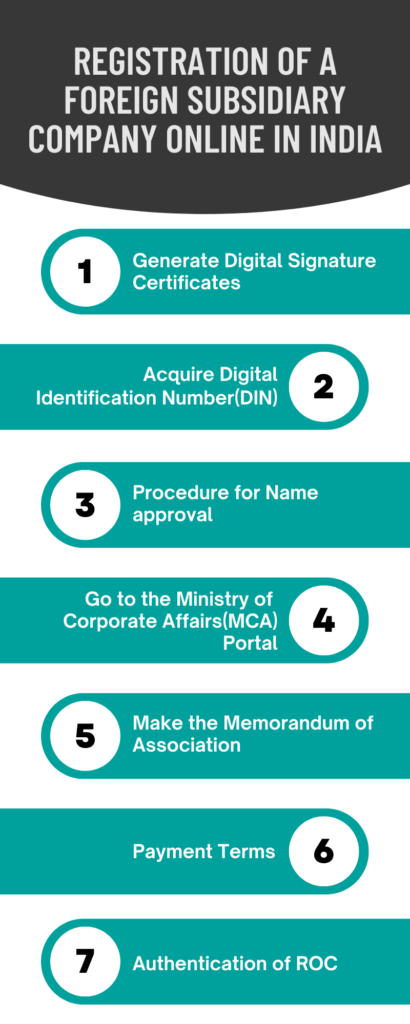 A foreign subsidiary firm could register in India via the online method by following the procedure.
1. Generate Digital Signature Certificates
To register a foreign subsidiary company in India, at least two directors must generate a Digital Signature Certificate from the Certificate Authority to secure electronic verification.
2. Acquire Director Identification Number(DIN)
All directors are required to obtain a Director Identification Number (DIN).
3. Procedure for Name approval
When a corporate follows the process to register a foreign subsidiary company, one of the main tasks is to reserve a company name. For a company to register a foreign subsidiary company, the company should obtain official approval for its name based on the following criteria-
By including the word "India" in its name, the company can adopt the same identity as the parent company.
The holding company can also adopt any Indian state or city's name.
An authorized trademark by the parent company can also be used for approval.
4. Go to the Ministry of Corporate Affairs (MCA) Portal
Open the MCA portal and log in. After that, under MCA Services select "Run". A SPICe+ form will be created for applicants to complete. The applicant must fill out all of the forms' details and upload all of the required files for setting up a foreign subsidiary firm.
5. Make the Memorandum of Association 
Once the name is approved for the Foreign Subsidiary Company, an application number will be created which will remain valid for 20 days. However, the number of days can be augmented to 60 by paying extra fees.  To register a foreign subsidiary company you have to draft an article of association and file it at most by 60 days. You also have to fill out the Firms Incorporation Application after the company name has been endorsed.
6. Payment Terms
After filing the company registration papers, the applicant should pay the digital the Registrar of Companies (ROC)charge and Stamp duty in order to register a Foreign Subsidiary Company.
7. Authentication of ROC
The Registrar of Companies (ROC) will authenticate all submitted documentation and information after the fee has been paid. Once the applicant's ROC has been validated, the incorporation certificate will be issued.
Read More: Check Name Of A Company
Book end-to-end experts consultation with Odint company formation experts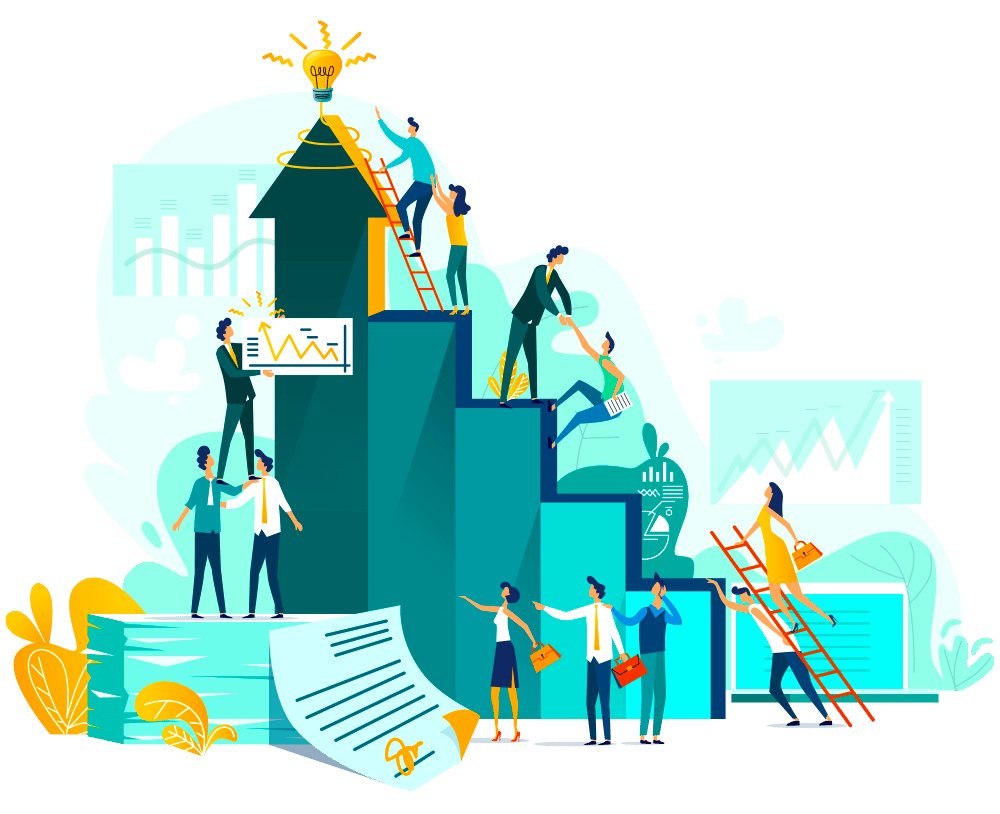 Registering a foreign subsidiary company in India gives international companies access to one of the most vibrant and promising economies in the world. The process of establishing a subsidiary is complex and requires adherence to strict eligibility requirements, thorough documentation, and the company registration process.
If you wish to register a foreign subsidiary company in India, you can speak with our experts at Odint Consulting. Our experts will assist you in gathering the documents and registering the business with the relevant authorities. We will make sure that your business is registered in compliance with the law.