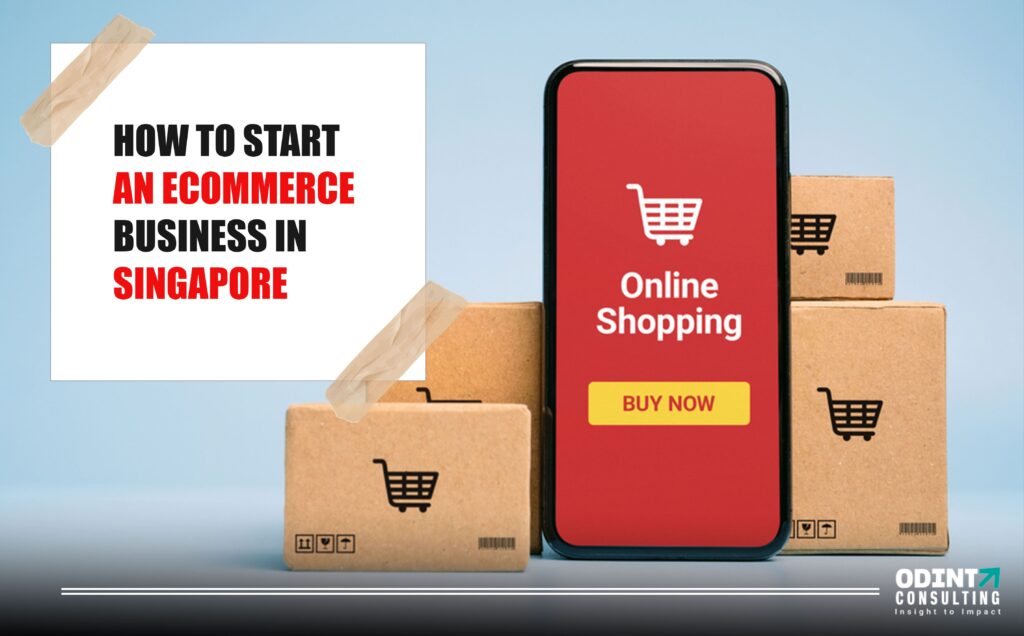 Start an eCommerce Business in Singapore 2023
Along with the development in the usage of the internet and online shopping websites, the e-commerce sector is becoming more and more well-known. People are interested in the idea of starting an e-commerce business in Singapore in order to boost the profitability of their firm. Launching an online business, taking advantage of Singapore's advantageous market conditions, and capitalizing on the expanding online shopping trend are all efficient ways to achieve long-term success and financial gain.
This article provides the details that you need to know about how to start an eCommerce business in Singapore as well as the process of incorporation to help you get off to a good start.
Stages of Starting an eCommerce Business in Singapore
Down below we have listed the various stages of starting an eCommerce business in Singapore, lets's see what are they?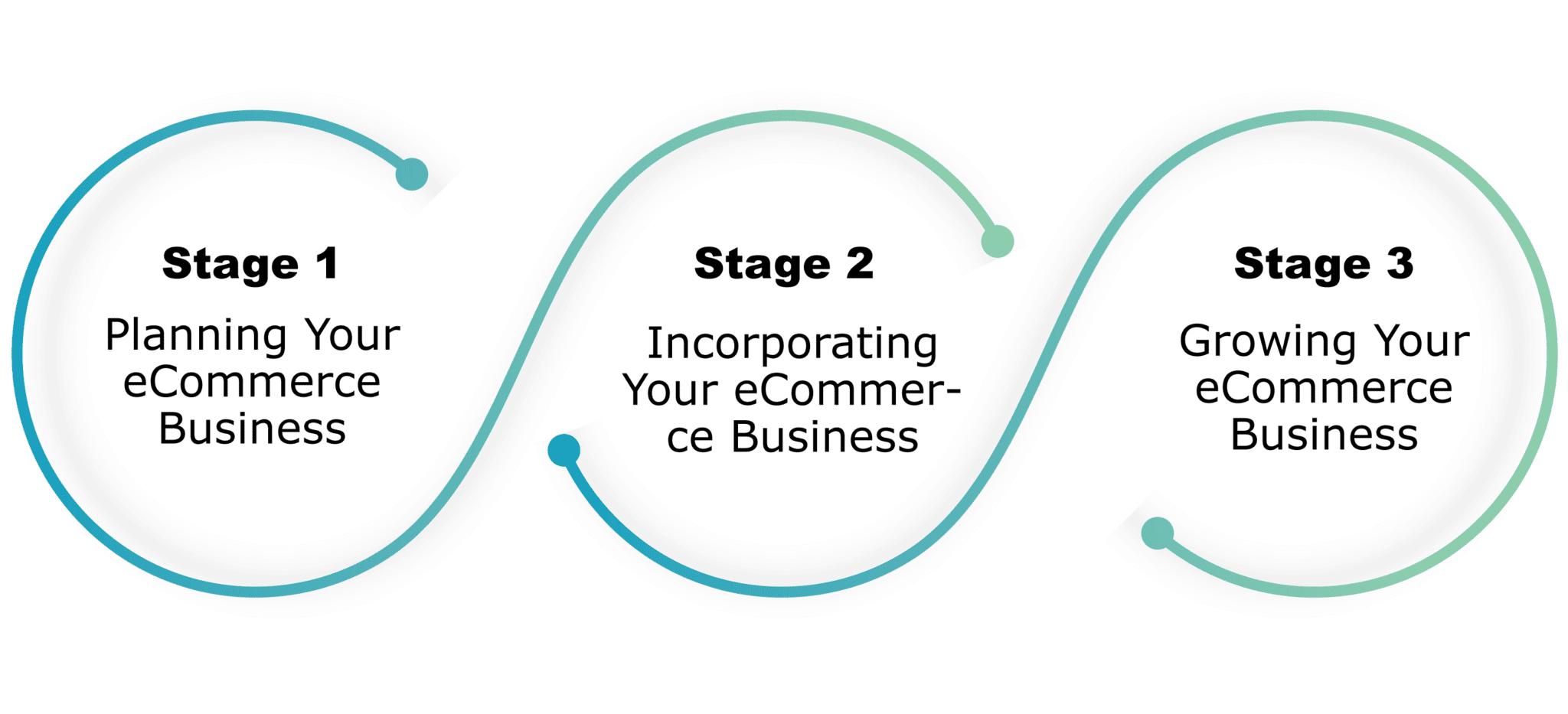 Stage 1: Planning Your eCommerce Business
However, to start an eCommerce business in Singapore you need to plan your business wisely. This eCommerce can be fairly simple to start since it doesn't require massive capital investment to begin and it can enable companies to expand beyond the limitations of a physical space which could otherwise cost you a lot.
A growing number of companies and start-ups alike are choosing the eCommerce approach to adapt to changing conditions or lay the base for growth in the future. Therefore, startups must be more innovative in what they can offer in the competitive market.
To truly hit the mark with your product it all boils down to three elements:
Brainstorming Product Ideas
Targeting The Right Market
Sourcing Your Product
1. Brainstorming Product Ideas
The process should be built on the idea that it can help alleviate an issue that is common in your field of work or allow people who are within a specific field to indulge in their passion or hobby. Below are some great suggestions for starting an eCommerce business in Singapore.
Innovate The Smart Way
A lot of startups have had success in the crowded Tech Food industry, by making some changes to their operations to allow more personalization of their customers' experience.
Take a moment and take a review of your local business environment. Then think long and deeply about how you can address their most pressing problems. You'll be amazed at the potential opportunities that few have seen until now.
Dive Into The Realm of Niche Markets
Making a move into a specific market will give you the biggest advantage due to the lack of competition. It is easier to grow your business and possibly establish a monopoly market.
Expand Your Ideas Via Traveling
An excursion every once in a time is a great method to expand your idea storage and help refresh your mind.
It even assisted with beginning the profession of travel lover turned-business person Scott Keyes, CEO of Cheap Flights, who transformed his energy for investigating into a paid/free newsletter membership administration that furnishes travellers with the best airline ticket deals.
2. Targeting The Right Market
If you have got an idea of what you'd like to offer then you need to determine the target market you'd like to target and the best way to go about it. Although there's plenty of information on this subject it's always helpful to break an extensive subject such as this into smaller information chunks.
To assist you in your mental exercise to help you with mental gymnastics, we've broken it into three components:
Research Your Target Market
Once planning to start a Singapore E-Commerce Business, you need to do thorough market research & look out for the market trend & its current requirements.
Inquiring about the needs of your customers and what your competition is doing will allow you to make better decisions about your marketing and maximize your efforts on the things that matter. In other words, Data is your greatest friend.
When you are gathering data on your consumers of interest, think about the following list of questions:
What are they looking for?
What price do they want to spend on your product or service?
Where do they reside?
What's their status in the social sphere?
In the case of your competition:
What kinds of products are they selling?
How can they promote themselves?
Are they a presence on social media?
Where are they located?
What type of content are they offering? (Blogs, case studies, newsletters, premium subscription)
Segment Your Market
The ability to segment your target market's initial market into sub-groups of different types is an indicator that you're doing things in the right direction. 
If you're targeting menswear A typical segmentation would begin with the type of product followed by the distribution channel and then geography.
Define Your Target Customers
Note: It is important to be aware that demographics and target markets are not interchangeable.
The term "target market" refers to the most diverse group of people you wish to focus on in a marketing campaign.
E.g. A single mother in her 30's.
Demographics are the part of values that help in segmenting your market to provide a more precise selection, considering gender, age, ethnicity, religion, etc.
To make it even more clear how to do this, let's add a few specifics to the first example.
E.g. For example A single mother in their 30s that owns two Dalmatians as well as a pit bull in the heart of New York.
3. Sourcing Your Product
The key to success in starting an eCommerce business in Singapore for a company is finding the most appropriate source for your goods. 
Customers will always consider the final product as a depiction of your brand's image, and choosing an established manufacturer or supplier could make or break your company. Here are some tried and tested methods to find the right products:
Make
If you build your business on a specific niche of prospects, i.e. those with interests that are esoteric or interests, it could be a good idea to create the product internally.
Many small-scale businesses sell hand-crafted jewellery and other items which make their items. Not only do they save the company money, but they also give an impression of professionalism and credibility for your business.
Manufacture
If you've got a brilliant idea, but don't have the necessary technology to create it, it's recommended to transfer the work to an industrial manufacturer.
This strategy is a great investment because you can earn higher margins on your products since they are the least expensive per unit. Manufacturing is also a good option for those who have conducted their research and are confident that a product's viability in the marketplace is assured.
Wholesale
Wholesale is a great option for eCommerce platforms that make use of their brand's image to generate leads. According to the definition, a business purchases large quantities of goods in bulk at a bargain cost to mark them up and sell to customers.
Another benefit of selling wholesale products is that they're risk-free since the majority time, the products have already proved to be popular on the market.
Dropship
In a drop shipping company, you are the intermediary between consumers and retailers. This means that, even though you don't own any items you sell, however, you're responsible for delivering the items to your clients.
It is a great way to get to eCommerce because you are aware of the kind of products consumers want, without the worry of having dead stocks build up in your inventory. Be aware that this model is competitive and is not suitable for people looking to make the highest margins for products.
Stage 2: Incorporating Your Singapore E-Commerce Business
Getting an eCommerce company up and running doesn't end with understanding the logistics of everything. The second step would be to integrate your company. However, before you do this it is crucial to have the correct business structure planned out.
Today, the most popular corporate structure is a PLC or LLC because of its advantageous characteristics, including :
Tax incentives:-

A PLC may be eligible to receive tax incentives for corporate organizations.

Separate entity:-

The company was established as its legal entity and is separate from its founders, shareholders, and directors.

High-credibility:-

The idea that you are highly trustworthy in relation to the legal structure could mean having access to more credit lines as well as more collaboration opportunities.
Permanent succession:- Legally, the business will not be dissolved in any circumstance until the dissolution procedures are completed.
If an international business owner wants incorporation in Singapore then he or she must find a certified filing agent to complete the online application procedure as stipulated by ACRA.
Procedure for incorporation
Annual compliance requirements 
Tax structures
Employment landscape
In the next step, you'll need to open a bank account to start receiving money from customers who visit your website. Every institution located in Singapore comes with its KYC procedure that prospective customers need to go through before opening an account. 
Stage 3: Growing Your Singapore eCommerce Business
Although a typical store's proprietor will have plenty of issues to be concerned with following the start of an eCommerce business in Singapore, will only be able to successfully bring more visitors to its site.
To assist your business in getting through the beginning phase and to be ready for future growth Here are the essentials you must build:
1. Choose Your eCommerce Platform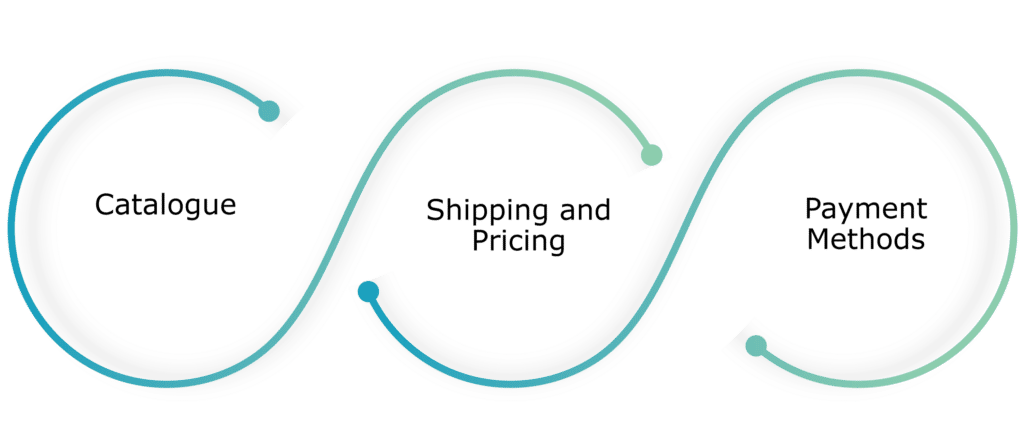 When you start an eCommerce business in Singapore you need the best eCommerce platform to ensure that you are at the top of your game you can.
It's where you'll design the look and experience of your shop for the world to see. If done correctly, it can enhance your customers' overall experience, and result in a positive ROI for your website.
A few of the most important considerations to keep in mind when searching for the best eCommerce platform include:
Catalog
Your catalog of items covers the majority of your stock. It's crucial to ensure that it's updated-friendly.
More importantly, be sure to check that the catalog meets the requirements of your region. e.g. Fashion related companies should ensure that the catalog includes a measuring feature or even a souvenir shop that gives customers the choice of choosing different types of wrap paper or engravings.
Shipping and Pricing
In addition to having a well-organized catalog of products for customers, a great eCommerce platform should allow simple implementation of promotions such as offering sales and discounts.
Multi-currency support is also highly desirable. The majority of people want items to be delivered to their doorsteps immediately after they place an order. Choose online stores that provide zones-based shipping.
Payment Methods
The main reason for the popularity of e-commerce's use as a platform for business is that it is compatible with the current trend toward cashless in the marketplace.
Credit cards, Paypal & other debit cards would be accessible on all platforms.
2. Build Your Website
A website can be described as an open-air storefront for your online business, displaying your goods to customers on the Internet.
The majority of businesses leave this task to a web designer to manage but knowing the details involved in the creation of a website can help create a site that is for your particular area of eCommerce.
Acquiring Domain Name
It's easy to get to believe that you have to think of appealing names to attract attention. However, in reality, it is the brand whose name is well-known and easily spelled regularly that has the most traffic to their websites.
The key is to find an equilibrium between practicality and creativity with your naming scheme i.e. Try not to make your name sound too generic or overly saturated with numbers, hyphens, and hyphens.
Selecting a Website Builder
In general web builders with eCommerce as an added-on feature will not be able to sustain long-term expansion.
Instead, choose eCommerce-specific choices that allow for the ability to scale, adequate processing power for traffic and the highest level of security all of these are essential features that a business online needs to succeed.
Picking a Template
For those who don't have enough knowledge of code, ready-made templates are a quick and simple way to customize your site to fit the goals of your brand.
Before deciding on templates, consider the following questions:
Does the layout assist customers to navigate your site quickly?
How does your brand's image be represented on your homepage?
Do you require an additional plug-in to allow for further customization?
Add a Payment Method
To start an eCommerce business in Singapore customers need the feeling of being secure as they enter the checkout area of your site.
The right payment method employed will not just speed up transactions but also help prevent data leakage. There are currently three payment gateways you can pick from:
Redirect
The whole transaction will occur entirely via a third-party online payment system such as Paypal. The transaction is free of security issues, but you are at risk of driving the client away due to the additional step.
Onsite Checkout, Offsite Payment
Some companies prefer to keep clients on their site's checkout page but don't wish to directly be involved in the handling of sensitive credit card information. Payment gateways such as Stripe collect the data of customers and handle processing the payment at the back end for you.
On-site Payment
Large corporations employ this model to create a seamless shopping experience for customers by seamlessly integrating their payment processors into the process of checkout.
Establish Shipping Method
A large portion of the success of eCommerce is logistics. The process begins when a customer makes an order and continues all up to the delivery of the order.
While it may seem complicated making a precise shipping plan for your site will significantly reduce the likelihood of abandoning carts.
Be aware that there isn't a one-size-fits-all shipping method, and your choice must be made after careful consideration of your budget, margins, items, and the kind of customer you want to attract.
Here are some of the most effective shipping methods to think about:
Day Shipping.
International Shipping.
Overnight Shipping.
Same-day Shipping.
Expedited Shipping.
Test Run
Test your website several times to smooth out rough edges before letting it go live.
The amount of time you place into optimizing your website will play an important part in retaining customers since it's the sole way that they communicate with your company.
An eCommerce testing of a website typically includes the following elements:
Homepage
Search Algorithm
Product Listing Page (PLP)
Product Detail Page (PDP)
Shopping Cart
Payments
Recommended Products
After-Order Test
3. Optimize Marketing Channels
These days to start an eCommerce business in Singapore, shoppers who are digitally driven expect retailers to offer an effortless shopping experience throughout all platforms.
If you're looking to be successful in this competitive market having a well-thought-out Omni-channel marketing strategy is an absolute necessity. In the midst of it all, omnichannel refers to the goal of providing customers with an integrated brand presence across all platforms.
While the variety of channels to be discussed deserves its subject, you can begin by focusing your attention on the three most popular ones:
Search Engines
SEO, also known as SEO or Search Engine Optimization is among the fundamental pillars of marketing inbound and is an essential element for any eCommerce company.
You'll start seeing a lot of growth in traffic and conversions after your website is ranked high enough on Google and is transformed into an automated sales closing machine!
However, before you can achieve that it is necessary to invest the same amount of effort into these areas:
Keyword Research
On-page SEO
Off-page SEO
Content Marketing
Acquiring Backlinks
Site Auditing
Social Media
Social media isn't only excellent in the traditional sense of helping to promote your company and offering you a huge reach selling platforms.
Facebook offers a marketplace function for companies that want to sell their products through their platform. All you have to do is to set up your shop and upload some of your most-loved items with embedded hyperlinks to your store. This will helps boost sales and give your business notice.
Other platforms, like Instagram, offer to sell on tag features for items that redirect customers to the store's website. This strategy is most effective for retailers of clothing since they can leverage image-based marketing to their advantage.
Content
Content is a fantastic way to grow your base of customers and bring more customers to your store's site.
But, considering the slow rate at which channels go about making leads and the more the competition has grown requires more effort to create content that stands out. The fact is that people will always be drawn to content that isn't unwilling to provide.
If your average 1000-word blog post doesn't cut anymore. You need to be prepared to put more depth and substance into your content, even when it requires putting in a greater number of words.
In addition, you can diversify by incorporating other formats such as eBooks, videos, podcasts, and even paid ads to get some initial interest in your material. When your audience increases and your conversion rate increases, your conversion possibilities will increase too.
Read More: Suggestions for Starting Your Singapore eCommerce Business 2023
Starting an ecommerce business in Singapore can turn out to be a lucrative business as long as the business is planned out nicely. Like any other business, it is crucial to thoroughly plan out your operations, come up with plans for your products' success, establish relationships with potential customers to markets your products, and so forth. 
Even though launching an online store in Singapore might be lucrative with a sound business plan, it can also be challenging. Be aware that establishing your online company within Singapore requires a reliable filing company that has the experience and knowledge of Singapore's legal framework.
If you planning to start an eCommerce business in Singapore, we are OnDemand International of highly experienced professionals who are ready to help you with all of your requirements.