Vietnam Work Visas and Permits in 2023
As a result of Vietnam becoming a preferred destination for enterprises, a large number of employees are moving there in quest of employment possibilities. Yet, obtaining a work visa is needed for everyone who wants to work in Vietnam.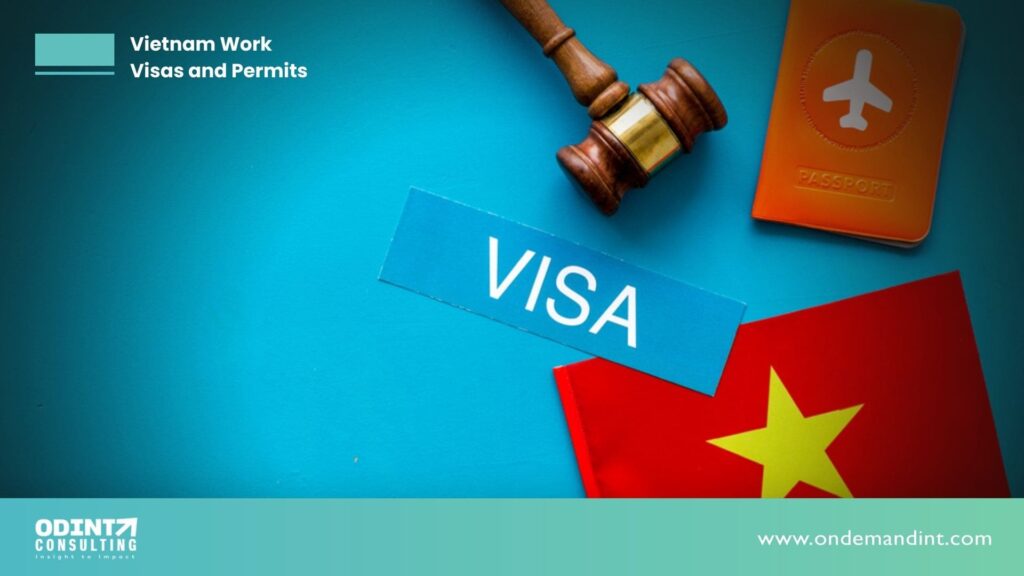 Work permit in Vietnam is granted by the appropriate government agencies to international citizens who want to work in the nation or receive remuneration.
In this article, the topic of Vietnam work visas and permits has been briefly explored. It has also covered the many kinds of visas, the application process, fees, and specifications for obtaining a Vietnam work visa.
Various Categories of Vietnam Work Visa
If you have incorporated a business in Vietnam and want to recruit foreign workers, it is essntial to apply for a work permit. Potential workers, similar to any other foreigners, would require a visa from the Vietnamese embassy or consulate before they can visit the country.
The following are the various categories of work permits in Vietnam:
DL visas for tourists

HN visas for seminars and gatherings

DT visas for investors

DN visas for personnel employed with Vietnamese companies

DH visas for students and internships

NG1-4 visas for diplomatic reasons

Visas LV1-LV2 for people who are operating for the Vietnamese government

LD visas for international employees

VR visa for foreigners traveling to see family or for other reasons

TT visa for relatives of NN1-2, DH, PV1, LD1-2, LS, LV1-2, DTI-3, holders of the visas
Procedure to Apply for Vietnam Work Visas and Permits
An employer has to undergo two processes in order to secure work permits for foreign workers: one to request authorization for the recruitment of outsiders, and the other to apply for a work permit in Vietnam.
The steps that both employers and international workers must take to obtain a Vietnam work visa are listed below:
1. Obtain authorization to hire a foreign employee
The employer must file a request for authorization of demand to use overseas labor at a minimum of thirty days prior to the anticipated period the international employees will begin working at the organization.
The employer must gather the required paperwork for this phase:
Form for demanding the use of international employees

Certified document of the company formation
Afterward, this paperwork should be presented to the Ministry of Labor, War Invalids and Social Affairs, or the People's Committee of the region where the international worker is anticipated to operate. It can also be done via the online portal.
2. Request for the work permit in Vietnam
The employer must finish and send the Vietnam work permit application form to the Department of Labor, Invalids and Social Affairs of the territory in which the international worker is supposed to be employed, together with all required supporting documentation.
The applications must be filed a minimum of 15 days prior to the day that the overseas employee is anticipated to begin employment with the business.
It is advised that businesses submit their applications approximately two to three mon early.
3. Acquire the work permit
After presenting all necessary, legitimate documentation, the employer has to wait a minimum of five working days for the work permit to be issued. In case the application for the permit is rejected, the employer may enquire about the possible reasons.
Paperwork Required for Applying for a Vietnam Work Visa
Here is the paperwork required for applying for a work permit in Vietnam:
Application form for Vietnam work visas and permits

Health certifications and individual's medical individual

Documents of any professional certifications that may be necessary

A court record demonstrating the individual's criminal history and attesting that they have not been convicted of any offenses which might prevent them from serving in Vietnam

3 recent passport-sized photographs

A letter of authorization from the Ministry of Labor, Invalids and Social Affairs or the local People's Committee approving the employment of overseas labor by the company. This certification must be requested a minimum of twenty days prior to the company's anticipated date of hiring overseas employees

Employment agreement
Eligibility Criteria for a Work Permit in Vietnam
In order to qualify for Vietnam work visas and permits, you must be eligible for the criteria listed below:
Possess a minimum age of 18

Possess a sound physical state that fulfills the expectations and specifications of the work.

Free of any convictions for crimes against the nation's security or other offenses, not presently being investigated for crimes, and not currently imprisoned for a crime by Vietnamese and international police officers.

Possess the credentials and skills necessary to function as an executive officer, manager, specialist, or technical person.

Get written authorization for their job from a capable state agency.
The processing period for a Vietnam work visa
At least 20 working days are needed to process a work permit application after obtaining the necessary paperwork. 
This includes:
15 days to approve a request to hire international workers.

Five business days for issuing the work permit in Vietnam.
Despite the fact that the issuance of Vietnam work visas and permits may only take 20 days, government agencies may require additional papers, which might lengthen processing periods. Hence, if possible, applicants must start their application process three months prior to the position's start date.
Validity and Cancellation of Vietnam Work Visas and Permits
Validity of a Vietnam work visa 
A work permit in Vietnam has a maximum validity of two years and may be renewed once for an additional two years. If the business wants to continue to keep employing international employees after the extended work permit expires, they must undergo the same process to get a new work permit.
Cancellation of a Vietnam work visa
The following situations may result in the cancellation of a work permit:
Work permit expires.

The cancellation of an employment agreement.

The conditions of the employment contract clash with the work visa that has been given.

The Vietnamese-based foreign worker's dismissal was reported by the company.

Removal of a work permit by state entities with legal authority.

The business, organization, and partners ceased to operate in Vietnam

The international worker is given a jail term, passes away, or the court declares him missing.
Application Fees for Vietnam Work Visas and Permits
There are three main levels of application fees for a work permit in Vietnam:
The cost of a work visa for first-time applicants is VND 400 000, or $20.

Reissuing a work permit will cost you VND 300,000, or $15.

The cost of renewed work visas is VND 200,000, or $10.
Acquiring a work visa is crucial for anyone who wishes to work in the country. However, getting a work visa is only achievable if the procedures are followed precisely and the appropriate paperwork is acquired and presented to the authorities. Within five days of submitting the application, a work visa can be acquired.
You can contact our professionals at Odint Consulting if you are interested in obtaining Vietnam work visas and permits. To lessen the likelihood of rejection, our professionals will assist you in gathering the required paperwork and ensure that the application is completed properly.