Overview: Benefits Of Registering A Company In Singapore
Singapore is considered as one of the business-friendly countries. This country has also been awarded so many awards for its infrastructure facilities and workforce for the last several years.
Many factors lead to making the economy of Singapore more attractive for foreign investors.
The government policies also make this country a suitable place for doing business effectively.
These factors are lower tax rates, double taxation agreements, good infrastructure facilities, geographical location, a well-trained and skilled workforce at low cost, and many other factors.
Benefits Of Registering a Company in Singapore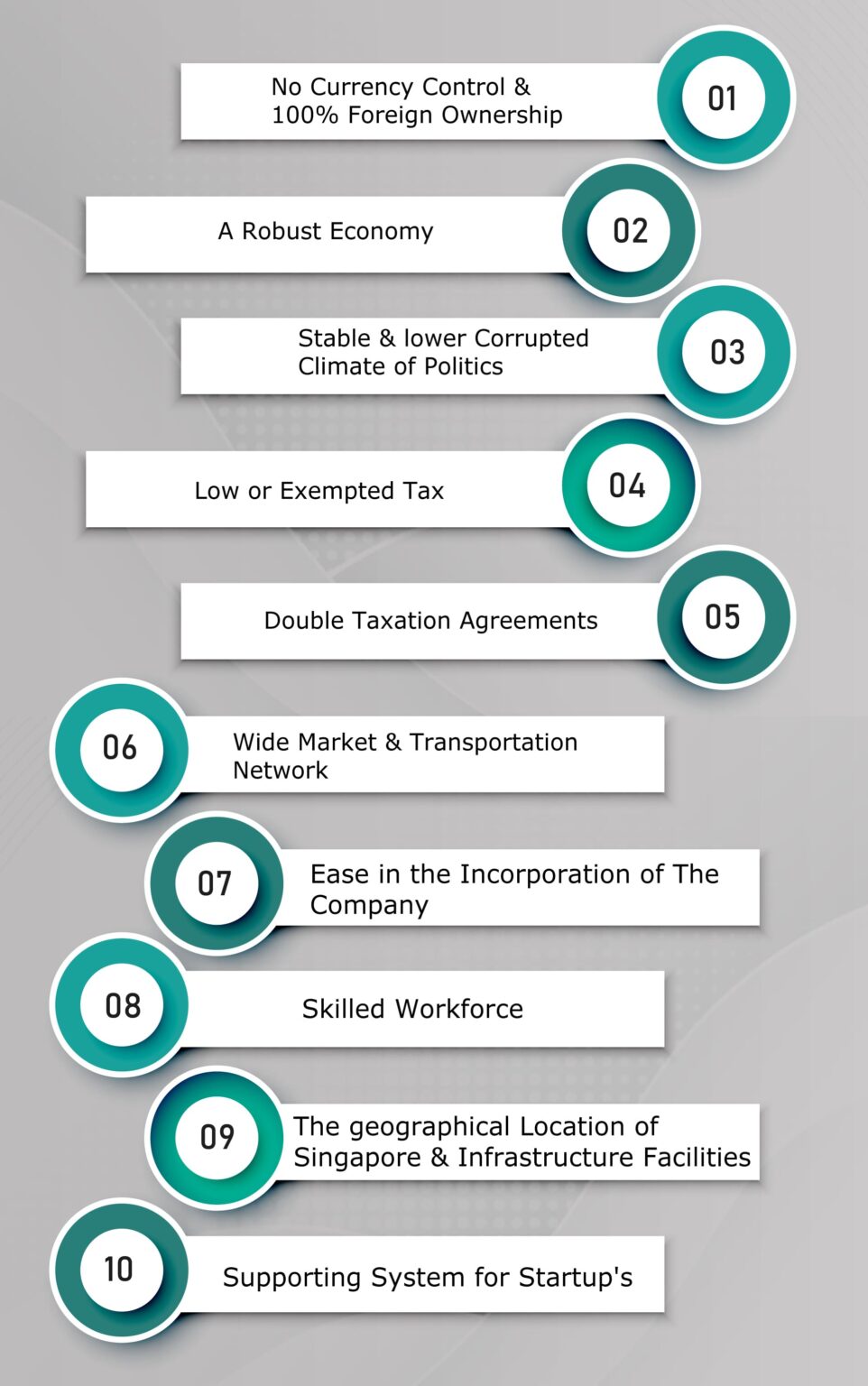 1.No currency control and 100% foreign ownership
In Singapore, 100% foreign ownership means if a foreign owner owns 100% stock of that company that is incorporated in Singapore. One is not required to hire a local partner or shareholder for the same. By this, a foreign owner can start their business with the capital structure of their preference and also distribute its ownership to the most suitable investments needs. There are also no fixed limits to bring the funds from other countries for capital structure.
There are no restrictions on the repatriation of profits to Singapore. There is even no tax on the capital gain of the Singaporean company. And also, there is no tax levied on dividend incomes in the hands of shareholders, and this income is taxed from the company.
There are no restrictions imposed by the government of Singapore on the movement of foreign currency out of the country.
This makes business activities more flexible so conducting business becomes easier with these rules. This feature makes Singapore a better country for conducting business in comparison to other neighbouring countries in Asia.
2. A robust economy
The economy of Singapore is well-developed and provides a free market for companies. Singapore has an economy that is primarily based on trade, finance, and manufacturing. 75% of the GDP of Singapore is contributed by the service sector, and this sector employs 80% of the workforce.
This country is maintaining a very low unemployment rate with a lower rate of inflation too. There was a growth of 2.8% in the country in 2014 and 2015. It's estimated per capita income is about $80k and more. It has about 50% of its GDP as its gross national savings.
This country exports approximately S$500 billion each year, and this results in making this country have the 10th largest foreign currency reserves in the world. Currently, this country has no growing current account surplus and external public debt. It is investing its capital abroad also.
This is making good use of its financial resources by providing housing, education, transportation, and subsidy programs related to health care.
All these activities make the economy of Singapore the most robust and well-managed economy.
3. Stable and lower corrupted climate of politics
Singapore is a country where all the peoples follow strict rules of law and also has a stable political climate. This country is always on the top list for ease in doing business which means one can confidently make plans to conduct business in this country.
Some of the examples which prove that Singapore is a better place to conduct business are as follows: –
The World Bank ranked Singapore first for its effectiveness in contracting amongst 190 countries.
Singapore was ranked third for having the least corruption in its public sector amongst 180 countries by transparency international.
Singapore was ranked as a top nation of Asia amongst 113 countries for the rule of law index, which is compiled by the world justice project.
Singapore's economy is ranked as the second-freest economy amongst the 186 economies of different countries by the heritage foundation.
In most economics, there are lots of corrupt officers and bribes, and having connections will work only. But Singapore is the country where there is very less corruption because the government officials are paid well, there is very harsh punishment for doing corruption and the moral of the founder of that country.
4. Low or exempted tax
Singapore is the country where the tax policies of the government for corporate units are very favorable. There is a very low tax rate and also many exemptions. In Singapore, the rate of corporate tax is 17% only which is considered the lowest among all the other developed countries.
In the case of an SME and a company whose earnings are S$200,000, then these are exempted from the corporate tax. This exemption is allowed for the first three financial years only and only when these companies fulfil all the required conditions of the shareholders.
In Singapore, there is no tax on capital gains of the company, whether it is a foreign-based company or a local company. There is also no tax rate on dividend incomes in the hands of the shareholders. Singapore uses a Single-tier corporate tax system to levy taxes on companies. Newly established companies get tax exemption for the first three years on S$100k.
In the case of the personal tax system, the tax rate starts from 0% and ends with a maximum of 20% for the individual who has an income of more than S$320,000. This attracts many investors to do business in Singapore.
5. Double taxation agreements
Singapore has signed a treaty with more than 80 countries for avoiding double taxation on the same income. This country has good networks with many countries. This agreement helps the companies by securing their income from double taxation. This simply means that income that is earned from a foreign country is taxed once, whether in Singapore or in that country.
Singapore Double taxation agreements treaties system makes the tax rate lower or exempted in one country. This is beneficial in the case of a company that has either a holding or subsidiary company in a country that has signed double taxation agreements treaties with Singapore.
This agreement is designed for the smooth flow of income from one country to Singapore without having double tax levied. Singapore also provides unilateral tax credits (UTC's) for the countries that do not sign double taxation treaties with Singapore. So, a resident company of Singapore is suffering from double taxation in a very rare case.
6. Wide market and transportation network
Singapore has good relations with many developing and developed countries. This provides a wide market area for Singapore-based companies. Singapore has access to the fastest-growing markets and economies such as China, the USA, India, and many more.
The transportation system is also good in Singapore. They provide better routes for transportation.
Changi airport of Singapore is considered one of the best airports in the world. This airport connects Singapore with many major cities of Asia-pacific, North America, the Middle East, and Europe. Singapore has also had the busiest port in the world. This country has the most extensive connections of the international port, which makes this country the best place for trade.
7. Ease in the incorporation of the company
In Singapore, the process of incorporating a company is short and takes 3 working days to complete. This process involves low cost as compared to other counties. The procedure of incorporation involves three steps of the process.
An individual is required to fulfil some simple requirements for incorporating a company and follow the steps of the procedure, which are required to be followed for having hassle-free incorporation.
Furthermore, there is no requirement for investing huge funds for the incorporation process, and one can also start a company with a minimum of $1 as share capital for incorporation. If you are a foreign investor who wants to incorporate a company in Singapore, then you are required to take help from a professional firm of Singapore for incorporation. The lathe laws of Singapore do not allow foreign individuals and entities to register a company by themselves.
8. Skilled Workforce
According to the human capital reports of 2015, in Singapore, about 54% of the workforce is highly skilled, which is relatively higher than other developed or developing nations such as New Zealand Australia. In the Asian Pacific region, Singapore has the biggest share of the highly skilled labour force.
According to many international organizations such as the World Economic Forum, business environment risk intelligence, etc., rated the workforce of Singapore as a highly-skilled workforce.
According to the BERI's labour force evaluation measures, Singapore holds the top position. It is considered that Singapore has Asia's most motivated labour amongst the top 10 countries and also the best-skilled labour amongst the top 10 countries of Asia. Singapore has the world's most business conducive labour regulations amongst the top 5 countries of the world.
They maintain the best employee and employer relationships In Asia. Foreign talent ranks Singapore top for being the best place to conduct business. Singapore is the first choice of many Asian investors for doing business. Employing highly skilled labour at an affordable cost is the biggest reason which attracts many investors for starting up a business in this country.
9. The geographical location of Singapore and infrastructure facilities
Singapore has its central location in Southeast Asia, which makes it a metaphorical and physical gateway to a continent of 3 billion people. Some of the major and most important economies of the countries such as China, India, Malaysia, Australia, and many more are only a short distance away from Singapore.
The port of Singapore is considered the major international maritime center and is one of the busiest ports in the world. The Changi airport of Singapore is one of the best airports which connects Singapore with many major cities of Asia-pacific, which is beneficial for traders. They can make the trade with these cities easily. This airport provides service to approximately 20 million passengers every year.
This country has world-class infrastructure facilities. These facilities include airports, highways, subways, internet facilities, commercial shop-houses, museums, public parks, and hotels. Visitors are attracted to its infrastructure facilities very easily. Most of these facilities were started in the last decade; hence, they are new and modernized as well. This country provides a very pleasant atmosphere with good infrastructure facilities for conducting business.
10. Supporting system for startup's
The government of Singapore has adopted very business-friendly policies. They support the growth of start-ups and also promote innovations in the country. It has provided many tax incentives, grants, and assistance in kind also. For some sectors, it also subsidized the labour costs of newly started businesses. These benefits are for both the companies, whether a foreign ownership company or a local company.
The government is corruption-free in Singapore. There is no system of bribes and connections for the work to be completed. This country chooses the best and brightest people for work as government officials and also pays them well. If it is found that an officer is misusing their authority, then he will get very harsh punishment.
Conclusion
In this modern era, it is required to provide strong protection for intellectual properties. Commercial courts function well to make sure that the contract is enforced.
Singapore is also considered as the top nation in the list of non-corrupt nations. If you start a business in Singapore, then you are not required to go through an illegal or corrupt process. There is a legal and fair process only, but the failure and success of your business will depend on its own merits.
Parshant Gaur is a company formation specialist with 4+ years of expertise in international business. Financial planning, risk management, and other related areas.