Overview: Dubai International City
If you are someone who is looking for a suburban locality to reside in, Dubai International City is the area you should consider. It is an extremely famous place amongst people searching for in-budget estates for rent. Dubai is a land of diverse cultures and sees people from various nationalities settling in every year.
So, Dubai International City is an area that does justice to Dubai's cosmopolitan and contemporary lifestyle. These flats in this area are home to about 60K individuals, and the facts that make living in Dubai International City desirable are the affordable rents and luxurious dwelling experiences.
The area of Dubai International City is huge and also has incorporated many foods, retail, and beverage outlets. The luxury of living in the International City has also caught the eye of several investors like corporation companies, retail giants, and developers of real estate.
In this article, we will be discussing more in-depth about the overview of Dubai's international city and why it is essential to set up a business over there. So, without any further ado, lets dive into it.
Different Apartments in Dubai International City
There are ten clusters in International City, and each one represents a different nation.. These dwelling clusters are famous for glorifying the architectural assets of various cultures and countries. Some of the residential clusters present in the International City are the Spain Cluster, Russian Cluster, Italy Cluster, England Cluster, China Cluster, Persia Cluster, and Greece Cluster. These are some of the most known residential properties in Dubai.
The rental flats in Dubai International City are present in the low-rise area and feature flats with 1, 2, or 3 bedrooms. The flats in the International City provide flats with affordable rent and high-class living. The environment in which the apartments are situated is also serene and peaceful. All in all, Dubai International City is the best choice for families looking for a nice abode in Dubai.
Dubai International City Map
You can locate Dubai International City in the Al Warsan neighborhood of Dubai, directly across from the central market of veggies and fruits.
The district of International City is spread in continuous patterns of clusters, and every cluster is named after a separate nation. The design of these clusters is influenced by the nation's famous architecture. All these clusters are located around the Central Business District and a spot positioned on the Forbidden City of Beijing.
Because the area around Dubai International City is popular, it stays crowded and can easily attract traffic. But in the case of low traffic, you can take a drive to the International airport of Dubai in 20 minutes. Similarly, you can also visit Burj Khalifa in 30 minutes, Abu Dhabi in 1 hour 30 mins, Dubai Mall in 20 minutes, and Emirates Mall in 25 minutes.
The most activity done around the International City is shopping. You can reach the Dragon Mart Mall which is about 1.2 km long, has thousands of shops, and it is also the largest hoarder of Chinese products. You will get everything ranging from home essentials to fashion and machinery in this mall.
In the year 2016, a sequel to the Dragon Mart Mall was built, named Dragon Mart 2. This added more than 1 thousand shops to the already present shopping hub, and also promoted the opening of many food chains, entertainment outlets, etc. The Dubai International City also is very close to Dubai Silicon Oasis, Academic City, and Dubai Safari Park.
Dubai International City Rent
It is no secret that the flats in Dubai International City are affordable and the best residential units for families to take upon rent. The most economical options in this community are the studio flats.
The price range for these studio flats starts from AED 23,000. The flats providing 1BHK start from AED 29,000 and go up to AED 60,000. Likewise, the 2BHK flats have their price starting from AED 46,000, and lastly, the 3BHK start from AED 70,000 per annum.
The 3-bedroom flats are not very abundant as other apartments, but they fall in the affordable price range too. It is for sure that with all the amazing facilities, you won't get a better community to live in at such cheap rates. In the International City region, there exist several new buildings that are looking for tenants.
To obtain an indication of current costs in the region, look at the latest flats for rent in Dubai International City. If you're unfamiliar with the area and don't wish to spend money on buying your furnishings, the furnished apartments for lease in Dubai International City are a great choice.
Lifestyle in Dubai International City
International City offers a relaxing, calm, serene, and inexpensive way of life. Here, residents of many different ethnic backgrounds coexist peacefully. Families that live here provide a unique atmosphere for their children to learn about other cultures & dialects.
Many social and recreational locations are close to the flats. There are several retail and business locations here, as well as green landscaped grounds and secure children's play facilities in all residential clusters.
Supermarket chains and pharmacies serve all of the cluster centers, and International City also has a large number of childcare centers and nurseries. Areas like Al Warqa, Dubai Silicon Oasis, and Al Warsan make up the International City community. The airport is also very close by, as are reputable local transportation services.
Pros & Cons Of Living in Dubai International City
If you're thinking about relocating, below mentioned are a few advantages of residing in Dubai International City:
Employment Opportunities
Dubai International City in the United Arab Emirates presents a plethora of employment prospects spanning diverse sectors. The region's multicultural community and global ambiance foster a wide array of job opportunities tailored to accommodate various skill sets and individual interests.
Diversification
The diverse culture of Dubai is celebrated in this community. It serves individuals from different nations, effectively portraying all nationalities and ethnicities.
The most significant advantage for residents of Dubai International City would be that the region's multiculturalism has culminated in the establishment of numerous regional stores. As a result, obtaining fresh ingredients from all across the globe is not a problem.
ROI (Return on Investment)
The potential return on investment (ROI) in Dubai International City can be influenced by various factors, such as market conditions, property type, location within the area, and individual investment strategies. It is crucial to consider these elements as they can impact the overall profitability of investments in this region.
Easily Available From Most Areas
This residential unit may be on the borders of Dubai, yet it is nevertheless approachable from all parts of town. It is also very useful for college students because of its closeness to Academic City.
Satisfactory Public Transportation
For people who do not own a vehicle, the public transportation system is also very useful. The neighborhood does not have direct access to the metro station, but it does have four bus lines that can transport inhabitants to nearby stations.
Inexpensive
The first reason why anyone would consider living in the International City is because of the affordable rental rates it offers. The tenants can trust the price range being offered in these flats and start their residential journey with Dubai International City.
Nearby Restaurant Chains
You have an array of choices to pick from if you wish to try out different cuisines. In Dubai International City, you can explore various authentic eateries, like the widely acclaimed Nine Squares Restaurant, a Chinese hotpot diner, and also the most famous Dyar Al Shaam.
Information Technology
Dubai International City is witnessing a rapid expansion in its IT infrastructure, leading to an increased demand for professionals in the field. IT companies and organizations in the area are actively seeking software developers, system administrators, network engineers, IT support specialists, and cybersecurity professionals.
Several Medical Centres 
Having medical facilities around your home is a must. By living in Dubai International City, you will get easy access to the best healthcare facilities. You can visit Xie He Medical Centre, Apple Clinic, Ibn Sina Centre for Health, Shanghai Medical Centre, Amber Clinic, and Aster Clinic whenever in need.
Economic Benefits
Residential real estate investment in this region can be extremely rewarding. The property market in Dubai is expanding rapidly, and International City draws hundreds of individuals because of its affordable costs. In International City, there are many various types of rental properties available, ranging from studio apartments to townhomes and villas.
Even though Dubai International City has several distinct attributes that make it appear on par with other well-developed neighborhoods, there still exist some difficulties you should be informed of before deciding to relocate.
Cleanliness Issues
The community has had some sanitation concerns before, but these have considerably decreased in recent times. Nevertheless, some residents continue to complain about sanitary issues and the pungent scent from the nearby sewerage facility.
Parking and Traffic
Even though the suburb is well-served by public transportation, inhabitants frequently spend hours delayed in traffic due to the absence of metro accessibility. This is something to think about if you're thinking about relocating to International City. Because parking spaces are scarce in the vicinity.
The economic activity and retail options available in the Dubai International City add to the area's special look. There are numerous places to visit in the area, which beautifully compliment this residential complex. The adjacent Dragon Mart Complex is recognized as the most important center of trade for Sino items sold beyond China's mainland.
The Dubai Design Centre, an ultimate location for everything currently on the market of best designs and beautiful furnishings, is another distinctive neighboring venture of International City. Therefore, with all of these profitable deals, book your new home in Dubai International City right away!
In planning to set up a business in Dubai, it is advisable to get assistance from professional experts from Odint Consultancy to help you in understanding the entire business scenario of Dubai.
In this article, we have discussed about Dubai Company Registration Process in 2023-24. Read the complete article to get the complete information about Company formatiion process.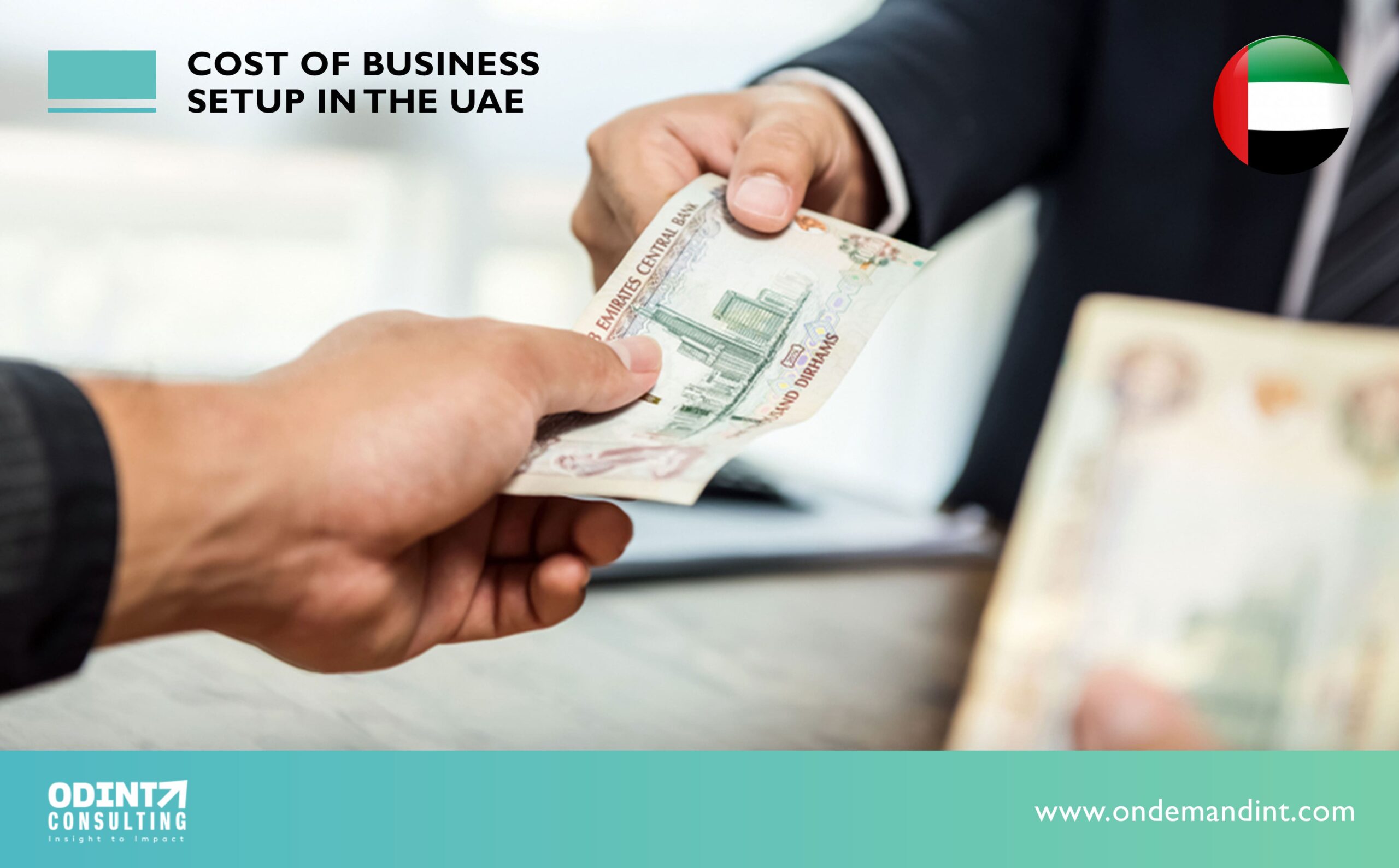 In this article we will discuss that the cost of business setup in the UAE is affected by a number of variables. The business's operations, location, license type as well as other aspects.
This article will provide you with the benefits of establishing a firm in Dubai. You will also know about the various steps for registering a