Oveview Of Import And Export Regulations In Malaysia
Malaysia, which is well-positioned in Southeast Asia, has a robust import and export sector that contributes significantly to its economy. To ensure smooth trade operations and protect the interests of businesses and consumers, import and export regulations in Malaysia have been set up.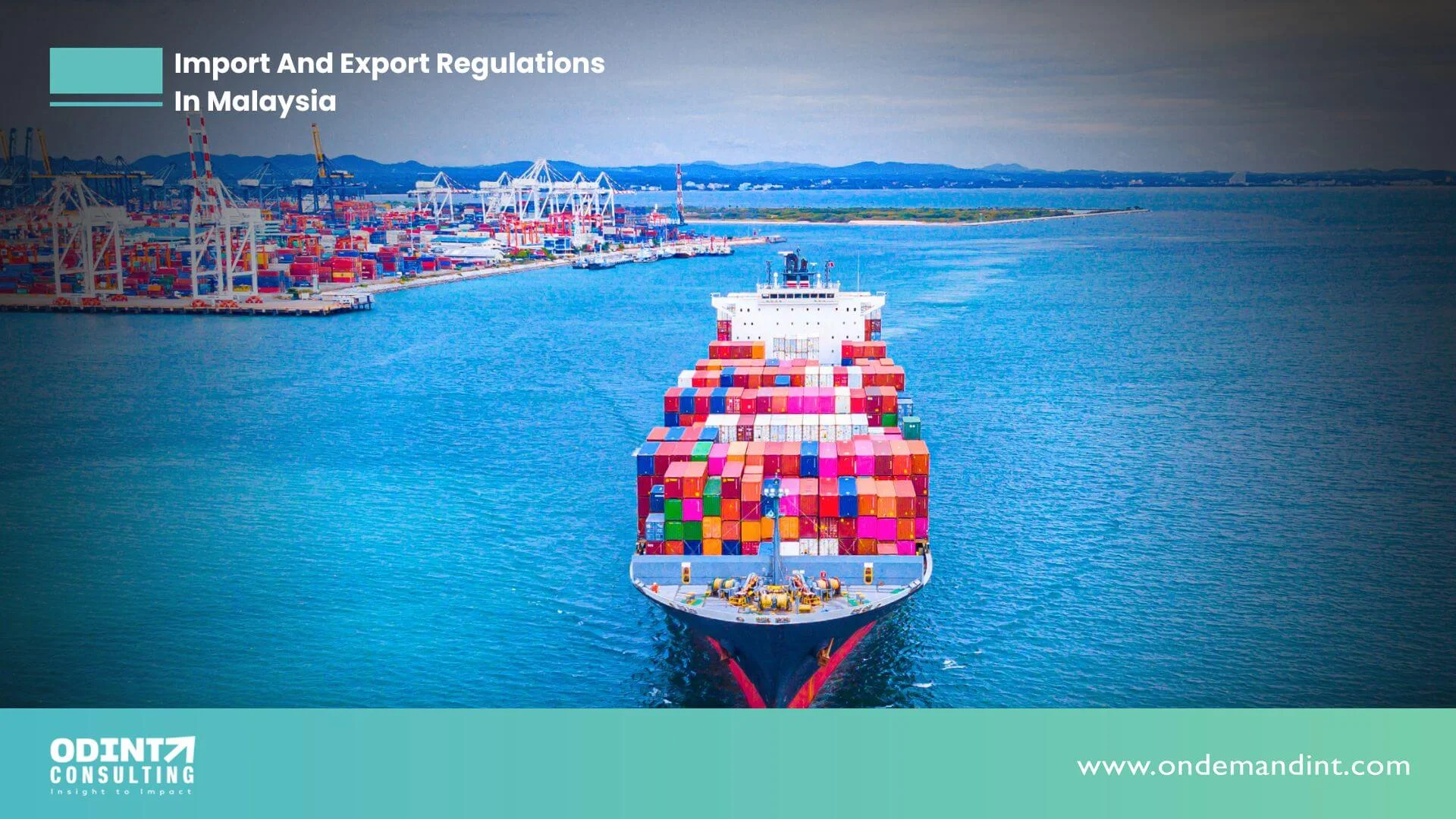 Facilitating trade in Malaysia is the responsibility of the Ministry of International Trade and Industry (MITI), while the Royal Malaysian Customs Department (RMCD) is in charge of clearing import, export, and transit-related commodities. The Customs Act of 1967 regulates imports and exports. The import and export regulations in Malaysia are meant to promote commerce while defending the country's interests and guaranteeing consumer protection.
Through this article, we will be explaining the import and export regulations in Malaysia. We will explain the concept of import and export licensing, import and export duties, and free trade agreements. 
Import and Export Licensing
When discussing import and export regulations in Malaysia, need to be aware of the licenses and permits needed for importing and exporting. To avoid being turned away by customs officers, traders who engage in business in Malaysia must have a thorough awareness of the licensing program for imported and exported goods. Traders should initially be registered with the Companies Commission of Malaysia prior to importing or exporting items that need a license.
Import Licencing
A license or permit from the appropriate regulatory body is needed to import specific items into Malaysia. These permits are used to govern the importation of delicate products as well as regulate particular businesses while ensuring safety requirements. The MITI, the Ministry of Health, and other organizations are in charge of regulating the issuing of import licenses.
When importing controlled items including medicines, chemicals, weapons, and some agricultural goods, importers must secure the relevant licenses or permissions. Fines, charges, and the seizure of products may be imposed for failing to adhere to import licensing regulations.
Export Licensing
Similar to import restrictions, some products must have export licenses or permissions before they can be shipped outside of Malaysia. These permits are intended to regulate the export of sensitive commodities, safeguard the nation's safety, and adhere to international accords. Appropriate authorities, such as MITI, provide export licenses. While exporting controlled products like guns, items derived from wildlife, cultural artifacts, and specific agricultural commodities, exporters must have the relevant licenses.
Paperwork Necessary for Importing and Exporting
Traders are required to give the following documentation to customs officers when carrying products within or outside of Malaysia.
Declaration of Export or Import for Customs

Package List

Business Invoice

Authentication of Origin

Invoice of Shipping

Permits and licenses
Restricted Commodities under Import and Export Regulations in Malaysia
Import Restrictions
The following products are examples of those whose importation is strictly forbidden:
Recreation of any currency, or piece of cash that is presently in circulation anywhere.

Offensive artwork, photography, prints, etc.

Anything that could be used to harm Malaysia's interests or be inappropriate for maintaining peace.

Toxic substances, etc
The following commodities cannot be imported without permission or permit from the appropriate authorities:
Explosives and Fireworks

Replica weapons, toy guns, and pistols

Steel helmets, bulletproof clothing, and various types of equipment as a defense against attacks.

Motorized vehicles.

Insecticides are utilized in homes and on farms.

Dangerous or toxic wastes

Medication-related goods etc
Illegal Drugs
Drug traffickers are hanged to death as part of their punishments. 
Illegal substances including morphine, heroin, marijuana, etc., cannot be imported or exported under any circumstances. Only those with a license from Malaysia's Ministry of Health are permitted to import or export prescription medications into the nation.
Export Restrictions
Export of the items listed below is strictly forbidden:
Turtle eggs

Rattan from the Malaysian Peninsula.
Some of the products that need an export license or authorization from the appropriate authorities include the following:
Poultry

Arms and weapons

Fresh, cooled, or frozen vegetables that weigh more than 3 kg in each shipment.

Antiquities as they are described or specified in Malaysian written law

Military clothes and accessories
Import and Export Duties and Taxes
When importing and exporting commodities not made in ASEAN countries, Malaysia uses the Harmonised Tariff System (HTS). Malaysia adheres to the ASEAN Harmonised Tariff Nomenclature (AHTN) for imported and exported commodities from ASEAN member nations.
Import Duty
When merchandise is imported into the nation, it is subject to import duties. While they are typically assessed on an ad valorem basis, import duties can also be applied on a particular basis. Ad valorem import duty rates can range between 2% and 60%.
Export Duty
Except for Malaysia's principal exports (such as crude oil and palm oil), almost all goods are duty-free for export. The rates that apply range from 0% to 15%, depending on how the items are classified.
Free Trade Agreements in Malaysia
Malaysia has negotiated a total of 16 free trade agreements (even bilateral and nine regional free trade agreements) with different nations and economic groups. With these FTAs, Malaysia and its trading partners can import and export specific items with preferential treatment, promoting trade liberalization and improving market access. 
Book end-to-end experts consultation with Odint finance and legal experts
For companies engaged in international trade, understanding import and export regulations in Malaysia is crucial since it promotes the legal flow of commodities. Importers and exporters should become acquainted with the specifications, licensing procedures, and trade limitations that apply to their products. Additionally, Malaysia and the nations it trades with will be able to import and export particular goods with special consideration due to the country's free trade agreements, increasing trade liberalization and enhancing market access. 
For any inquiries on import and export regulations in Malaysia, our experts at Odint Consulting are ready to provide assistance and guidance tailored to your needs. Contact us for expert support.
Meet Apurva Gaur, an accomplished and dedicated Company Secretary, whose passion for corporate governance and legal compliance has shaped her remarkable journey in the business world. With a wealth of experience and a keen eye for detail, Apurva has emerged as a leading authority in the field of corporate governance, earning accolades for her invaluable contributions to the companies she serves.