Company Registration In Malaysia in 2023-24
Malaysia is a nation in Southeast Asia that has territory on both Borneo Island and the Malay Peninsula. Malaysia is one of Southeast Asia's thriving business centers, where both the governmental and private sectors participate equally.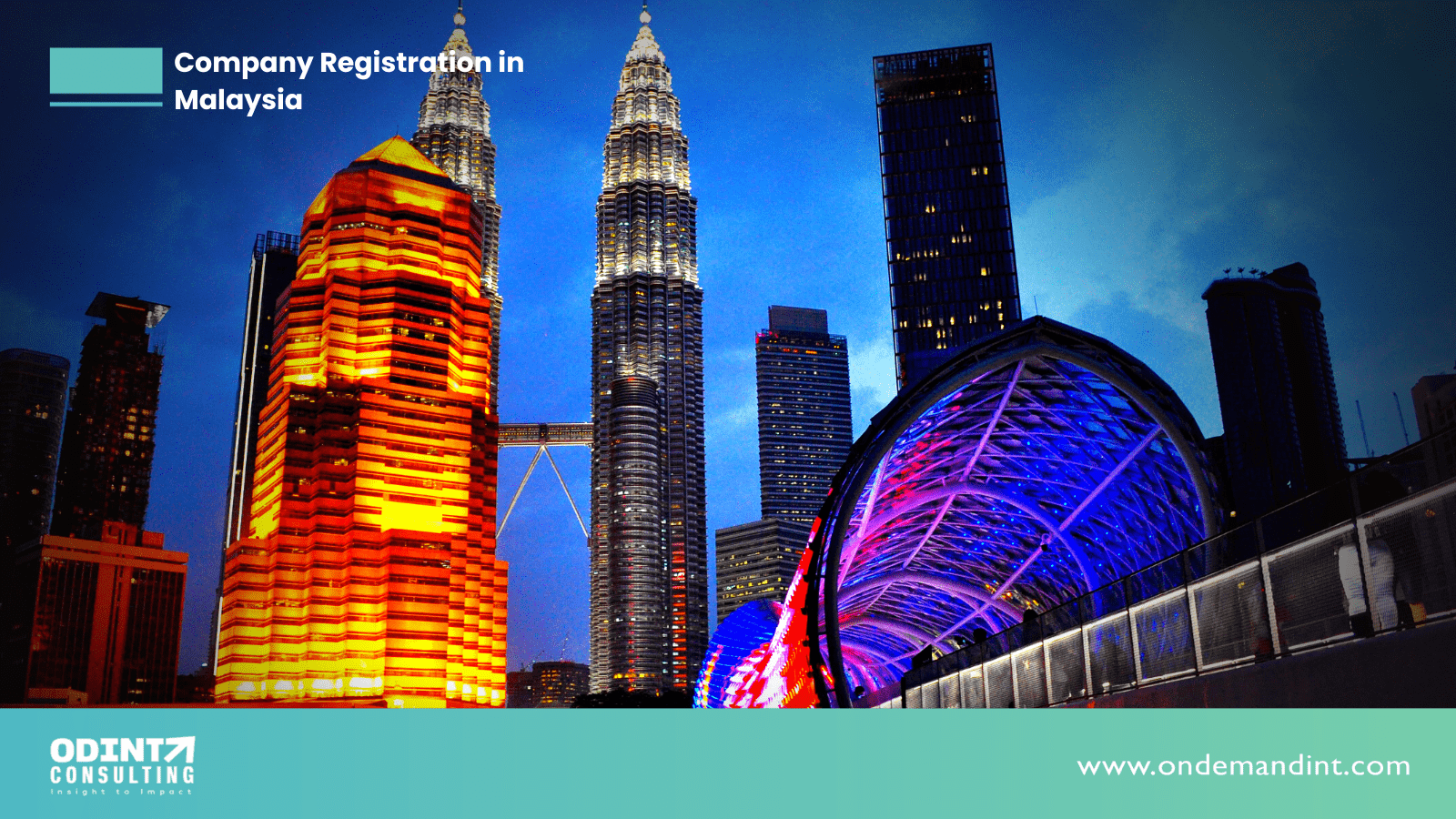 According to the World Bank's Ease of Doing Business Survey, Malaysia is among the friendliest countries in the world to conduct business. Since the 1970s, Malaysia's economy has transformed from being mostly reliant upon the export of raw resources to one of the most stable, diverse, and quickly growing in Southeast Asia. Malaysia has an abundance of natural resources, which contribute significantly to its GDP. 
The manufacturing industry has emerged as the engine driving the country's economic expansion and accounts for almost one-third of Malaysia's GDP and employs a larger fraction of the labor force than all other major industries combined.
Tourism, manufacturing, and petroleum are several industries that have attracted entrepreneurs from all over the world to register a company in Malaysia. This article discusses how an entrepreneur can register a company in Malaysia. It will further describe the paperwork needed, qualifications, fees, and benefits of company registration in Malaysia.
Procedure for Company Registration in Malaysia
Company registration in Malaysia can be done using the following steps:
Search and reserve a business name
The first step for Malaysia company registration is to select a name for the business. To determine whether the selected name is obtainable, the entrepreneur must perform a  name search. If the selected name is available, it must be reserved with the relevant authority.
Select the type of business structure
The next step involves choosing the business structure that the entrepreneur wishes to incorporate.
Submit an application for business registration
For Malaysia company registration, fill out the Business Registration Form and provide the information on your firm's foundation. Submit the form and the necessary paperwork to Suruhanjaya Syarikat Malaysia (SSM).
Submit the Declaration 
A declaration has to be provided by the applicant in order to register a company in Malaysia. The declaration must say that all of the details included in the business registration form is accurate to the best of the individual's knowledge.
Notice of Registration
The SSM will analyze and examine the application after it has been submitted and look for any inaccuracies. The SSM will send the applicant a registration notification if there are no application-related issues.
Acquire the Certificate of Incorporation
The SSM shall issue the entrepreneur a Certificate of Incorporation if the registration form is submitted in accordance with the registration requirements and includes the required licensing fee, documentation, and attestations.
Acquire business licenses
In order to conduct commercial operations in the country, the newly incorporated firm has to acquire various business licenses from the appropriate authority. Depending on the type of business activity your company is involved in, our professionals at OnDemand International can help you apply for the business license.
Documents Needed for Company Registration in Malaysia
To register a company in Malaysia, the following documents are necessary: 
Application for business name reservation

Information on the commercial operations to be conducted

Copies of each shareholder's and director's passport

Percent of every shareholder's shares 

Office address in Malaysia

Details regarding paid-up capital
Business Entities for Malaysia Company Registration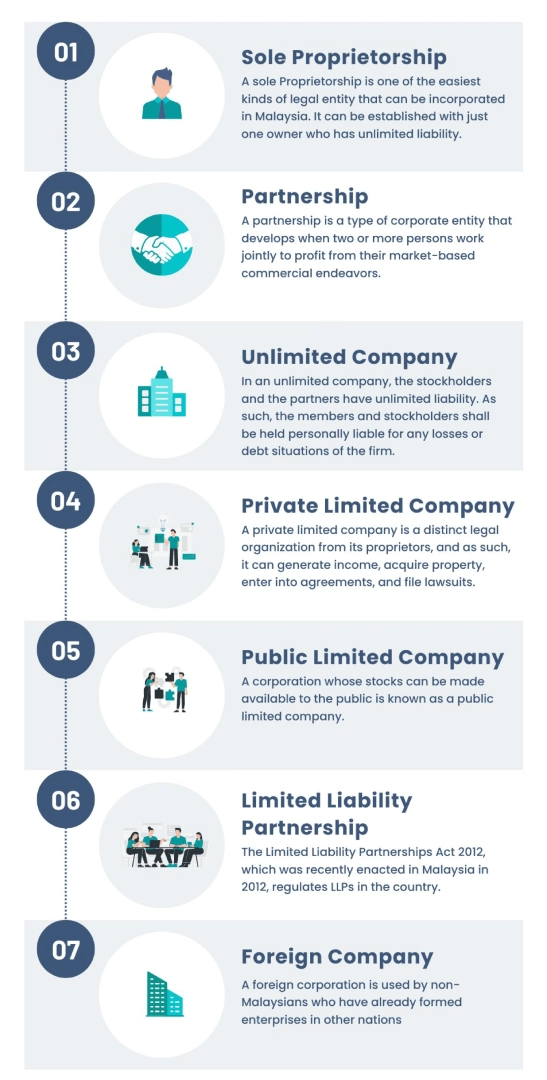 The various business entities for company registration in Malaysia are listed below:
1. Sole Proprietorship
A sole Proprietorship is one of the easiest kinds of legal entity that can be incorporated in Malaysia. It can be established with just one owner who has unlimited liability. In the event of bankruptcy, the proprietor's private earnings or possessions may be utilized to pay off the business's debts and liabilities.
2. Partnership
A partnership is a type of corporate entity that develops when two or more persons work jointly to profit from their market-based commercial endeavors. A partnership can have up to 20 partners. Each member in a partnership must be a Malaysian national or a resident of Malaysia on a permanent basis. A partnership's members are solely responsible for the debts and obligations of the business.
3. Unlimited Company
In an unlimited company, the stockholders and the partners have unlimited liability. As such, the members and stockholders shall be held personally liable for any losses or debt situations of the firm.
4. Private Limited Company
A private limited company is a distinct legal organization from its proprietors, and as such, it can generate income, acquire property, enter into agreements, and file lawsuits. The proprietors of a private limited company will only be responsible for the sum that they have invested in the business. The stockholders' personal property will not be seized in the event of loss or bankruptcy.
5. Public Limited Company
A corporation whose stocks can be made available to the public is known as a public limited company. Public limited corporations are regulated by the Securities Commission of Malaysia and are traded on the stock exchanges.
6. Limited Liability Partnership
The Limited Liability Partnerships Act 2012, which was recently enacted in Malaysia in 2012, regulates LLPs in the country. A Limited Liability Partnership includes the traits of a partnership and a company. A partnership must have at least two partners in order to be founded, although there is no maximum number of partners in the case of an LLP firm.
7. Foreign Company
A foreign corporation is used by non-Malaysians who have already formed enterprises in other nations and wish to create a corporate branch or representative office in Malaysia for operational or customer service purposes.
Eligibility for Malaysia Company Registration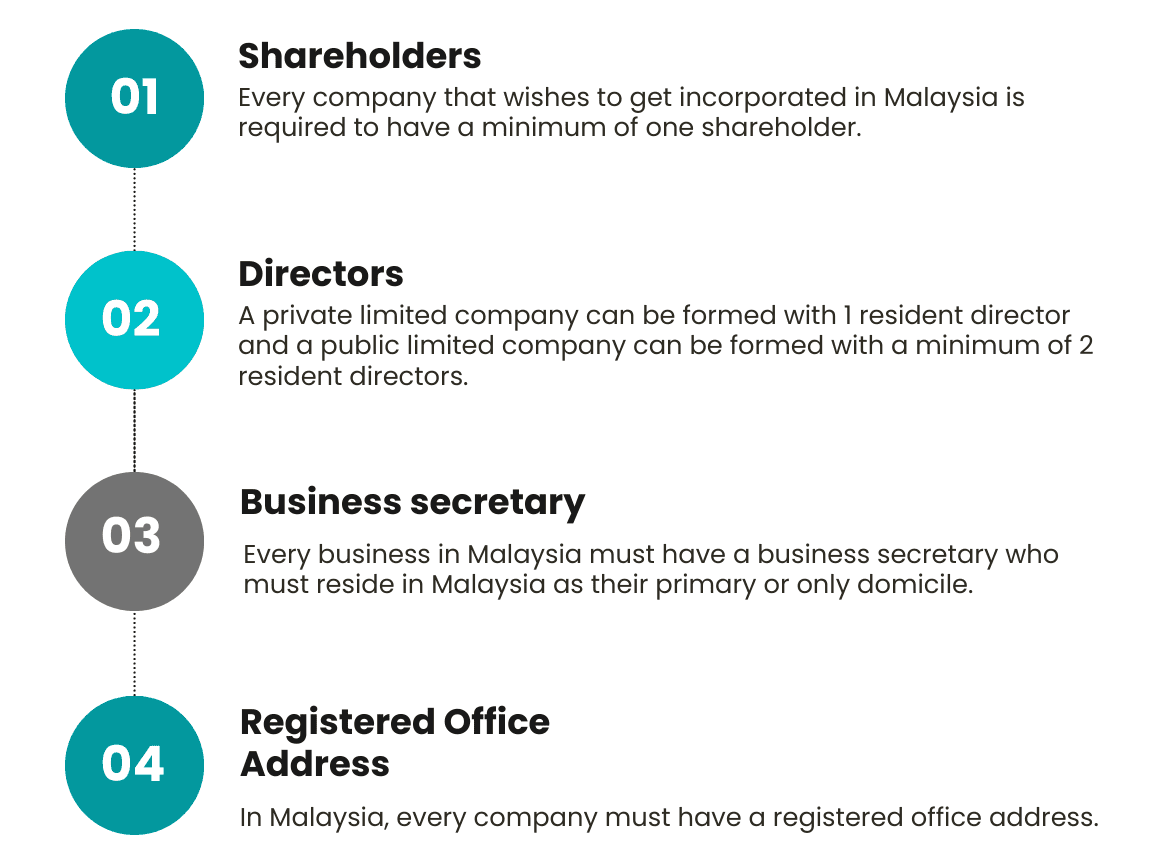 The eligibility criteria for Malaysia company registration are listed below:
Shareholders:

Every company that wishes to get incorporated in Malaysia is required to have a minimum of one shareholder.

Directors:

A private limited company can be formed with 1 resident director and a public limited company can be formed with a minimum of 2 resident directors.

Business secretary:

Every business in Malaysia must have a business secretary who must reside in Malaysia as their primary or only domicile.

Registered Office Address:

In Malaysia, every company must have a registered office address.

Capital Requirement:

In Malaysia, the minimal paid-up capital required to create the business is MYR 1.

 
Tax Structure in Malaysia
In Malaysia, there are numerous forms of direct and indirect taxes that apply to both persons and businesses. The several sorts of taxes you will incur in Malaysia are listed here.
Personal income tax:

A non-resident person pays a fixed tax of 30% on all of their taxable earnings.

Corporate income tax:

For residents as well as foreign businesses corporate income tax (CIT) is levied on earnings arising in or generated from Malaysia. Malaysia's basic corporate income tax rate is 24%.

Service tax:

Service tax for all taxable services is charged at a rate of 6%.

Stamp duty:

Legal papers are subject to a tax known as stamp duty, which is separated into fixed and ad valorem rates.
Cost to Register a Company in Malaysia
If an entrepreneur wishes to incorporate a business, the entrepreneur must consider the cost to register a company in Malaysia. As per the Companies Act 2016, a minimum registration fee of MYR 1,000 is charged by SSM to register a company in Malaysia. In addition to that, an entrepreneur has to pay for various other expenses such as business license fees, bank account opening charges, etc.
Why Register a Company in Malaysia?
Malaysia is one of ASEAN's biggest and most successful economies.

The nation's GDP per capita ranks 3rd among ASEAN countries.

Due to Malaysia's advantageous position, it is simple to enter Asian marketplaces, which encourages regional growth.

Businesses in manufacturing, agriculture, hospitality, tourism, or any other economic or business sector that engage in a promotional activity or create a promoted good, may qualify for either pioneer status or investment tax exemptions.

Malaysia has a number of liberalization initiatives that encourage foreign investment in a number of significant industries.
Advantages of Company Registration in Malaysia
Here are the numerous advantages of company registration in Malaysia:
In Malaysia, transportation and communication systems are highly developed.

With respect to other Asian countries, the price of starting a business is quite low in Malaysia.

Due to the numerous double taxation agreements Malaysia has signed with other nations, profits received in Malaysia are not subject to double taxation.

Dividends received outside of Malaysia are not subject to withholding taxes.

Seventy percent of people in Malaysia speak English, making it simple for international entrepreneurs to interact with local workers.

2020 World Bank rankings for ease of doing business place Malaysia at number twelve.
Malaysia company registration is an excellent option for entrepreneurs from all over the world due to the nation's strategic position, abundant natural resources, favorable business climate, low registration costs, etc. Malaysian economy ranks as the 5th largest in South East Asia and is placed in the 38th position globally in terms of its GDP. In addition to that, Malaysia has a steady economy which presents fewer risks to foreign businesspeople and investors. The country also has a population of over 34 million highly trained individuals who speak English fluently, a high level of living, and access to high-quality education, making it a desirable place to start a business.
If you wish to do company registration in Malaysia, you can consult our business experts at OnDemand International. Our experts will guide you with the necessary requirements and will help in register a company in Malaysia.