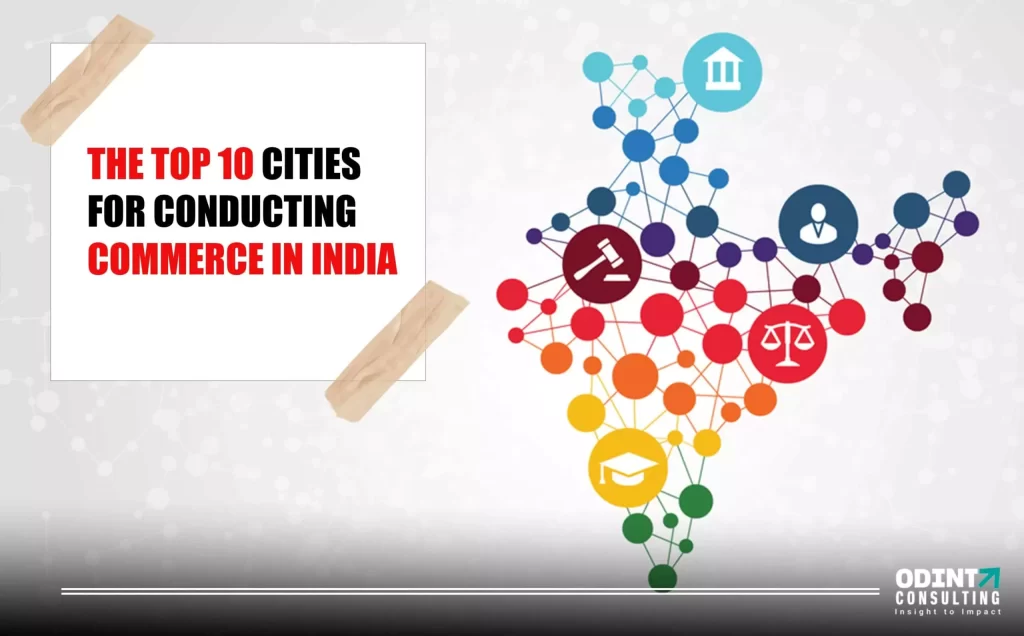 Top 10 Cities for doing Business in India
According to the report of the World Bank's 2020 on business-friendly practices, India is standing at the Sixty-three position out of 190 countries. India is improving its standing by 79 positions in five-time spans (2014-2019).
However, the crucial reasons behind this improvement in the ranking were the implementation of India's Insolvency and Bankruptcy Code and Goods and Service Tax. Globally, and in addition to China, India is emerging as a promising destination to conduct business. 
Innovation in the fields of infrastructure, science & technology, and even specialization in services & a proficient, English-speaking, also it has affordable labor force gives India an edge. India is becoming the leading marketplace for Foreign Direct Investments (FDIs). 
According to UNCTAD's 2020 global investment report, FDI inflows have reached a record of USD 51 billion in the year 2019 and a 20% increase in comparison to the year 2018.
Best Cities For Doing Business In India
The location where you begin the business is the most important factor that determines the possibility of expansion and growth due to access to the most skilled employees and investors, raw materials, and investors. 
 If you're thinking of setting up an enterprise in India and want to know more, here this list contains the best 10 places in which you can do business in India
Mumbai
Beginning an enterprise in Mumbai could provide the opportunity to access finance and skilled workers, as well as already established infrastructure.
Each of the banks with a long history has its headquarters in Mumbai which businesses can use to get a loan faster (short or long-term) processing.
To make it easy to travel and connect, Mumbai has Chhatrapati Shivaji International Airport which is the second most crowded airfield in India. Mumbai Port Trust and Jawaharlal Nehru Port Trust are two of the major ports that facilitate the import and export of goods coming from India.
Mumbai is linked to a variety of National highways, including the Mumbai-Pune Expressway and Bandra-Worli's Sea Link Bridge, which offers numerous road transport services.
New talent is a great way to get into institutions such as IIT-Bombay, Narsee Monjee Institute of Management, Jamnalal Bajaj Institute of Management, and a host of other institutions that would create an effective and efficient workforce.
There are, however, issues to be faced when doing business in Mumbai like the increasing population, rapid growth in property prices, high cost of day-to-day expenses, etc.
There are opportunities & challenges, and as the capital of finance in India, Mumbai has solutions to all problems, making it among the top cities to conduct commerce in India. Startups that have made it big from Mumbai are Quikr, Booksmyshows.com, Nykaa, and others.
Delhi
Apart from being the Capital of the nation, Delhi is known for its harsh climate, which is not the case in Mumbai. Delhi is the very first of the states in the country to begin Metro projects. Delhi metro boasts an infrastructure of more than 280 stations that connect Noida, Ghaziabad, Gurgaon, Faridabad, etc.
 It is a vast network of National railways and highways. While the population of Delhi is similar to that of the Mumbai population, it's not as populated, making it easier to access infrastructure.
The city has a number of major institutions such as IIT Delhi, Jawaharlal Nehru Institutes, New Delhi Institute of Management, and many other institutions that are known for their academic excellence and quality. Delhi is home to firms that are involved in government-funded projects.
The main obstacles to doing business in Delhi are air pollution and safety for women and Migrant workers. The mass media and government offices for clearance are helpful to conducting business in Delhi which makes it among the top cities to conduct commerce in India.
Bangalore or Bengaluru
Bangalore is often referred to as being the capital of tech or Silicon Valley of India. The city is the capital city of Karnataka which has more than 5 million inhabitants, which is the third-highest in India. 
Bangalore is India's leading Information Technology (IT) exporter with a third of the total software exports. The major tech giants are Infosys, Accenture, Wipro, Cisco, etc. Indian space research institute is located in Bangalore. Bangalore.
Kempegowda International Airport Bengaluru is the fourth busiest airport in India. Bangalore has connections to Indian National highways and railways that allow for the movement of passengers and goods.
IIM Bangalore, Indian Institute of Science, National Centre for Biological Sciences as well as Jawaharlal Nehru Centre for Advanced Scientific Research are among the top institutions within Bangalore. Bangalore provides access to an experienced and innovative workforce.
Many of the most renowned companies like Urbanladder, Hector beverages, and Zoom car began their ventures in Bangalore. This is a great location for businesses that depend on technology. Businesses that are not heavily dependent on technology are located in Bangalore to enhance their processes and Systems.
Pune
Pune is located in Maharashtra and is close to Mumbai. It's a rare possibility for companies to have an office in Pune and yet have access to customers, capital markets, suppliers, and Mumbai.
Businesses can be found situated in Pune and be operating in Mumbai because of the Mumbai-Pune Expressway, which has six lanes.
Because the cost of real estate in Pune isn't too high businesses can benefit from this affordable real estate. Pune is very well connected to the road which connects major cities such as Bangalore, Mumbai, Goa, and Hyderabad. Pune International Airport is located in Lohegaon about, 10 km away far from Pune city.
Major institutions such as Deccan College Post-Graduate and Research Institute, Indian Institute of Science Education and Research, and Symbiosis International University, are all located in central Pune and provide an exceptional and talented workforce that can be employed and expand companies.
Tech giants such as Infosys, Tata consultancy services, and Accenture Solutions provide technical assistance and other infrastructure that is easily built. 
Maharashtra government plans to increase FDI within Maharashtra state such as MahaParwana (Mega Permission) Scheme are available to entrepreneurs who want to establish a company in Pune. These are what make Pune one of India's top cities for businesses to establish in India.
Indore
In an annual survey on cleanliness carried out by the Government of India, Indore was ranked as the cleanest city in India to be ranked fourth in 2020. The study considered a variety of parameters and a population of 1 million as the minimum requirement for being considered the city.
The survey is focused on cleanliness as a metric more suitable to measure the quality of life, it showcases the government's efforts to make Indore an economically-oriented city. As it's located along the Mumbai-Delhi corridor Indore is well connected to the national highway network. 
Even if you're not planning to build a headquarters in Indore it could prove to be an excellent location for IT, technology middle-office, and IT operations. The city hosts several institutions such as IIM Indore and has been offering access to competitive the best talent.
Hyderabad
Hyderabad is considered to be the capital city of Telangana state. It is renowned for its talented workforce and IT culture. Before Bangalore was a major technological center, Hyderabad was a major city of Information Technology. Hyderabad is most well-known for its pharmaceutical companies such as Dr. Reddy's Lab and Divis Lab.
In recent years, several Biotechnology parks, like Genome Valley, Nano Technology Park, and Fab City are being developed and established. Technology giants like Microsoft, Amazon, Bank of America, and Facebook have come to know Hyderabad to conduct business in India.
Hyderabad is a city that Hyderabad is a great place to offer companies, including skilled workers and capital, and also help from the government to set up and grow. 
Institutions such as Hyderabad's IIT Hyderabad, Tata Institute of Fundamental Research, and NMIMS are notable institutions located in Hyderabad that offer a unique opportunity to tap local talent.
Rajiv Gandhi International Airport is located in the city of Hyderabad that provides utilities for businesses in the transportation of goods, business meetings, and easy access to anywhere in the globe.
A majority of the industry is related to the service sector, such as biotech, pharmaceuticals, and technology. If your company is within the service industry, Hyderabad is a great choice for you.
Chennai
Other cities function as autonomous hubs Chennai is best as an access point for India's South Indian market. The city, formerly known as Madras is among the top cities to set up your business if you wish to know if your products and services can be utilized in the Southern region of India or not.
Chennai is a city with a literacy rate that is higher than 80%, which means that finding the best talent will not be a challenge. 
The reason Chennai has been included on the list is due to the city's government's efforts in creating the SEZs and Software Technology Parks of India within the city. Chennai is also the home of IIT Madras which is considered one of the most prestigious IITs in the nation.
Nagpur
Nagpur is the biggest town in Central India and is the third-largest in terms of inhabitants in Maharashtra state. Nagpur is a major commercial Financial, Political and Political hub for the Vidarbha region of Maharashtra. It is famous for its Oranges Mangoes, and Oranges. However, there are many business opportunities in this city.
The Sitabuldi market located in Central Nagpur is known as the city's heart. Nagpur is famous for its synthetic polyester yarn. The city also houses two thermal stations referred to as the name Koradi Thermal Station & Khaparkheda Thermal Station that supply electricity for the entire city.
There are over 800 MSMEs located in Hingana Industrial Estate. Hingana Industrial Estate. The largest production units include those of the Tractor Manufacturing Unit of Mahindra & Mahindra and the Bajaj Auto group. Dry food producer Haldiram & Ayurvedic products company Vicco is situated in this city.
Nagpur also is home to the Multimodal cargo hub and Airport which makes it easy for companies to start an enterprise in Nagpur.
Kolkata or Calcutta
Kolkata is the capital of one of the most prestigious IIM in the nation. Additionally, it is extremely close to the sugarcane and jute sectors in India. If you are planning to start an enterprise that involves mining and similar areas, Kolkata should be the city you choose to operate in.
The city is currently building its infrastructure. It has also hosted several businesses such as Coal India, Emami, Sterlite Copper, Vikram Solar, Tata Steel, and Spencer's Retail. 
While many think of the city as an important hub for art and culture, it's ideal for the establishment of the foundation of a new company.
Noida & Gurgaon
In contrast to their counterparts, Noida and Gurgaon are two distinct cities. However, it is not enough to talk about one without addressing the other. Gurgaon is the tech service, IT, and services hub with global firms establishing their presence in the city. 
But, the majority of Gurgaon is surrounded by IT and corporate parks. The availability of talent is facilitated through Noida which is within the city. Therefore, many people choose to reside near Noida while working in Gurgaon. 
If you can manage to counter this dynamic, you'll have access to a marketplace of people who have rapid social mobility, as well as suppliers, investors as well as infrastructure for business.
Select the City that is Best Suited to Your Company's Needs
There are a variety of other cities, like Ghaziabad, Noida, Vishakapatnam, and many more, each with their specific industries. Companies must be aware of the needs of the people living in their cities and ensure that their systems are in place. 
There are many important considerations to be considered, such as workers, the products they use raw materials, customers, and market dynamics, as well as the problems in cities, have to be taken into consideration when selecting the right place to establish the business, as it will affect the future development and possibilities for the company.
The current ecosystem in the city, as well as the main strengths and capabilities of the company, must be analyzed with care. It is suggested to set up an organization that is suited to local, national, and international markets. 
Book end-to-end experts consultation with Odint finance and legal experts
Businesses can create diverse business verticals across different cities according to the requirements of their company. They can also explore the most efficient use of resources. 
This will also enable companies to establish a presence in the most prestigious cities to do trade in India.
If you wish to establish your business in one of these top listed cities in India, we are ODINT Consultancy, here to help you out in each & every step of yours.
Meet Apurva Gaur, an accomplished and dedicated Company Secretary, whose passion for corporate governance and legal compliance has shaped her remarkable journey in the business world. With a wealth of experience and a keen eye for detail, Apurva has emerged as a leading authority in the field of corporate governance, earning accolades for her invaluable contributions to the companies she serves.