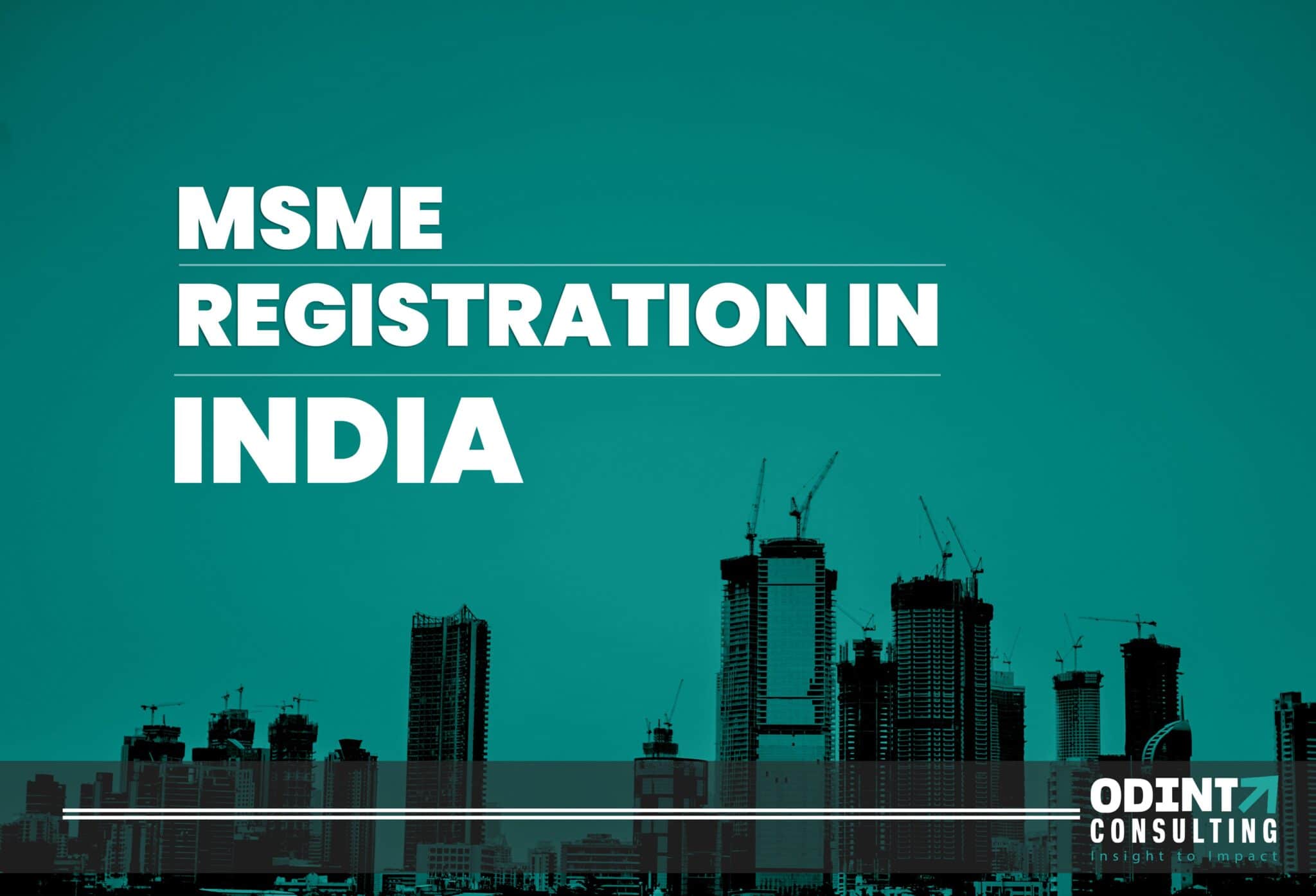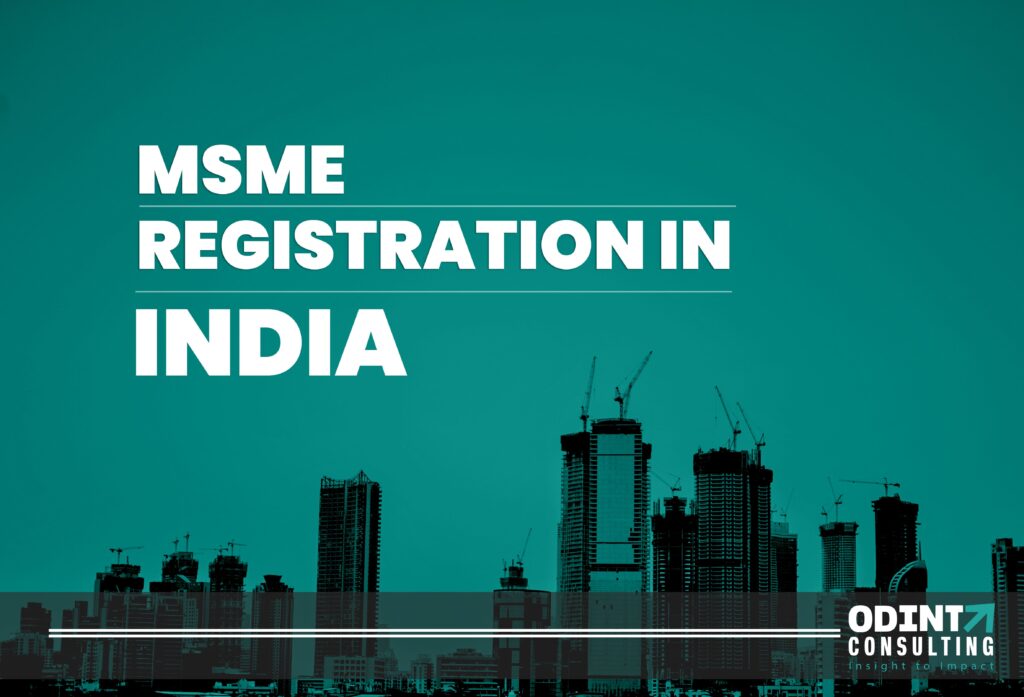 MSME stands for Micro, Small, and Medium Enterprise. The Micro, Small, and Medium Entrepreneurial Development Act, 2006, was enacted by the Indian government. MSME organizations specialized in the manufacture, fabrication, handling, or maintenance of goods and materials are established and overseen by the Ministry of MSME.
MSME businesses are the engine of economic growth in a growing nation like India. Since these industries prosper, the economic benefits of the entire grow and develop. The MSME Act provides for registration in both of these classifications if the firm is in the transport and distribution businesses in India. Although the administration has not made this certification essential, it is advantageous to have one's company established under it because it offers multiple gains in terms of revenue, commercial setup, financial institutions, and mortgages.
Existing & Revised Classification Of MSME
| Sector | Criteria | Micro | Small | Medium |
| --- | --- | --- | --- | --- |
| Existing Classification |   |   |   |   |
| Manufacturing | Investment | <25 lakhs | <5 crores | <10 crores |
| Services | Investment | <10 lakhs | <2 crores | <5 crores |
| Revised Classification | | | | |
| | Annual Turnover & Investment | <1 crore & <5 crores | <10 crores & <50 crores | <50 crores & <250 crores |
Traditionally, MSME categorization was determined by factors such as factory and hardware expenditure. Because they couldn't extend their company further, these reduced restrictions were destroying their will to expand. In addition, there has been a long-standing clamor for the MSME categorization to be revised so that they may grow their activities while still receiving MSME privileges.
Features of MSME Registration
It provides jobs, loans, and other services for various workers and artisans.
They encourage the growth of small enterprises and also improve and upgrade the skills of entrepreneurs.
They provide the bank with credit facilities.
It supports the modernization, development, and upgrading of technology and skills.
It promotes the growth of the economy by helping large-scale enterprises or through other services.
Documents Required For MSME Registration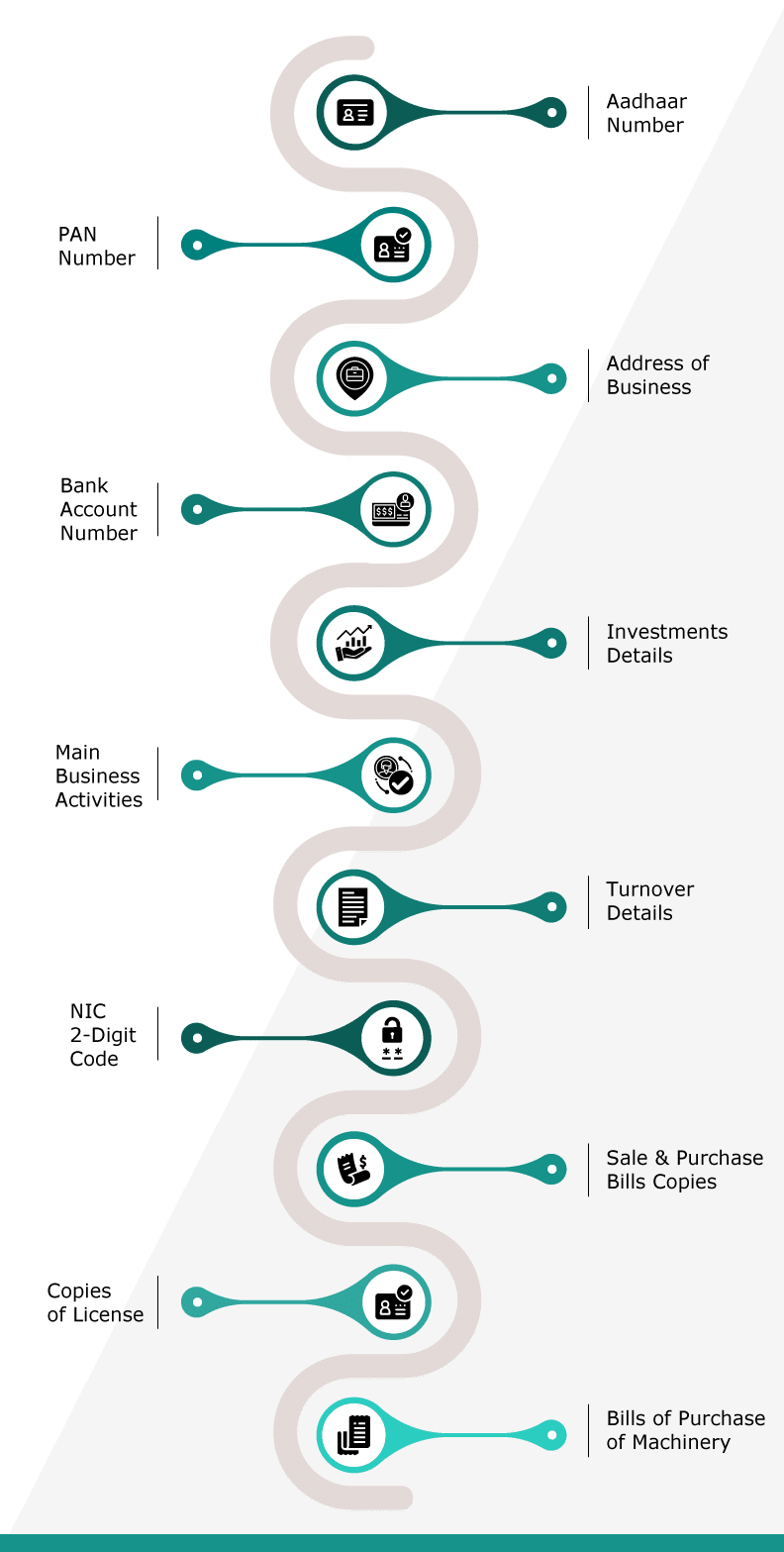 Aadhaar number
PAN number
Address of business
Bank account number
Investments details
Main business activities
Turnover details
NIC 2-digit code
Sale and purchase bills copies
Copies of license
Bills of purchase of machinery
MSME Registration Certificate Fee

An individual can qualify for an MSME credit obtained from the annual revenue of his or her firm by evaluating financing options from multiple banking institutions and completing and uploading online financial registration forms. Candidates can apply for MSME certification at no charge by going to the company's official web page and filling up a digital application. 
Procedure for MSME Registration
The procedure for MSME registration can be completely done digitally via the portal of udyamregistration.gov.in. For MSME online registration, click here.
Here is the procedure for MSME registration in India:
Visit the company's website 
Go to the Udyam Registration portal (https://udyamregistration.gov.in), which was established by the Ministry of Micro, Small, and Medium Enterprises.
Enter the Aadhaar number 
On the following page, put in the Aadhar number as well as the name of the business owner and click on "Validate and Generate OTP Button". The PAN Verification window appears after clicking this button, receiving the OTP, and entering it.
Provide the PAN Details 
Entrepreneurs must provide the "Type of Organisation" and PAN Number before selecting "Validate PAN." The site confirms the business owner's PAN number after obtaining the PAN information from government records.
Provide necessary details
The Udyam Registration form will show up once the PAN has been verified, and the entrepreneurs must fill it out with their personal information and business information.
Receiving the Udyam Registration Certificate 
Click the "Submit and Get Final OTP" button after entering the information regarding the investment and turnover and choosing the form to submit. The Udyam Registration Certificate will be provided via email after the OTP has been delivered, entered, and the application is submitted. 
Note: The Udyam Registration Portal allows business owners to view the status of their MSME registration. 
Required Information For MSME Registration Certification

Details of the bank

Proof of the income

Pan Card (Business)

Bank statement of the last 6 months

Agreement of the rent

NOC provided by the landlord

Candidate's KYC documents

An official application form with photographs and signature pictures is required.
The MSME Helpline number is 011-23063288. You can also mail them at [email protected]. 
For certificate related issues you can contact at 011-23063288
For any technical related issues or queries, you can contact at 011-2306354
Who is eligible to apply for Udyam registration?
Applying for MSME registration is open to all manufacturing, service, wholesale, and retail businesses that meet the updated MSME classification requirements for yearly sales and investment. As a result, an organization's yearly sales and investment determine whether it qualifies for MSME registration. 
The following organizations are qualified to register as MSMEs:
Individuals, small businesses, and business owners

Both public and private limited businesses

Sole Trader

Partnership Company

Limited Liability Partnerships (LLPs)

SHGs (Self Help Groups)
Benefits Of MSME Registration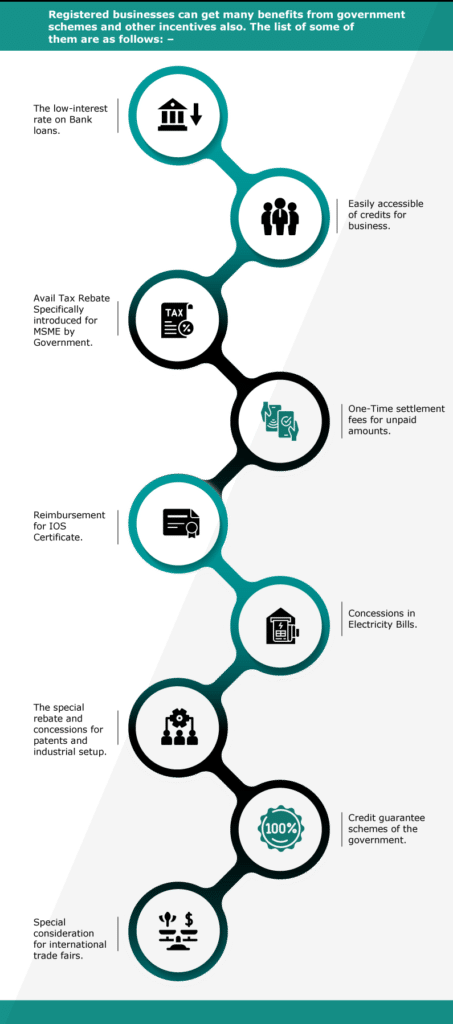 Registered businesses can get many benefits from government schemes and other incentives also. The list of some of them are as follows: –
The low-interest rate on bank loans.
Easily accessible of credits for business.
Avail tax rebate specifically introduced for MSME by government.
One-time settlement fees for unpaid amounts.
Reimbursement for IOS certificate.
Concessions in electricity bills.
The special rebate and concessions for patents and industrial setup.
Credit guarantee schemes of the government.
Registration subsidies.
Special consideration for international trade fairs.
Government Schemes For MSME
The Indian government is implementing a number of initiatives to aid the MSME industry's growth and efficiency, they are as follows:
The Employment Creation Scheme of the Prime Minister:
This program was implemented at the national scale by the Khadi and Village Council, to create employment by self and create possibilities for both qualified and unqualified individuals. According to a press statement by India's Road, Infrastructure, and Highways Secretary, Nitin Gadkari, an anticipated 45.22 lakh people will be employed, and 5.45 lakh small businesses will be supported with a border funding incentive of Rs 12,074 crores.
Memorandum on Udyog Aadhaar:
The Udyog Aadhar Memorandum is among the Indian government's programs that require the use of an Aadhaar number. The benefit of participating in these initiatives is that you can obtain government finance, contracts, and incentives. Participants have the opportunity of attending in any form of mode, digitally or in person.
Read More: UID Number
Women's Business Options:
This framework has been developed by the nation's MSME sector, specifically for women who desire to start their own company. Besides that, the country supports these women with loans, guidance, education, and distribution methodologies so that they can properly administer, maintain, and build their businesses.
Pradhan Mantri Mudra Yojana:
The program began in 2015, and then over the past two quarters, this established over 1.8 million jobs through MUDRA finance and entrepreneurship. Prime Minister Narendra Modi announced the opening of the Pradhan Mantri Mudra Yojana, under which Remortgage Authority Investment companies, Micro Vehicles Finance Companies, and MUDRA Banking institutions would provide minimal loan payments to non-banking banking firms and segments and sub-organizations, which will then provide affordable mortgages to MSMEs and setup.
MUDRA has three types under which loans can be given, they are as follows:
Shishu:

New firms that can get up to Rs 50,000 in credit.

Kishor:

A middle-aged company that can get a credit up to Rs 5 lakh.

Tarun: 

who owns and operates a thriving company, is eligible for a credit of up to Rs 10 lakh.
ZED Certification Program – where financial assistance is provided to SMEs:
This program is designed to promote both existing and upcoming production plants to produce quality goods with zero accidents and excellent quality. The Zero Defect and Zero Effect objective for producing zero-defect items. The goal is to make it easier for companies to embrace and boost student production techniques, as well as to use such technologies to optimize that their goods are the finest in the industry. The administration will include both technological and organizational support as well as tools to ensure that the items are defect-free.
Role Of MSME In Indian Economy
Micro, small and medium enterprise plays an important role in the Indian economy. It helps in the increase of GDP of India by manufacturing and other activities. They manufacture a variety of products for the domestic market and export also.
It had provided many employment opportunities for many unemployed individuals or artisans. By this, the unemployment rate reduced a lot. They collaborate and work with the government for the upbringing of rural areas. They employ in rural areas and also industrialized rural areas with low-cost capital in comparison to large-scale units. They are also working as a helping hand to large-scale industries.
Importance of Micro, small and medium enterprise in the Indian economy
It became the second-largest employment generation sector after agriculture by generating approximately 120 million employment opportunities.
It has increased its contribution up to 50% in Indian GDP.
It has 45 percent of contribution in export.
It promotes growth and improves the living status mainly of people from rural areas and of weaker sections.
It also creates opportunities for people to avail the of banking and finance facilities.
It promotes innovations by providing opportunities to new entrepreneurs.
The MSME government focuses hard to support micro, small, and medium businesses that are associated with production and processing. These MSME Programs are national initiatives that support the growth of the MSME industry. It also promotes our country's youngsters towards self-sufficiency. 
There are no registration fees associated with the MSME registration procedure, which can be done fully electronically. The procedure is easy to follow and quick to finish. The government offers financial help, assistance, tax breaks, access to financing, and a variety of programmes and incentives to MSMEs.