Open a Bank Account in Bahrain in 2023
If you're a foreigner living or planning to settle in Bahrain, opening a bank account is an important step to help you manage your finances.
Bahrain is one of the fastest-growing economies in the Middle East, and its banking system is well-established and highly regulated, making it a safe and reliable place to store your money.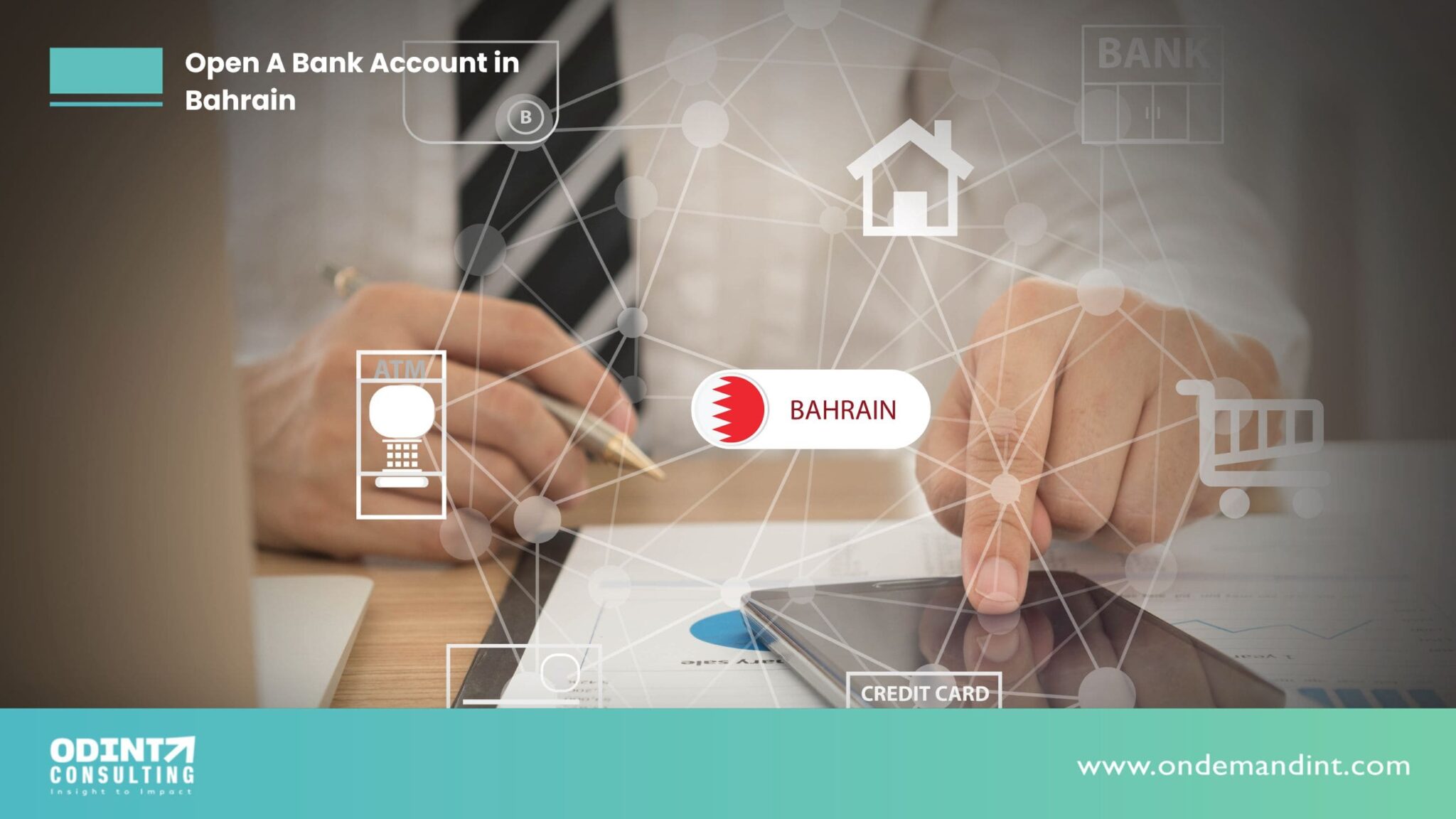 However, the process to open a bank account in Bahrain can seem overwhelming, with a range of banks and different types of accounts to choose from. Although, while choosing a bank, it is important to consider factors such as reputation, fees, convenience, account requirements, customer service, interest rates, and additional services.
By doing so, you can find a bank that suits your needs and provides you with a high level of security, convenience, and financial flexibility.
This article will guide you through the process of a bank account opening in Bahrain, providing you with the necessary information and tips to make the process easier and smoother.
So, let's get started and explore the process to open a bank account in Bahrain!
How to open a bank account in Bahrain?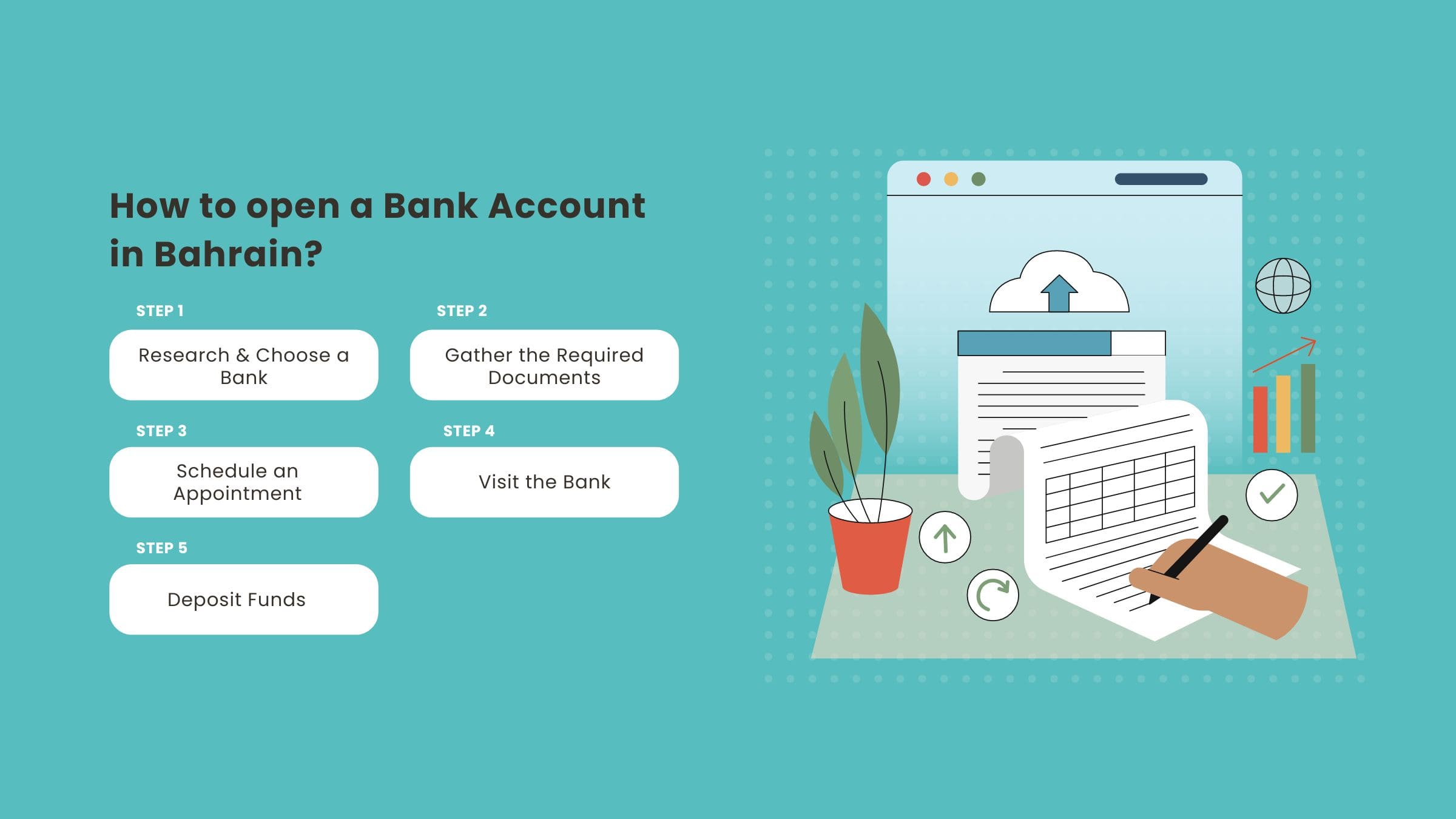 If you set up a business in Bahrain, creating a bank account will enable you to keep track of the daily financial operations of your enterprise.
To open a bank account in Bahrain, you can follow these general steps: 
Research and choose a bank
There are several banks in Bahrain, and it is important to research and choose a bank that suits your needs and requirements.
Gather the required documents
The Initial step is to offer legal identification papers like a passport and a living permit (if applicable), Address proof, and other supporting documents like a reference letter and income proof.
Schedule an appointment
Contact the bank and schedule an appointment to open an account.
Visit the bank
On the scheduled appointment, visit the bank with your documents, and fill out the necessary application forms.
Deposit funds
As your form gets authorized, you will be required to deposit the required minimum amount to activate your account. The amount might rely upon the bank and the form of account you are extending.
Once your account is activated, you can start using it for various financial transactions such as receiving and transferring money, paying bills, and more.
Documents Required to Open Bank Account in Bahrain
To open a bank account in Bahrain, you will generally require the need to offer the subsequent documents:
Valid Passport

:

A legal passport is required to verify your personality and ethnicity.

Residency Permit

: If you are a non-Bahraini resident, you will need to provide a residency permit to prove your legal status in the country.

Bahraini ID (CPR): Bahraini nationals are required to show their national identification card, which is referred to as the CPR (Central Population Register) card.
Proof of Address

: You will be required to offer Address proof, such as a utility bill or rental agreement, to verify your living in Bahrain.

Reference Letter

: Few banks might need a consideration letter from your recent bank or employer to confirm your economic stability and status.

Income Proof

: Some banks may require Income proof, like a salary slip or bank statement, to assess your financial status.

Letter of No Objection Certificate (NOC): Certain banks may ask for a No Objection Certificate (NOC) from your employer, which confirms their approval for you to open a bank account.

Distinct Forms of Bank Accounts Available in Bahrain
There are several types of bank accounts available in Bahrain, each designed to meet the specific needs of different individuals and businesses. 
Some of the distinct types of bank account openings in Bahrain include:
Current Account
A current account is a checking account that authorizes consumers to deposit and withdraw money, make payments, and issue checks.
Savings Account
A savings account is designed for individuals who want to save money and earn interest on their savings. This type of account typically has lower transaction fees but may have restrictions on the number of withdrawals or transfers.
Fixed Deposit Account
A fixed deposit account is a form of savings account that gives you a greater return rate in exchange for a fixed deposit term. The period could be in between 1 month to numerous years, and the interest rate is fixed for the term.
Foreign Currency Account
A foreign currency account allows customers to hold funds in a foreign currency, such as USD or EUR, which can be beneficial for individuals or businesses that deal with international transactions.
Children's Savings Account
Tailored to meet the needs of minors, these accounts offer a safe haven for parents or guardians to set aside funds on behalf of their children. With their focus on security, these accounts often entail lower fees and minimum balance conditions.
Business Account
A business account is composed of companies and organizations to manage their finances and transactions.
Islamic Account
Islamic accounts follow Islamic finance principles and are established to adapt to Shariah law. This type of account does not charge or pay interest, but instead, customers share in the gains or losses induced by the bank's acquisitions.
Aspects to Consider Before Selecting your Bank in Bahrain
When selecting a bank in Bahrain, there are numerous aspects that one should think about to assure that you choose the right bank for your necessities. 
Here are some crucial things to consider:
Reputation:

Select a bank with a decent status and strong financial resilience to ensure the safety of your deposits.

Fees:

Different banks have different fees for various services such as ATM usage, account maintenance, and wire transfers. Liken the fees of distinct banks to find the most adequate as per your need.

Convenience:

Keep in mind the bank's location and reachability, as well as the online accessibility and phone banking services to ensure convenience and ease of use.

Account requirements:

Check the minimum balance requirements, transaction limits, and other account requirements to ensure that they are suitable for your needs.

Services for Foreign Currency: If you often conduct international transactions, it's advisable to choose a bank that offers foreign currency services and competitive foreign exchange rates.
Customer service:

Choose a bank with good customer service and support to ensure that you can easily resolve any issues or concerns that you may have.

Interest rates:

If you are looking to earn interest on your savings, compare the interest rates offered by different banks to find the most competitive one.

Safety and protection: Assess the bank's security measures and protocols thoroughly to guarantee the safety of both your funds and personal information.
Additional services:

Consider the additional services and benefits offered by the bank, such as credit cards, loans, and investment services.
By considering these factors, you can choose to open a bank account in Bahrain that meets your financial needs and provides you with the best services and benefits.
Is it possible for foreigners to open a bank account in Bahrain?
Yes, foreigners can open a bank account in Bahrain. Bahrain has a well-developed banking system, and many banks welcome foreign clients. However, the requirements and documentation needed may vary from bank to bank.
To open a bank account in Bahrain as a foreigner, you will generally be required to offer identification documents details like a passport and a residency permit. You may even be needed to offer proof of address, like a utility bill or rental agreement, and a reference letter from your current bank.
It is important to note that some banks may require a minimum deposit amount to open an account, and some may charge fees for certain services, such as ATM usage or wire transfers.
In addition, certain regulations may apply to non-resident accounts, such as limitations on the percentage of cash that could be put in or deducted. Therefore, it is essential to research different banks and their account requirements before choosing the one that best suits your needs.
Book end-to-end experts consultation with Odint legal, accounting and company formation experts.
Intending to open a bank account in Bahrain can provide you with access to a range of financial services, from simple transactions to complex investments. It is an essential step in establishing your financial presence in the country, allowing you to easily manage your money and achieve your financial goals.
Bahrain's banking system is well-established and highly regulated, offering a range of services and benefits to address the distinct monetary necessities of individuals and enterprises.
Whether you are looking for a basic checking account or a more advanced investment account, there is a bank in Bahrain that can cater to your needs. That's why, it is advisable to seek assistance from professional experts like Odint Consultancy to help you open a bank account in Bahrain. Contact us.