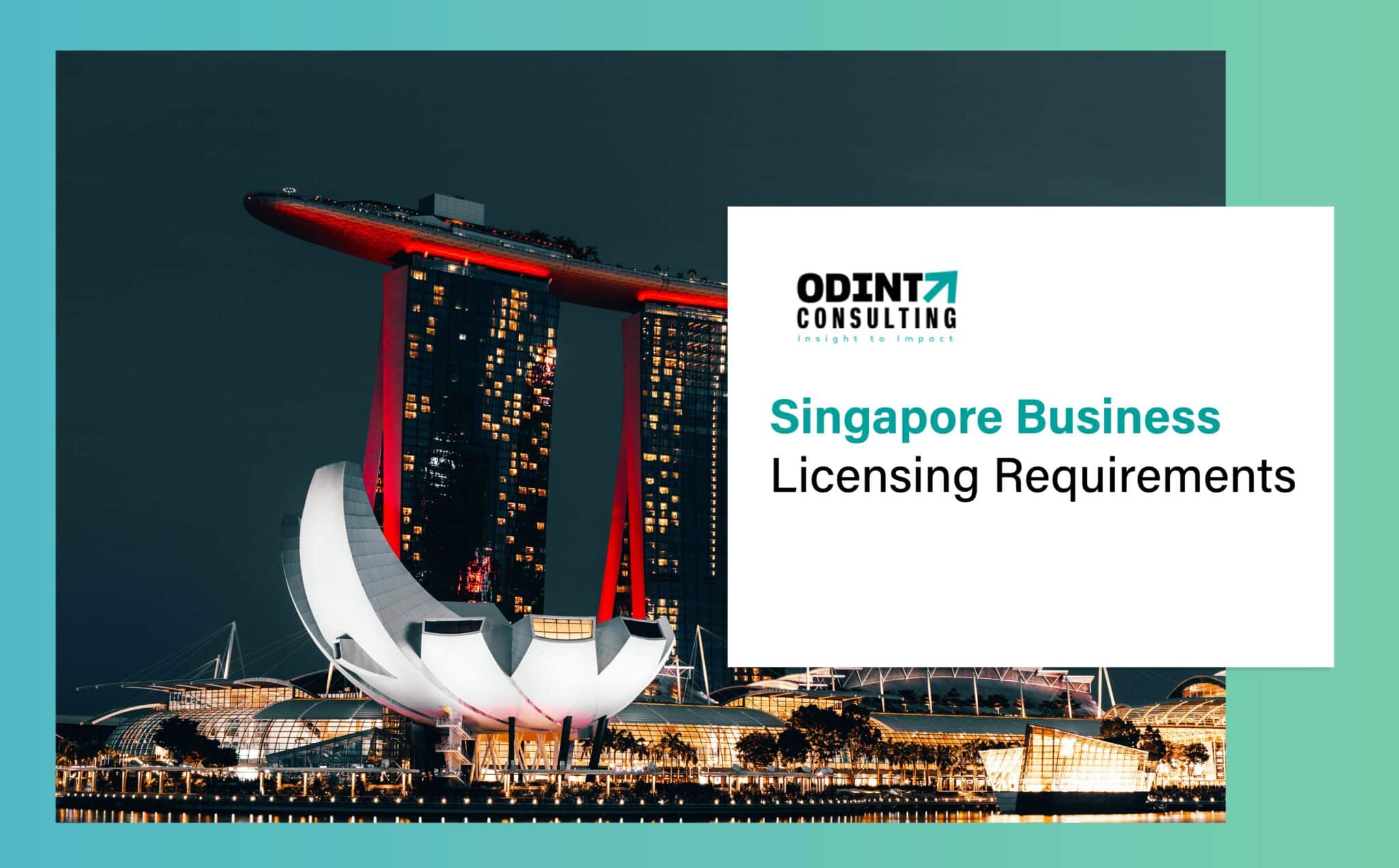 Singapore Business Licensing Requirements
Singapore can be among the most convenient nations to conduct business. It actively encourages investments through a wide array of incentives for business by the government. 
Both domestic and foreign investors are drawn to the country by the numerous business-friendly laws and grants offered by the government. The different licensing requirements must be met in order to open a business in Singapore.
The types of licenses needed in Singapore depend on the sort of business activities and the industry the business will operate in.
If you're thinking of opening your own business in Singapore then you must be aware of the Singapore business licensing requirements & permits which are required for beginning operations in Singapore.
It is essential to find out if your business operations are subject to regulation by local law and to obtain the appropriate license. Read the article to learn why having a business license is important for your Singapore company and what kinds of licenses are available for various types of enterprises.
Why is business licenses essential for your Singapore firm?
Business licenses are certificates issued by appropriate government agencies that grant your company the legal authority to carry out business activities that are covered under Singapore law.
In this manner, the government exercises its authority over the activities of business organizations, ensures that they comply with rules, assures that the quality of products or services is maintained, and regulates certain business operations.
Most companies can be operating in Singapore without the need for a license. But, a permit issued by the Singapore government might be required for certain specific business operations. Because a particular type of business may require multiple tasks that is why multiple licenses could be required depending on the kind of business.
Take care when choosing the company name for your business, because it could create additional approval requirements from the authorities that make referrals before your company can become registered at ACRA and receive authorization to begin operating in Singapore. 
Understanding the licensing requirements is crucial for the successful establishment of your company since not obtaining the required license or permit could lead to costly fines or barring, and damage to the image of your business.
Types of Business Licenses and Permits in Singapore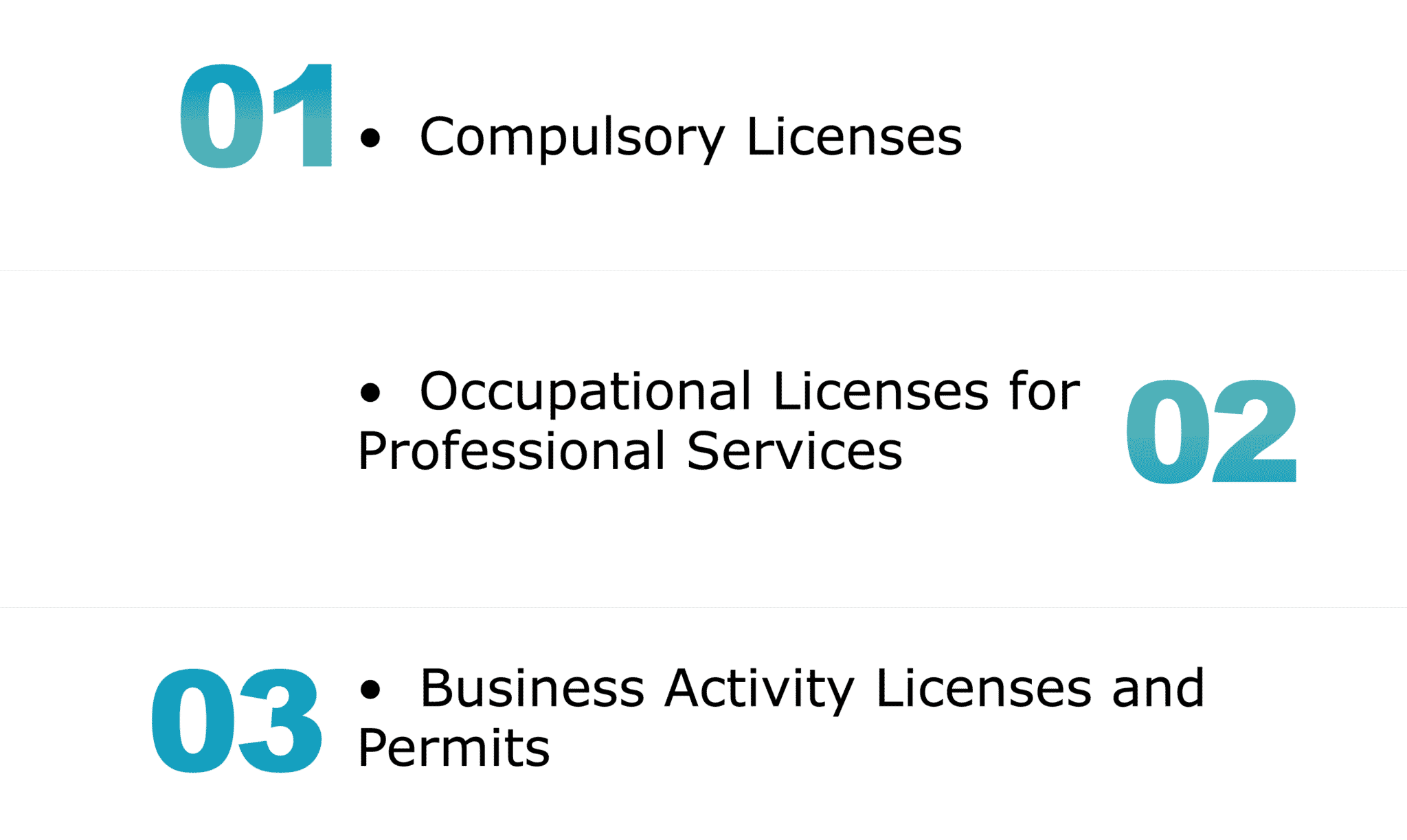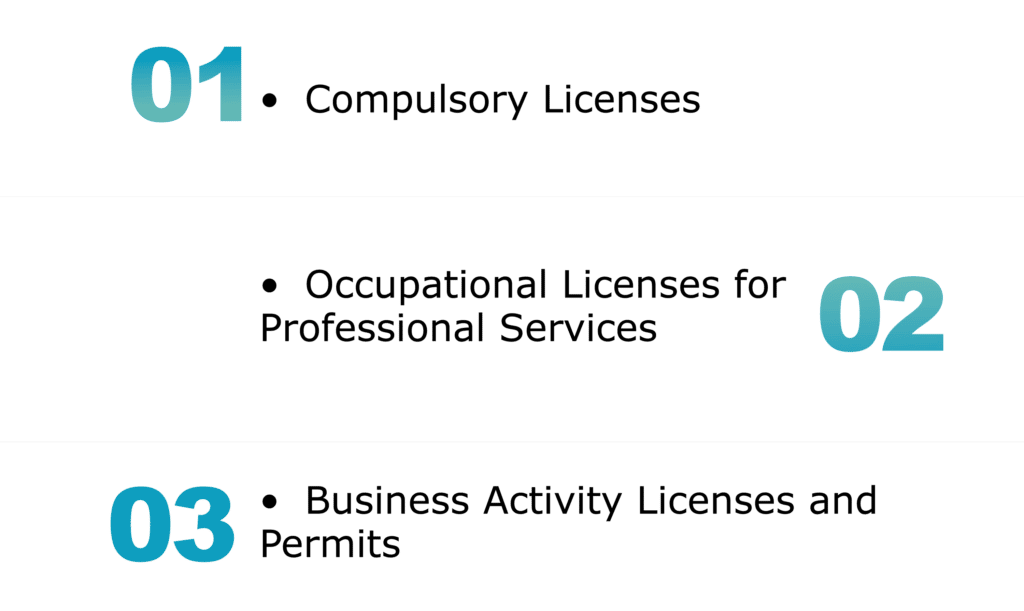 Compulsory Licenses
Certain kinds of businesses -such as e.g. companies that want to operate as educational institutions, travel agents or real estate agents, distributors of tobacco or liquor, as well as food and drink establishments as well as financial institutions, need to apply for an initial license.
You'll need to apply for a license upon having registered your company with the Accounting and Corporate Regulatory Authority (ACRA) however before you can begin a substantial business in Singapore.
Occupational Licenses for Professional Services
In Singapore, specific professional types should be granted an occupational license by the permissions responsible. This includes lawyers, doctors pilots, accountants, pilots traders of commodity futures, architects, and others.
The permissions that you can use as a reference to correlate to for authorization are those from the Ministry of Law, the Institute of Singapore Chartered Accountants, the Board of Architects, the Singapore Medical Council The Monetary Authority of Singapore, and so on.
So, if you're looking to start a Singapore firm that provides professionals, it might be necessary to fulfill all the Singapore business licensing requirements and also to have an occupational license for employees.
Noting that foreign professionals may also get occupational licenses if they are registered with the relevant professional body in their field. They also carry degrees acknowledged in Singapore.
Business Activity Licenses and Permits
Certain kinds of business operations require specific permits or licenses. If you have incorporated a business in Singapore you will need to get these permits before beginning any business operations.
The most commonly used specific licenses for the industry are listed below. For certain company activities, multiple licenses may be required. Don't amaze a firm precise business license and an obligatory license, since both could be required to run your company.
Types Of Licenses in Singapore used by Businesses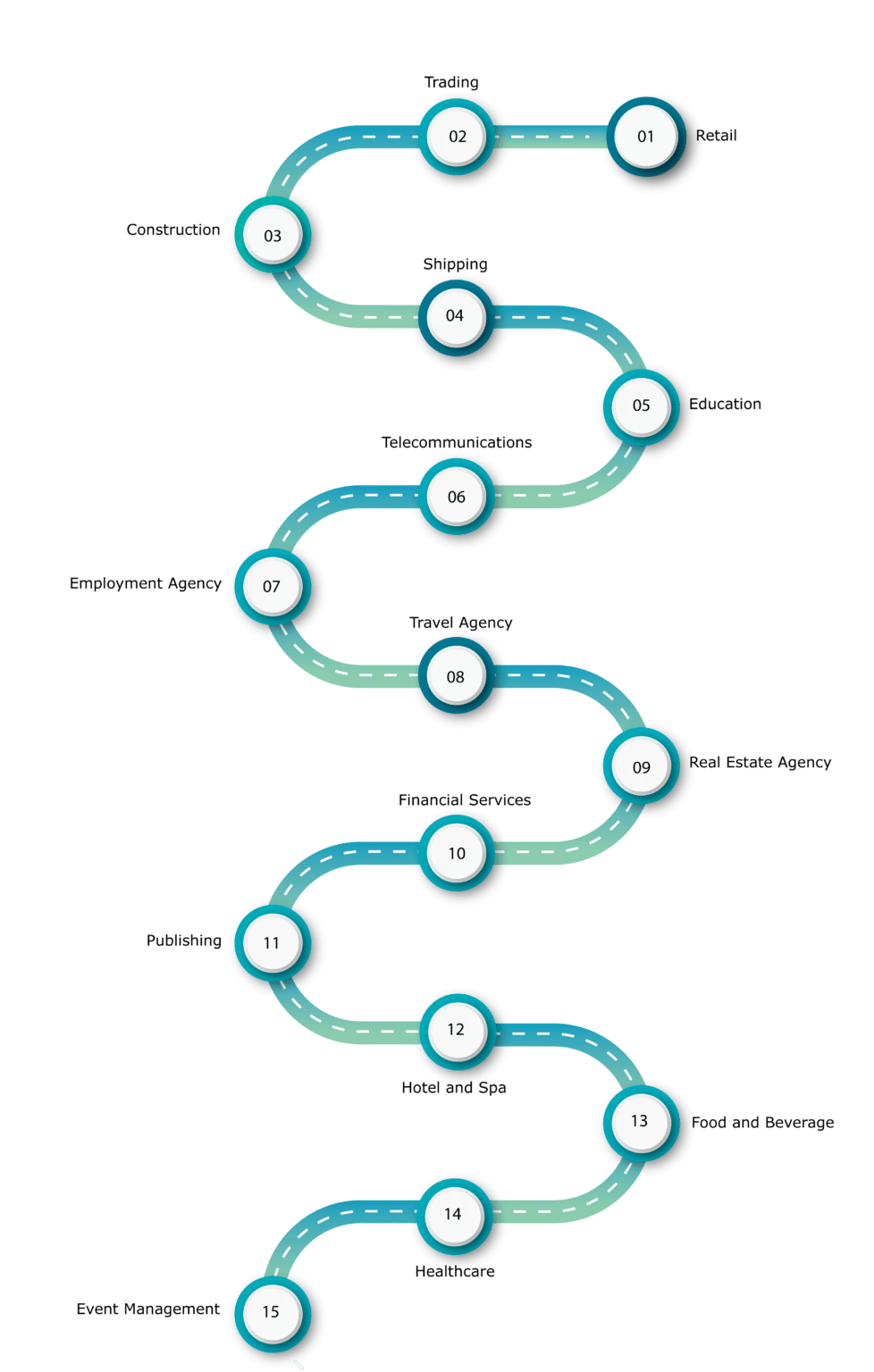 Below are the most commonly used kinds of companies for which an industrial license will be required, so be with this post, i.e. Singapore business licensing requirements till the end to know more about it.
Retail
Your retail company's nature will decide which licenses permits, approvals, and licenses you will require from the various authorities. Retail stores, such as pharmacies, supermarkets, pet shops, and telecommunications stores need to be granted a business license.
Based on the products sold and services offered the requirements for licensing retail businesses could be different. For instance:
Telecommunications stores that wish to offer, sell, import, or offer available for sale any telecommunications equipment require a telecommunication dealer's license. It is granted through the Infocomm Media Development Authority (IMDA).
Pet shops that deal with selling or exporting pets require an exclusive license from the Animal and Veterinary Service. It is important to note that pet stores that only sell pet products or engage in grooming for pets are not required to obtain a separate license.
To start with a pharmacy, or a drugstore in Singapore you must have authorization from Singapore's Health Sciences Authority in Singapore.
However, to open a cosmetic store product, a certificate granted from the Health Sciences Authority in Singapore is expected.
Food stores need the use of a food Shop License or Food Retail License issued by the Singapore Food Agency to function. If you plan to offer herbal tea products at your establishment then you'll also have applied for a specific license from the Singapore Food Agency (SFA).
Trading
Singapore is widely known as one of Asia's most important trading hubs thanks to its many advantages, among them the Free Trade Zones in Singapore that facilitate international trade and transshipment. To trade to conduct business in Singapore After registering an organization, you will have to create a Singapore Customs account.
The need for additional licenses or permits depends on whether you want to import products from overseas or export products from Singapore and transit through Singapore or trade-controlled products.
In other words, you will need to obtain authorization if you want to import high-tech items and export local goods, trade or transit strategic items, and export or import controlled items.
Construction
The process of setting up a Singapore business in the field of construction is not easy, since managing a construction business requires getting several approvals and permits from different government agencies.
To offer professional engineering assistance in Singapore, a license is required through the Professional Engineers Board. 
Companies that are involved in the following areas must obtain authorization:
Construction of buildings
Creating completion
Structure installation
Site preparation
Equipment for construction lease
Repairs structural structures
Shipping
Shipping companies need to apply for a valid license or permit before beginning their business in Singapore. A firm operating its vessel within Singapore's port Singapore requires a Harbour Craft License granted by the Maritime and Port Authority of Singapore.
If a firm plans for its vessels to be operated outside Singapore's borders, it requires a Port Clearance Certificate.
To transport cargo or passengers, the shipping company must get the Ship Registration Clearance along with a Limit Manning License. Limit Manning License, required for team members who be Onboard the vessel.
Education
If you want to start an educational enterprise in Singapore for example, an early childhood center, a driving school or language center or a private educational institution or a kindergarten or a preschool, you have to be granted certain licenses by a particular authority like the Ministry of Education or the Ministry of Culture, Community, and Youth.
Before you can register for the license, you should be making clear that your company is enlisted with ACRA and also take care of other administrative issues. Most probably, you'll get your license within two weeks. Establishing a non-academic college is fairly easy and doesn't require permission from the Ministry of Education.
Telecommunications
Each kind of telecommunications business requires a license or perhaps more. License requirements differ based on the kind of business. 
For Example:-
To offer fixed-line telecommunications systems, you will require a Facilities Operating License (FOL), Satellite Downlink License, Services Based Operator License, and so on.
Internet access providers must have an in-building license for terrestrial telecommunications systems as well as the Services Based Operator License is required. For mobile cellular as well as radio paging services, you're required to acquire a Mobile Network License. 
Additional licenses might be expected, for example, Satellite Uplink License for Broadcasting Purposes, Experimental Station License, and others.
 The authority responsible to obtain any licenses or permit to operate a telecommunications company is the Infocomm Media Development Authority.
Employment Agency
Employment agencies are businesses that provide job-searching services to employers via various channels of communication. Employment agencies are comprised of head-hunting firms as well as construction worker agencies, online job sites, nanny-placement companies, and staffing firms, among others.
To begin any firm plan which involves recruiting services it is necessary to obtain the Employment Agency License granted by the Ministry of Manpower is necessary. However, if a firm does the hiring it is not necessary.
Travel Agency
Singapore-based businesses that offer travel arrangements inside or outside of Singapore must apply for a License for Travel Agent Licence. But, be aware that there's an exception list, and some travel arrangements are not subject to regulation in Singapore.
For instance, an international travel agency that arranges and sells a trip package outside of Singapore is not required to have an agent license for travel. 
At present, two kinds of travel agency licenses in Singapore:
Travel agencies or agents who offer or organize tours that are within Singapore only and offer transportation for participants with no rights of accommodation must apply for the Niche License.
Travel agencies that perform different activities that are not covered within the extent of their Niche Licence should be registered for a General License.
To get a license that is adequate for a travel agency or agent, you must make an application for a license to the Singapore Tourism Board via its travel Agents and Tourist Guides Licensing System (TRUST).
Real Estate Agency
Any person or business that performs real estate agency services is required to have a license issued by the Council of Estate Agencies (CEA). A license request has to be completed by an executive officer named Key Executive via CEA's online services.
To obtain the Estate Agent License, a business should fulfill the subsequent rules for licensing as set forth by CEA:
It is expected to possess legal signup with ACRA.
You must choose a key executive officer (KEO) who meets all criteria.
The company, nor any members of its directors or partners or KEO can be licensed as a moneylender, neither its partners, directors, nor KEO could be a director, employee, or partner in a license-holding moneylender.
The company and its KEO as well as all directors, partners, or other individuals accountable to oversee the operations of the business must have a strong history, a reputation that is trusted, and be free of involvement in any shady arrangement by the Estate Agents Act.
You should possess a current Professional Indemnity Insurance policy that includes all salespersons & members (where appropriate).
It is crucial to building Standard Operating Procedures and service standards for all of its activities.
CEA also has specific requirements for those who are named KEO. Check out this official website for more information on the requirements for eligibility to be a KEO and the process for applying and other pertinent information about getting one. Estate Agent License in Singapore.
Financial Services
Singapore is among the top financial centers around the world with hundreds of licenses within the industry of payment service providers.
If you're considering creating a business that provides services related to fund management or financials including financial advisory, payment services banks, capital markets, or insurance, it is recommended to be granted a valid license by the Monetary Authority of Singapore (MAS). 
There are the following organizations licensed by the MAS licensing system:
Standard payment institutions;
Larger payment establishments;
The issuing of credit cards and charge cards by companies.
Money-changing companies;
Pay system operators designated by the government;
Settlement institutions for designated payment systems;
Institutions that take deposits (i.e. complete banks, wholesale banks finance companies, merchant banks, and digital banks);
Capital markets companies 
Insurance companies
It will help you be aware of the financial services licensing process in Singapore and provides pertinent information regarding the regulations of the financial industry in Singapore & Singapore business licensing requirements for the conduct of such businesses.
Publishing
For a publishing enterprise in Singapore that produces magazines, novels, or newspaper journals, the Newspaper Permit and Printing Press License issued by the Infocomm Media Development Authority is imposed.
The newspaper permit will be required when you are a business that is engaged in any of the following activities:
Publishing or printing newspapers in Singapore
Selling, publishing, or distributing publishing, selling, or distributing Malaysian publications in Singapore.
Selling or distributing an off-shore newspaper to Singapore. Offshore newspapers are a newspaper that is published outside of Singapore that covers news from any country located in Southeast Asia with a circulation of at least 300 newspapers in Singapore.
Be aware that permits are not needed for the one-time publication of commemorative or novel-length booklets. When publishing online-based publications newspapers, a newspaper Permit does not need to be obtained.
However, if the online newspaper content is available with a subscription cost it is possible to sign up with the IMDA or get authorization under the Online News Licensing Scheme. If your Singapore business operates printing presses to print documents like pamphlets, maps newspapers, charts, and magazines within the country, it is required to acquire a Press License.
Hotel and Spa
Anyone who wants to start the first hotel in Singapore must obtain certain approvals from Singapore's Singapore Government. The most significant of them are:
Certificate of Registration for use of the property as a hotel;
The license allows an individual to manage the hotel, granted through the Hotels Licensing Board;
Temporary Occupation Permits or Certificates of Statutory Completion given from the Building and Construction Authority.
Apart from the permits mentioned above the following licenses could be required, based on the type of service which will be offered by the hotel (e.g. Non-Residential TV License Public Entertainment License, a Licence to Provide the Arts, a Copyright Permit, etc. ).
To offer spa treatments in a hotel, or operate distinct spa centers that require the facility must have a Massage Establishment License from the Singapore Police Force, and in the event of a need, the Aquatic Facilities License obtained from the National Environment Agency.
Be aware that it is important to point out that a Massage Establishment Licence is only needed if you plan to offer massage services. If your institution offers spa treatment services (i.e. manicure, pedicure, light therapy or vapor treatment, electric healing baths) with no massages the license is not applicable.
Food and Beverage
Regulations for the food and drink industry in Singapore are very complicated, and operating a food and beverage business requires applying for various permits and licenses that differ depending on the activities you conduct. 
Here are some of the greatly often asked:
To govern a restaurant it is essential to get a Restaurant Food Shop License issued by the SFA. In addition, you will require you must also have a liquor license issued by the Singapore Police Force is required for any restaurant that plans to sell alcohol in your restaurant. 
If you are planning to start an eatery that is Halal You can obtain the Halal Certification from the Islamic Religious Council of Singapore.
To conduct public trade fairs for public trade fairs, the issuance of a temporary fair permit is required. This is granted through the Singapore Food Agency (SFA).
For opening a food stall or a hawker, you must fill out a plea for a Food Stall License.
Food vending machines that operate that have temperature control requirements, as well as food processing, needs to be licensed by the Food Vending Machine License to be able to operate.
In addition, SFA has a policy of defining private canteen arrangements (including schools and staff canteens) as ones that involve selling food, even though it's done as a service that requires the need for a private Canteen License from SFA is required.
If you plan the importation, exportation, or transfer of food items or food ingredients for the restaurant you run, then you must get a license as a trader or register at the SFA.
To prep a food warehouse, you need to be registered in the SFA.
Food processing establishments in which food items are manufactured and processed, prepared, or packed with the intention of distribution (e.g. bakeries, sugar confectionery facilities, dairy processing facilities noodles and pasta producers factories for surimi-based products, and so on.) require the SFA license to be able to operate in Singapore.
If you're unsure of the license or permit you'll need be applying for, use an e-adviser to identify the regulations for licensing for your company.
Healthcare
To run a healthcare establishment within Singapore you need to consider having a license that is mandatory to be obtained from the Ministry of Health. All healthcare specialists must be enrolled with a relevant institution that regulates them. 
Although, doctors and medical professionals must obtain a Practicing Certificate from Singapore Medical Council. Singapore Medical Council; and nurses will need to option a certificate from Singapore Nursing Board.
Based on the requirements of your company There are a variety of licenses you can obtain:
If you are planning to distribute pharmaceuticals, you need to seek a license through the Health Sciences Authority. 
To use irradiating devices, such as Vapour detectors, x-ray machines Irradiators, Gamma Projectors, and so on. You will need the L3 Licence obtained from the National Environment Agency (NEA). For each further machine, you have to apply for an additional license.
To store, handle and transport harmful and radioactive substances to transport radioactive and hazardous materials, you need L4 and L6 permits from NEA.
To buy, store, and use certain dangerous substances that are controlled by Environmental Protection and Management Regulations You need Permits at NEA.
To provide medical services like abortion, liposuction sterilization, or other procedures specific licenses, certificates or approvals need to get approvals by the Ministry of Health.
Additionally, take remark that in Singapore it is illegal for a building to be used to set up medical clinics unless it is authorized by the Ministry of Health under the Private Hospitals and Medical Clinics Act. In accumulation, approval from the Urban Redevelopment Authority of Singapore or an Occupation Permit provisional published by the Building and Construction Authority is required.
Event Management
Based on the kind of event or activity organized by the company that manages events the company, one or more permits are required. 
Examples:
To organize indoor or outdoor arts entertainment events that are held at a venue that is accessible to the general public and a license to Provision of Arts Entertainment issued by IMDA is required in the event of an exemption, unless.
For any entertainment-related event that the society has entry to, you need to register for the Public Entertainment License imposed by the Singapore Police Force.
To host provisional events at which animals are shown, with animal shows like horses and dogs, an Animal Exhibition License imposed by the Animal and Veterinary Service must be acquired.
To reproduce or play copies of copyrighted audio, video recordings, or even lyrics at an art or entertainment event You must seek permission from the owner of the copyrighted work by Singapore IP laws. A possible exception is the use of content that is part of The Creative Commons network.
If you're not certain what permit or license must apply for, identify it using this online tool for advice. It is important to remark that the majority of licenses are only legal one time — and only for the period of the circumstance.
Acquiring a License for Your Singapore Company
The application process for a business license in Singapore
One of the first steps you must take before applying for a business license is to register the business with ACRA. To receive the license, you must first choose the type of business you want to launch before applying for the license based on your intended business operations.
In the initial stage of registration for a company, ACRA's system will determine the need for your application to be approved by a different government agency, based on the name of your company.
After your business has been registered, you can use the GoBusiness website to find out what licenses your company needs. After that, you can continue by submitting a licencing application using the GoBusiness website or other government websites created specifically for requesting a certain business license.
After submitting your application for a business license, you must send the necessary paperwork and payment for the license. You can now wait for your licensing application to be processed after everything has been completed.
Approval of a business license application

The approval timeframe for a license application is different according to the kind of permit or license. Certain types require approval from multiple authorities which can extend the process of approval.
On average, it takes anywhere from two weeks to many months for the appropriate government agency to decide whether to approve the application.
However, since every license or permit is issued by a specific authority, under an act that specifies the specific purpose of the company's activities, there isn't a typical procedure for applying for a license. It is therefore recommended to consult experts from Odint Consulting to guide you with the process.
How Odint Consultancy Can Help You Out?

If you don't wish to be lost in Singapore's maze of business permits and licensing regulations, we will give you the assistance needed to ensure smooth compliance for your business to start your business up and our team of experts will assist with the following services:
Examine your business plans and assist you in determining whether you require a permit, license, or additional approvals from the agency of government to conduct a business in Singapore.
We will assist you through the essential licensing requirements for your company.
Help you meet the prerequisites to apply.
Help you prepare the license application as well as all supporting documents.
Help you apply to renew your license.
Contact the appropriate government agencies regarding your status with your application and be prepared to answer any questions they might ask.
Singapore presents entrepreneurs with a vibrant economy to set up businesses. Setting up a business in Singapore entails meeting the conditions for business licensing. The kind of license you need depends on your particular line of activity and industry. Therefore, obtaining a license is necessary in order to engage in any commercial activity. Your company will be able to avoid any fines or penalties by adhering to the Singapore business licensing requirements.
If you're still having questions regarding the Singapore business licensing requirements or any other questions, we are ODINT Consultancy. We're we are here to assist you at each step of your way.