Spain has gained popularity among businesspeople and investors all over the world with its long history, vibrant culture, and strong economy. Business people looking to extend their horizons frequently think of Spain as an ideal place to start or invest in companies. To make this easier, there are several visas for Spain business immigration to meet the demands of ambitious people.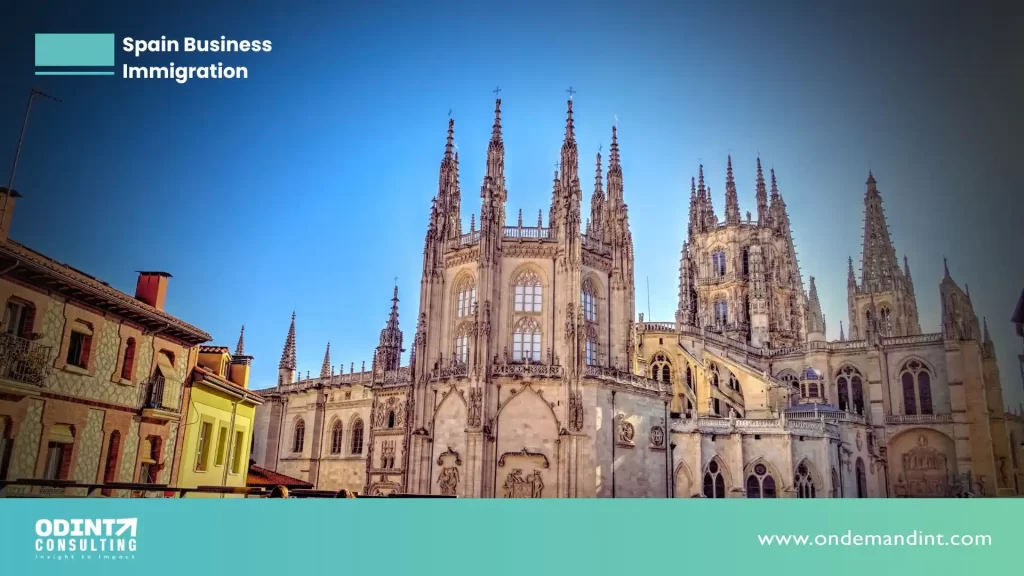 Through this guide, you will learn about Spain Business Spain'sration, a route that allows businesspeople and investors to participate in the country's booming economy. Here we will be covering the entrepreneur visa in Spain, its prerequisites, required paperwork, and the benefits of relocating to the Spanish economy.
Different Routes for Spain Business Immigration
There are various forms of visas for individuals considering immigrating to Spain such as:
Work Visa:

Enables non-EU citizens to engage in employment in Spain.

Golden Visa:

Through this program, qualified candidates can get a residency permit that is renewable in return for making a sizable investment in Spain.

Schengen Visa:

Short-term visa that entitles the holder to unrestricted travel across the Schengen Area.

Tourist/Short Stay Visa:

Permits to travel to Spain for holidays for a maximum of 90 days throughout a 180-day term.

Digital nomad Visa:

For business owners and digital nomads to Spain.
Entrepreneur visa for Spain Business Immigration
An entrepreneur visa in Spain is a residence permit that is issued to Non-EU nationals who wish to expand their entrepreneurial operations in the jurisdiction. The entrepreneur visa in Spain permits you to reside in Spain for three years as long as you launch an endeavor there that serves the economic interests of Spain as a whole. This Spain business visa is intended for the creation of an original project that is entirely distinct from the projects that are currently on the market.
Given that this Spain business immigration route will enable you to obtain your visa so long as you launch an original initiative that must support the nation's interests, your work has to meet the requirements listed below for it to be approved for an entrepreneur visa in Spain:
Your initiative must generate new employment opportunities and act as a stimulant for the Spanish economy as a whole.

It should lead to the creation of significant possibilities for investments.

Its operations must be highly technological and contribute to Spain's economic and social growth.
Prerequisites for Spain business visa
There is no minimal investment necessary to obtain the Spain business visa. However, you must satisfy three criteria to get your visa application approved.
Business Idea
To Spain's business immigration application approved, it is you need to have an active business idea. Your business concept, or the good or service you intend to promote in Spain, must adhere closely to three conditions. It ought to be innovative, support Spain's economic expansion, and open up investment opportunities.
To qualify as an innovative product, it must be a brand-new item that hasn't been released on the Spanish market. As a result, only business owners with completely novel concepts are eligible for this Spain long-term business visa.
Your business idea has a better chance of being accepted if the idea includes the product having a significant technological component and is operated using logistical processes or algorithms.
Additionally,  you must show that your business concept is valuable to the economy of Spain. You must demonstrate how your business idea will boost national prosperity and promote further national development by creating more job possibilities.
This can further assist in providing excellent opportunities for both domestic and foreign investment in the jurisdiction.
Business Plan
Having a business plan is crucial for Spain's business immigration as this is where the business idea is properly documented. In the event of not having a proper business plan, there are higher chances of the application being denied by the authority.  The business plan is an essential tool for determining the ideas' components and the method of implementation.
The following topics should be in your business plan:
A summary of your professional endeavors and an evaluation of the goods or services you want to promote.

It will also be crucial to have a financial forecast and an anticipated financing report.

Information on your intended marketing and commercialization tactics, as well as specifics on your target market.
Consulting experts can help you draught a proper business plan that will contain all of your business ideas and strategies Which will further assist you in successfully applying for the Spain business visa.
Professional Profile of the Candidate
Another factor that can help your Spain business immigration succeed is the applicant's profile as it is the first item the authorities analyze. Therefore, as a foreigner hoping to secure an entrepreneur visa in Spain, you must prove that you possess the education and experience necessary to effectively build your business idea. You must show in your resume your level of education, what your career is, and how your expertise relates to the assignment and can aid in its effective implementation. Your chances of gaining your approval increase with the amount of experience, education, and skills you have.
Procedure to apply for the Entrepreneur Visa in Spain
The procedure of Spain business immigration can be done in two distinct ways:
From Outside the Spanish Economy
The steps for applying for the Spain long-term business visa are explained below:
Create a business plan:

Make a thorough business plan outlining your concept, including the type of enterprise, the size of the investment, the potential for employment creation, and any potential effects on the Spanish economy. The business plan needs to be well-organized and show how your planned firm will be profitable and sustainable.

Obtain Necessary Documents:

Compile all the paperwork required by the visa, including a valid passport with a minimum six-month validity, proof of medical coverage, a thorough business plan, etc.

Apply for a Visa:

Fill out the visa application form and send it, together with all the appropriate supporting paperwork, to the Spanish embassy or consulate in your nation.

Attend an Interview:

You may be invited under specific conditions for an interview at the Spanish embassy or consulate as part of the visa application process.

Acquiring the visa:

You will be informed after 10 days if your business plan has been accepted or rejected. If the documentation, business plan, and application have been accepted, you will be given your entrepreneur visa in Spain. You may visit Spain during the duration of the entrepreneur visa's validity.
From Spain
There is also a possibility that you are already a resident of Spain or residing in the nation legally. As such, the primary distinction is that you can proceed directly to residency authorization without first needing to apply for a visa.
You may proceed instantly to the headquarters of the Unidad de Grandes Empresas (UGE) in Madrid if you are already in Spain and have an active tourist visa. In this case, the appropriate paperwork has to be sent to the large business units. The business plan needs to be submitted in person to the Ministry of Economic Affairs.
In the case you have provided all documentation properly, the administration is given 20 days to assess your business plan. Following 20 days, if your application is approved, you have a month to collect your entrepreneur visa in Spain. The candidate will be informed by the consular office of the process for returning the passport and the remaining relevant paperwork.  
Documentation necessary when applying for an Entrepreneur Visa
To acquire the Spain long-term business visa, the documents listed below must be submitted to the relevant bodies:
Application form:

Properly filled out, and signed the national visa application form

Photograph:

One latest passport-sized color picture, taken on photo paper with a white background with the subject looking forward, and free from any clothing that would hide the candidate's full face, without dark lenses, or wearing anything else that would make them harder to identify.

Adequate funds:

Originals and copies of the documentation demonstrating the business owner's financial independence or attestation of a steady source of revenue for themselves and, where appropriate, for any accompanying dependents.

Positive review of the project:

Original as well as the duplicate of the positive assessment provided by the relevant Economic and Commercial Office in this consular area or by the Directorate General for International Trade and Investments.

Active passport:

The sections of the passport containing the biometric information, in both its original form and a photocopy, have to be provided. The passport has to include 2 blank sections and should have at least 1-year validity period.

Certificate regarding criminal history:

Candidates who are of legal age, and applying for Spain long-term business visa need to produce both the original as well as copies of any criminal history certificates that have been issued by their native nation in the previous two years. The candidate will also provide an accountable declaration attesting to their lack of recent criminal history.

Verifiable proof of residency in the consular district:

The applicant must present documentation proving either that they have a valid address in the consular district.

Medical insurance:

Original and a duplicate of the certificate endorsing the public or private medical insurance agreement with an organization licensed to conduct business in Spain.

Visa fee payment evidence:

Payment of the fee for the Spain long-term business visa is required and must be made simultaneously with the submission of the visa application. The fee must be made in the native currency and can vary due to exchange rate variations.
What happens if my application for Spain business immigration is denied?
There are several circumstances under which your application for  Spain business immigration can be denied. However, if your entrepreneur visa in Spain is denied, you can do the following:
In case your application for an entrepreneur visa was wrongfully rejected even if you meet all requirements for the visa, you can start by filing an immigration appeal. If you decide to appeal, you must know that it typically takes many months, which will greatly lengthen the procedure.

However, there are some situations when it would be significantly more sensible to reapply to take benefit of the 20-day resolution phase.  If you believe that there is an actual possibility of getting your application granted, you may utilize this approach.
Renewal procedure of Entrepreneur visa in Spain
The entrepreneur visa in Spain has a 3-year validity timeframe. As such, once the visa is expired, you must reapply for your residence card to continue living in Spain. The qualifications for renewal are the same as those for the initial request, and you will be given a card valid for two years. This can later assist you in acquiring long-term residency in Spain.
Benefits of obtaining the Spain Business Visa
Here are the benefits of obtaining a Spain business visa:
Your ability to reside and conduct business in Spain will be granted by the initial entrepreneur residence card, which has a three-year validity period.

There isn't any upfront investment or cash sum required.

While traveling on a tourist visa, you can apply for this visa directly from Spain.

You also have the option to file a joint application, which would include your spouse or common-law partner, any minor children, and any dependant parents.
Spain's business immigration presents a plethora of opportunities for entrepreneurs and investors seeking to make their mark in Spain's thriving business landscape. Spain offers an alluring atmosphere for individuals prepared to begin a journey of growth and success, from its advantageous location to its strong economy.
To successfully immigrate to the Spanish economy, you need to have an entrepreneur visa in Spain. At Odint Consulting, we understand that successfully immigrating to the Spanish economy through an entrepreneur visa can be a complex and challenging process. We can assist you in successfully navigating through the procedure of applying for the Spain business visa. We can assist you in carefully drafting a successful business plan based on your business idea, and assist you in professionally arranging your profile. With our specialized knowledge and support, you can rest assured that your entrepreneur visa application will be handled with utmost diligence and expertise.