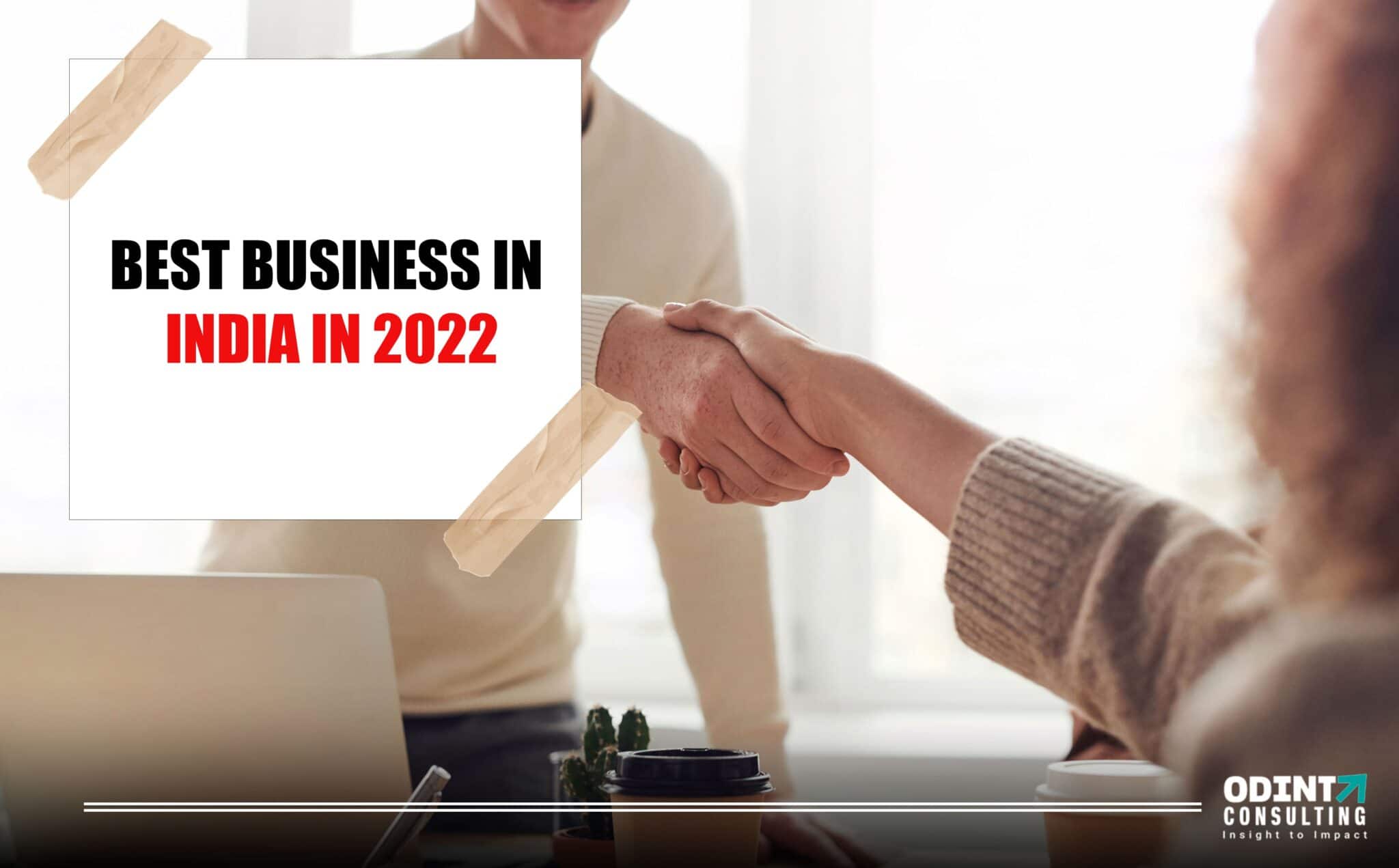 15 Best Businesses In India in 2022
We're in 2022 & it's foreseen to be among the most favorable year for you if you're looking to build an enterprise in India. 
From technological advancements like BNPL and contactless payment to government initiatives to help MSME, 2022 may be one of the most beneficial years for you, if you looking to launch your own business. 
Since the onset of the COVID-19 epidemic in 2020, it has seen an abrupt change in the habits and priorities of the users, and the public is now more likely to patronize online businesses as opposed to before. 
The market trends are changing every day, and as a result businesses like cloud kitchens, online bakeries, & digital marketing have seen huge growth. In a country such as India, which is an extremely fast-growing country, it is always exciting to discover new avenues to invest in and exploration. 
But, the overall condition of society and the economy is a major factor in determining the need for various goods and services. To assist you we've listed a few of the most profitable companies which you could start.
In the following article, we'll take look at the various best businesses in India to start in 2022.
Most Profitable Businesses In India
Following that COVID 19 lockdown, there were significant changes in the habits of the users. Since working from home is the norm the need for certain items has increased and is especially evident in those living in Tier II and Tier III cities. 
This is because a majority of people are shifting to businesses. If you're among these people, we've put together a list of the most profitable best businesses in India for 2022 to help.
1. Web Designing is a lucrative venture for techies
Digital marketing and blogging are two of the most sought-after choices for jobs. This has led to a huge demand for online sources. Every business owns a web presence of its own. 
According to a study from Adobe 48% of users stated that the appearance of the site was the most important factor in how credible a company is. Additionally, the lockdown has made physical spaces virtually obsolete. 
Reports indicate that online shopping in India exceeded 120 million in the year 2018 and is expected to grow to 220 million in 2025. The huge demand for websites makes them one of the most successful companies in India.
2. Interior Designing and Decoration The best business for creative individuals
According to the reports according to reports, there is a market in interior design, as well as renovations of interiors in India, estimates to range in the range from USD 20 billion to USD 30 billion. 
Aesthetics is no longer just an idea that is only found for those homes which belong to the wealthy. A lot of middle-class households are choosing modern kitchens, extravagant interior design with high-end furniture, and modern color schemes. There is also a huge demand for lighting and furniture, particularly antiques. 
In the end, interior design and decoration have become a hot topic not only in design and architectural businesses but on social media too. The industry is witnessing an abundance of influencers, especially on Instagram as well as Facebook. In all likelihood, it is amongst the most profitable companies that exist in India.
3. The Real Estate industry is a booming business in India
Real property has always been a flourishing industry in India. The real estate industry in India is projected to reach US$1 trillion by the year 2030. Rapid urbanization rate, along with a growing number of nuclear families real estate is an exploding sector throughout India. 
Sales of homes alone reached 2.61 lakh units in seven major cities in India in the year 2019. However, a real estate business is quite expensive. It requires a large amount of capital to ensure higher returns, and smaller investments don't yield large profits. It is, in fact, one of the most profitable best businesses in India in 2022.
4. Building Entities: 'Make in India & Creating India'
If we are discussing the most lucrative businesses to establish in India and beyond, we should not overlook the building materials industry. With the increasing demand for real estate, we could also anticipate growth in building supplies. 
This is particularly true of steel since recent trends suggest that India could become the second-largest steel exporter. The reports suggest that the Indian steel production will reach around 300 million tons in 2029-2030. 
This is also fueled by the growing automobile industry. Steel is imported as well in recent times, the government has put a lot of focus on "Make with India as well as Build In India'. These initiatives have been extremely productive in the production of domestic steel.
Book end-to-end experts consultation with Odint finance and legal experts
5. Wedding Planning A business with enormous potential
There are no more two-day weddings and a standard ceremony! India is witnessing a rise in destination weddings, or at least themed weddings over the last couple of years. 
This wedding business is growing at a rapid pace that it is beginning to be the basis for numerous cinemas and television shows. However, the huge Indian Wedding, business is assessed to be $40-50 million & rising by 30-40% per year. 
It is an ideal business opportunity for anyone new to the field since it can be adapted to different income levels and allows you to decide on a plan depending on your budget.
6. Pharmaceutical Companies: A business that you can count on
On the list of the top businesses on the planet India are the drug industry. At the present, India is reportedly the largest exporter of generic medicines. The Indian drug market has been among the fastest-growing and most competitive in the world. 
The income in the fiscal year ending in 2021 was $55 million, suggesting the potential to make money in this field. The pandemic has pushed up the purchases of medicines in the last couple of months. 
The business is extremely competitive with a large number of employees which includes engineers and scientists, along with entrepreneurs and businessmen that are components of the distribution.
7. Travel Agency for the wanderlust
India is a popular tourist destination due to its stunning scenery, beautiful architecture, and myriad cultural traditions. Establishing a travel company anywhere in India is certain to bring substantial profits. 
As per the WTTC, India ranks 10 out of 185 countries in terms of the amount of tourism contributes to GDP. However, this business requires strong collaboration among various stakeholders, including transportation and hospitality.
Since the pandemic is over, everyone had planned to visit somewhere around the world, such as travel influencers, tourists, business trips, family trips, etc. However, this is could be one of the best businesses in India in 2022 after the pandemic.
8. Online Farming Business: Growing Business In India​
Organic farming is becoming increasingly sought-after in India. Recent concerns regarding the use of chemicals to control pests and preservatives have prompted a large number of people to investigate the market for organic farming. 
You can get into organic farming in two different ways – either as a farmer of the crops or as a distributor of the same. India is home to about 30 percent of all organic farmers across the world.
Read More: Organic Food Business
9. Food and beverages: A business that earns a profit
India is the fastest-growing economy on the planet with 1.25 billion people who consume drinks and food. It is the home of many different dishes, each with distinctive flavor and appeal. 
This is primarily because of the use of many spices used in cooking. Exporting these spices is an extremely profitable business idea. A majority of the spices are made in small-scale industries. After a network has been established and export permits obtained, the company could be extremely profitable, as India is among the biggest exporters of spice. 
In the same way, franchising a drink chain can yield substantial profit. All of these factors make it one of the most lucrative kinds of business opportunities in India.
Read More: FSSAI Registration In India
10. Labor Contractors: A industry that has a constant demand
With a rapidly growing economy and a populace as massive as India it is undoubtedly one of the most popular sectors. Contract workers account for 34percent of the country's huge workforce. 
It's a relatively simple company to start with only minimal capital requirements. There are many legal requirements for this company since you'll be operating directly in human capital. The business will always be in demand and can be very profitable for those with small capital investments.
11. Cloud Kitchen: A Futuristic-business
Cloud kitchens are also known as ghost kitchens. It is also known as a delivery kitchen also known as a virtual kitchen. It's an industrial kitchen that offers food establishments, facilities, and tools to prepare food. Its sole focus is on making food delivery online and delivery.
Cloud technology allows online ordering at a lower cost. Cloud kitchens are integrated commercial food production facilities, where multiple restaurants can use the same resources and cook meals. 
Cloud kitchens that are in India are predicted to increase to over 50% annually and are considered to be one of the best businesses in India in 2022.
12. Home-Based Bakery: Trending Business In India
There's nothing better than doing what you love and then starting your own business around it. If you love baking and you are looking to make a change, take advantage of your expertise and establish an online bakery and cake delivery business in the comfort of your home.
The setup doesn't require a lot of capital, and you can begin selling your goods to your friends, family as well as neighbors. Then, you can expand to take online orders. Hence it's one of the best businesses in India that you must look into.
13. Planning a Virtual Party: for the people who love to party
The spread of the disease has forced businesses to adopt online event management and you can feel the impact of this strategy both in large and small businesses alike. 
While the virus has been an affliction to many businesses but it has also been a blessing for certain, such as the online event planning businesses. Indeed, it is one of the best businesses in India to do in 2022.
14. Online Tuition: For lifelong learners
Despite the issues that have arisen in the age that is based on online education, many benefits come with online learning. In a place specifically designed for learning via virtual technology, the right teachers and tools can assist students to excel. 
Not just students, but teachers are also able to reap the most benefits when they start an online tutoring company. Online courses have become an option for career advancement. Students are seeking online tuition, particularly for the graduate level. 
Online tutors at the graduation level are highly sought-after nowadays. If you've got the required expertise in specific areas and the desire of earning money online you should think about offering online classes.
Book end-to-end experts consultation with Odint finance and legal experts
With the variety of available options, it's easy to discover your area of expertise and make an identity for yourself operating a business. But by partnering with these businesses that are the most lucrative in India it is possible to taste the fruits of your labor like never before and expand exponentially.
If you wish to start with any of the above-mentioned best businesses in India in 2022, we are ODINT Consultancy, here to help you out in each & every step of yours.
Meet Apurva Gaur, an accomplished and dedicated Company Secretary, whose passion for corporate governance and legal compliance has shaped her remarkable journey in the business world. With a wealth of experience and a keen eye for detail, Apurva has emerged as a leading authority in the field of corporate governance, earning accolades for her invaluable contributions to the companies she serves.