Business Ideas In Sweden for 2023-24
Are you searching for a thriving business idea to start in Sweden?
Well, then you have landed on the right place, however, we will be going to cover everything that you desire to know from the advantages of initiating a business to the challenges that you will be facing in your entrepreneurial journey.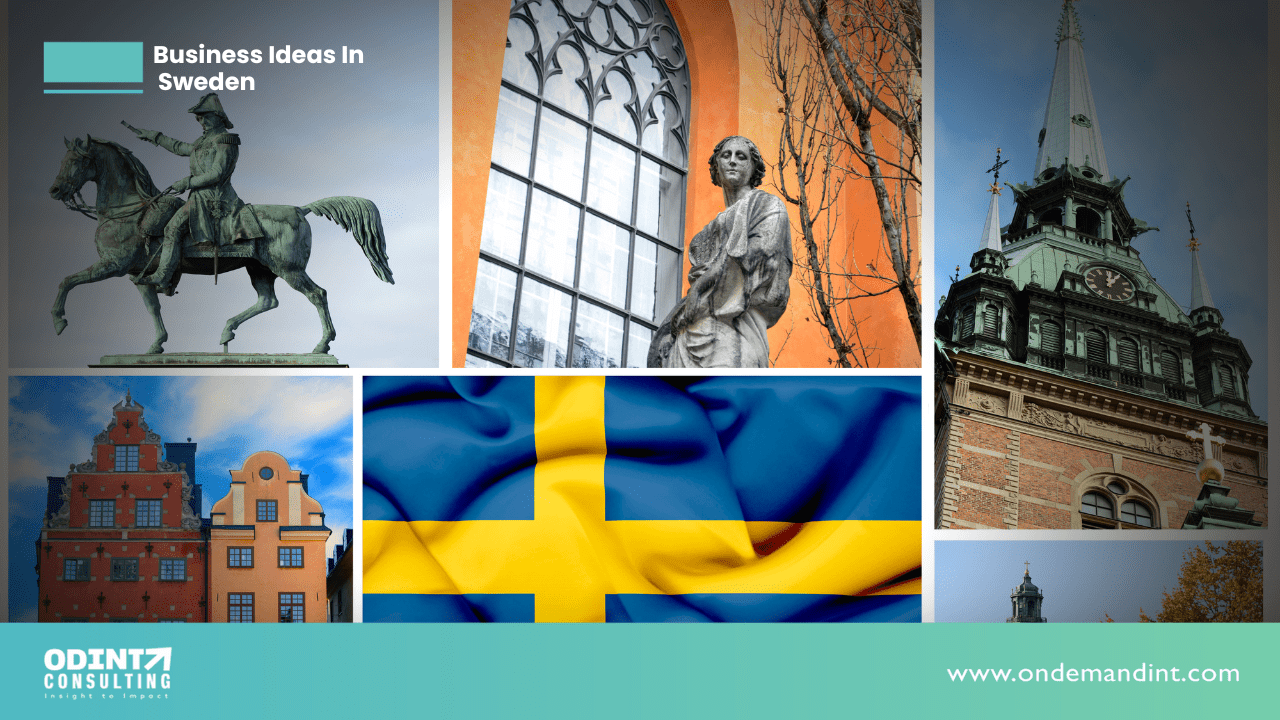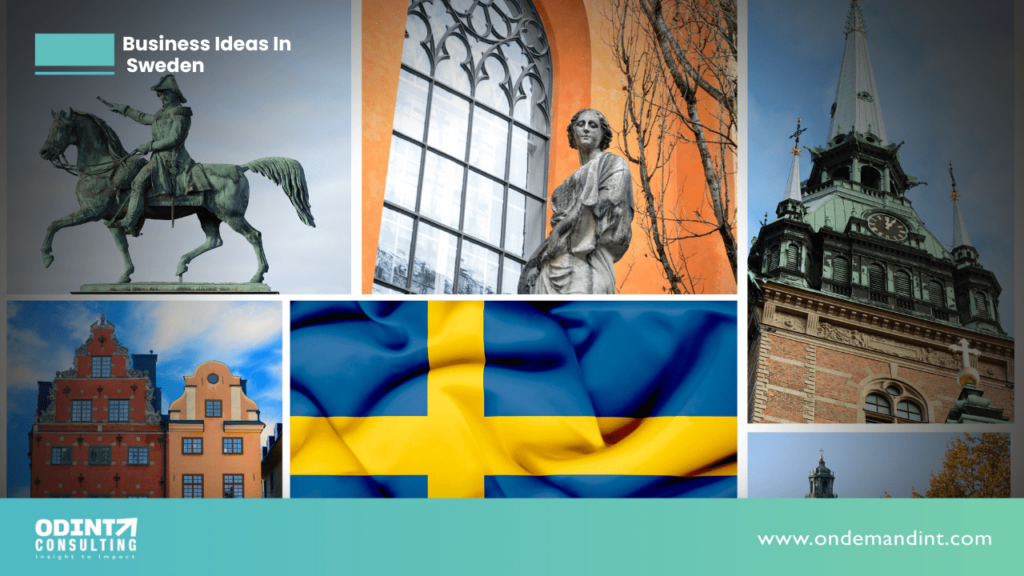 Eventually, Sweden is considered one of the incredible business destinations to perform various business activities. Due to its robust economy, Sweden came in 10th position out of 190 nations in regards to "Ease in Doing business".
Additionally, Sweden has the 4th most competitive economy and an extremely efficient business environment. These amazing attributes are what make Sweden an ideal destination for entrepreneurs and other organizations.
So, without any more delay, let's dive deep into the various business ideas in Sweden to opt for running a profitable business.
Various Lucrative Business Ideas in Sweden to Start
If you want to incorporate a business in Sweden, you should be familiar with the numerous viable business available there. Down below we've listed our top picks for business ideas in Sweden to run and make a profitable business for a longer period.
1. Real Estate Agency
A real estate agency is one of the top business ideas in Sweden to start. A real estate agent is a company where you aid individuals in purchasing houses, land, and other real estate properties.
As a real estate agent, you aid people with sources of information regarding properties, and also in the process of buying and selling. Additionally, you provide the documentation for these properties, confirming that they are the legitimate owners of the property.
2. Coffee shop
Coffee shops are well-known in Sweden and this can be attributed to the hectic lifestyle of the Swedish. A cafe is an area where several flavors of coffee are provided. If you're able to create a good cup of coffee, then you can start your coffee shop.
Additionally, you can create distinctive flavors and develop an original recipe that is unique to you. The cafe-based business idea in Sweden doesn't require much capital and is a lucrative niche to invest in.
3. Catering Business
If you have decent culinary mastery, you can start a catering enterprise. In this case, you will cook meals or you can hire a cook, who will work for you for the events, like house events, wedding ceremonies, etc. 
Catering is another one of the best business ideas in Sweden to opt for, and you could earn a lot of money at a low or no expense. It is also feasible to cook for homes that lack the necessary time. Thus, you can help them get food items.
4. Boutique
No doubt boutique business ideas in Sweden are one of the most profitable and long-lasting businesses. However, the most important thing to do to help your boutique flourish is to locate it strategically located that is where your intended audience is.
You can propose commodities, such as fancy clothes, shoes, bags, accessories, etc. The establishment of a boutique can entice plenty of cash for the owner in Sweden due to the enthusiasm of Swedish citizens for fashion.
5. Vehicle Washing
A business that deals with vehicle washing involves cleaning vehicles of people at a certain price. In this business, you can wash a variety of vehicles, such as buses, cars, and so on. In this type of business, you will be expected to clean both the exterior and interior parts of these vehicles.
You could also start an auto wash business as a side work in expansion to your job. However, it will help you create a side income which will be a better investment in Sweden in the long run.
6. Fruit Farm
The idea of establishing a farm for fruit, which is where a variety of different fruit is picked, like mangoes and pineapples, apples and bananas, papayas, and guavas. It is a fantastic business idea in Sweden, although everyone loves to have healthy fruits.  
So, as a farmer, you could earn money by gathering and harvesting the fruits you grow at your farms. You can also make your natural juices from fruit and sell them to earn more cash.
7. Organic food Store
A food store that sells organic food items including vegetables, fruits such as carrots, garlic, green peas, garlic, and dairy products such as cheese, milk, etc.
Organic food stores are profitable and thriving business ideas in Sweden. But, it is important to be in the right area, with a population that values organic food products.
8. Vegan restaurant
Vegan restaurants have been created to cater to the needs of those people, who don't prefer to eat meat. Vegan restaurants sell products that are free of animal or dairy products.
The majority of people are becoming vegans to live healthier lifestyles. So, if you open an eatery that is vegan in Sweden it is likely that you will receive a lot of customers to your establishment. 
However, you should be skilled and trained in the best vegan food which will attract the people you want to attract, then only it will become a profitable investment in Sweden.
9. Sawmill
A sawmill is where lumber, wood, etc are cut to suit different purposes. A lot of people utilize wood for a variety of uses, including furniture, beds, cabinets, and so on. Therefore, a sawmill operator could earn a significant amount of money by providing for individuals.
This is one of the top investments in Sweden to go with, due to its profitable venture which will generate a great deal of money.
10. Nightclub
The idea of opening a nightclub in Sweden is a profitable venture as the upper class, as well as people who travel frequently, enjoy the nightlife. Some of the most popular nightclubs in Sweden include Berns, Fargfabriken, Morfar Ginko, Publico, etc.
11. Restaurant 
As far as the restaurant business is concerned, it produces over 100 million Swedish Kroners which has provided jobs for 100k plus workers across the nation. You can therefore plan an exquisite restaurant in large cities, such as Stockholm, as well as in small towns on your budget and preferences for a specific location.
12. Consultant Business in Higher Education
As Sweden has a very organized education system, many students across the globe prefer to settle in Sweden to pursue their studies. 
Therefore, educationally-related consultancy is a highly profitable business idea in Sweden which is where we can collaborate with several Universities and assist both students from Sweden and those from other countries in embracing diverse courses offered by various universities in Sweden. 
13. Music Store or Studio
The music industry is flourishing in Sweden which is why it's a great idea to start Music stores as an option. If you possess the funds to spend, you could create a complete music studio, too. 
Music Store is moreover one of the top business ideas in Sweden to begin. In addition to delivering music DVDs or CDs, you can even swap musical instruments. 
Business ideas to begin in Sweden without having an investment
There are multiple businesses that you can run without having an investment in Sweden. However, it's just that you need to know better business ideas in Sweden to opt for the same. 
Event planning business
One of the business concepts that you can begin in Sweden without spending a dime on is a business for event planning. This type of business involves planning and coordinating events, for example, birthdays, wedding events, house parties, etc.
It is feasible to begin this business without investment if you can organize events. As an event organizer, you will be accountable for looking for vendors for your scenes including food vendors, decorators, etc.
As an event organizer, you can collaborate with firms as well as the administration. You should also be in a position to work with your client's budget to create the event they envision for them.
Business of childcare
It is also possible to begin your own childcare firm. This could take the shape of a creche or even a babysitter. The childcare industry can be a profitable one that can earn you money if you can interact with children and take good charge of the children.
The idea of starting a childcare company does not require any capital. Most of your customers will seek you for your expertise as well as your knowledge, experience, and passion for children.
Digital Marketing
Digital marketing is yet another lucrative business opportunity that can be established in Sweden.
Digital marketing is the umbrella term that covers all digital efforts to promote products and services via the internet.
This can include strategies for marketing like SEO/SEM, and social media management as well as the writing of content, marketing via email, and so on. It is also a fantastic business concept that could be developed in Sweden with no investment.
Business of songwriting
As a musician, you could earn a living off of your talent. You can sell your music to artists at a cost or create music for yourself.
This venture only requires your skills and enthusiasm for music. If you do the effort, you'll be rewarded in the industry.
Benefits of Doing Business in Sweden
There are multiple advantages you can take benefit of if you decide to open a company in Sweden. A few of them are:
1. Startups are encouraged
One of the objectives of setting up a company in Sweden is that it's a good place to start startup companies. Sweden is an open country that assists startups in growing. In contrast, following Silicon Valley, Sweden is the next country in the number of billion-dollar businesses.
Today, in the two most renowned states in Sweden, Gothenburg, and Stockholm, there are many successful startups. Furthermore, because Sweden has a tiny market, entrepreneurs can try out their numerous business ideas in Sweden before expanding into larger markets.
2. Open Economy
Sweden is a free and flourishing economy that promotes creativity. Apart from the efforts of the government to expand various sectors of Sweden, individual companies are also flourishing.
The Swedish government also collaborates with other countries, including Brazil, India, etc. to assist the growth of markets in those countries. Sweden's economy also is open and permits the export and importation of commodities.
3. Innovation
Sweden is a highly ingenuous and technologically advanced state. Sweden is ranked highly within the Global Innovation Index and other applicable hierarchies.
The country is also very interested in the field of research and development. A tremendous amount of growth has been witnessed in various fields including biotechnology tools, pharmaceutical development, orthopedic implants, medical imaging, etc. 
4. Business simplicity
Sweden is ranked 10th on the list of 190 nations regarding the ease of doing business. This is a sign of how smooth and simple it is to perform business in the country. The country offers procedures that make conducting business simple. 
For instance, there are provisions to use online services for tax payments and obtaining permits, and transfer of property. These transactions cannot be performed manually, which eliminates the manual application process and stress on documentation.
Sweden is one of the most suitable countries to begin your own business, particularly when your idea is fresh and you've planned the idea after doing a lot of studies, which makes things simpler for you as a fresh entrant to the business world of an economically advanced country such as Sweden. If you want more such business ideas in Sweden and plan to set up a business in Sweden, you need to have professional experts who can assist you in setting up a business in Sweden.
Our professional experts from Odint consultancy will help you in setting up a business in Sweden.