Reasons to trademark a Logo
The use of a trademark logo and name for your business and/or business should be the initial step in your strategy to stay ahead of competitors. Experts in the field also say that consumers also are influenced by corporate trademarks and logos.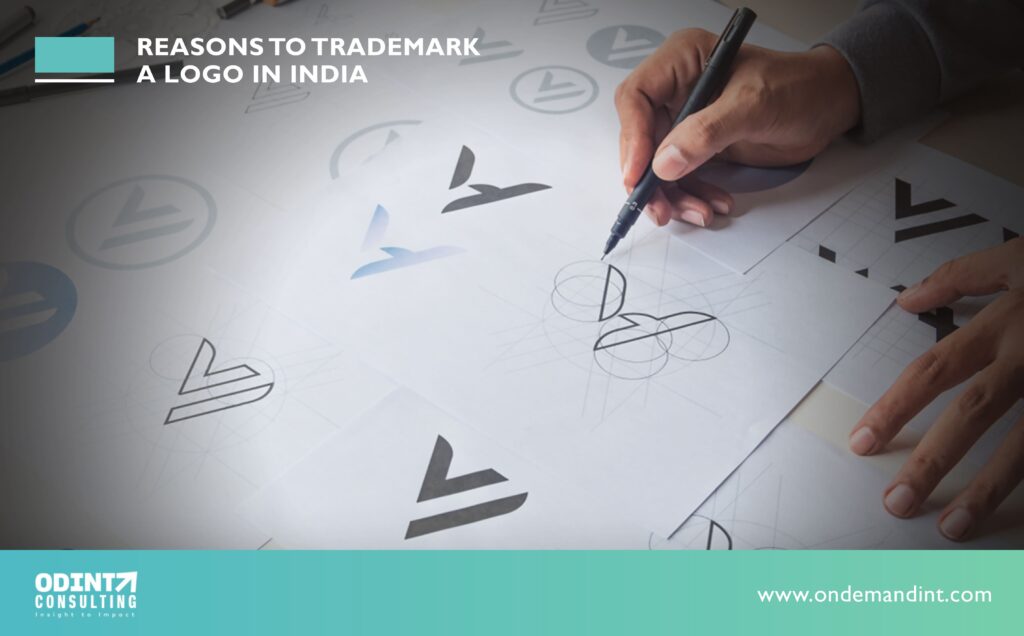 The company name and logo differ for every company that is registered professionally under the Companies Act of 1956 and is taken from competitors following the Trademark Act, of 1999.
A trademark can help build trust among customers in your company and is a valuable asset for the business. It helps the business develop. In this article, the various reasons to trademark a logo have been briefly described. Let's see what are they.
Important reasons to trademark a Logo
There are numerous benefits when you register your logo as a trademark. There isn't a requirement to sign up for your logo to be trademarked, however, there are benefits to doing so, although we have even listed down some of the reasons to trademark a logo.
Some of the reasons to trademark a logo are:
Registration of your trademarked logo gives you the privilege or the right to use that mark. If your logo is not registered as a trademark you can apply it to your geographical region. 
In the absence of registration, someone else from a different area may utilize a similar or the same logo. It's unlikely that you'll be able to stop the use of your logo even if you've had the logo before. 
A person who is using your logo may diminish the worth of your brand as well as your outcome. If your logo is an official trademark, you're in a position to prevent someone else from using the trademark.
If you have registered your trademark as the trademark, you have the right to sue anyone who makes use of the logo without your permission. In some cases, simply possessing trademarks can be enough to prevail in court. 
In certain cases, it's possible to charge someone with a criminal offense for unauthorized use of the trademarked logo.
If you see someone in court to prove a trademark violation or violation A trademark also permits you to recover damages.
Imports of foreign-made products
A trademark that is registered permits you to block the importation of goods from abroad which could violate your trademark. In addition, this advantage helps to stop your brand from being diminished.
If your logo or name is trademarked, you'll be permitted to file trademarks in other countries. Furthermore, it allows you to expand your reach and market your product in overseas markets.
Cost of trademarking a logo
The cost of registering an image as a trademark may vary across the globe. There are two primary expenses:
Trademark application
Attorney's fees
The cost for registration with the Indian trademark office is Rs. 4500 (startup individuals, start-ups, and small and medium-sized businesses SME's) and the equivalent of Rs. 9000 (for other classes) for each mark in the class.
Select your unique design style, name, or logo. A single word from the English dictionary that describes the product or service you offer cannot mark your company's name. Furthermore, the trademark must be unique and distinct for your company.
Procedure to Trademark a Logo
Conduct a search online
Infringement of trademarks even if it is done in error may result in severe legal responsibilities. Thus, it's crucial to conduct the online search process to make certain the logo and name of your company or organization are not used elsewhere.
Trademark applications in India are controlled by the Indian Controller General of Patent Designs and Trademarks. Visit their website for the online search for trademarks details and database. You can handle the search on your own or seek help from a professional. 
There are several lawyers and attorneys working in Indian trademark law and patent law, which are easily accessible on the internet. In addition, on the search page for trademarks, you should provide the following information:
The trademark name you selected
Classes of trademark (there are 45 distinct trademark classes to choose from.)
Input the trademark application
The application form requires you to submit the following documents:
Identification proof of director (if there are multiple owners) along with the address proof
A synopsis of your product or services should not exceed 500 words
A standard 9X5 cms image of your company's logo
Registration for the application to register a brand name
The submission for the trademark application can be completed manually or electronically. If you file manually it is necessary to complete the trademark application by applying in person at one office of five registered trademark offices specifically those in Mumbai, Delhi, Chennai, and Ahmedabad. 
Once you have completed the application, confirmation of the application will take about 15 days from filing.
Examining or scrutinizing the application for registration of your brand name
The application is currently being reviewed by the specific officer to assure the exclusivity of the brand name. 
Additionally, the registrar ensures that the name doesn't match the existing or even pending trademark application. He also assures you that the trademark will be granted legality assured with satisfaction.
The publication of Indian trademark journals
If you are in negotiations concerning the difficulties before the time you take this step the trademark's name and logo will get published in the Indian trademark magazine.
Obtaining the trademark Registration certificate
If the registrar does not receive an objection within a specific period, your trademark and logo will be granted legal protection. So, you'll be issued a certificate of registration along with the seal and allowance that is issued by the Trademark Registry.
There are numerous benefits when you register your logo as a trademark. Although it offers you some sort of protection in case those replicators do something that is damaging to your reputation.
If you're still having questions regarding the reasons to trademark a logo or any other legal advice, we are ODINT Consultancy. We are here to assist you in every way.