Bank Account in Malta in 2023
Do you intend to have your business registered in Malta?
For someone who intends to open a business in Malta or who currently has one registered there, it is essential for them to open a business bank account in Malta in order to facilitate the company's day-to-day financial dealings.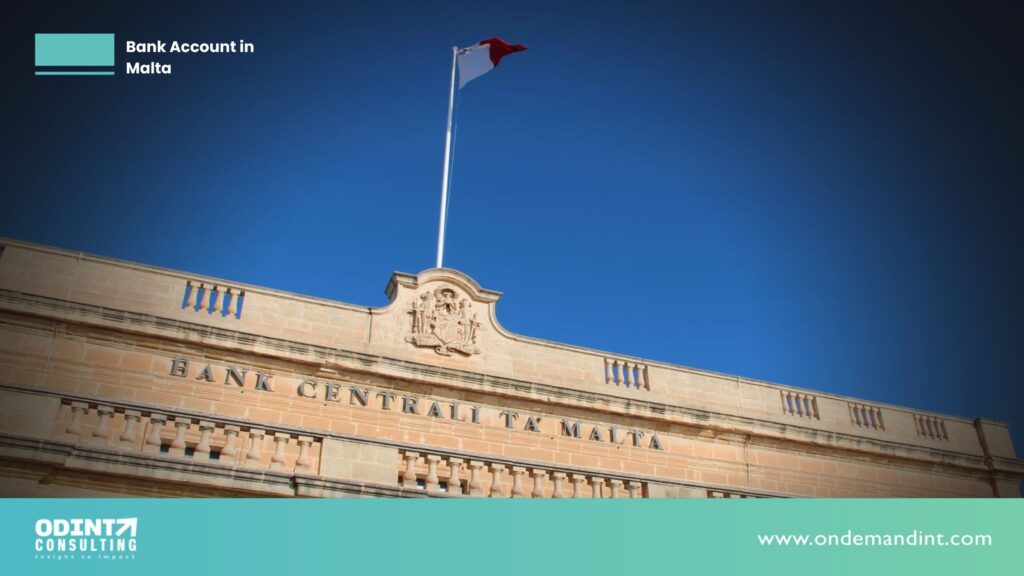 Businesses that are formed in Malta can benefit in numerous ways by establishing a bank account there, including better financial management, tracking of business spending, and access to financing. Foreigners and companies that are established in Malta can open different forms of bank accounts and have access to several sorts of banks in the nation.
The procedure for creating a bank account in Malta will be discussed in this article. In addition, the article will go through the different kinds of bank accounts, common banks, and the paperwork needed for opening a bank account in Malta for foreigners.
Steps for opening a bank account in Malta for foreigners
Here are the steps for opening a bank account in Malta for foreigners:
Select the bank
One of the first steps for opening a bank account in Malta for foreigners involves selecting a bank. While selecting the bank, several facilities must be taken into account, including account kinds, maintenance costs, minimum deposits, withdrawal capabilities, and more. 
Select the type of account
After selecting the bank, the next step for opening a bank account in Malta involves deciding the kind of account you wish to open. You can open a savings account, fixed deposit account, current account, or any other kind of account that is offered by the financial institution.
Collect necessary documentation
The relevant paperwork must be gathered before opening a bank account in Malta for foreigners. ID verification and residence verification are just a few of the documents needed to create a personal bank account. Company registration certificates, corporate structures, and other such documents are some of the paperwork needed to register a business bank account.
Complete the application form
Complete the application form required for opening a bank account in Malta for foreigners. Provide the required information on the form and turn it in together with the paperwork to the bank authorities.
Verification
The application and supporting documentation will be evaluated by the authorities after submission. Application approval is contingent upon the accuracy of the application's information and the authenticity and originality of the supporting papers. 
Approval
Your bank account in Malta will be established if the application is accepted. You can put the required amount in your bank account.
Paperwork required to open a bank account in Malta
The following paperwork is normally required in order to create a bank account in Malta:
For Individual accounts
 The list of required documents may differ from one bank to another.
Nonetheless, some of the typical documents needed to start an individual bank account include:
Application form for opening a bank account

Identification proof: You must present a legitimate piece of identification record, like a passport.
Evidence of income: You might be required to provide proof of your earnings.
Address proof: You must show evidence of your address, which may include an up-to-date utility statement with the address or a lease agreement that is older than six months.
A bank reference from your prior bank could be requested by certain banks.
For business bank accounts
The following documentation is required in order to create a business bank account in Malta:
Filled out account opening forms

A certificate of registration

Memorandum of Association of the organization

Any identification credentials of the business stockholder, such as a passport.

A bank recommendation from your prior bank can be needed by specific banks for certain non-residents.

Articles of Association of the organization
Numerous kinds of bank accounts in Malta
There are numerous kinds of bank accounts in Malta that can be opened by individuals as well as corporate entities. 
Some of the most common Malta bank account for non-residents are discussed below: 
Basic account:

A standard checking account available in all European Union nations that have no monthly charges and is solely intended to meet the most basic fundamental financial requirements.

 
Current account:

The simplest sort of account is a current account, which maintains the funds you require for daily transactions. It is a typical bank account that enables regular fund transfers and deposits. Purchases, financial transfers, and other financial operations can all be done with this kind of bank account in Malta. There are service charges and basic balance restrictions for certain accounts.

 
Savings account:

An individual can use a savings account to retain funds while periodically accruing returns on the deposited funds, whether monthly, quarterly, or yearly. Opening a savings account in Malta is a perfect option for individuals who are looking for a way to retain cash while earning returns on their investments.

Fixed Deposit Account:

A fixed deposit account is a kind of savings account where you are required to contribute a certain quantity of money for a time frame that is specified. Often, this type of account gives an interest rate higher than a standard savings account.
Common banks to open a bank account in Malta
It's crucial to take into account a number of aspects when selecting a bank, including expenses, the variety of products and facilities available, the accessibility of branches and ATM systems, and the level of service provided to clients. 
These are a few of the most popular banks to open a bank account in Malta:
Bank of Valletta

BNF Bank

HSBC

APS Bank
1. Bank of Valletta
The Bank of Valletta, sometimes abbreviated as BOV, is the earliest, and possibly the most popular bank in Malta. One of the biggest banks in Malta, BOV was founded in 1974 and has a  nationwide system of bank branches and ATMs. The bank provides private citizens and firms with a wide variety of financial services, including banking, investment options, trade financing, as well as treasury management. It is accessible to both inhabitants and non-residents and provides services exclusively in English. The BOV bank requires a statement of reference from your present bank in order to establish a bank account in Malta. Together with that, you must also present a Maltese resident identification or your passport, and if you do not possess either of them, you'll have to present verification of your current address.
You will also need to produce any of the relevant documentation mentioned below to demonstrate your relationship to Malta:
Employment agreement

Valid lease contract

Real estate acquisition agreement
If you transfer funds electronically frequently, you should be aware that the price for electronic payments (such as SEPA transfers in Euros) varies from €1 to €4 for each transaction. In comparison to competing options on the market, this one is more expensive.
2. BNF Bank
BNF Bank in Malta was originally known as Banif Bank and is a well-known local financial institution in Malta that provides services in English. BNF Bank provides a variety of financial products and services for private citizens, companies, as well as customers in the corporate sector. The main benefit of opening a bank account in Malta for foreigners is that BNF won't request a reference from your present or former bank if you merely need a current bank account. The prerequisites for opening a bank account in Malta for foreigners in BNF are passports or Maltese Identification documents, evidence of residence, and a work contract.
3. HSBC
One of the biggest financial institutions worldwide, HSBC is a British financial institution with over 40 million clients spread throughout many different nations. There is a nationwide network of HSBC Malta's branches and ATMs. Via HSBC's digital banking infrastructure, users may also manage their accounts and carry out financial transactions digitally. A wide range of goods and services are provided by HSBC Malta, including savings as well as current accounts, lending, investment opportunities, etc.
The following criteria must be met in order to open an HSBC bank account:
Passport or residency permit from Malta

Address verification

Bank reference
4. APS Bank
The APS Bank offers a variety of goods and services provided to consumers. The services provided by APS Bank include personal banking, corporate banking, investing, as well as wealth management. Several types of accounts are offered by APS Bank including savings, current as well as fixed deposits. Together with providing a range of loans trust, APS Bank maintains a collection of branch locations and ATMs.
Benefits of opening a business bank account in Malta
The numerous benefits of opening a business bank account in Malta are listed below:
Adherence to the law
In Malta, maintaining an independent bank account for commercial activities is required under the law. By maintaining a corporate bank account, you can be assured that you are complying with regulations and avoiding any potential consequences.
Professionalism
Establishing a corporate bank account makes your company seem more reputable. It gives clients and vendors the assurance that is collaborating with a reliable business.
Managing finances
Opening a bank account in Malta helps you manage your finances better. It simplifies the process of controlling cash flow and keeping track of commercial expenses, by clearly separating individual and corporate expenditures.
Financial availability
Opening a bank account in Malta will help you have better access to finance, such as loans.
Convenience
Establishing a bank account in Malta can make it simple to use financial services including the Internet, and credit card facilities. This can simplify commercial operations and help save money.
Recommendations for establishing a bank account in Malta
Listed below are some suggestions that can be useful if you're considering opening a bank account in Malta:
Select the appropriate bank

– Select the most appropriate bank that suits your requirements. In order to pick a bank that suits your requirements, analyze several financial institutions' offerings. There are many things you can take into account, like the fees, the minimum balance necessary, the amenities offered, accessibility, online services, and customer service. 

Make an appointment-

You must contact and make an appointment prior to going to any bank in Malta.

Collect the required paperwork

– Ensure you are carrying the required paperwork before going to the bank. 

Download the application

– At the institution's main portal, you may obtain an electronic application form, which you could then fill out ahead of time to shorten the in-person meeting. 

Check all the costs and expenses

– You must also thoroughly review all additional fees and charges before selecting a financial institution. Ensure that you're aware of the expenses and charges related to the financial institution you are thinking about. While some institutions simplify the process for foreigners to establish financial accounts, occasionally they do so to increase their own attractiveness only to come up with irrational fees afterward. Certain banks might impose processing fees, periodic maintenance expenses, or other expenses. 

Possibility of opening an international account

– You might wish to find out if you're able to establish an international account at a branch from your home nation or your current place of residency prior to actually migrating to Malta due to the numerous international banks in Malta. 

Think about currency exchange-

If you are a non-resident residing in Malta, take into account the exchange rates of currencies and transaction costs while sending and receiving money.
Can a foreigner open a bank account in Malta?
Yes, opening a bank account in Malta for foreigners is possible. In Malta, opening a bank account is possible for foreigners. Foreign nationals may open a bank account in Malta as long as they meet the conditions and fulfill the necessary requirements given by the banks. The majority of banks demand that international individuals have a legal address in Malta. Other than that, banks could ask for a reference from your present bank so they can see a record of your proper performance as a customer. Non-residents could additionally need extra documentation demonstrating the legitimacy of their earnings and ties to the nation.
The criteria for opening a bank account in Malta for foreigners may vary between the various banks. Also, some banks in Malta could need you to physically travel to a location to open a bank account, while certain other banks might provide foreign nationals with the option to open a bank account in Malta online.
Book end-to-end experts consultation with Odint legal, accounting and company formation experts.
For both people and organizations wishing to handle their finances efficiently, opening a bank account in Malta is a crucial step. Opening a bank account in Malta for foreigners can help you handle your finances more efficiently, and gain access to financing possibilities. But, when opening a bank account, you must select the account type and bank that best suit your needs.
If you are looking to open a bank account in Malta, you can get in touch with our experts at Odint Consulting. Our experts will assist you in deciding the bank that meets your expectations and will guide you through the procedure for opening a bank account in Malta.