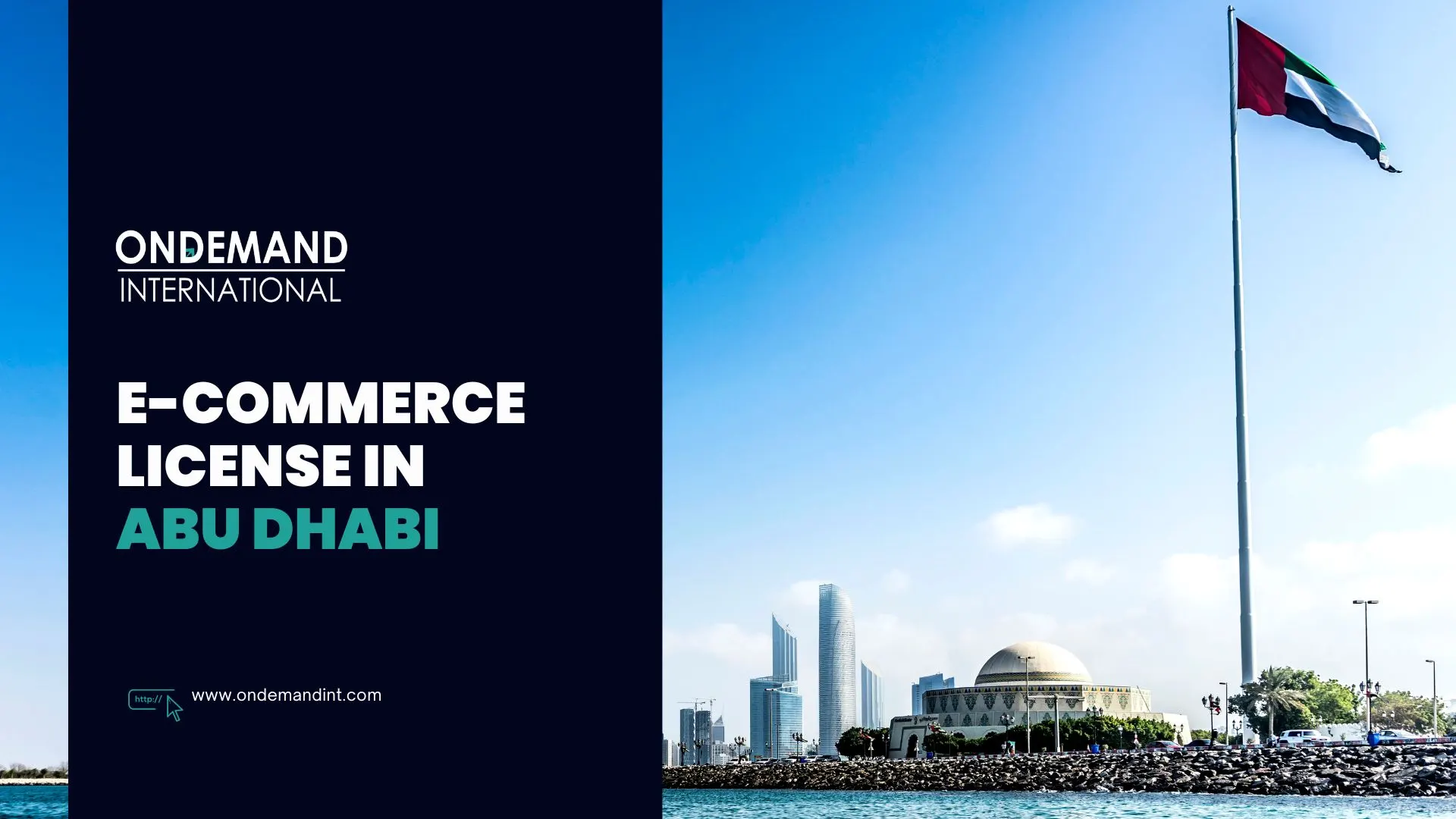 Organizations desiring to establish an electronic commerce enterprise in Abu Dhabi are required to obtain an e-commerce license in Abu Dhabi from a joint effort between the Abu Dhabi Department of Economic Development (ADDED) and the Telecommunications Regulatory Authority (TRA). The designation of this authorization is Tajer Abu Dhabi.
This license confers advantages to both established entrepreneurs and individuals aspiring to venture into the business domain. Established companies may integrate Internet services into their marketing or service portfolio, whereas startups may obtain permission to operate and promote their operations on the Internet. Employing their license serial number and the eCommerce mark can be utilized for promotional purposes.
What is Abu Dhabi's E-Trade License?
Organizations and individuals who promote and distribute products via social media platforms or websites are eligible to register for an E-trade license. To conduct online transactions through a legitimate social media account, a valid E-trader license is required. 
This category includes homemakers and housewives who engage in the online sale of a variety of products and services, including handcrafted crafts, fashion apparel, jewellery, and more. Trader certificates are provided in Abu Dhabi for home-based firms that do not require office space. Application of Ejari documentation is unnecessary. E-trader licenses are accessible to independent contractors engaged in the provision of diverse digital services.
Also Read : Company Formation in Katowice
Documents Required for an Abu Dhabi E-commerce License
Some of the documents required for an e-commerce license in Abu Dhabi are:
Copies of the proprietors' passports

Visa status or entry mark copy

One passport-sized image

Additional documentation might be necessary under the specific activities.
Procedure to Apply for E-Commerce License in Abu Dhabi
The applicant is responsible for selecting the legal structure or form of entity they desire for the organization. It may be a sole proprietorship, a Limited Liability Company (LLC), or a division of an existing business.

Additionally, they must decide whether the company will be located on the mainland or in an autonomous zone.

The applicant is required to register a memorable and distinctive trade or company name. They must select an acceptable domain name because they aim to sell things online.

To obtain an eCommerce license, they must approach the Department of Economic Development (DED) or the free zone authorities. The form of license the applicant obtains will be contingent upon the nature of the online business that they aim to establish.

The applicant must apply for the initial approval certificate, which is valid for six months. 

They ought to determine an appropriate site for the office. The establishment of a legal entity in the UAE necessitates the possession of a physical office, as mandated by an administrative decree of the government.

Within approximately one week of fulfilling all requirements and completing the application procedure, the eCommerce license will be issued to the applicant.
Benefits of Obtaining an E-commerce License in Abu Dhabi
Abu Dhabi's infrastructure is world-class, with cutting-edge logistics and transportation systems. This well-developed infrastructure allows for efficient supply chain management and order fulfilment, both of which are vital to e-commerce success.

By establishing an e-commerce firm in Abu Dhabi, the applicant obtains access to a diverse and affluent consumer base in the UAE and around the region. The UAE's population is diverse, with varying purchasing power, creating several opportunities for corporate growth and expansion.

If you want to learn more about starting a business in Abu Dhabi, visit our Abu Dhabi business incorporation page.

The Abu Dhabi government actively supports and fosters the growth of the e-commerce sector. Grants, accelerators, and incubators are some of the programs and incentives available to assist startups and small and medium-sized enterprises (SMEs) in their growth.

Abu Dhabi's strategic location in the United Arab Emirates (UAE) positions it as a crossroads between the East and the West. The UAE is an appealing location for e-commerce firms targeting customers in the Middle East, Africa, Europe, and Asia due to its excellent accessibility to key global markets.
While there are costs connected with establishing a business in any country, Abu Dhabi, when compared to many other jurisdictions, has exceptionally low setup charges and speedy registration procedures. This allows businesses to start operations with a lower financial barrier.
Cost to Acquire E-commerce License in Abu Dhabi
The cost of an e-commerce license in Abu Dhabi is determined by numerous factors, including licensing costs, trademark registration, and government fees. The cost is also determined by whether your business is established on the mainland or in a free zone. Both free zones and the mainland have advantages and disadvantages, and you can decide where to put your business.
Conclusion
Obtaining an e-commerce license in Abu Dhabi is a critical step for entrepreneurs and firms looking to enter the UAE's burgeoning digital economy. While the process is simple, it does necessitate careful navigation through legal and regulatory systems peculiar to Abu Dhabi. This is where OnDemand International comes into play.
OnDemand International emerges as a critical partner for your e-commerce enterprise due to its wide knowledge and thorough awareness of the local business scene. They make the complexity of obtaining an e-commerce license in Abu Dhabi easier to understand, ensuring that your company complies with all local rules and regulations. Their customized services, which range from legal advice to business setup and consultancy, give a smooth and efficient path to founding and operating your online business in this exciting market.
The cost of an e-commerce license in Abu Dhabi is determined by the type of license requested and the location of your firm. The annual costs are normally between AED 5,000 and AED 20,000.
An e-commerce license in Abu Dhabi can be purchased online through the ADDED website or in person at an ADDED customer service facility.
An e-commerce license in Abu Dhabi can be obtained by any individual or company that is lawfully registered to do business in the UAE.