Sweden is one of the best places in the world to start a business. With advantageous governmental and regulatory frameworks, open business practices, and innovative culture, the country provides an alluring business climate. Sweden also boasts a highly advanced economy, lower levels of corruption, a skilled labor force, and straightforward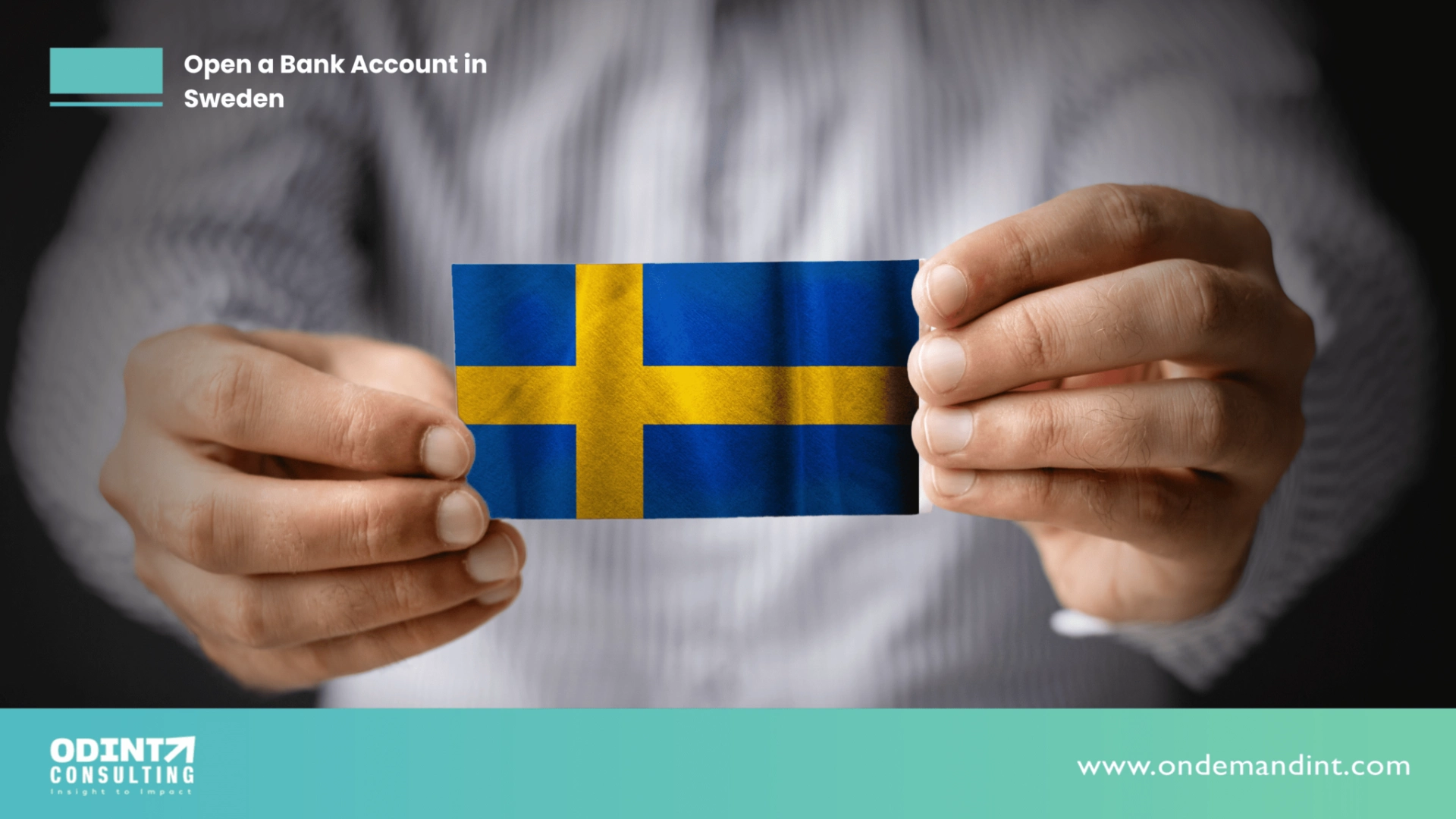 connectivity to the European market. These circumstances make it advantageous for people to register a corporation in Sweden. 
However, while registering a firm in Sweden, one of the things that must be done is to open a bank account in Sweden. Opening a business bank account in Sweden can give individuals and companies access to loans, assistance in organizing corporate finances, and many other advantages.
The process of opening a bank account in Sweden will be covered in this article. The requirements and types of accounts, and documentation needed to open a bank account in Sweden will also be discussed.
Why Open a Bank Account in Sweden?
Sweden is ranked as the 10th best country for doing business as per the World Bank. However, in order to conduct successful business in Sweden, individuals and entrepreneurs will have to open a bank account in Sweden in order to acquire financing at lower interest rates, manage business financial transactions, control their business expenses from their personal expenses, and so on.
The following are some justifications for opening a bank account in Sweden:
Access to finance:

If you are setting up a firm in Sweden, you will require lots of funds. Hence, having a bank account in Sweden can make it simpler for you to get financing and loans for incorporating or growing your business at lower interest rates. 

Access to the European marketplace:

Since Sweden is a part of the European Union, opening a bank account there could provide you exposure to the larger European marketplace and banking network.

Budgeting and financial planning:

Having a bank account in Sweden can make it easier for you to plan and manage your funds. You can control your finances more effectively and reach your financial objectives by keeping records of your expenditure and profit patterns.

Digital banking facilities:

Sweden is renowned for its sophisticated digital banking network, which makes managing your business accounts digitally or via phone applications simple and efficient. It is simpler to control your company's money remotely because many Swedish banks have advanced Internet banking facilities.
How can you open a bank account in Sweden?
Opening a bank account in Sweden is a straightforward procedure as long as the prerequisites are fulfilled. To open a bank account in Sweden, you'll need to present identification proof, which might include a passport or national identification card, as well as proof of your legal permission to live and operate in Sweden, which could include a visa or work permit. Having a visa or work permit in Sweden simplifies the procedure for establishing a bank account in Sweden.
Another approach of opening a business bank account in Sweden is to register a company there. The process of opening a bank account in Sweden is made easier by opening a business there. This is due to the fact that proving your residence in Sweden is one of the requirements you must meet. Businesses that are registered in Sweden already have a registered business address, which demonstrates that you have a good reason for obtaining a bank account there.
Types of Bank Accounts in Sweden
There are various kinds of bank accounts in Sweden, each with unique characteristics and advantages. 
The most popular forms of financial accounts in Sweden are listed below:
Savings account:

Savings accounts are made to encourage storing cash through the payment of interest for deposits. This kind of bank account in Sweden frequently doesn't have any charges or minimum investment criteria.

Current account:

A current account is a type of bank account that lets you put in and take away cash, carry out transactions, and handle your everyday financial arrangements. The majority of current accounts in Sweden charge monthly or yearly charges, however, if specific requirements are fulfilled, some institutions may provide accounts without any costs. In Sweden, this sort of bank account frequently includes a debit card and Internet banking facilities.

Business accounts:

Proprietors of small enterprises can use business accounts, which include services like electronic billing, payroll administration, and monitoring of the level of spending.
Procedure for Opening a Business Bank Account in Sweden
The following procedure listed below can be used to open a bank account in Sweden:
1. Select a bank
Selecting a bank is one of the first steps in opening a business bank account in Sweden. Numerous aspects must be considered when choosing a bank, such as the services the bank offers, the minimum deposit amount needed, ATM fees, monthly charges, transaction fees, and more.
2. Decide on the type of account
After picking the bank, the following step is to determine the kind of account you want to open. Different banks will offer different types of accounts each with its own requirements and facilities. Various banks will provide many account kinds, each with its unique criteria and specialties. The current account, business account, and savings account are the most preferred for opening a bank account in Sweden.
3. Collect appropriate documentation
After choosing the type of account you want to start, the third phase entails gathering the necessary paperwork. The essential documentation that you need to provide includes proprietor identification papers, company bylaws, address verification, etc. Several supplementary documents may be requested by some banks.
4. Complete the account opening application form
Set up a meeting with the branch of the bank where you want to open a business bank account in Sweden. Once the meeting has been set up, visit the branch and complete the account opening application form. After that, deliver the application to the bank's authorities together with the pertinent paperwork that the bank requires. Bank employees could inquire about your company in order to confirm your identification and documentation.
A few Swedish banks also permit corporate bank account establishment digitally.
5. Deposit required funds
Upon submission of the application and supporting paperwork, they will be examined by the bank representatives. Upon acceptance of the application, the bank account will be opened. However, you may be required to deposit the opening balance in order to activate your bank account.
Paperwork expected for opening a business bank account in Sweden
Based on your native region's citizenship condition and how long you plan to stay in Sweden, there may be a different set of paperwork needed to create a bank account in Sweden.
The paperwork expected for opening a business bank account in Sweden includes:
Identification proof:

You must provide identification evidence such as an EU or EEA passport, and a national ID card for Sweden.

Residence proof:

Electricity invoices and leasing agreements serve as proof of residence in Sweden.

Evidence of work:

Swedish documentation of your employment or education must be provided.

Residency permit:

If you are not a resident of the EU/EEA member, you must present a non-EU/EEA passport along with a Swedish residency permit.

Personnummer:

You are required to submit the personal identification number  (personnummer) in Sweden if you're not an EU or EEA resident.
Our experts at Odint can assist you with gathering the required paperwork for opening a business bank account in Sweden.
Criteria to Open a Bank Account in Sweden
The following requirements must be met in order to lawfully open a bank account in Sweden:
Age

: In order to open a bank account in Sweden, individuals must be at least 18 years of age or older.

Identification

: The individual must ideally possess a European Union passport.

Residency

: The individual applying for opening a business bank account must possess a Swedish residence address.

Residence Permit

: Non-EU citizens will require a residence permit and are required to have a personal identity number (personnummer) of Sweden to open a bank account in Sweden.
Different banks to open a bank account in Sweden
In Sweden, the bank you choose to open an account with will rely on your circumstances, individual interests, and the services the bank provides. The Swedish banking industry has a strong emphasis on technology. This implies that almost all banks provide customers with the newest technological tools and applications to swiftly and easily handle their everyday accounts. Yet, selecting the ideal bank in Sweden for your requirements is crucial in order to take advantage of the numerous facilities provided by the institution as well as to comprehend how opening an account with a specific bank can help your business to grow.
Here is a list of a few of Sweden's largest and best-known banks where you can open your account:
SEB Bank

Handelsbanken

Nordea

Swedbank

Revolut

Danske Bank
1. SEB Bank
One of Sweden's biggest banks, SEB, is based in Stockholm. Having resources of 3.44 trillion SEK, SEB Bank has developed into a significant bank with activities in more than 20 nations throughout the globe. A variety of banking and financial services are provided by SEB Bank, such as savings accounts, pension savings, online banking, SEB Maestro charge cards, customer care assistance at any time, etc. The regular account from SEB Bank gives you access to banking applications for monitoring your daily expenses and paying payments.
2. Handelsbanken
One of Sweden's biggest financial institutions, Handelsbanken, has numerous branches in different locations of the world. With substantial branch networks in its domestic markets, Handelsbanken conducts business worldwide with more than 20 nations. The bank is renowned for its decentralized structure, in which local branches have a great degree of autonomy and authority to make decisions. They take great satisfaction in having a strong credit rating, and since they possess numerous outlets, they can give helpful localized client assistance. A variety of financial services are provided by Handelsbanken, such as savings accounts, card payments, online and mobile banking, assistance for clients at all times, mortgages, and financing.
3. Nordea
One of the greatest financial organizations in the Nordic region is parented by Nordea. According to market capitalization, Nordea, a Nordic financial institution that conducts business abroad, is among the leading 10 financial services providers in Europe. Nordea has earned recognition for its sustainability initiatives and has been one of the globe's most sustainable financial institutions. Many banking and financial facilities are provided by Nordea, such as corporate finance, online banking, complete insurance, savings accounts, mortgages, as well as credit.
4. Swedbank
Swedbank was established in 1820 and offers banking solutions throughout the Nordic-Baltic province. This type of financial institution lets you create an account electronically by employing your phone BankID. Using your Swedbank current account, you can access daily financial activities via electronic and mobile banking. Investments and savings accounts, insurance facilities, credit as well as debit card transactions, mortgages, and wealth control are just a few of the financial services that Swedbank provides. The customer support division of Swedbank provides assistance in both Swedish and English. In order to make transactions and exchanges easier, Swedbank also uses the "Swish" system.
5. Revolut
In Europe, Revolut is among the most popular digital financial institutions. Revolut works internationally with several other nations, including Sweden. Card payments, currency trading, and transfer of funds are among the banking services provided by UK-based Revolut, a fintech corporation. This bank provides its customers with a variety of financial facilities in Sweden, such as a payment card, internet banking software, and the option to convert currencies at interbank levels. Also, Revolut provides instruments for creating budgets as well as the option to round up expenses and conserve change.
6. Danske Bank
A Danish bank called Danske Bank has operations in a number of nations, such as Sweden. This sort of bank in Sweden offers financial services to both people and companies in the nation. The Swedish Financial Supervisory Authority oversees Danske Bank's operations in Sweden. With numerous offices spread out over the nation, the bank is well-represented in Sweden. Swedish customers can choose from a number of services provided by Danske Bank, such as savings accounts, lending, mortgages, investment opportunities, and insurance policies. In addition, the bank offers a number of payment alternatives, including Internet banking, as well as phone banking.
What does a Personnummer in Sweden mean?
A national identification number employed mostly for taxation and other government services in Sweden is called a personnummer. Residents of the European Union or EEA can legally establish a corporate bank account in Sweden without a personnummer. Although, individuals from other nations are required to provide their preferred bank a personnummer.
When residing in Sweden, a personnummer is required in numerous additional circumstances in addition to banking. You'll require it to access medical services and pension schemes, obtain a driver's license, and engage in employment. You must enroll with the Swedish Tax Agency (Skatteverket) in order to receive the personal identity number.
Is it possible to establish a bank account online in Sweden?
Swedish banking regulations are extremely tight. Several institutions do not provide the ability to establish an account digitally because of anti-terrorism and anti-money laundering laws. Nonetheless, there are certain banks that will allow you to establish a bank account online in Sweden. A Mobile BankingID is utilized by numerous banks in order to assist its client in opening a business bank account in Sweden. Swedish banks may provide you a Mobile BankID that is particular to you after your identification has been confirmed in person, which you are able to utilize as an electronic identification number. Since this facility is recognized by all institutions, clients can use this facility to sign and transfer papers electronically.
You can do the following to confirm your identification with Swedish banks:
Bring your Swedish driver's license, a government-issued identity card, or a verified ID card with you so that the financial institution can verify your identification.

If you do not possess Swedish identification papers, the institution can verify your identity by utilizing your passport or other official documentation that demonstrates your citizenship. There can be a need for a variety of extra documents by the bank to verify your identification.
The financial institution can nonetheless verify your identification even if you have no official identification papers by using other trustworthy records and other assessments in compliance with the mandatory risk-based processes the bank is required to maintain in effect.
Fees and charges for bank accounts in Sweden
In Sweden, bank account fees and charges might differ based on the bank, the kind of account, and the services provided.
The following are some typical charges you might have to pay for opening a business bank account in Sweden:
Monthly account charges
Monthly account charges are levied by most banks in Sweden for maintaining the current bank account. These fees can be as little as a few kronor or as much as multiple hundred kronor monthly.
Transaction charges
Banks levy fees for a variety of transactions, including purchases, transfers, as well as withdrawals. Different rates of fees may apply depending on how much and what kind of transaction it is.
ATM fees
Banks impose ATM fees upon those who utilize an ATM that is not owned or operated by the institution.
Overdraft fees
You can incur overdraft fees if your spending exceeds the value of funds held in your account.
Cheques
In Sweden, checks are uncommon, so if you want to deposit them then you can expect to incur a hefty charge.
Account maintenance charges
The majority of the institutions that do not impose any minimum investment requirement or ATM charges can probably impose an annual maintenance cost instead. Typically, this expense comes to about 250 SEK.
Foreign transfer charges
When you use your account to carry out transactions in a different currency, a conversion fee might be imposed. For instance, Handelsbanken levies SEK 60 electronically and SEK 150 in branches for sending payments to non-European Union nations, with delivery guaranteed in 2-3 working days.
Bank transfers are a common way for foreigners to transfer cash between accounts. Nevertheless, this sort of transaction typically entails costs from intermediate banks, the originating bank, as well as foreign transfer costs from your Swedish financial institution.
Sweden is located in Europe and has a steady financial system because the country's favorable operating environment enables the financial industry to flourish. The nation's financial sector keeps lower rates of interest, which will aid in rising earnings and financial profitability. Sweden's remarkable economic expansion has made it possible for the financial sector to progress which can help entrepreneurs who wish to open a bank account in the nation. A bank account in Sweden can be opened either in person or digitally.
If you intend to open a bank account in Sweden, speak with our specialists at Odint Consulting. Our specialists will help you in choosing the bank that best fits your need and will further guide you through the application process.