Opening A Bank Account In Luxembourg in 2023
Luxembourg is well-known for its thriving banking sector due to which people as well as companies wish to open a corporate bank account in the nation. Luxembourg offers an advantageous setting for handling personal and commercial finances because of its financial security, tax benefits, and accessibility to global financial services.
If you are a resident or a non-resident individual who is considering setting up a business in Luxembourg, opening a bank account will help you have better access to your finances thereby making it easier to keep track of your losses and earnings. Nevertheless, there are many factors to consider before opening a bank account in Luxembourg, including the types of accounts that are accessible, the services the bank offers, the fees associated with those services, the availability of branches and online facilities, and so on.
In this comprehensive article, we will guide you through the procedure of opening a bank account in Luxembourg. We will provide insights on different types of accounts, and the necessary documentation, and highlight the best banks to consider. We will also discuss the several advantages of opening a bank account in Luxembourg.
Types of accounts for opening a bank account in Luxembourg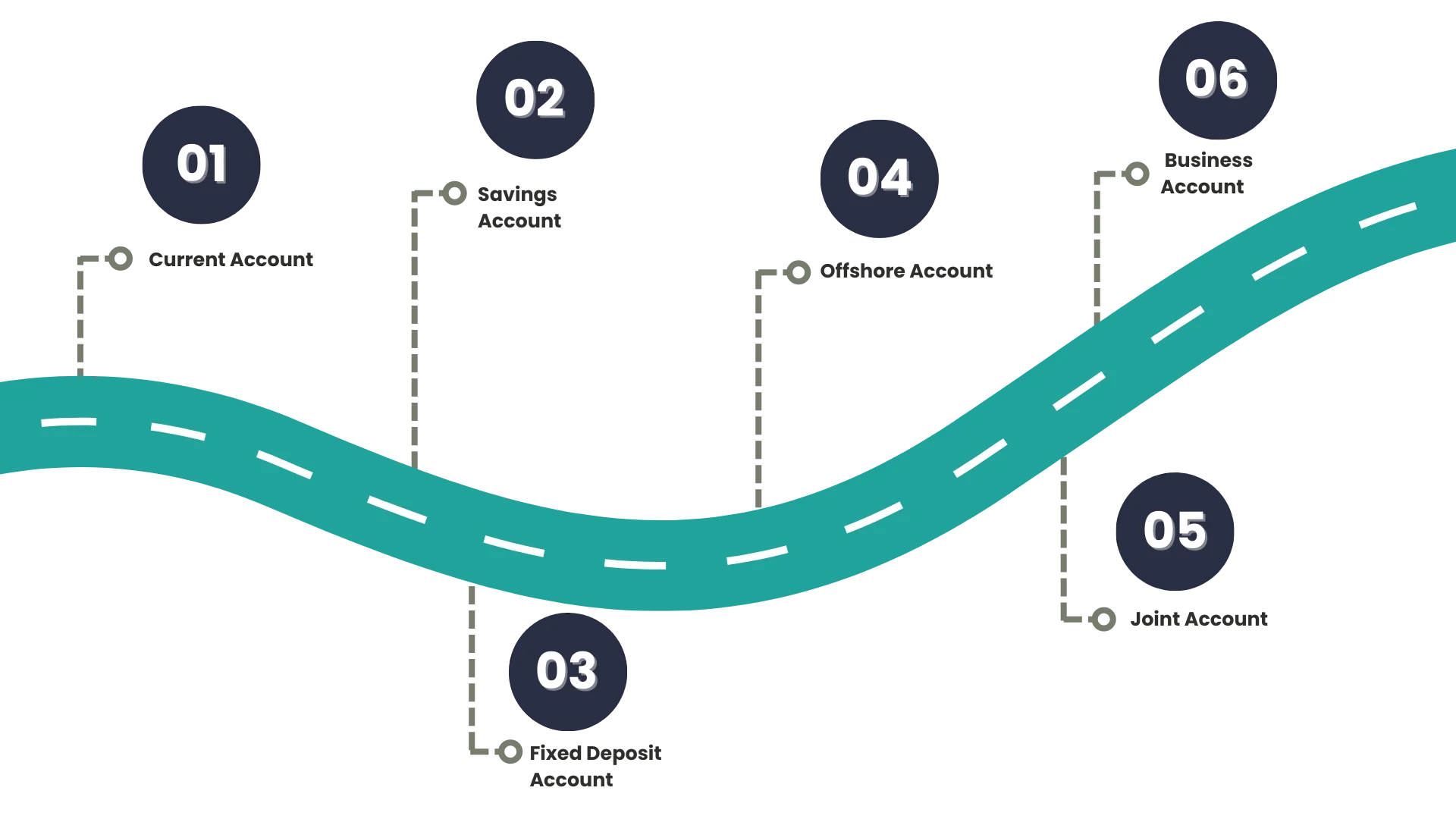 Here are the various sorts of accounts that you can use while opening a bank account in Luxembourg: 
1. Current Account
A current account, commonly referred to as a checking account, is a fundamental account that is utilized for regular banking operations. You can effortlessly monitor your funds, make purchases, and transfer and withdraw funds from such accounts. Debit or credit cards, opportunities for borrowing or investments, are available with current accounts.
2. Savings Account
Savings accounts are available for people who desire to save money and receive a return on their deposited amount. These accounts often have less interest rates and give you quicker access to your funds whenever you require it.
3. Fixed Deposit Account
A fixed deposit account allows you to place a specific quantity of funds for a given length of time at a specified interest rate.  These accounts provide greater interest rates than typical savings accounts, however, you will not be able to withdraw the money before the certain time period is over.
4. Offshore Account
Many foreigners choose Luxembourg as an offshore banking location and as such a sizable portion of the country's banking customers are non-residents. Aside from people who are employed there and reside elsewhere (cross-border employees), other clients are choosing to open a corporate bank account in Luxembourg because of the nation's greater confidentiality and advantageous tax laws for businesses.
5. Joint Account
A joint account enables several people to collectively share a single account, like couples or business associates. It makes handling shared funds more convenient and may be helpful for achieving group financial objectives.
6. Business Account
Accounts that are specially made for businesses give them the ability to keep track of their money, accept payments from clients, pay vendors, and carry out other banking tasks connected to their daily operations.
Documentation for opening a bank account in Luxembourg
Whenever you are opening a bank account in Luxembourg, you will have to present the documents stated below:
Identification documents:

you must present identification documentation such as a valid passport.

Proof of residence:

You must show your residential proof such as your lease agreements or recent utility bills.

Employment verification:

You may present your employment contracts or letters from employers.
Accessibility to more sophisticated features including overdraft, credit, and borrowing can be obtained with the use of documentation such as those listed below:
You might also have to present your tax number, either from Luxembourg or your home nation.

You'll probably need to submit a credit report and a statement of earnings.

You must submit credit solvency proof when applying for a credit card to demonstrate your ability to repay the financial institution for the amount borrowed.
Procedure to open a corporate bank account in Luxembourg
In order to open a corporate bank account in Luxembourg, you must follow the steps given below:
1. Decide the bank and the account type
When choosing a bank, you can take into account a wide range of variables, including services provided, fees, minimum balance requirements, and more. Upon selecting the bank, you must choose the type of account you wish to open.
2. Collect the required documentation
Collect the documentation required for opening a bank account in Luxembourg including identification record, residence proof, etc.
3. Contact the bank
Make contact with the chosen bank and arrange a meeting to go over the account opening procedure. Some banks may allow you to establish an online bank account in Luxembourg.
4. Visit the bank
You should go to the bank and fill out the account opening form and submit it together with the required paperwork.
5. Due diligence procedure
The bank will carry out its due diligence procedure, which includes examining the submitted documents for validity, checking the backgrounds of the directors and owners, and determining the risk associated with the company.
6. Opening of the bank account
Once the bank has finished its due diligence process, it will consider your request for opening the account. If accepted, the financial institution will give you information regarding your account, such as account numbers and access credentials.
At Odint Consulting, our experts specialize in applying for bank accounts on your behalf, ensuring compliance with all requirements. Our dedicated team will meticulously review your application to ensure all requirements are met, increasing the chances of a successful outcome.
Common banks for opening a bank account in Luxembourg
Luxembourg is home to many banks and has an established banking industry.
1. BGL BNP Paribas
The largest bank in the country and a major player in international finance is BGL BNP Paribas. With a sizable presence in Luxembourg, the French multinational BNP Paribas is renowned for its exceptional accommodation of non-resident clients. In addition to having a large network of branches nationally, BGL BNP Paribas now offers a user-friendly online banking service. Along with financial, insurance, investment, and other services, BNP provides a comprehensive range of online solutions, including both free and premium Mastercard payment alternatives.
2. Raiffeisen Bank
Raiffeisen Bank Luxembourg is a cooperative bank with a strong presence in the local market. It's not difficult for non-residents to establish an account with Raiffeisen. Raiffeisen Bank Luxembourg strongly emphasizes its cooperative principles and seeks to serve the neighborhood through ethical banking practices.
3. Banque Internationale à Luxembourg (BIL)
Banque Internationale à Luxembourg (BIL) encourages the creation of new accounts by non-residents. BIL also offers the facility of opening an online bank account in Luxembourg. To qualify, candidates need to be prepared to show their primary place of residence in Luxembourg and possess a monetary or economic tie to the nation. BIL offers a broad range of financial services, covering private, business, and institutional banking, among others. In order to establish an account with BIL, you must also give the financial institution a TIN within 90 days of creating the account.
4. ING Luxembourg
A division of the Dutch international banking organization ING Group is ING Luxembourg. Modern digital banking systems are offered by ING Luxembourg, which also places a strong emphasis on ease of use, openness, and client-centered services. Students, employees, and ex-pats mostly prefer the Dutch bank ING because of its superb Internet banking service and extensive network of partner ATMs. Contactless debit cards are provided with accounts in this bank.
5. BCEE
BCEE aka Spuerkess is a dependable, robust organization that has earned a spot among the leading ten most safe institutions worldwide. Spuerkess offers debit cards for cost, a broad range of standard kinds of accounts, and a sizable network of branches. Additionally, they provide bundles of various financial accounts to assist with everyday activities, settlements, and invoices. With Spuerkess, you can control your financial affairs through their smartphone application. Additionally, it offers a unique ex-pat Zebra Premium account.
Is it possible to open an online bank account in Luxembourg?
Yes, it is possible to open an online bank account in Luxembourg. Online banking services are provided by several banks in Luxembourg, enabling both people as well as companies to open an online bank account in Luxembourg and manage accounts remotely from any location. With a digital bank account, you can use safe Internet portals or mobile banking apps to make use of a variety of banking services, including initiating transactions, checking balances, transferring money, and obtaining account statements.
The account opening procedure to establish an online bank account in Luxembourg must be done electronically and the necessary paperwork must be provided. In order to achieve this, you may need to use online resources to provide identification papers, residence proof, and other relevant data. After reviewing your application and the bank will verify the documentation and the application. When your application has been approved the bank will send you the account information and access information.
Benefits of opening a bank account in Luxembourg
Here are the benefits of opening a bank account in Luxembourg: 
Financial security:

Luxembourg has a strong financial system that is governed by stringent rules. Account holders can feel confident and secure due to the nation's sound financial system and robust economy. Financial organizations in Luxembourg are renowned for their dedication to customer privacy as well as data security, assuring the security of your financial data.

Possibility of obtaining International Banking Services:

Luxembourg is a center for the global financial system and is home to several local and international banks offering different kinds of services. A bank account in Luxembourg can provide you with access to numerous services such as investment options, international transaction services, and so on. A strong financial system in the country guarantees effective and smooth international banking activities.

Modernized Digital Banking Services:

The banking industry in Luxembourg has adopted technology and now provides advanced Internet and mobile banking services. With the help of these technological advancements, users can conveniently monitor their accounts, conduct transactions, and utilize banking services from any location.
Considerations to make when selecting a bank in Luxembourg
To make sure that the bank satisfies your unique needs and tastes, it's crucial to take into account a number of things when selecting a bank in Luxembourg.
The following are some important things to remember:
Reputation and Stability:

Select a bank based on its reputation for reliability and past financial soundness. Search for reputable, long-standing banks which possess an excellent track record and a great reputation for dependability and stability.

Variety of services provided:

Examine the bank's selection of banking services. Take into account your particular requirements, such as those for wealth management, borrowing, trade finance, and investment prospects. Verify if the bank can adequately handle your financial needs.

Banking charges:

Examine the bank's fee schedule before choosing one. Examine transaction costs, account management fees, and any potential additional costs when estimating the entire cost of banking with the organization.

Online service:

Consider the online banking options offered by the financial institution. Verify to see if they provide a simple way for you to connect to and handle your account via a smartphone application or digital financial portal.

Customer Assistance:

Assess the level of consumer support offered and its accessibility. Take into consideration variables like the financial institution's timeliness, the presence of specialist relationship managers or account representatives for individualized support, and language alternatives for client service.
Book end-to-end experts consultation with Odint legal, accounting and company formation experts.
Opening a bank account in Luxembourg can provide individuals as well as companies with a variety of advantages and prospects, including financial security, modern digital banking solutions, simple financial administration, and more. However, in order to open a corporate bank account in Luxembourg, you must choose the bank, fulfill the conditions, and efficiently complete the account opening procedure.
Odint Consulting experts have extensive experience and can assist you to open a corporate bank account in Luxembourg. Our dedicated team will guide you through the process, ensuring a seamless account opening experience. Whether you are seeking remote account opening or comprehensive support, we are committed to delivering outstanding service. We will ensure that all requirements are diligently met. Trust Odint Consulting to facilitate your corporate banking needs in Luxembourg.